What do you do when you're housebound because of snow and ice for days and days? Well… I like to bake, so I tried a new recipe, and made some absolutely delicious Butter-Topped Homemade White Bread.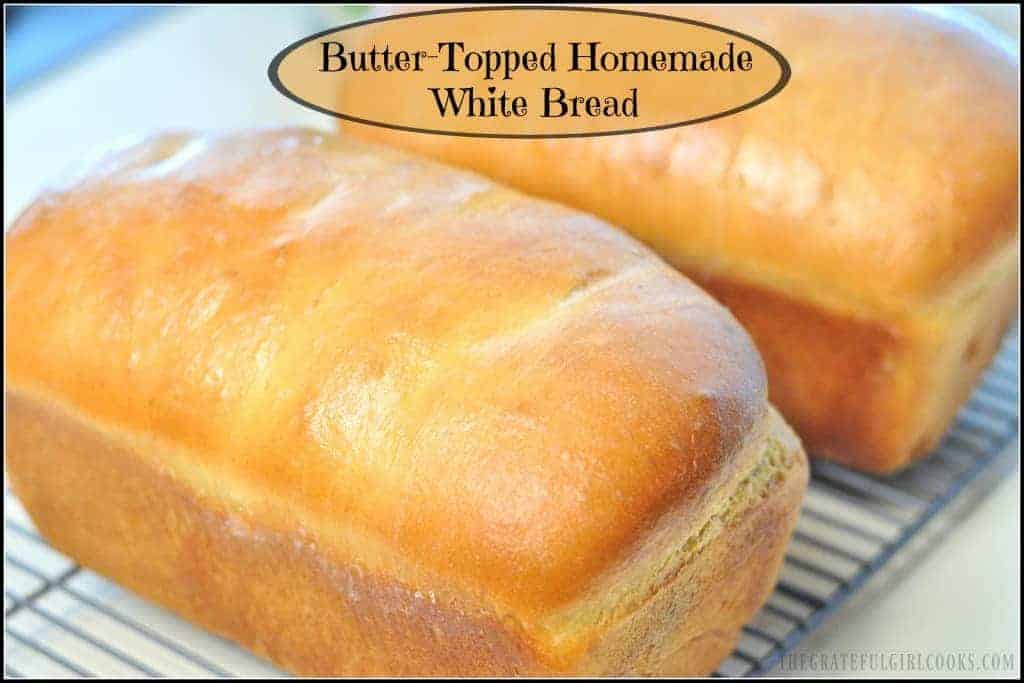 Recently we had almost 9 inches of snow overnight, and it stuck around for a week due to a crazy layer of ice AND well below freezing temperatures. We were almost out of bread, so I decided to bake some, trying a new recipe I found on Pinterest. It was a bloggers old family recipe from their Grandma Rosebud… and boy was it GOOD! The recipe is absolutely going into my permanent collection of "make again" bread recipes! Our "snowed in house" smelled amazing as it baked, and the bread turned out perfect!
Here's how you make this bread (recipe makes two loaves!):
Yeast is dissolved in warm water until bubbly (about 5 minutes). Then (in the bowl of a stand mixer), sugar, salt, butter and more warm water is added and mixed using the paddle attachment. Part of the flour (5 cups) is added while mixer is on Low speed and dough is mixed together. Once the flour is mixed in, the remaining flour was slowly added until dough is smooth.  I ended up only adding 4 additional cups of flour.  (Note**: At this point if you have a really LARGE stand mixer, continue on with a dough hook.  I added a dough hook (as in photo) but realized there was too much dough for my small stand mixer to handle as it mixed, so at this point in the recipe I removed the dough to a lightly floured work surface and continued by hand).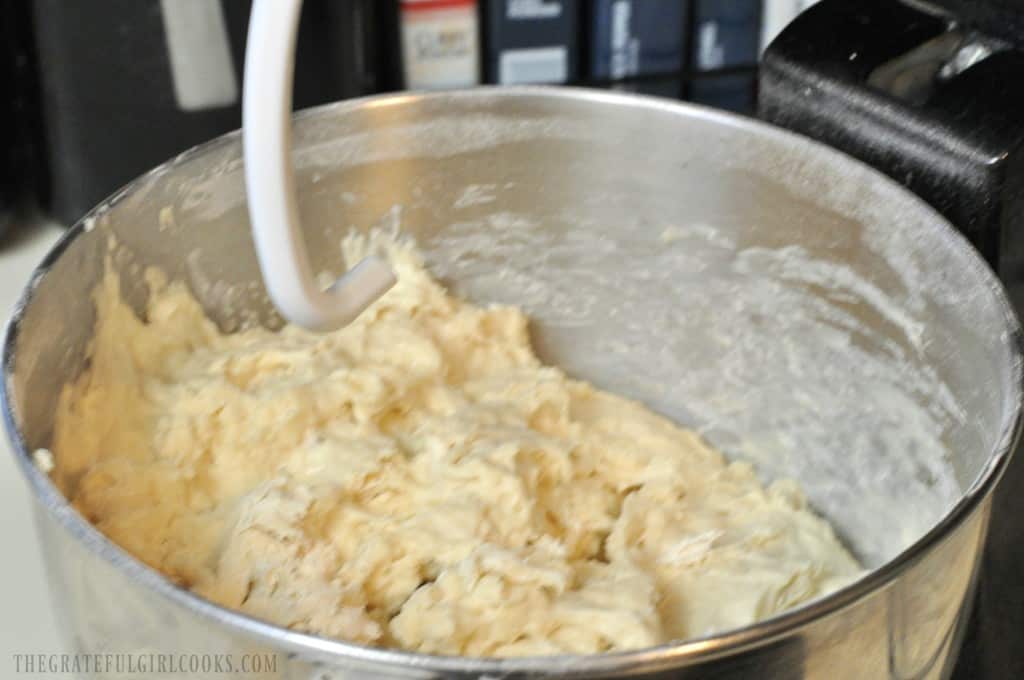 You can either divide dough in half and use the dough hook for each portion or you can knead the dough by hand. I chose to knead the dough by hand. Knead the dough (either method you choose) for 10 minutes. Here is what the dough looked like after kneading.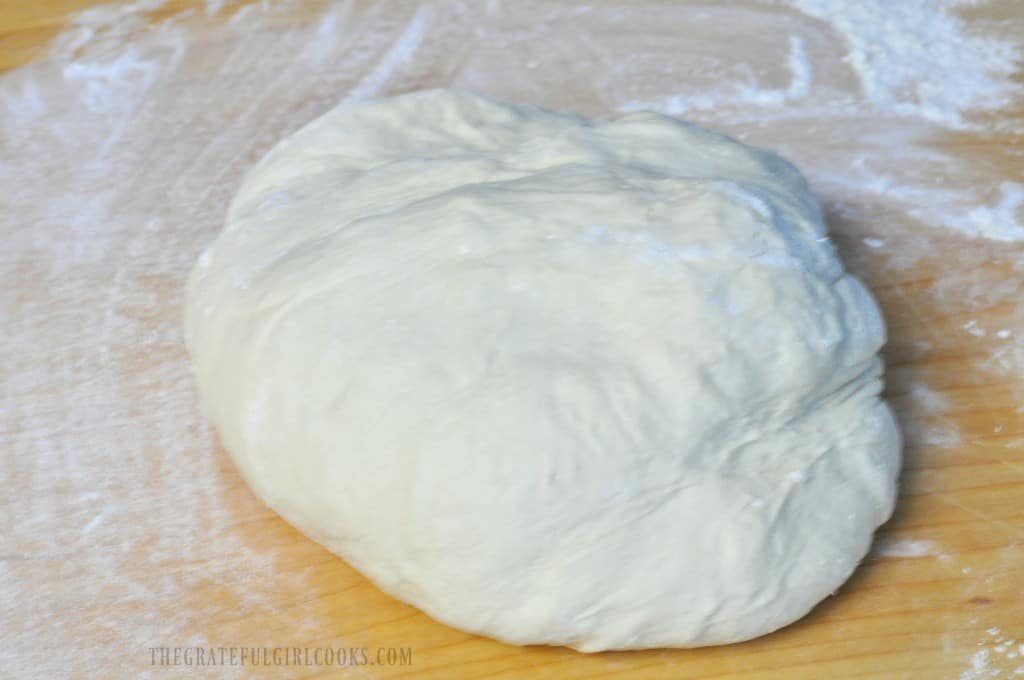 Lightly spray a large bowl with cooking spray (or butter). Place the kneaded dough in the bowl and flip over, so that the dough is completely covered with cooking spray.  Cover dough (I used several dish towels) and put it in a warm spot to let the dough rise for an hour.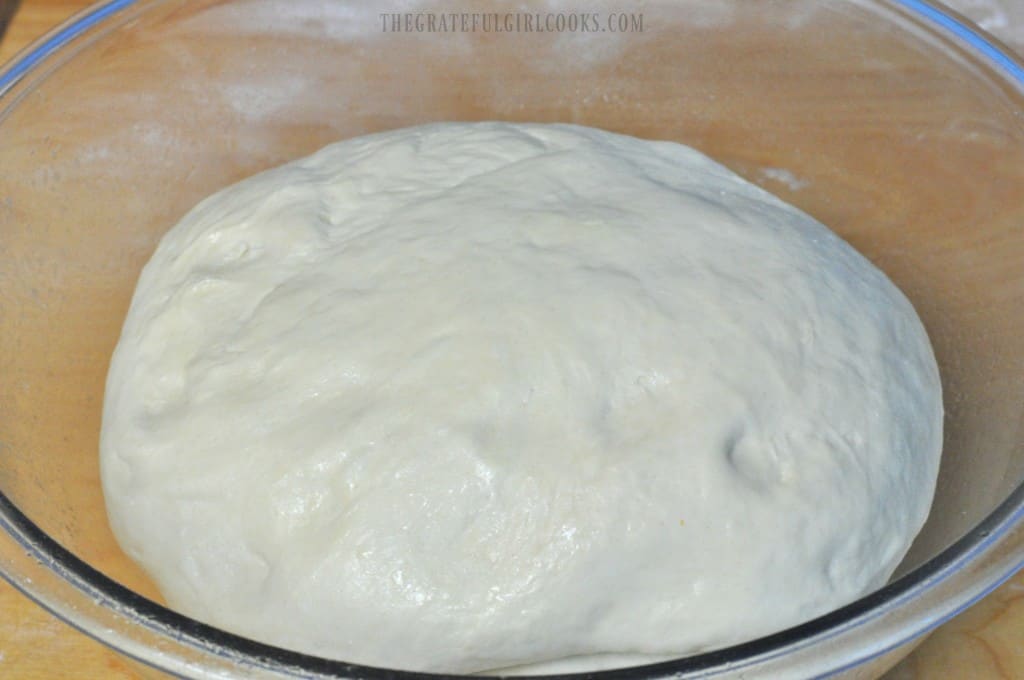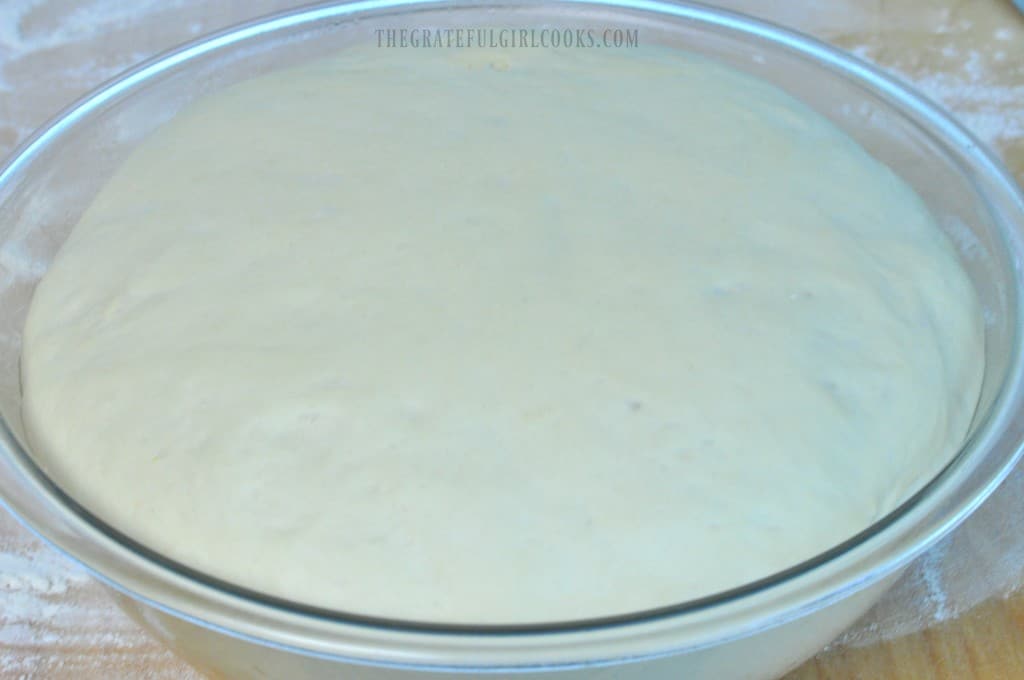 After an hour, punch down the dough with your fist (boom!); divide the dough in half and place on a lightly floured surface.  Roll out each piece until each piece is about 12 x 12 square. Make sure the dough is of uniform thickness.  Roll up each piece tightly, and seal the edges well.  Repeat the process with the other piece of dough, being sure to tuck the ends of dough under the bread and placing the seam side down.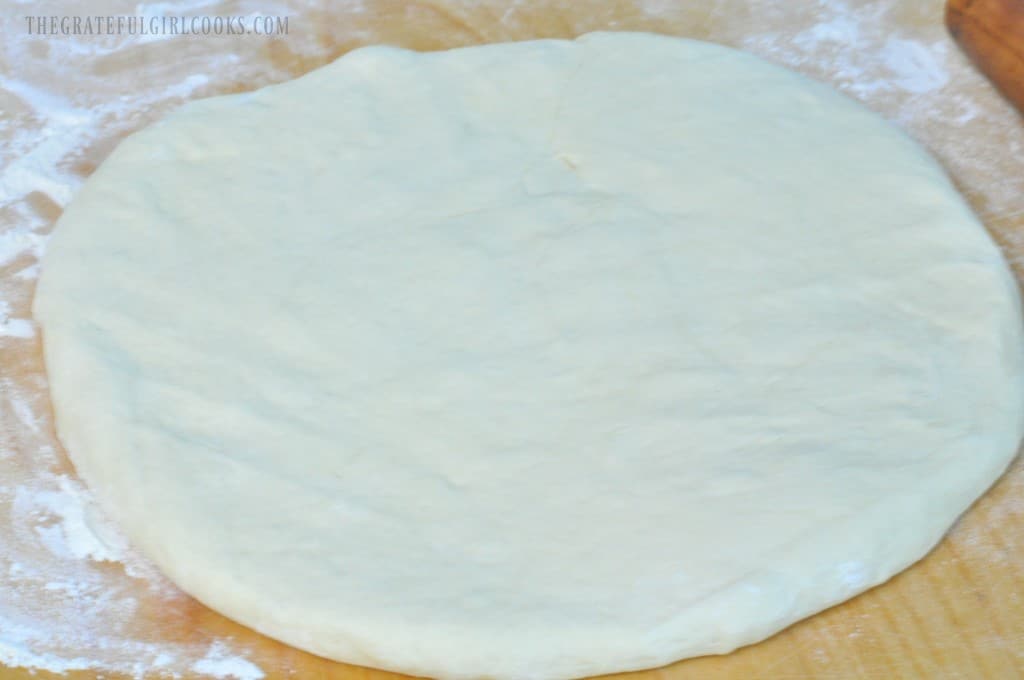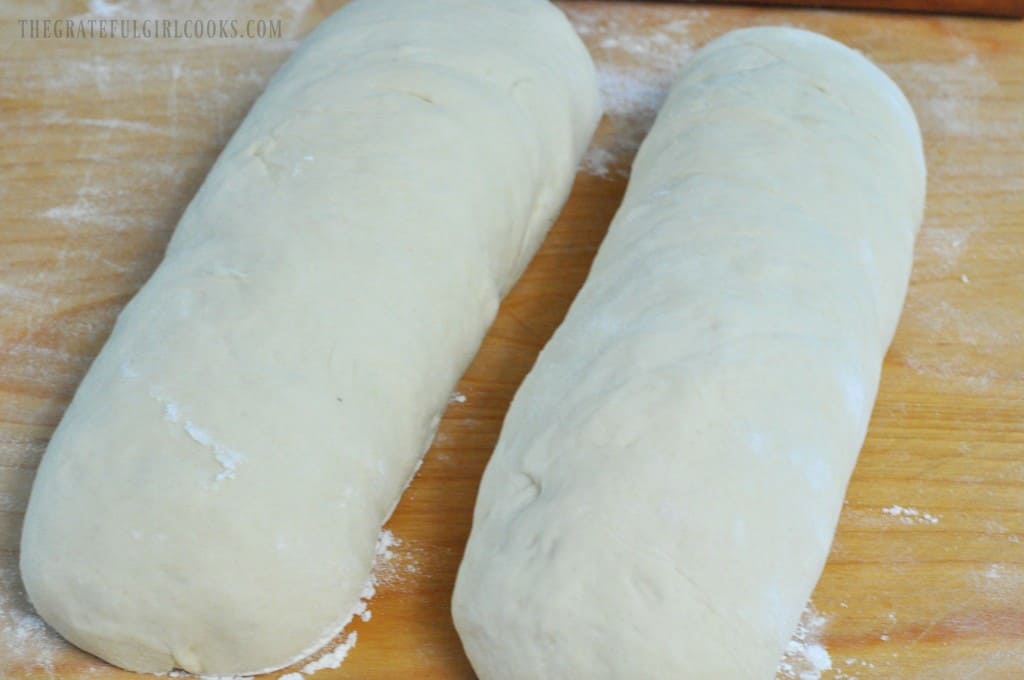 Lightly spray two 9 inch bread loaf pans (bottom and sides). Place bread dough into pans, seam side down. Cover pans, put them in a warm spot, and let dough rise for another hour.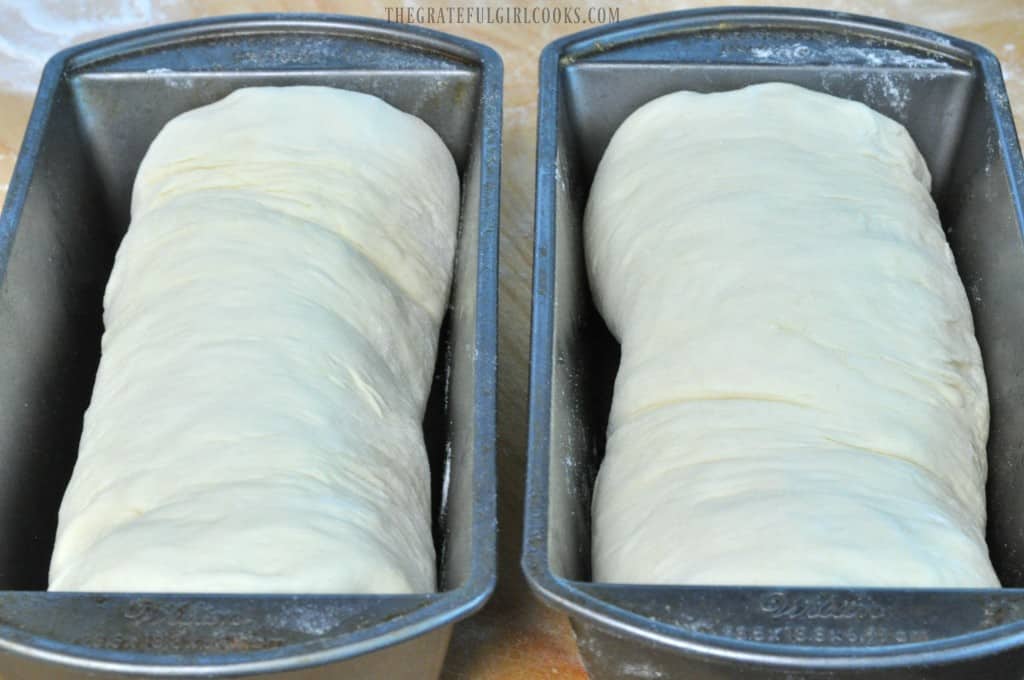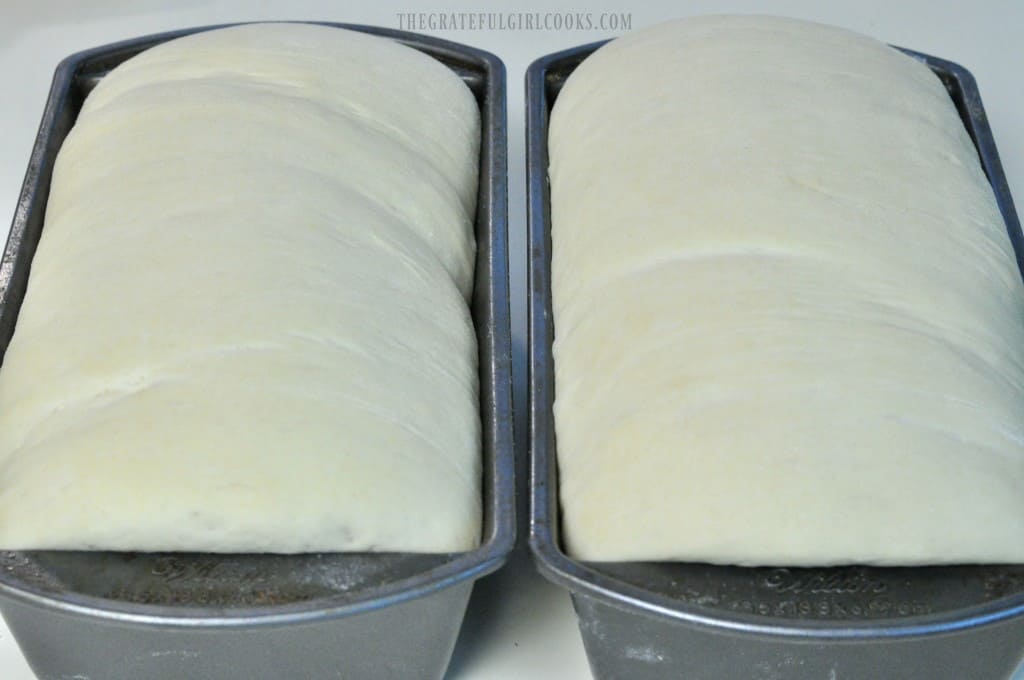 Once dough has doubled in size, place loaves on low rack in preheated 425 degree oven. Bake for 15 minutes; then lightly cover each loaf with aluminum foil (so it won't get too brown), then continue baking for an additional 15 minutes. (30 minutes total- half uncovered, half covered).  As soon as bread is done baking, remove from oven, place pans on wire rack, and brush the tops with melted butter.
Once bread has cooled slightly, remove loaves from the bread pans. Don't the finished loaves look great? Look how tall the loaves are, also!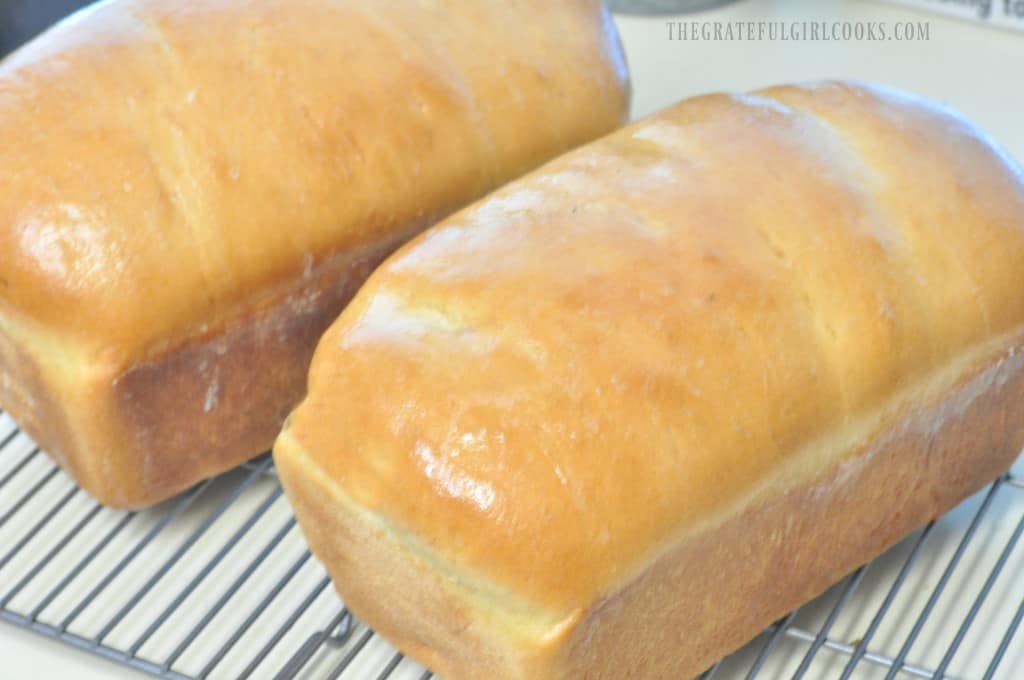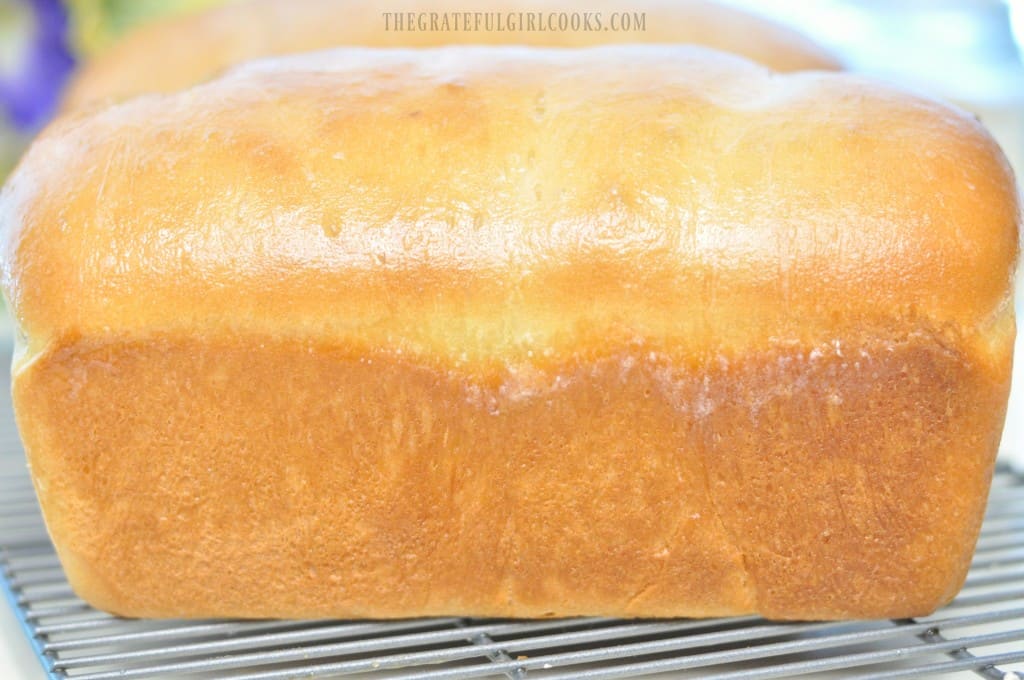 Once bread has cooled down a bit, cut a big ol' slice with a serrated knife. My husband and I could hardly wait to try a warm slice of homemade bread with some butter on it! Wow- it tasted fantastic!  We've been enjoying toast for breakfast, as well as having thick slices of bread with soup or our dinner as we wait for the snow to melt this week.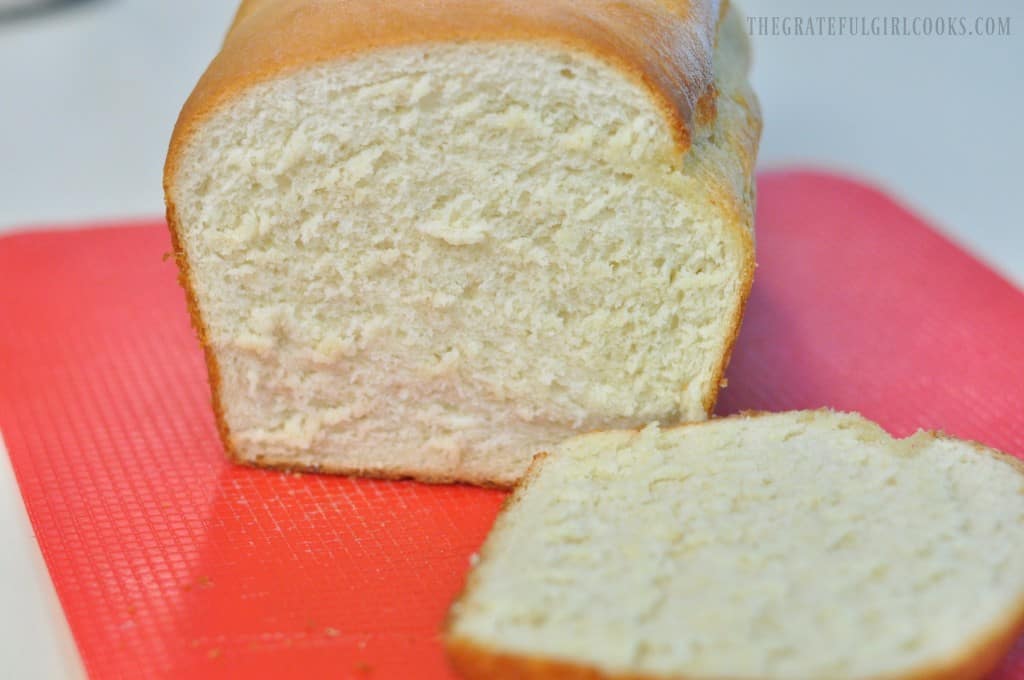 I really cannot express to you just how good this bread was (and still is!). Yes… the downside of baking your own bread is that it takes a bit of time waiting for the dough to rise, but the end result is well worth it in every way! Besides… when you are snowed in, you've got all the time in the world!  Sure do hope you will consider making this delicious bread.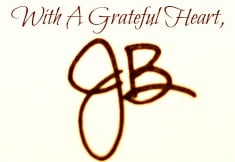 Recipe Source: http://www.thecurvycarrot.com/2011/03/28/rosebuds-butter-topped-white-bread/

Save
Save
Save
Save
Save
Save
Save
Save
Save
Save
Save
Save
Save
Save
Save
Save
Save
Save