What do you do when providing dessert for a "Bacon-Themed" Dinner? You make Candied Bacon Ice Cream, of course! And, oh boy… was it ever good!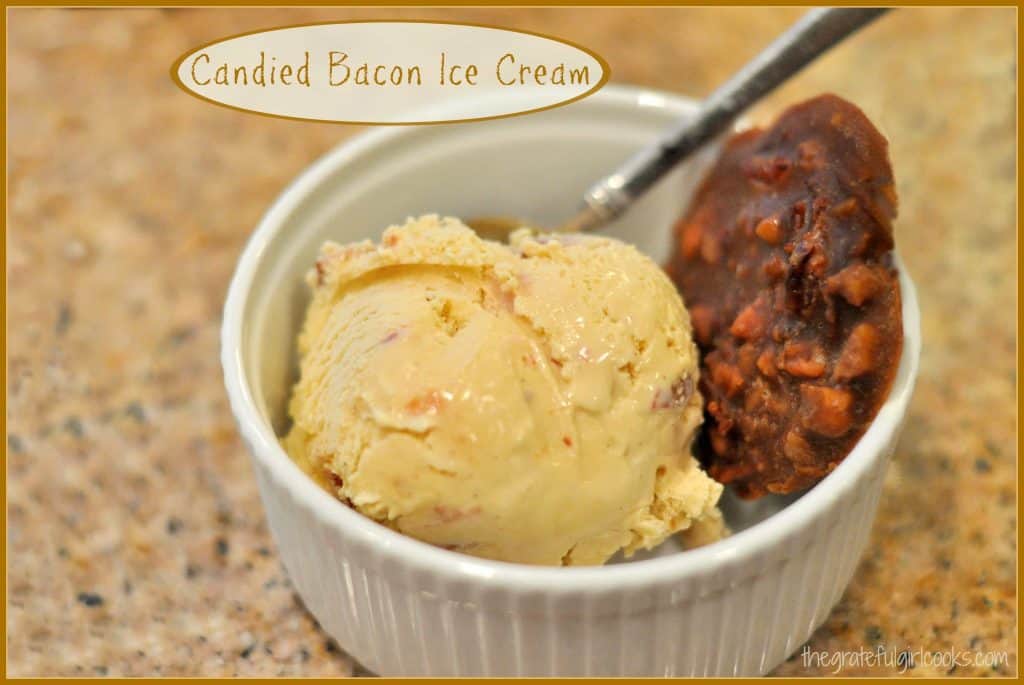 Last summer a small group of friends enjoyed another Themed Dinner. This time our theme was BACON. Everything, from beverages, appetizers, main courses, to desserts had to include some form of bacon. Oh my goodness. It was amazing!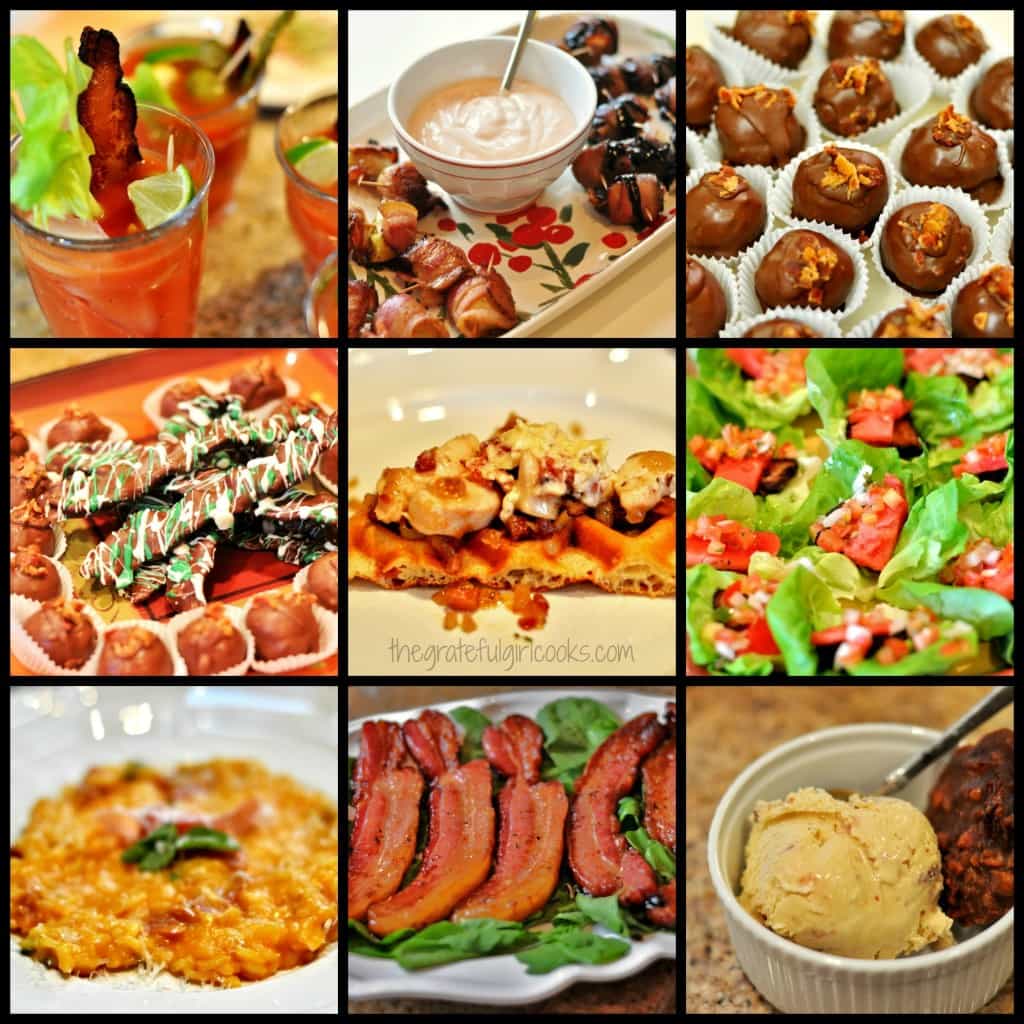 I am usually in charge of bringing several desserts to our themed dinner parties, so I scoured the internet to find some good choices utilizing BACON. This homemade ice cream recipe was one of them, from celebrated author David Lebovitz… and let me tell you… it was FANTASTIC! Here's how you make this decadent dessert treat:
First thing I did was to "candy" some thick cut bacon. The instructions are in the recipe that follows, but if you want more in-depth pics, etc. see my previous post for How To Make Candied Bacon.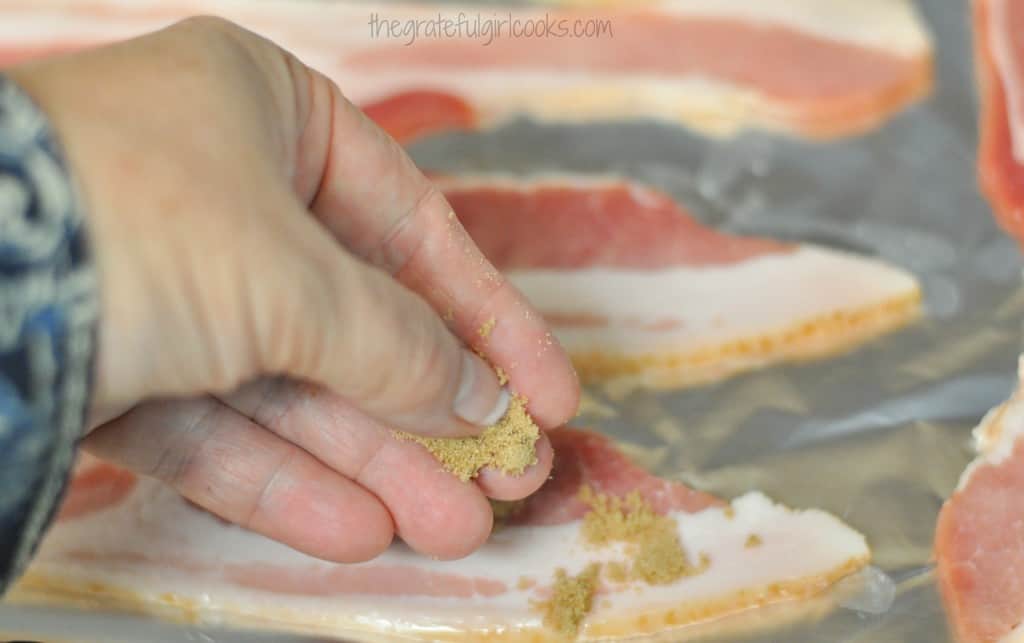 Short version… bacon is coated with brown sugar and baked. Then it is cut into small pieces and cooled to room temp.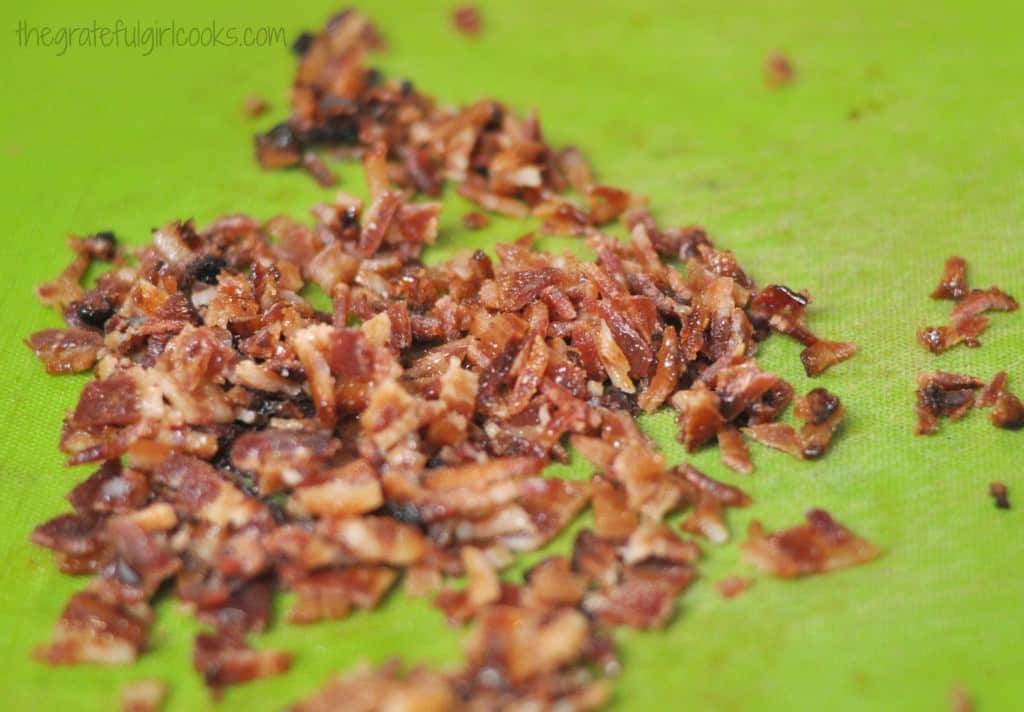 Combine half and half and whipping cream. Measure out 1 ½ cups of this and put it in a medium bowl, set over another larger bowl filled with ice and water (ice bath). Put a mesh strainer over the top of the cream mixture. Set aside.
Next thing to do is make the ice cream "custard base". Butter is melted in medium saucepan, then removed from heat. Let it cool down a bit (don't want it HOT).  Stir in brown sugar, then add the remaining 1 ½ cups of the half and half/cream mixture. Stir to combine; set aside.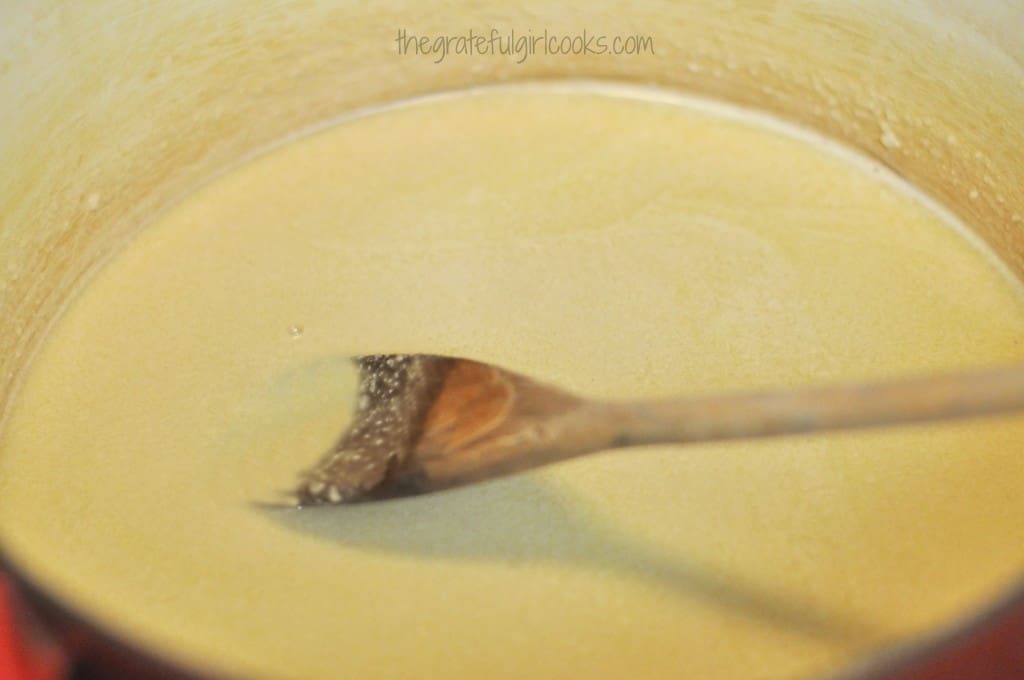 In a separate bowl, egg yolks are whisked together.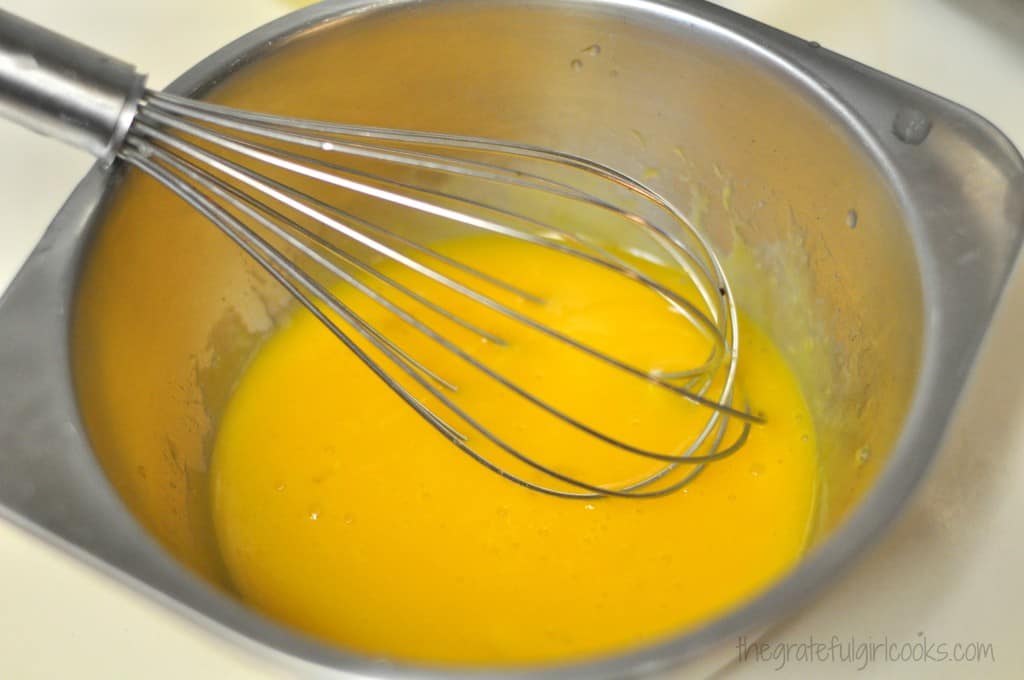 Remove ½ cup of the (warm, not hot) butter/brown sugar/half and half & cream mixture from saucepan. Pour it slowly into the egg yolks, whisking constantly while being added. This helps to "temper" the eggs, so they won't scramble on you when adding them to saucepan. (I know we're adding bacon to ice cream, but bacon AND scrambled eggs? I don't think so!)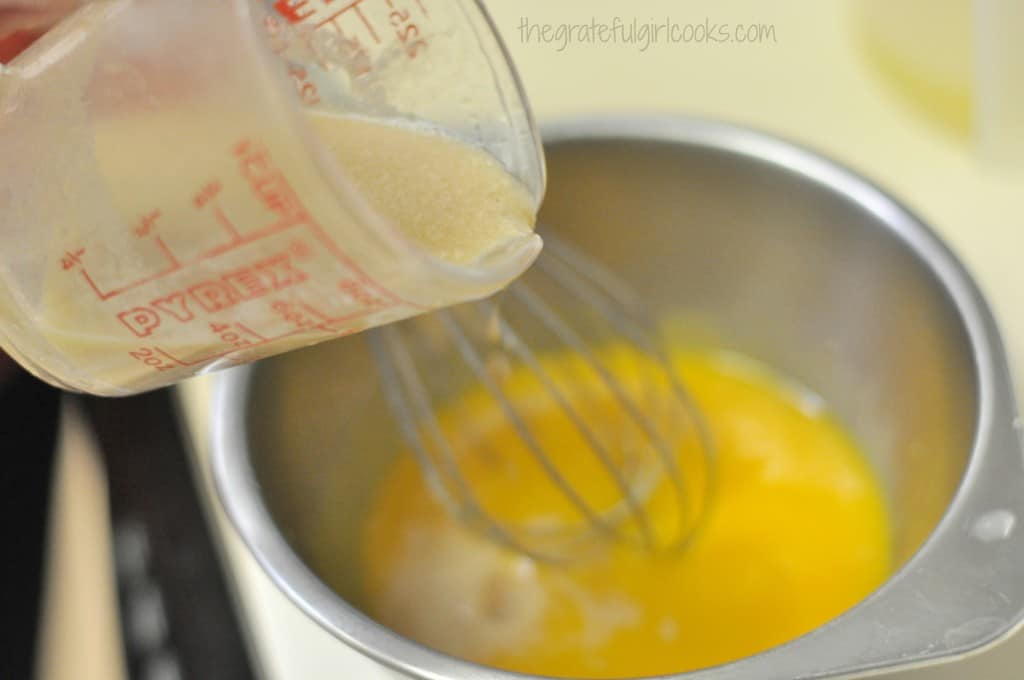 The "tempered" egg yolks are then poured slowly back into the saucepan with the butter/brown sugar/ half and half mixture, whisking while adding.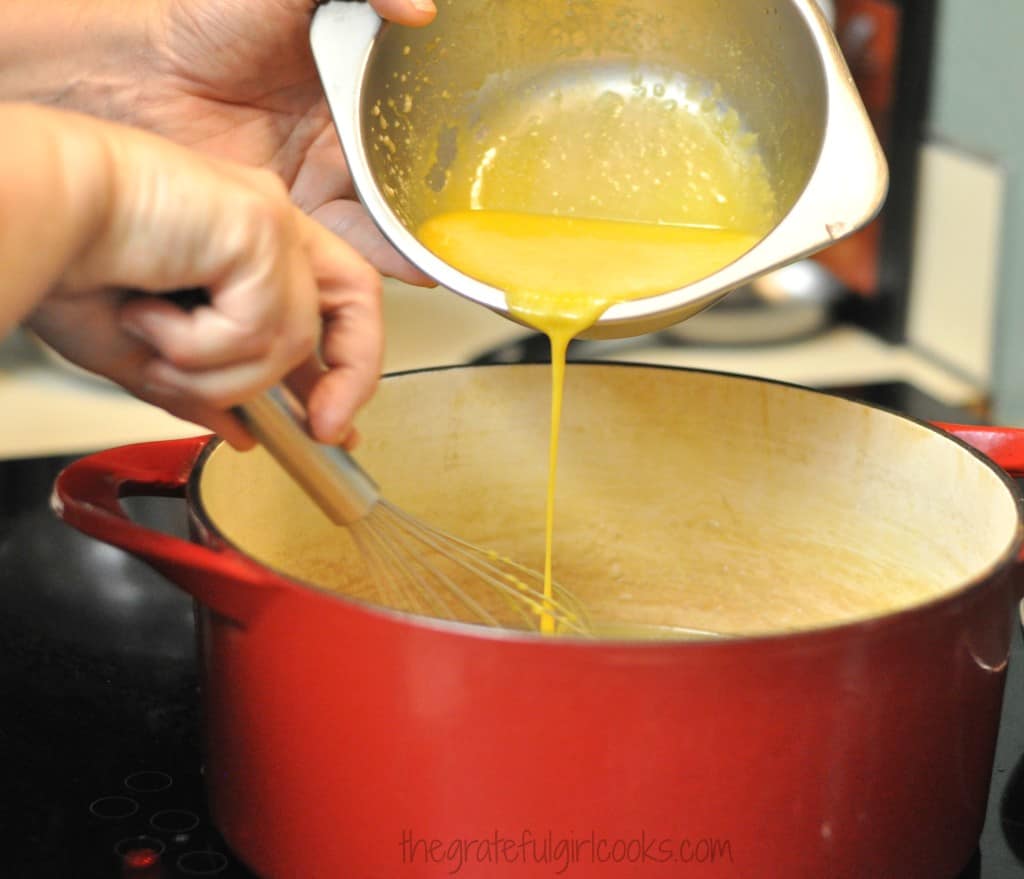 The ice cream base is then cooked on low-medium heat until the liquid thickens enough to coat a spatula. Stir constantly while this is cooking, making sure to scrape the bottom of the pan (so the liquid won't stick and burn on bottom).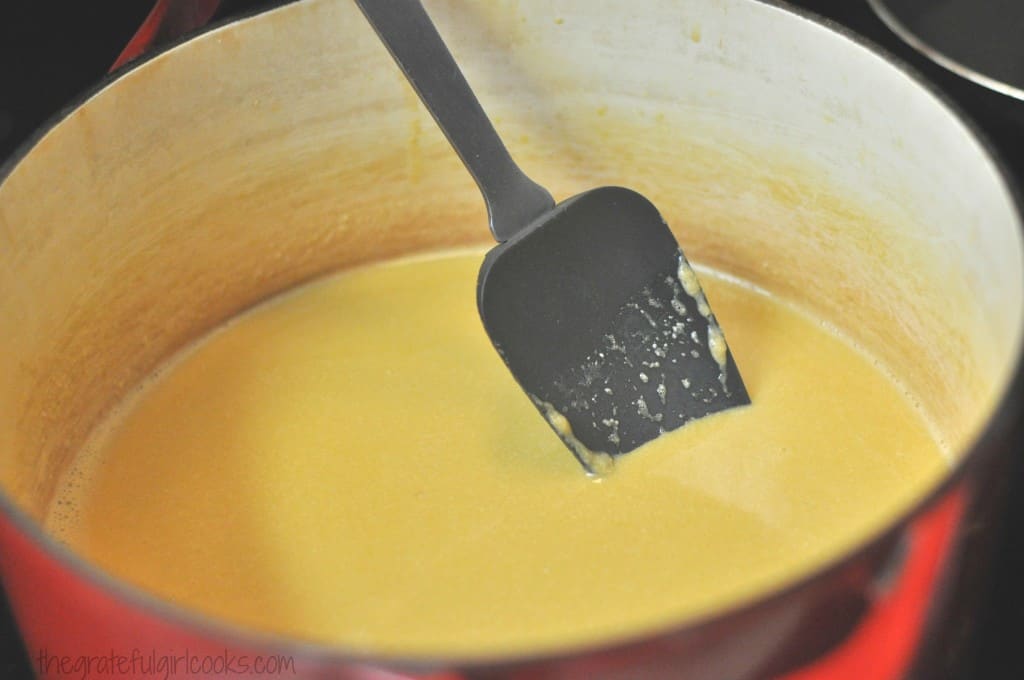 Remove the ice cream base from the heat, and let cool slightly (you don't want it HOT). Once it has cooled down some, pour the ice cream base through the strainer into the half and half/whipping cream in the bowl over the ice bath, stirring as you pour.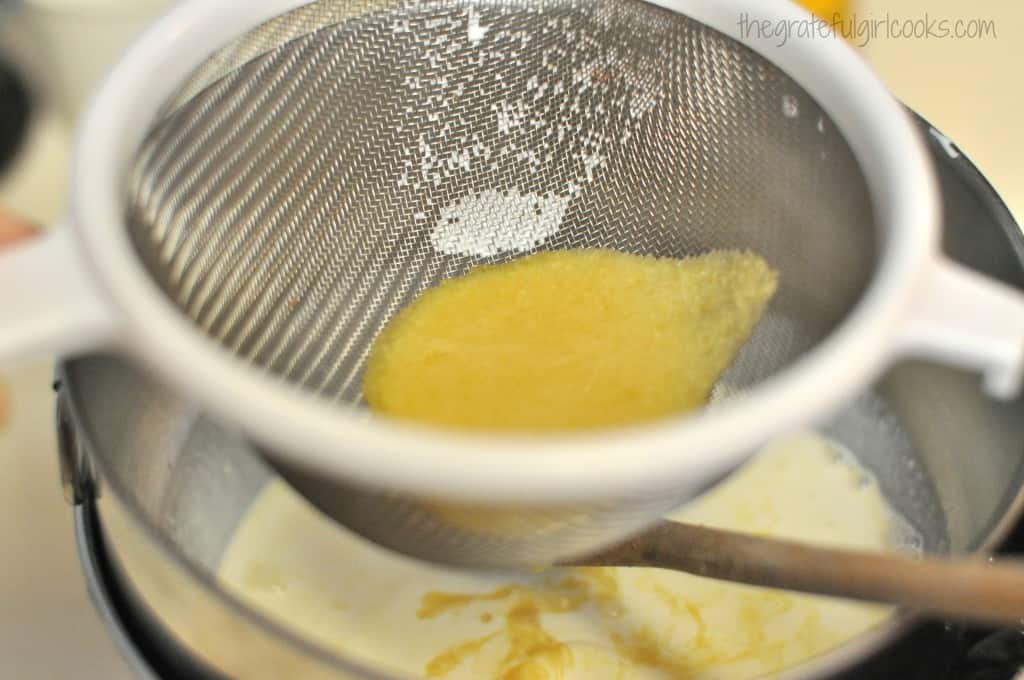 Add the liquor, vanilla extract and cinnamon to the ice cream base. Stir to combine. Refrigerate ice cream liquid for 2-3 hours until completely chilled. Once totally cold, pour mixture into ice cream maker, and freeze according to manufacturer's directions.
During the last couple minutes the ice cream is churning, add the chopped candied bacon pieces.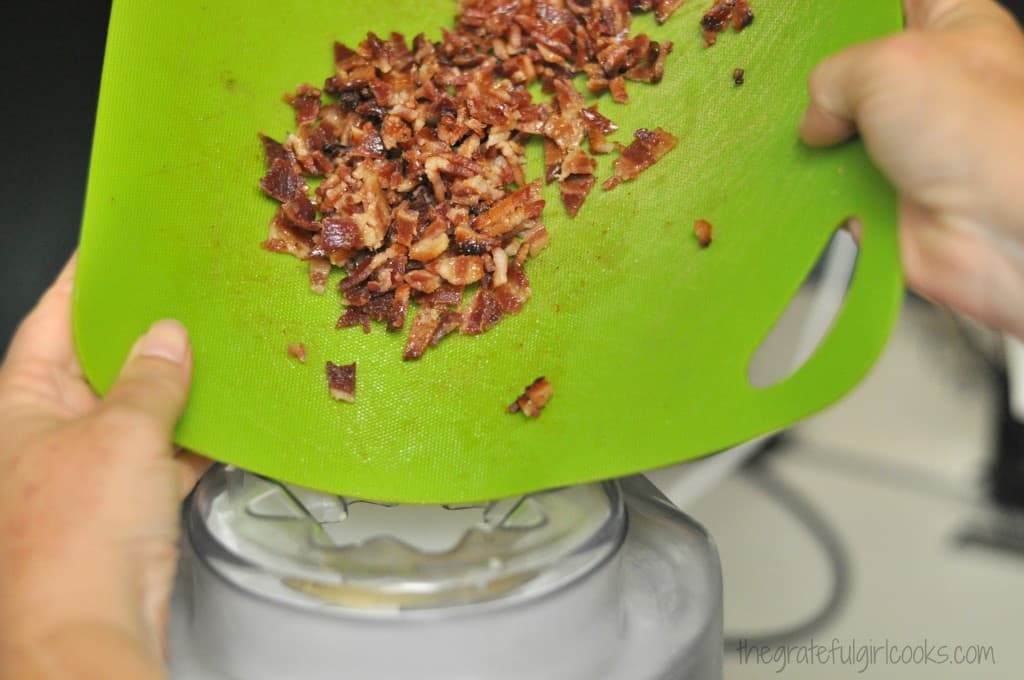 Once ice cream is done, remove ice cream to a covered container. Place in freezer for several hours until nice and firm. You MIGHT want to sneak a little bitty bite before freezing it, just so you can see how GOOD this stuff is (*QUALITY CONTROL). Just sayin'.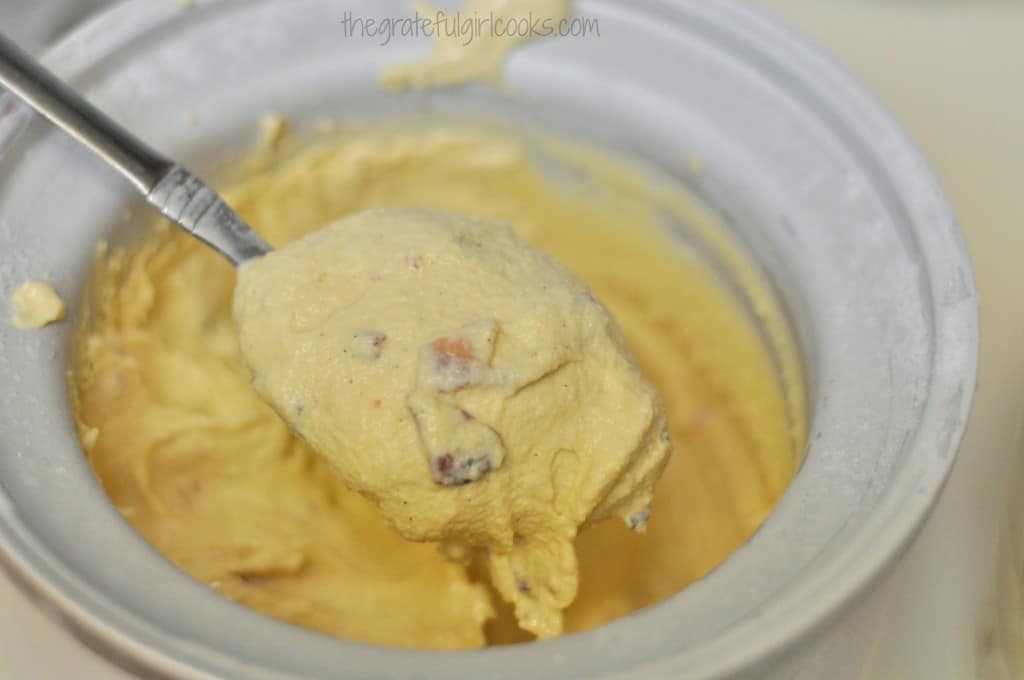 When ready to serve, remove ice cream from freezer, and dish up a big scoop of this decadent, rich and creamy, frozen treat. I served each scoop with one of my Bacon Pecan Pralines. It was a BACON-THEMED dinner party, and EVERYTHING is better with bacon, after all! Right?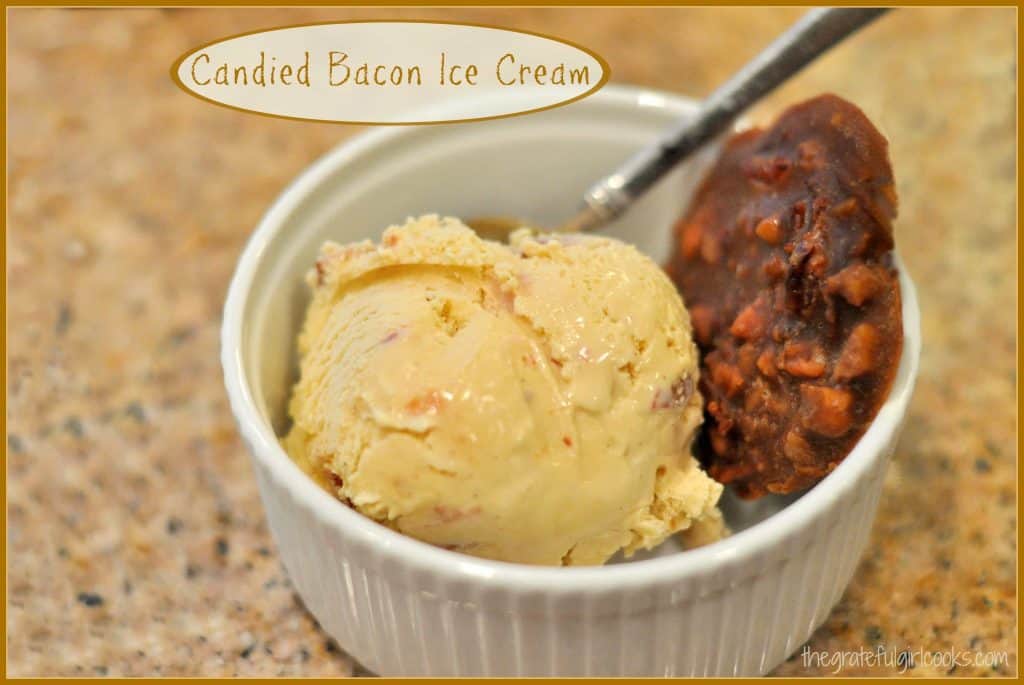 I love to make homemade ice cream and enjoy trying new flavors each summer. Some recipes I like, some I love. This one sure was a unique recipe, but I gotta be honest… it was absolutely DELICIOUS and I loved it!!! Hope you'll consider making this on a hot summer's night (or any night, for that matter!). Think you're gonna be surprised how good this really is!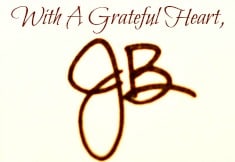 Recipe Source: http://www.davidlebovitz.com/2008/03/candied-bacon-i-1/

Save