Well, if you're looking for an inexpensive, easy to prepare "Comfort Food" kind of meal… this "Chili Mac With Summer Squash" is it!!  I made this Southwestern flavored recipe up as I went along (really), but it is loosely based on the goulash recipe (Italian-flavored) my Mom used to make for us kids when we were growing up.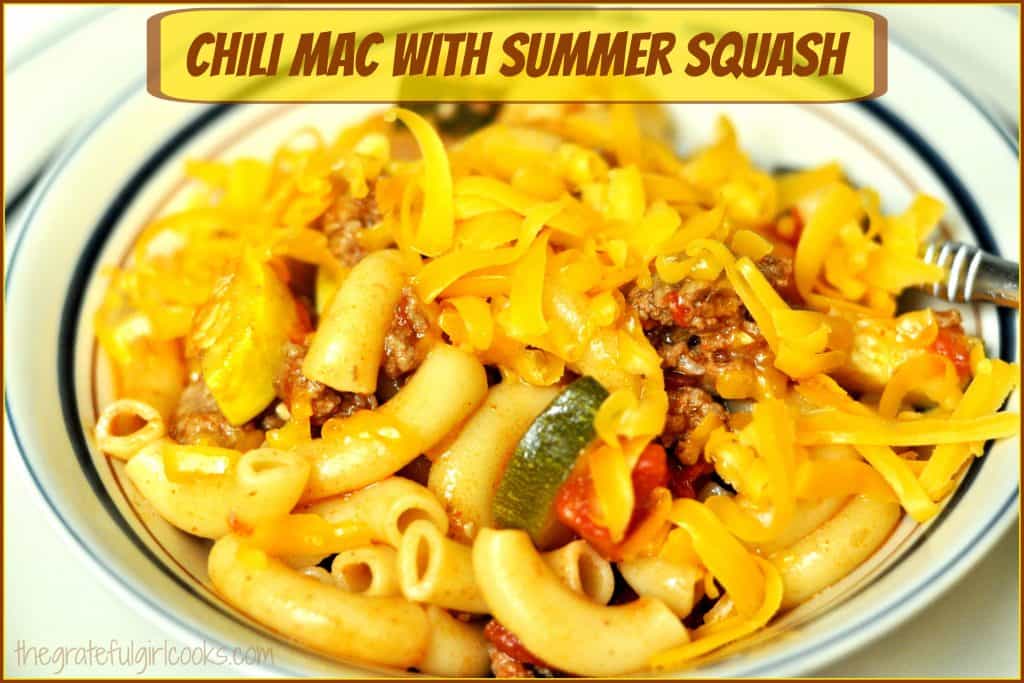 I fixed this EASY PEASY yummy dish for my husband and I for dinner recently, and it filled us up!  It's pretty amazing what you can do with a pound of hamburger meat, some fresh veggies from the garden (or store), elbow macaroni, and some good Southwestern spices! The recipe serves 4-6 depending on serving size, so all in all, it's a lot of bang for your hard earned money! Here's how to make this:
First, brown one pound of hamburger with chopped onions and a bit of diced jalapeno. When it is nearly done, add minced garlic.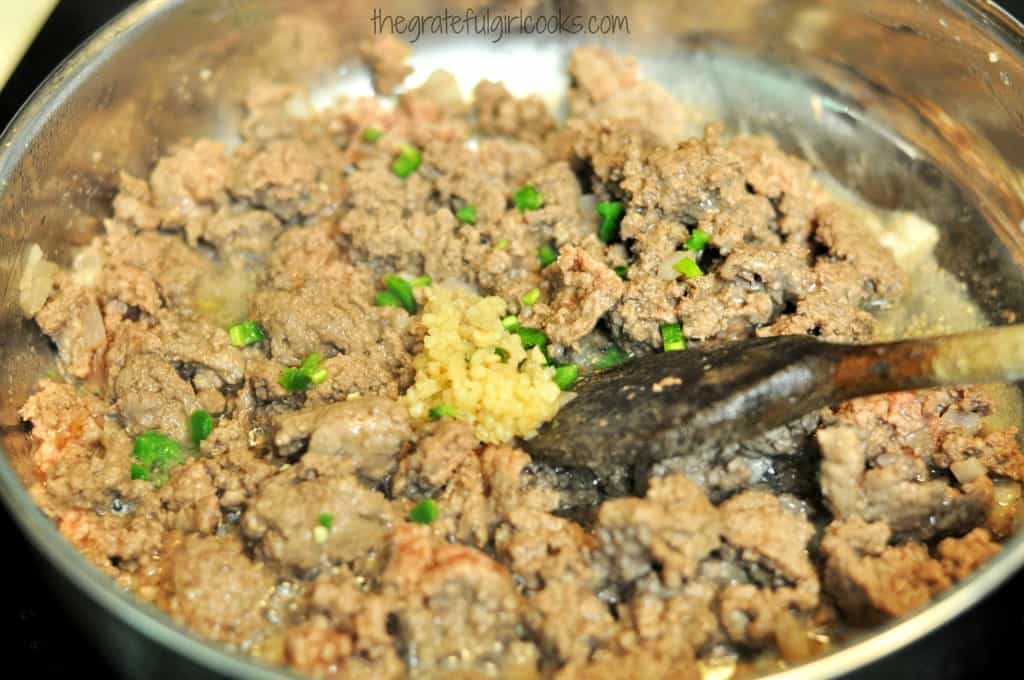 I drained off the grease, then added one small can of diced tomatoes, a little water, some taco seasoning, salt, and pepper. (I used 3 large Tablespoons of my homemade taco seasoning mix:  "Make Your Own Taco Seasoning Mix")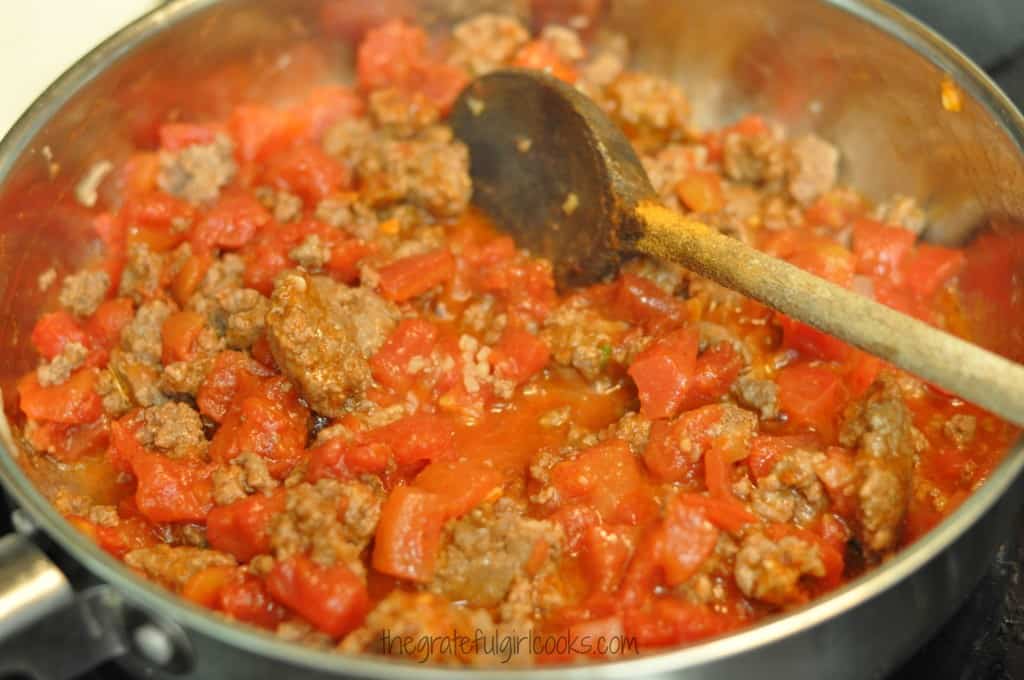 I stirred well, then added my homegrown (yay for my garden!!!) zucchini and yellow squash (cut in quarters), and stirred again, to combine. I covered the skillet and let it all cook for 9-10 minutes (enough to cook the squash, but not let it get smooshy).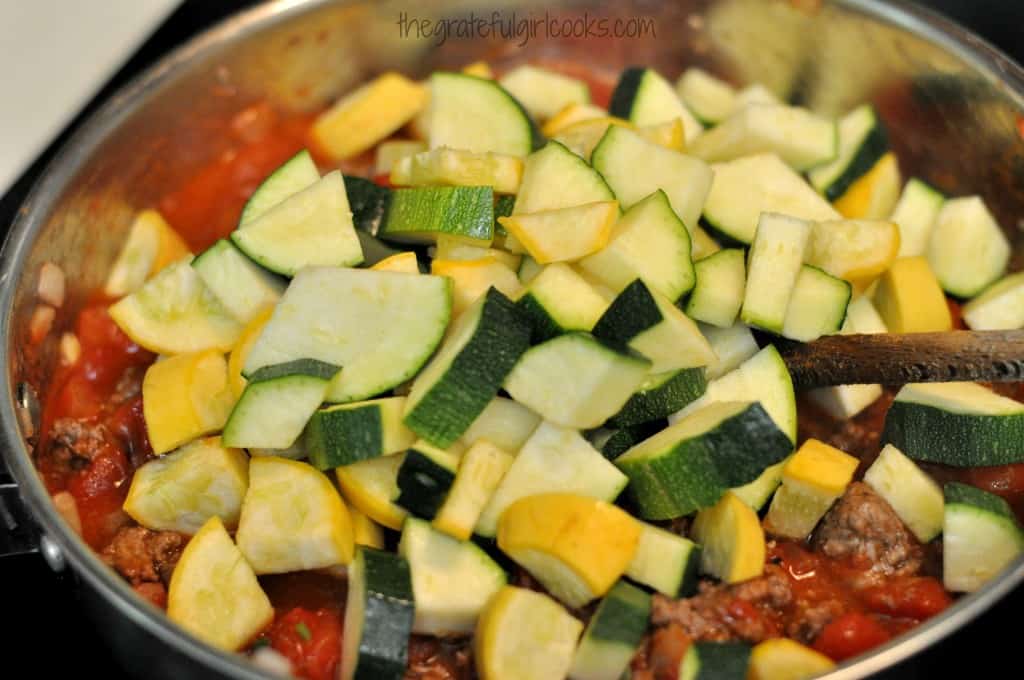 Note:  While this was cooking, I cooked the elbow macaroni separately in a large, separate saucepan.  Once the meat and veggies were done cooking and I uncovered the skillet, it looked like this: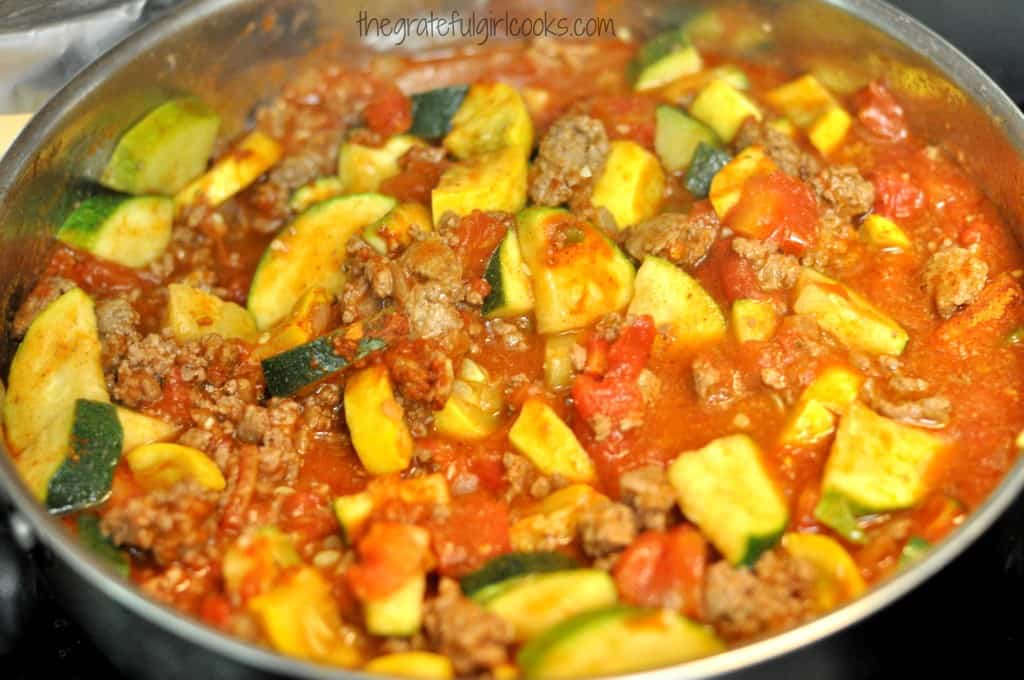 I drained the macaroni noodles and put them back into the pot I cooked them in.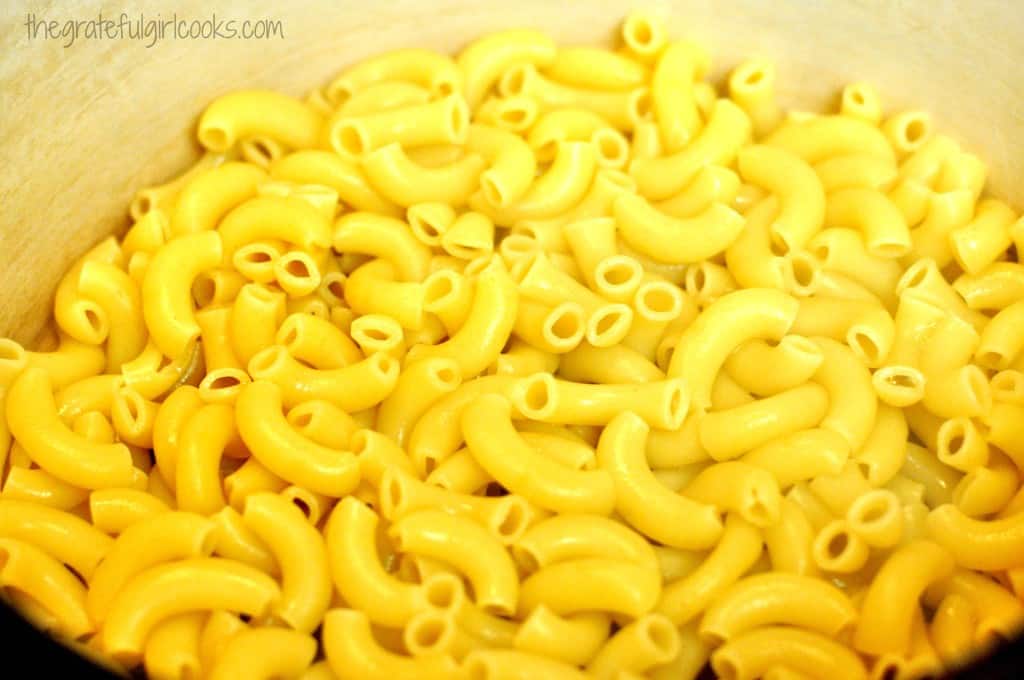 I immediately poured the entire skillet of hot meat and veggies into the pan of cooked/drained macaroni.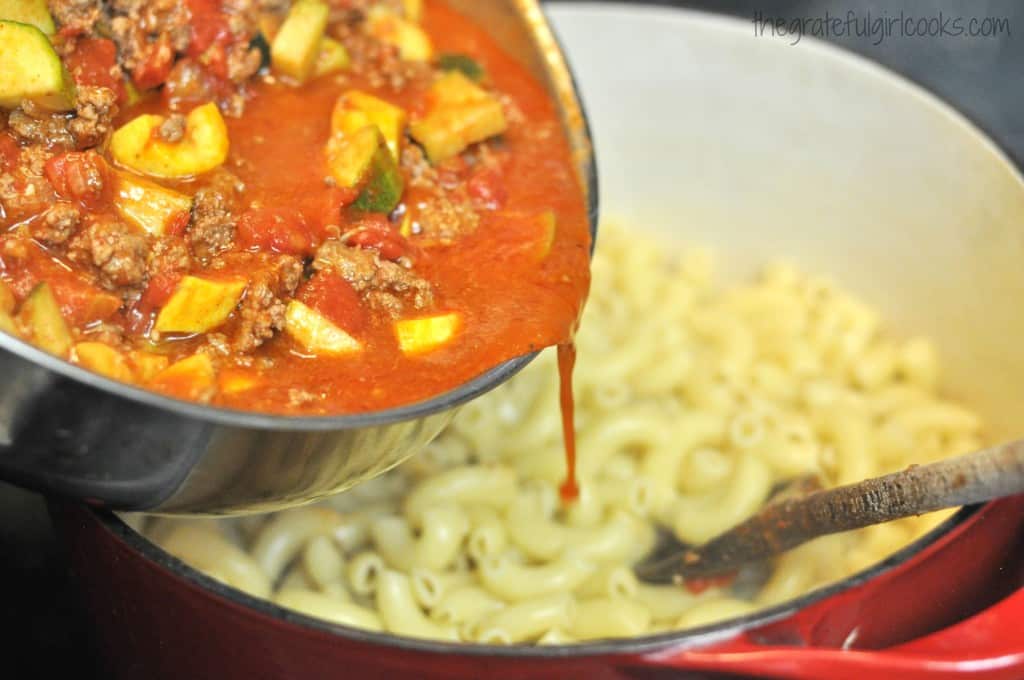 I stirred it all together, then heated it another minute or two to make sure it was hot… then taste-tested it to make sure it had enough salt.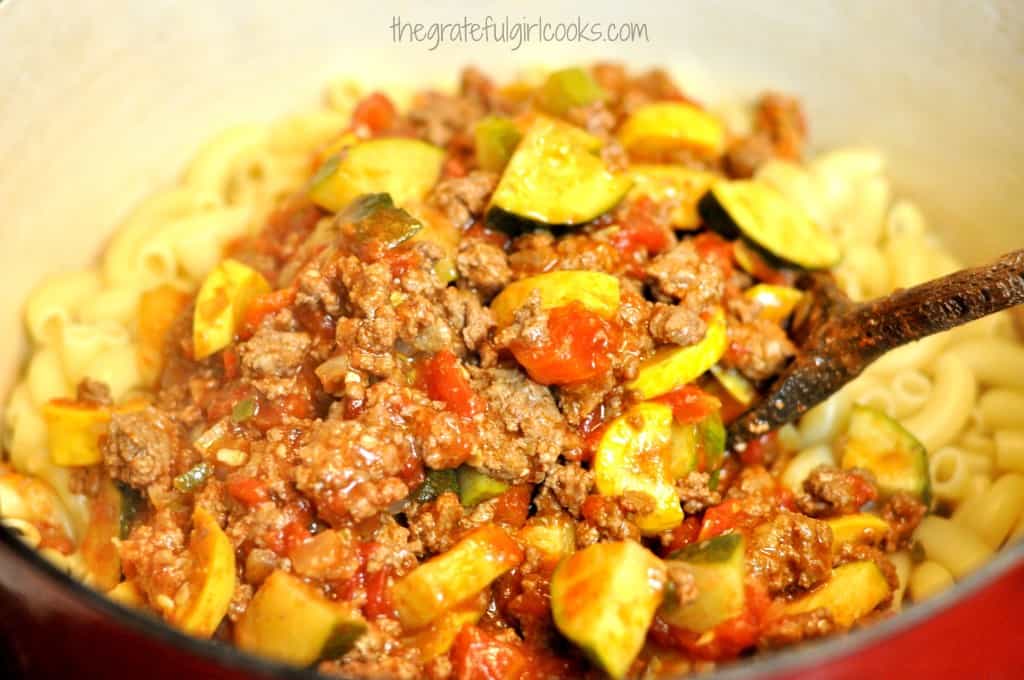 I ladled up spoonfuls of the Chili Mac into serving bowls while it was piping hot!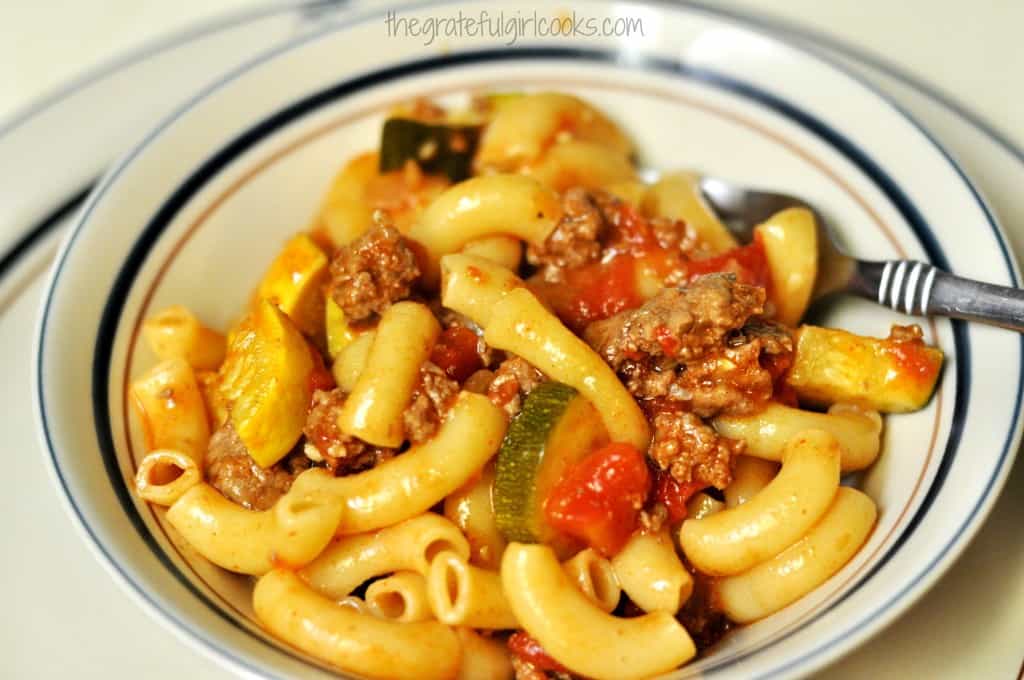 I topped each bowl off with a small sprinkling of grated cheddar cheese, then served it up while hot! There ya have it… a tasty one-dish meal that has meat, pasta, AND yummy veggies!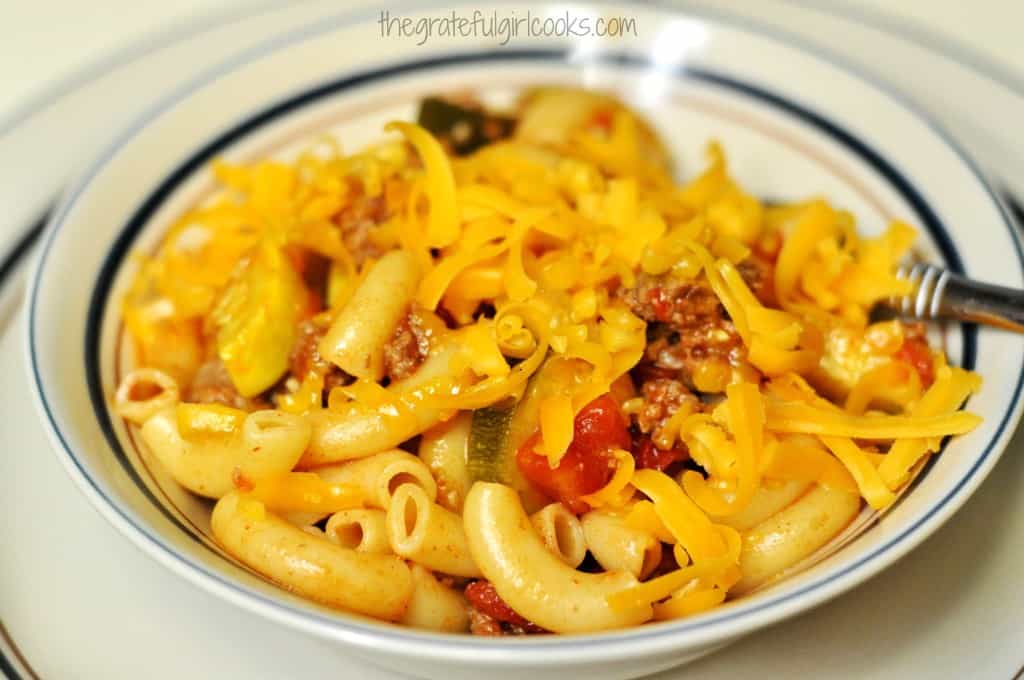 All that was left to do was grab a fork and dig in! Quick, easy, totally inexpensive to make, and really good. How good, you ask? The kind of good where you want to "put on stretchy pants and hang out on the couch watching a great movie while you eat this on a rainy day good".
Sure hope you will give this recipe a try! The leftovers are amazingly great, as well- (speaking with first-hand knowledge!)  I think you'll like this comforting dish as much as we do, and LOVE how easy it is to prepare!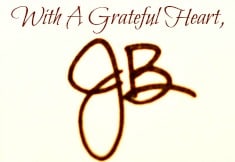 Save
Save