Looking a great tasting snack that doesn't take a lot of work?  How about these delicious Coconut Candied Cashews?  Made with coconut oil, coconut milk, sugar and coconut flakes, they will be an instant hit at any gathering where snacking is involved!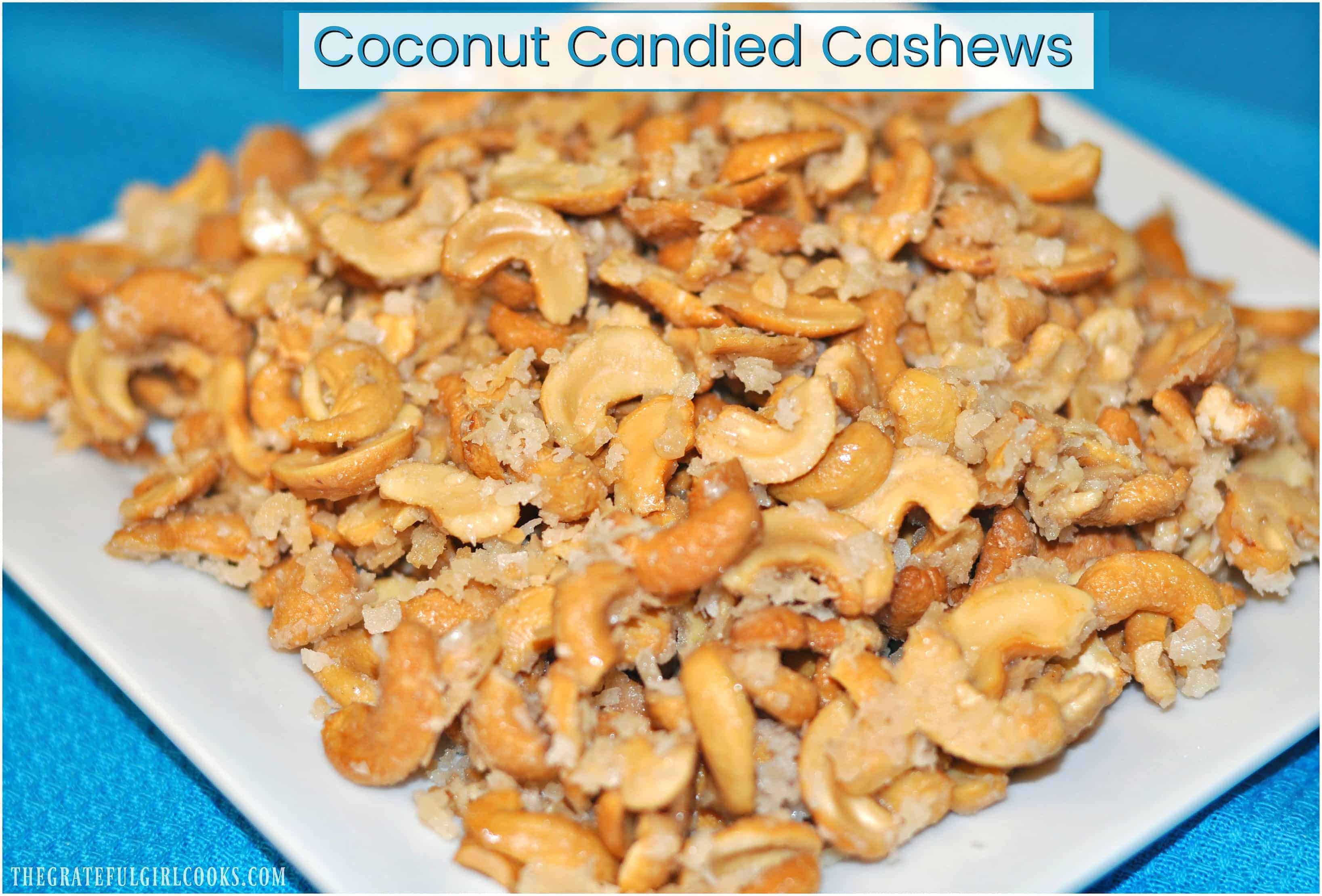 I found the original recipe for these candied cashews (Trader Joe's inspired) on Pinterest, and thought they sounded wonderful!  The recipe is very straightforward, easy to make, and the results are amazingly delicious!  The only problem I have had is STAYING OUT OF THEM, because they are soooo good!  Here's how to make 'em:
Begin by putting the cashews in a large bowl.  Melt the coconut oil and pour it over the cashews. Stir, to coat.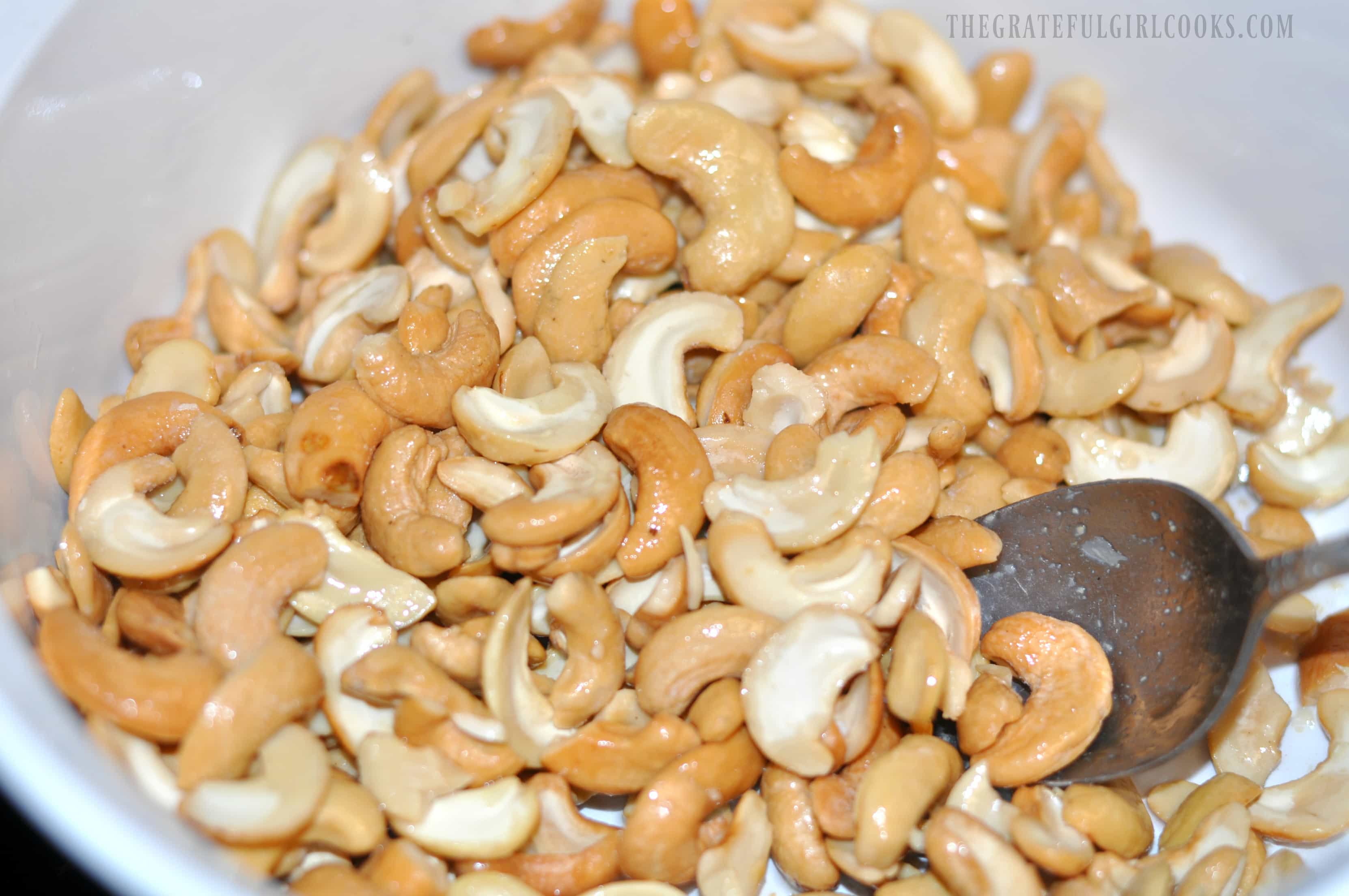 Whisk the canned coconut milk until fully blended, then pour 1/4 cup of it over the cashews. Stir again, to coat the cashews.

Add the granulated sugar. Stir, to fully coat cashews.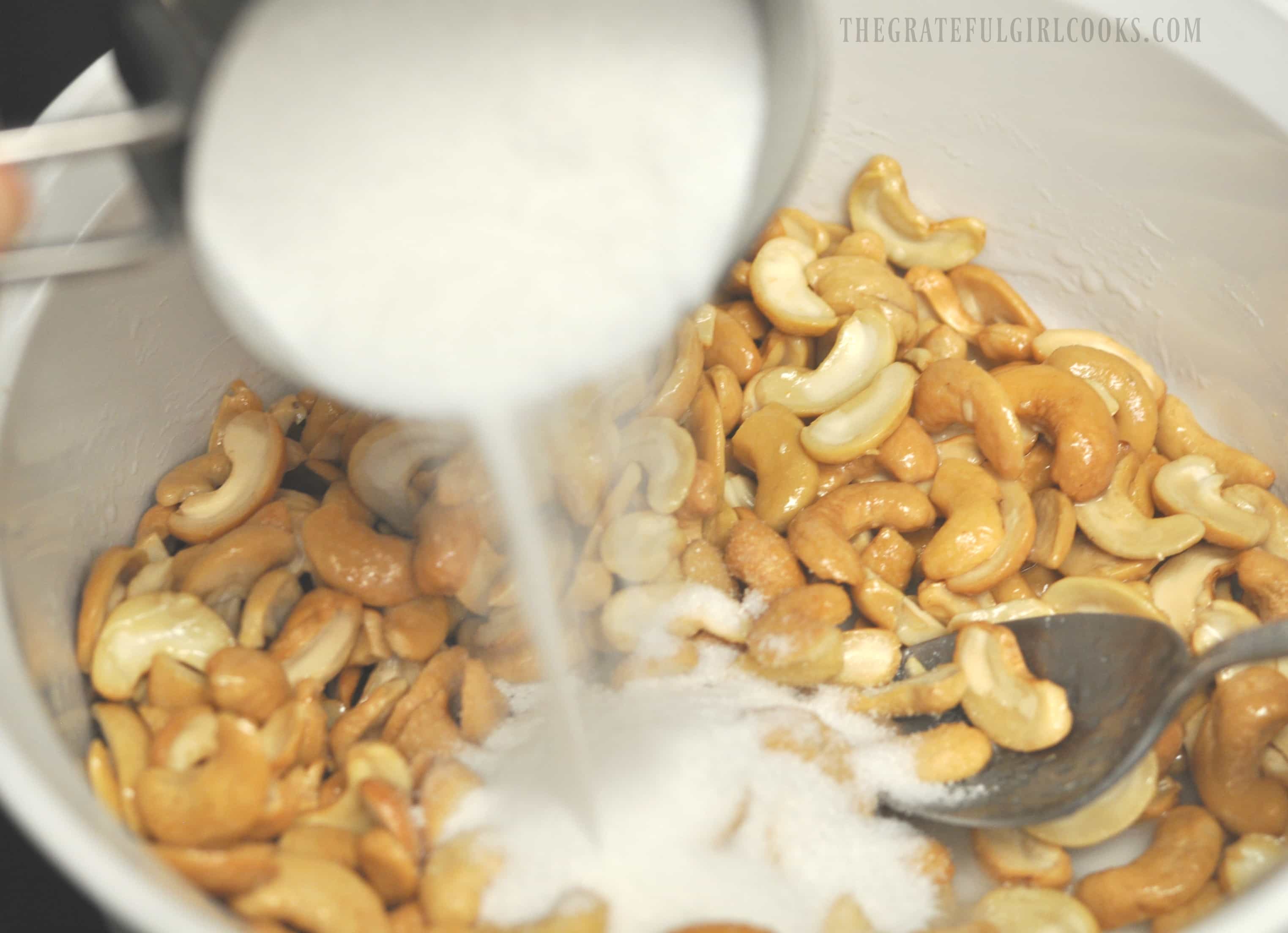 Place a silicone liner onto a 9×13 baking sheet.  Gently spread the cashews out on the sheet.  Bake cashews at 300 degrees for 10 minutes. Remove from oven. Stir. Spread out cashews. Put back into oven and bake for 10 additional minutes. Remove from oven. Stir. Spread out cashews.   Put cashews back into oven and bake for 5 minutes. Remove from oven. (NOTE: During last 5 minutes of baking, pulse coconut flakes 7-9 times in a food processor until the flakes become fine, for next step).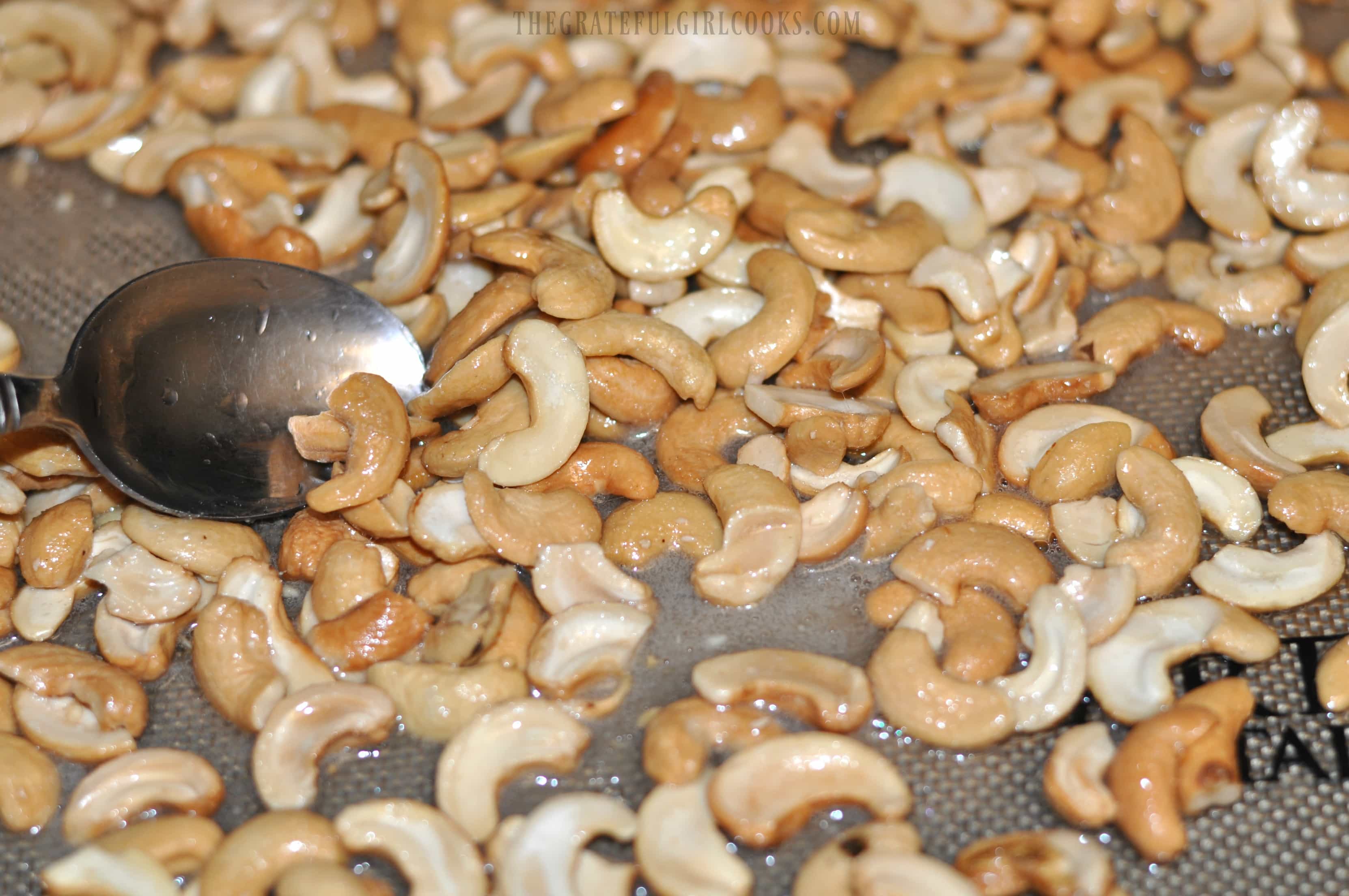 Sprinkle the finely processed coconut flakes over the cashews. Stir well, to coat the cashews. Spread cashews back out on the baking sheet. Place pan back into oven and bake for 10 minutes more.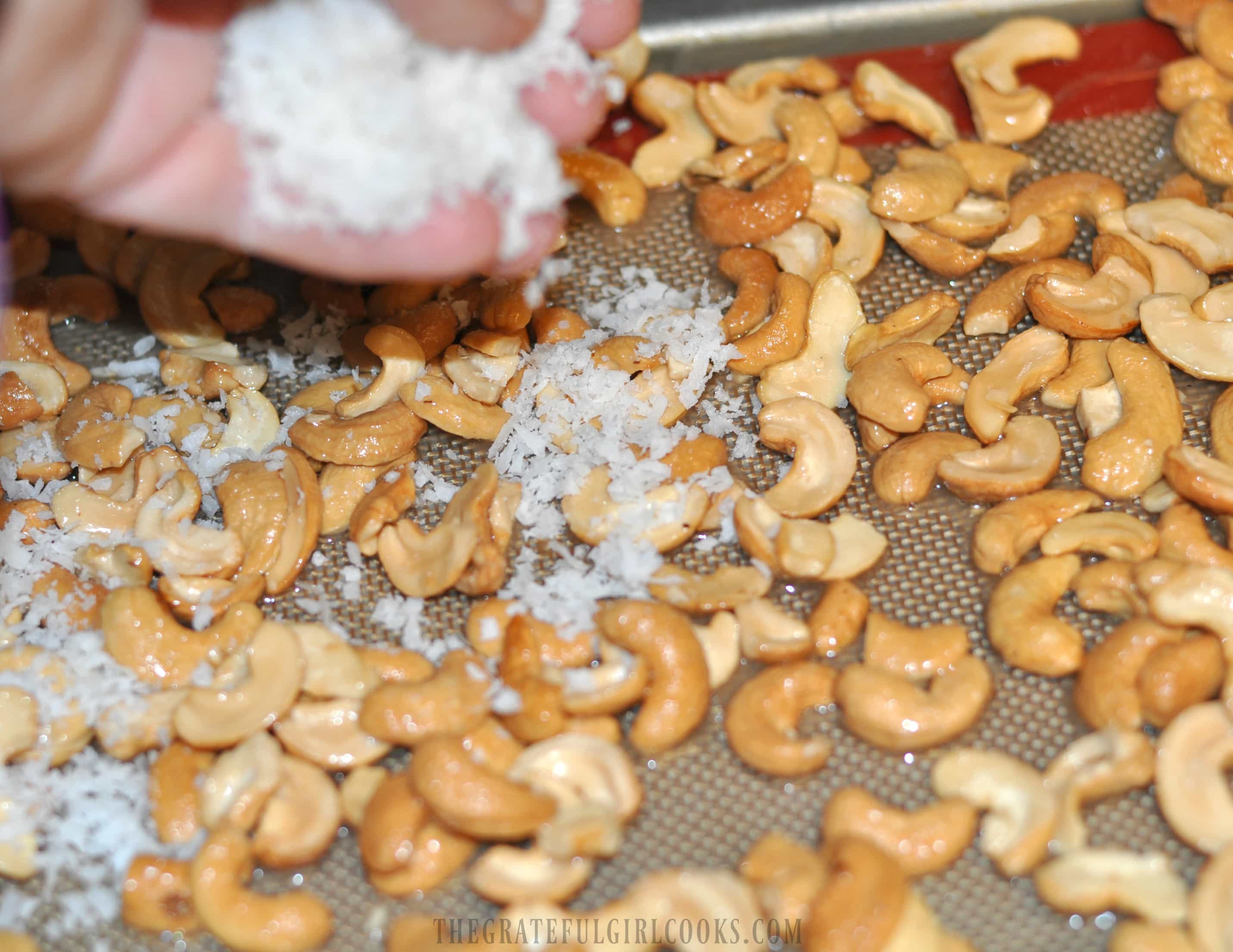 The cashews will be done after 10 minutes OR when all of the syrupy liquid is gone from sheet.  Carefully remove hot pan from oven. Let cashews sit until cooled to room temperature. Once cool, separate any cashews that might have clumped together.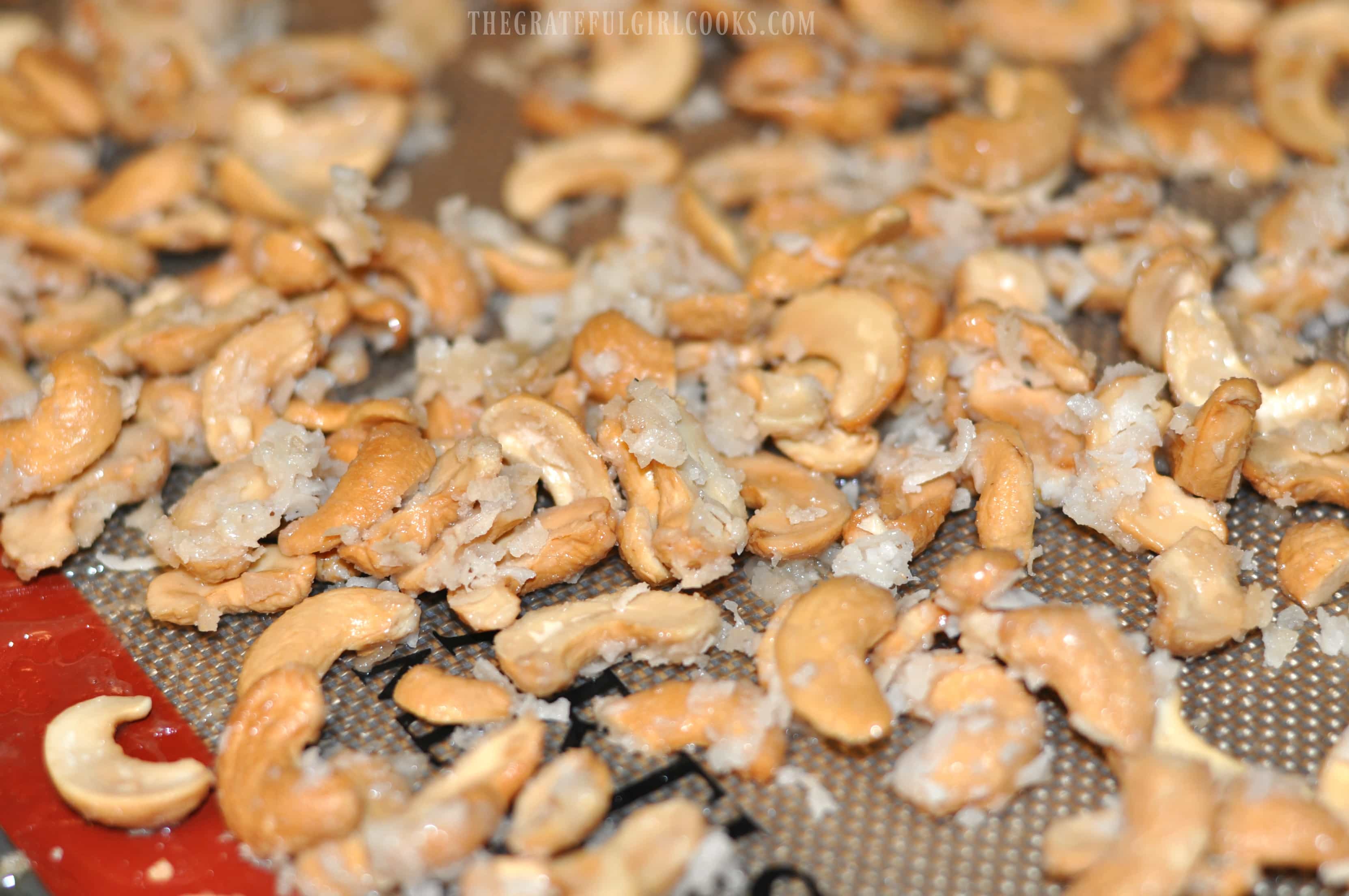 Once cashews have cooled to room temperature and the coating has firmed up, they are ready to serve. Offer them to your family or guests on a pretty serving plate or in a bowl… and watch just how fast they disappear!!! They are so very good!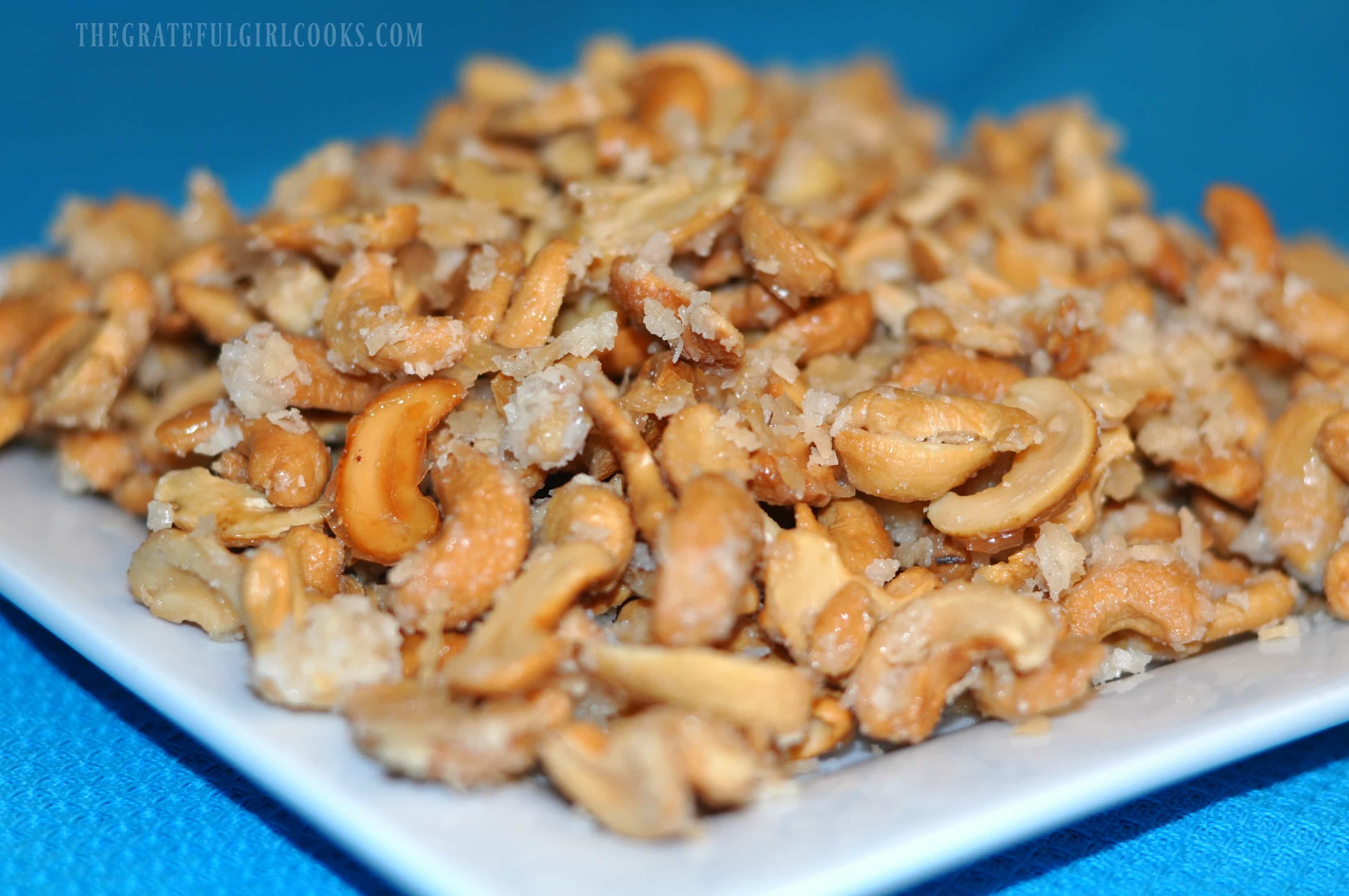 Hope you will give this fun snack a try.  It really only took a few minutes to get them in the oven, then the only effort (if you can even call it "effort") made was just keeping them stirred as they baked. Easy Peasy! You might also want to check out my recipe for Tex-Mex Party Nuts… they taste amazing, too!  Enjoy!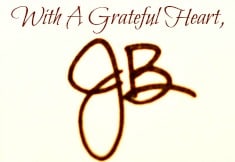 Recipe Source: http://www.dessertnowdinnerlater.com/coconut-cashews/



Here's one more to pin on your Pinterest boards!

Save
Save
Save
Save
Save
Save
Save
Save
Save