I received this recipe for a copycat version of Marie Callender's Cornbread almost 20 years ago.  A woman from our church gave me this recipe. I have no idea where she got the recipe, BUT I DO KNOW that it's an excellent recipe for cornbread, AND tastes very similar to the cornbread served by the restaurant chain.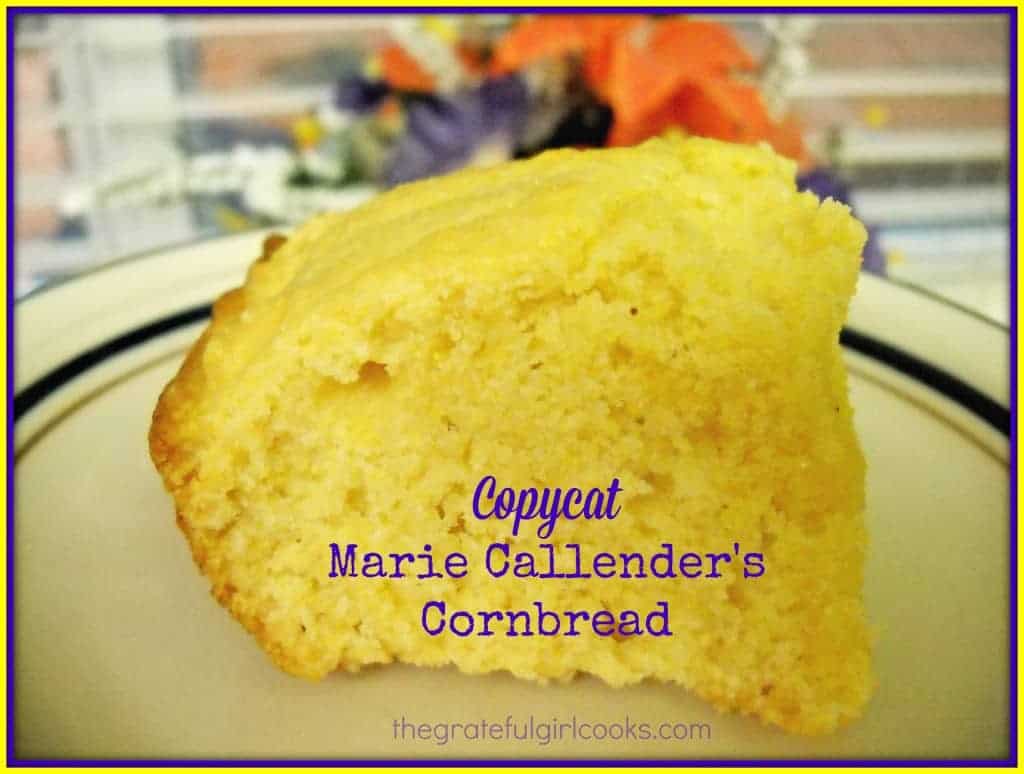 This cornbread rises very high, is slightly sweet, and absolutely delicious, just like the original! YUM! My husband and I enjoyed this cornbread last evening with our dinner… I like to drizzle it with honey; he likes to drizzle it with molasses. Either way… it's GOOD and really easy to prepare!
This is a perfect cornbread to serve alongside a big, hot, bowl of soup… (Mom's Old-Fashioned Chili is a fave of ours), a salad, or Pinto Beans And Ham . Really good, really easy… got it? Hope you'll give it a try… I think you will love it!
Recipe Source: Sharon Fredeen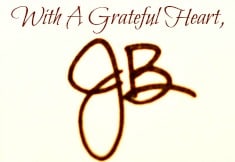 Copycat Marie Callender's Cornbread
Slightly sweet, and sky-high, this copycat version of a famous restaurant's cornbread is perfect alongside your favorite soup or salad!
As Prepared By:
JB at The Grateful Girl Cooks!
Ingredients
2 cups all-purpose flour
1 cup yellow corn meal
¾ cup granulated sugar
⅓ cup dry milk powder
3 teaspoons baking powder
1 teaspoon salt
⅔ cup vegetable oil or shortening (I use oil)
2 eggs, slightly beaten
1 cup water
Directions
In a large bowl or food processor base, combine the flour, corn meal, sugar, dry milk powder, baking powder, and salt. Cut in the oil or shortening with a pastry blender, or process until mixture becomes small crumbs.
Remove from processor, if using, and place ingredients in large bowl.
Stir in eggs and water until mixture is just blended. Do not over-mix the batter.
Grease a 9x9 inch square pan. Pour batter into pan and spread until it is evenly distributed.
Bake at 425 degrees for 20 minutes (or longer), or until a toothpick inserted comes out clean.
Cornbread will turn a very light golden brown on top.
Remove cornbread pan to a wire rack to cool slightly. Cut into 9 pieces, serve, and enjoy!
Notes
If using an 8x8 inch square pan, remember you will need a longer cook time!
Save
Save