I love the flavor combination of oranges and cranberries. That flavor combo has been a favorite of mine for years, and helps enhance these amazing, absolutely yummy Cranberry-Orange Scones! I've been making these for years and years, and absolutely LOVE them!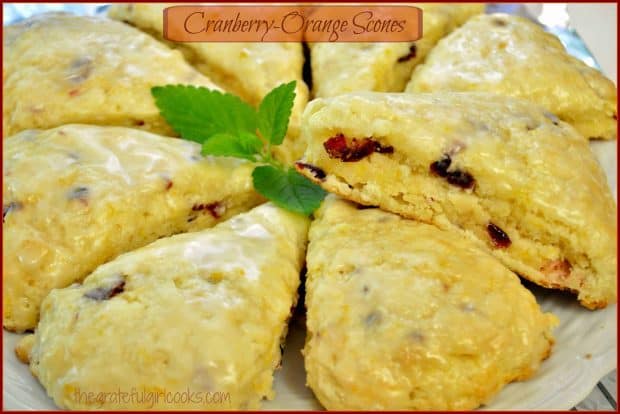 I love making scones, because they are a wonderful breakfast treat or afternoon snack, when enjoyed with a good cup of coffee or tea. I like to make scones (and do so often), because they are so delicious, quick, and easy to prepare. I also love the fact that I save lots of money making them myself and not buying them already prepared at a coffee house (plus I know exactly what is in them). THAT is another winning combination, in my humble opinion!
If you would like to see pictures of the "process" of how you make scones, I would invite you to view my post for Chocolate Chip Orange Scones, which I posted last year, for pictures of the "how-to's". This recipe for Cranberry-Orange Scones is very similar; I just didn't take any pictures (except the finished product) while making this particular scone.
Follow the pictures for the process, and you'll be a master scone baker in NO time!  All that said, these Cranberry-Orange Scones are DELICIOUS, and I sure hope you will give them a try!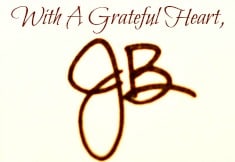 Original Recipe Source: unknown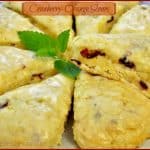 Cranberry-Orange Scones
These delicious Cranberry-Orange Scones are perfect for a breakfast treat, or an afternoon snack! Yum!
Ingredients
For Scones:
2

cups

all-purpose flour

1/3

cup

granulated sugar

2

teaspoons

baking powder

1/2

teaspoon

salt

1/2

cup

(1 cube) unsalted butter, very cold

2

large eggs

1/4

cup

orange juice

1

teaspoon

vanilla

1/2

teaspoon

grated orange peel

(finely grated; I use a micro-plane zester)

3/4

cup

dried cranberries

1

egg white + 1/2 tsp. water
For Glaze:
1 1/2

cups

powdered sugar

(can always add more if you need extra)

1/4

teaspoon

vanilla extract

1/4

teaspoon

orange extract

(I use it for enhanced flavor, but optional)

1

teaspoon

finely grated orange zest

3-4

teaspoons

orange juice (until you get the right consistency glaze to

"paint" on the scones)
Instructions
Preheat oven to 425 degrees.

In a food processor (or cut in by hand with a pastry blender in a large bowl), mix flour, sugar, baking powder, salt and chilled butter together until well combined.

In a separate bowl, mix together the eggs, orange juice, vanilla, and grated orange peel.

Add egg mixture to the flour mixture; combine till fully blended.

Stir in dried cranberries until fully incorporated into dough.

Pour the dough out onto a lightly floured work surface.

Knead the dough with floured hands until the dough comes together...(continue to sprinkle the dough and surface with additional flour as needed, as dough is usually fairly "sticky"-I usually do this 3-4 times).

Shape dough into an 8" circle with your hands.

Mix the egg white and water together in small bowl. Using a pastry brush, brush the tops of the scones with this mixture.

Using a pizza cutter or very sharp knife, cut the scones into 8 equal-sized wedges.

Spray a baking sheet with cooking spray. Place wedges on baking sheet and bake at 425 degrees for 20-25 minutes (mine are usually ready at the 20 minute mark), or until golden brown on top.

Remove scones from oven to a wire rack, with foil or parchment paper underneath.

When scones have slightly cooled, "paint" the glaze on with a pastry brush (glaze is made by mixing up the ingredients listed, in a small bowl). Completely cover the tops of the scones with the glaze. Let scones cool until glaze has hardened. ENJOY!
Save
Save