I have a confession. I LOVE onion rings…really crunchy onion rings. I even dip them in ketchup. Forgive me. I can't help myself. Thank goodness I only order them once or twice or twelve times a year.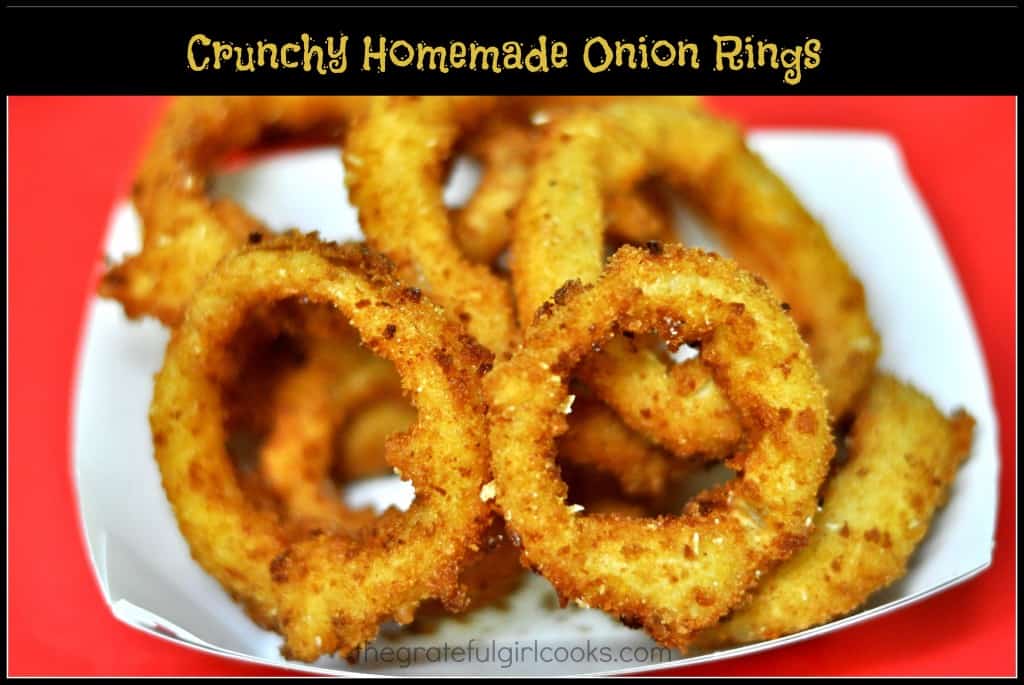 So, here's the story: It was a gorgeous day here in Oregon. My husband was helping a friend move into an apartment today. I was staying inside because I have been a bit sick with a cold for a couple of days. I really wanted to make something new…something I've never made before. In a moment of sheer madness (maybe it was the cold?), I decided to try and make onion rings. How hard could THAT be, right? I did a quick search for recipes and settled on one I found on Pinterest from Six Sisters' Stuff (I love their blog), and off to the kitchen (kleenex in hand-achoo!) I went.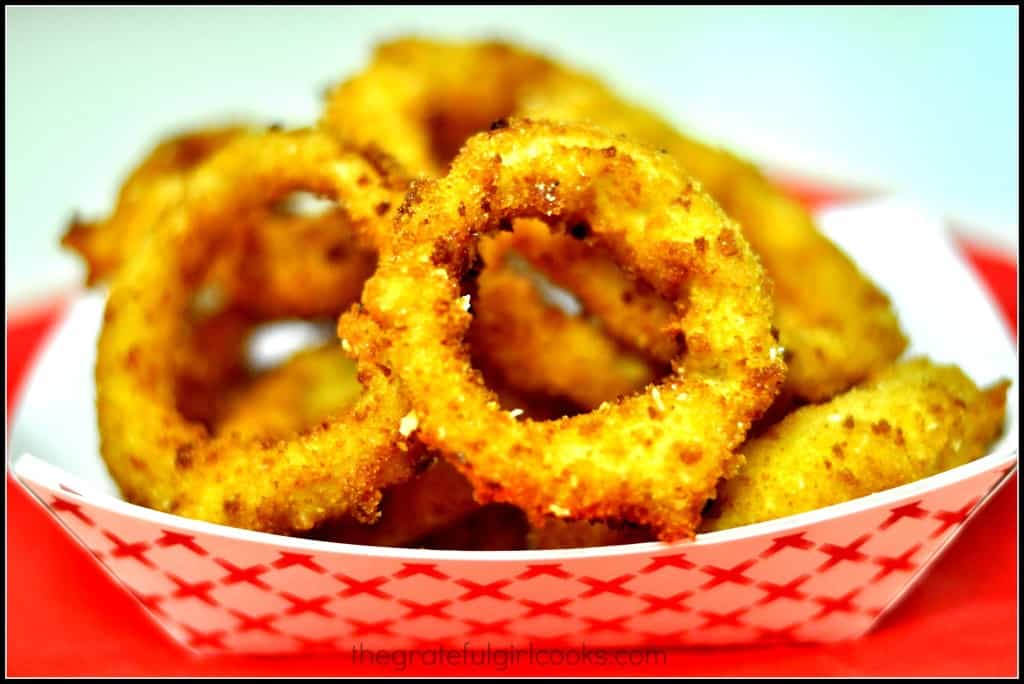 Before I even knew what happened, they were done! Simple and delicious! Naturally I HAD to try one for the sake of quality control. Hmmm…nibble, nibble, nibble. Oh man…these things were GREAT!. I might have sampled a couple others before stopping (thankfully there is no photographic evidence…whew). Using great self discipline, I waited until my husband got home to cook the rest. Guess what? He LOVED them! He munched on onion rings while grilling our tri-tip dinner – perfect!  I even made these for a big outdoor BBQ with family and friends… served them on a large platter as an appetizer, with 3 serving bowls containing BBQ sauce, Ranch dressing, and ketchup on the side, for dipping! They were a huge hit!
I hope you will give these a try…they were fantastic! (I even froze some of the rings once coated and breaded…we'll see if they fry up as well, after being frozen. An experiment of mine for another day)  Update: They froze well in a resealable freezer bag! Cooked perfectly!
Here's how you make these phenomenal onion rings:
Separate the onion slices into rings; set them aside. In a medium sized bowl, whisk together the flour, baking powder, cayenne pepper, seasoning salt, and the "regular" salt. Take the onion rings (a few at a time) and dip them in the flour mixture until coated on all sides; set them aside again.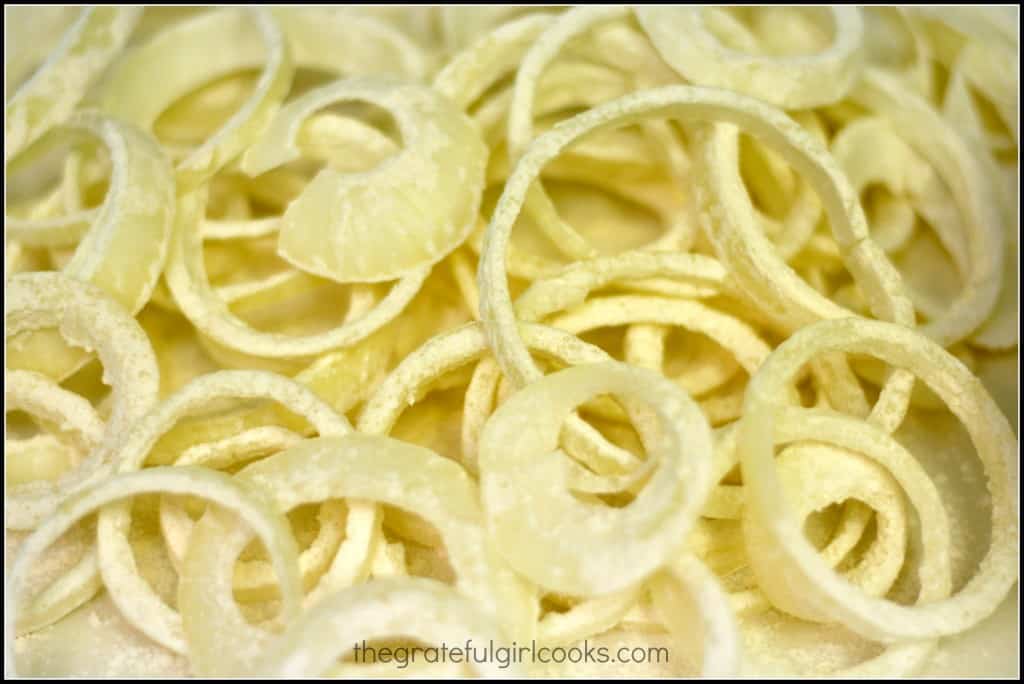 Add the eggs and milk to the remaining flour mixture. Whisk until combined well. (Mixture will be thick).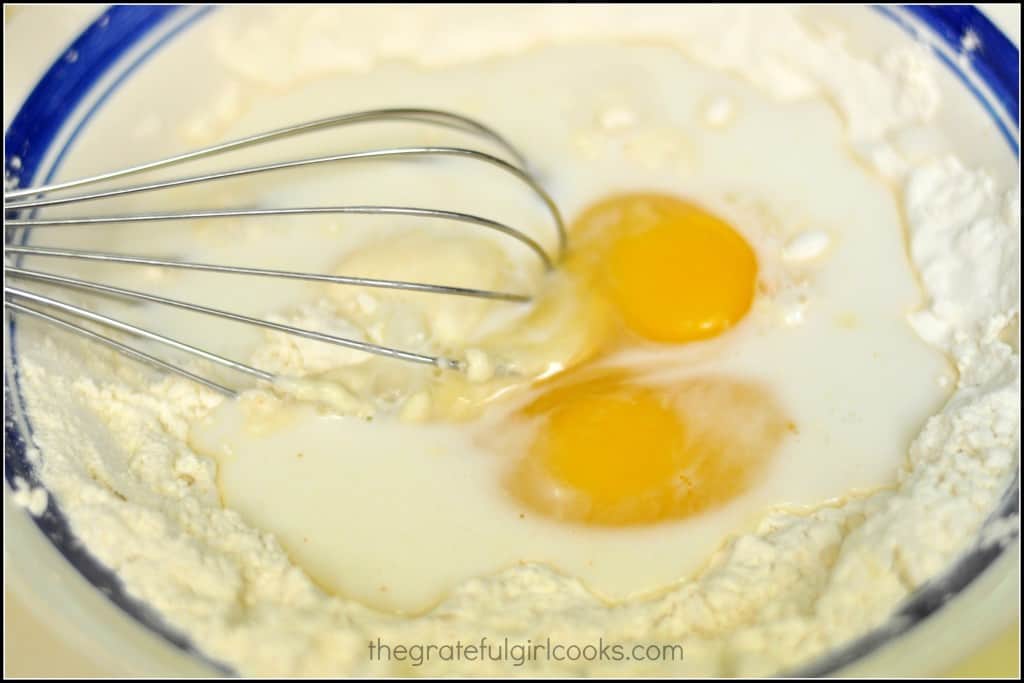 Now pour the bread crumbs into another medium sized bowl.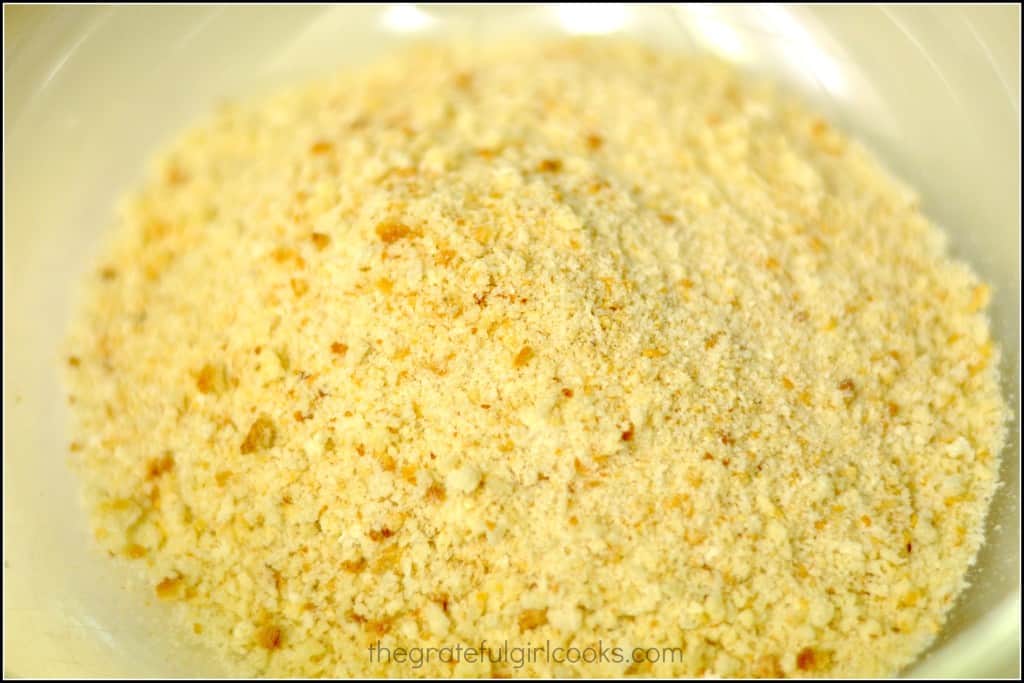 Take the floured onion rings (two or three at a time works best) and dip them into the flour batter. Coat each ring completely, then remove each ring (I used a fork to lift them out of batter) and let the batter drip off as much as possible. Now place the onion ring into the bread crumbs. Using the fork, gently toss the crumbs to coat the ring evenly; flip and coat the other side.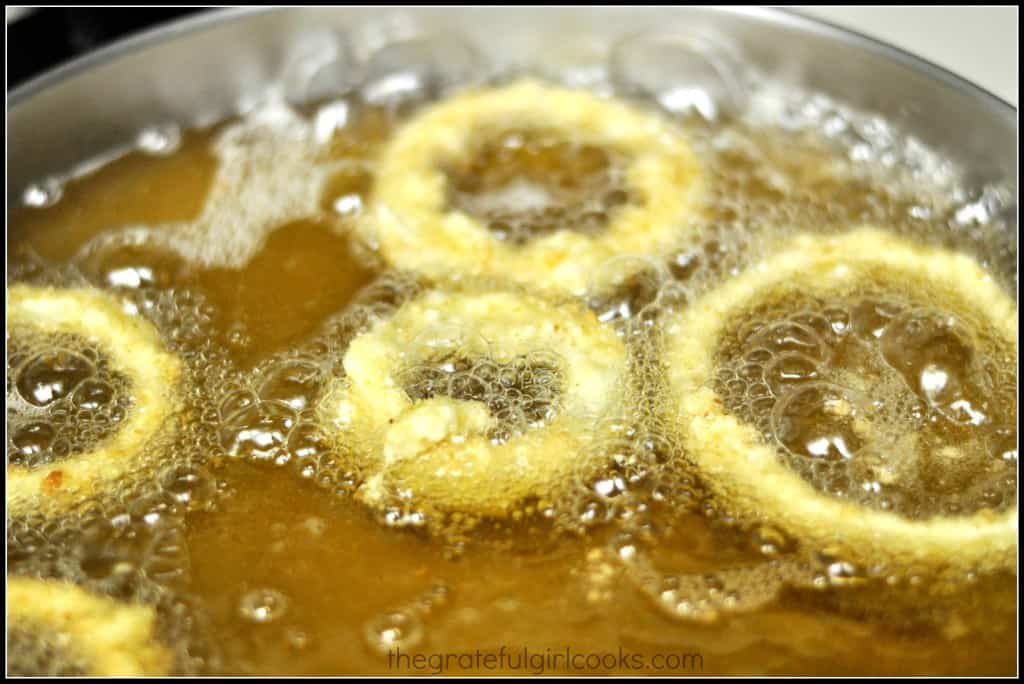 If you are certain the oil has reached 375 degrees, then carefully place 4-5 rings at a time in the hot oil. Fry the rings for 2-3 minutes, making sure to flip the rings over half way through the cooking time. Fry until golden brown. Remove the onion rings to a paper-towel lined plate when done, to drain. Season each batch of rings with salt after removing from oil. Make sure oil is at temperature before adding next batch of onion rings. Repeat the process until done. Serve and enjoy!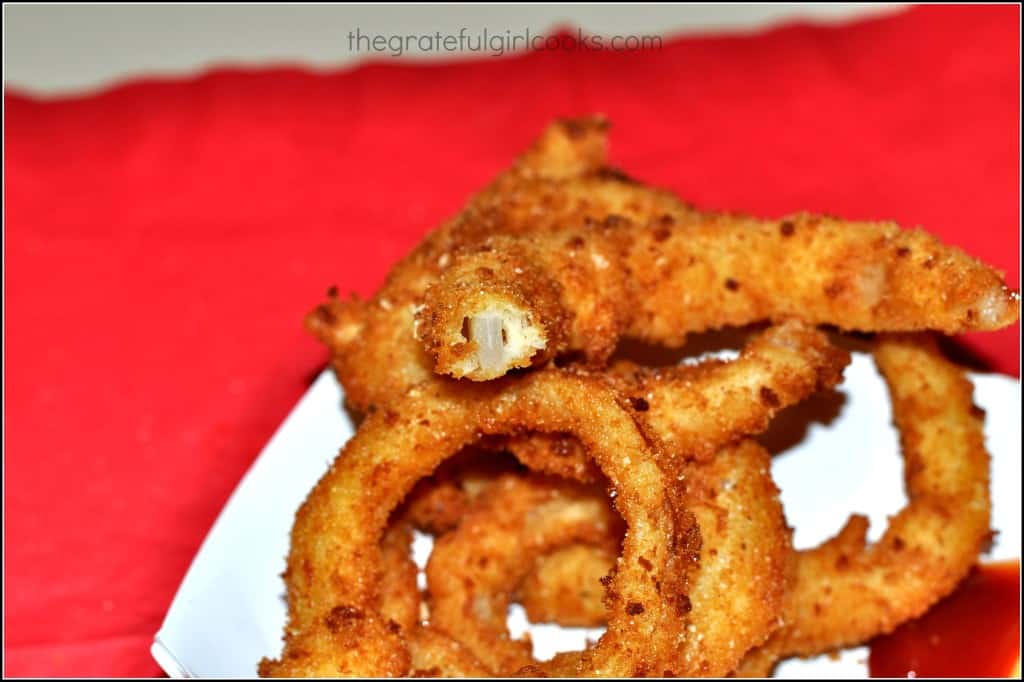 They look really good, huh?  Wait until you taste them! YUM!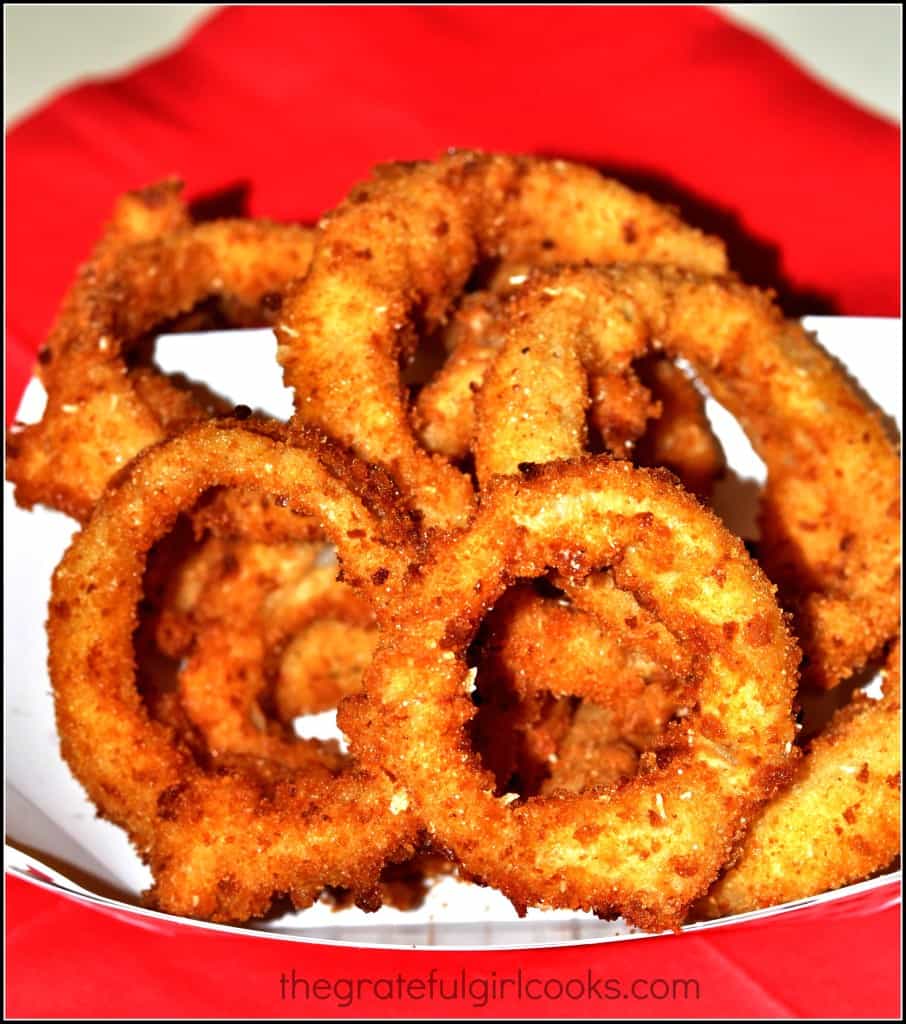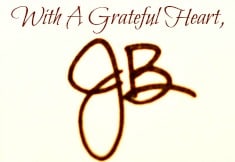 Recipe Adapted From: http://www.sixsistersstuff.com/2013/06/restaurant-style-onion-rings-recipe.html
Save
Save