This is one of my all-time favorite "go-to" cookie recipes: Dipped Gingersnaps! I ALWAYS make them at Christmas to give away to family and friends, but I also end up making them year-round because they are so easy and delicious!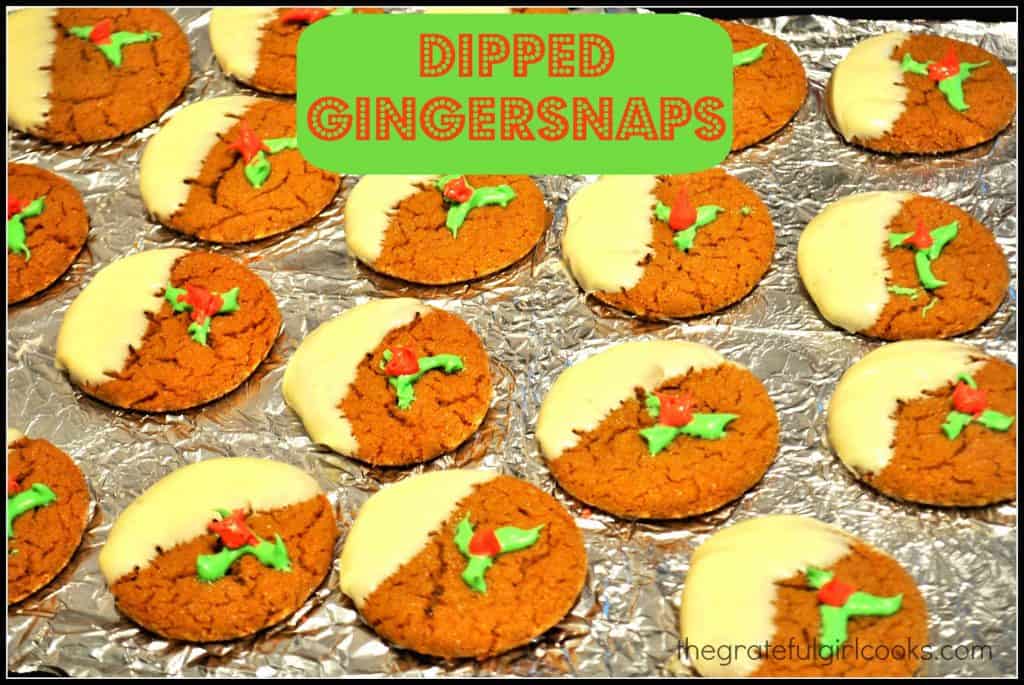 These cookies are actually soft and chewy, so I've never really figured out why that have the word "snap" in them. Rather than waste any brain cells trying to figure it out, I've found it best to just go with it. I feel I'm better for it.
This recipe makes approximately 14 dozen cookies, but never fear…you can easily half the recipe, if you're not planning to feed an entire village, or eat them all by yourself. These cookies also freeze very well, so I usually make the whole batch at once and then freeze some for another time. The ginger flavor permeates these delicious cookies, and if you choose to dip them in white chocolate icing or drizzle them with glaze, you won't be sorry!
I usually dip half of the cookie in a white chocolate icing, but they can also be drizzled with a light powdered sugar glaze or semi- sweet or white chocolate glaze, as seen in the photos below. Both instructions and ingredients are included in the printable recipe (below).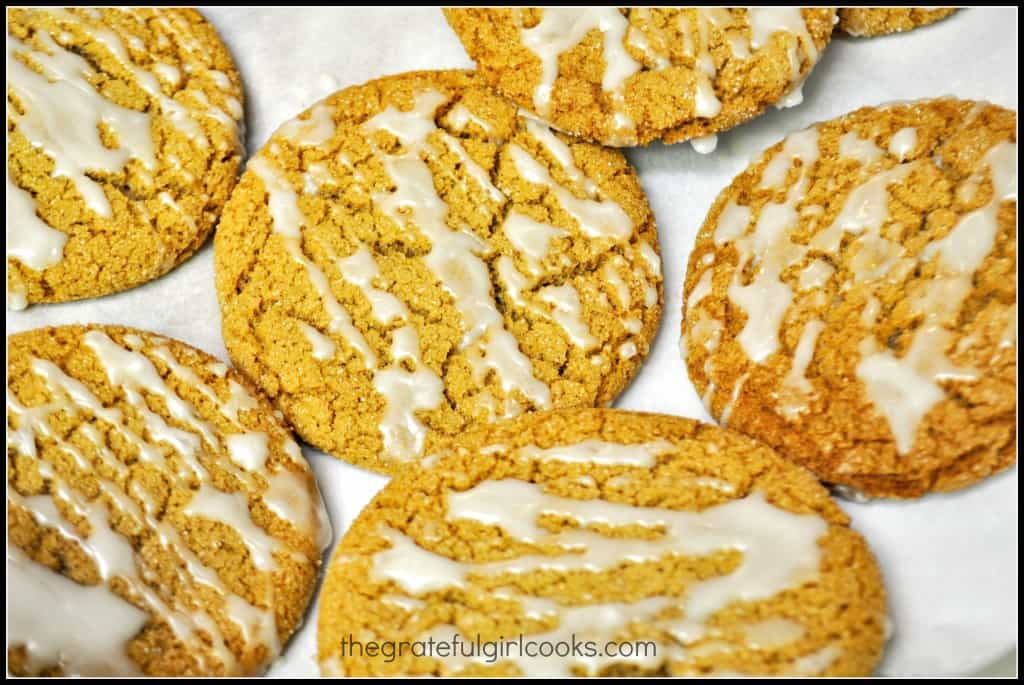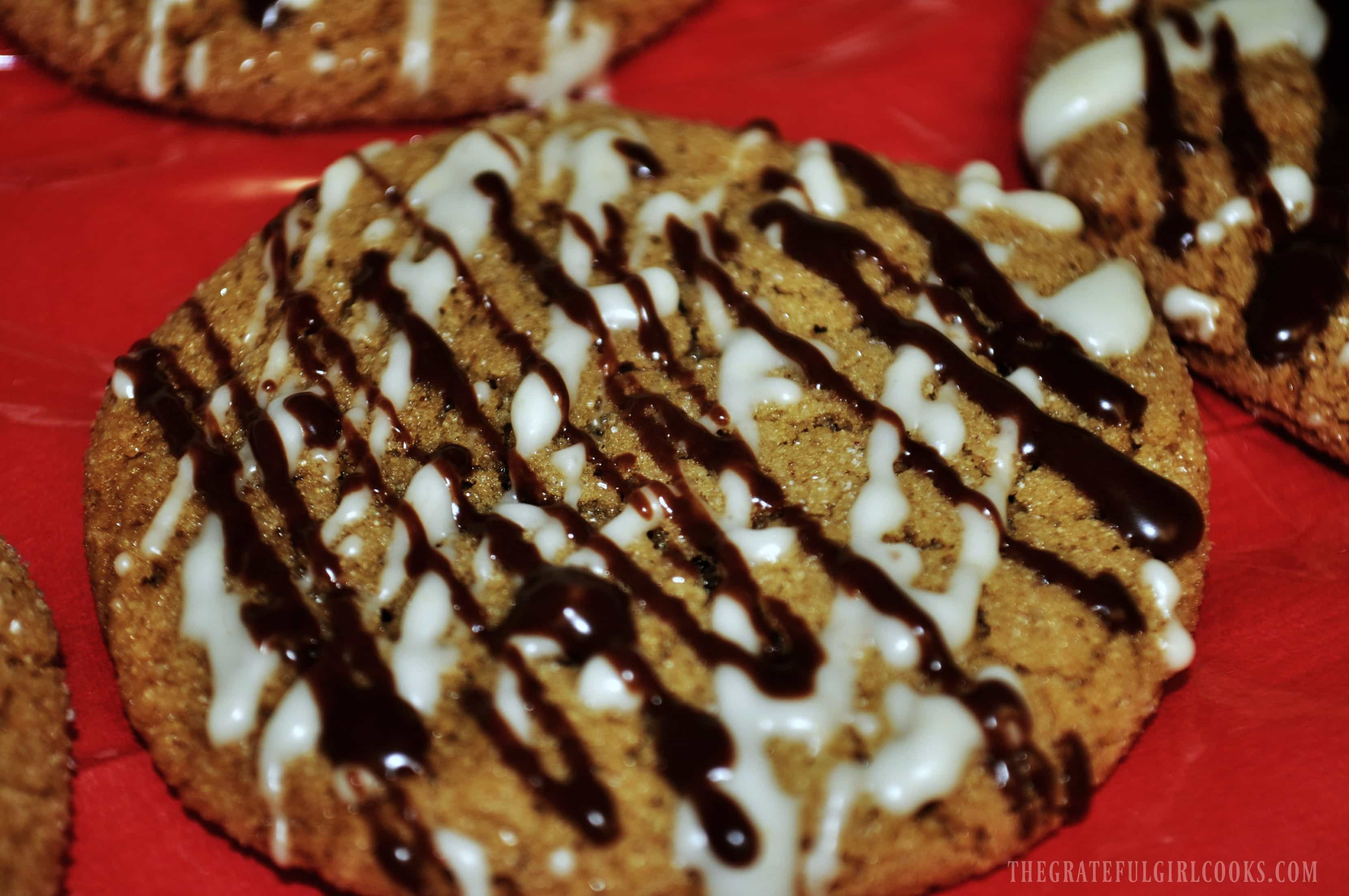 You can even dipped them in white chocolate, then give the kids some colorful sprinkles to add!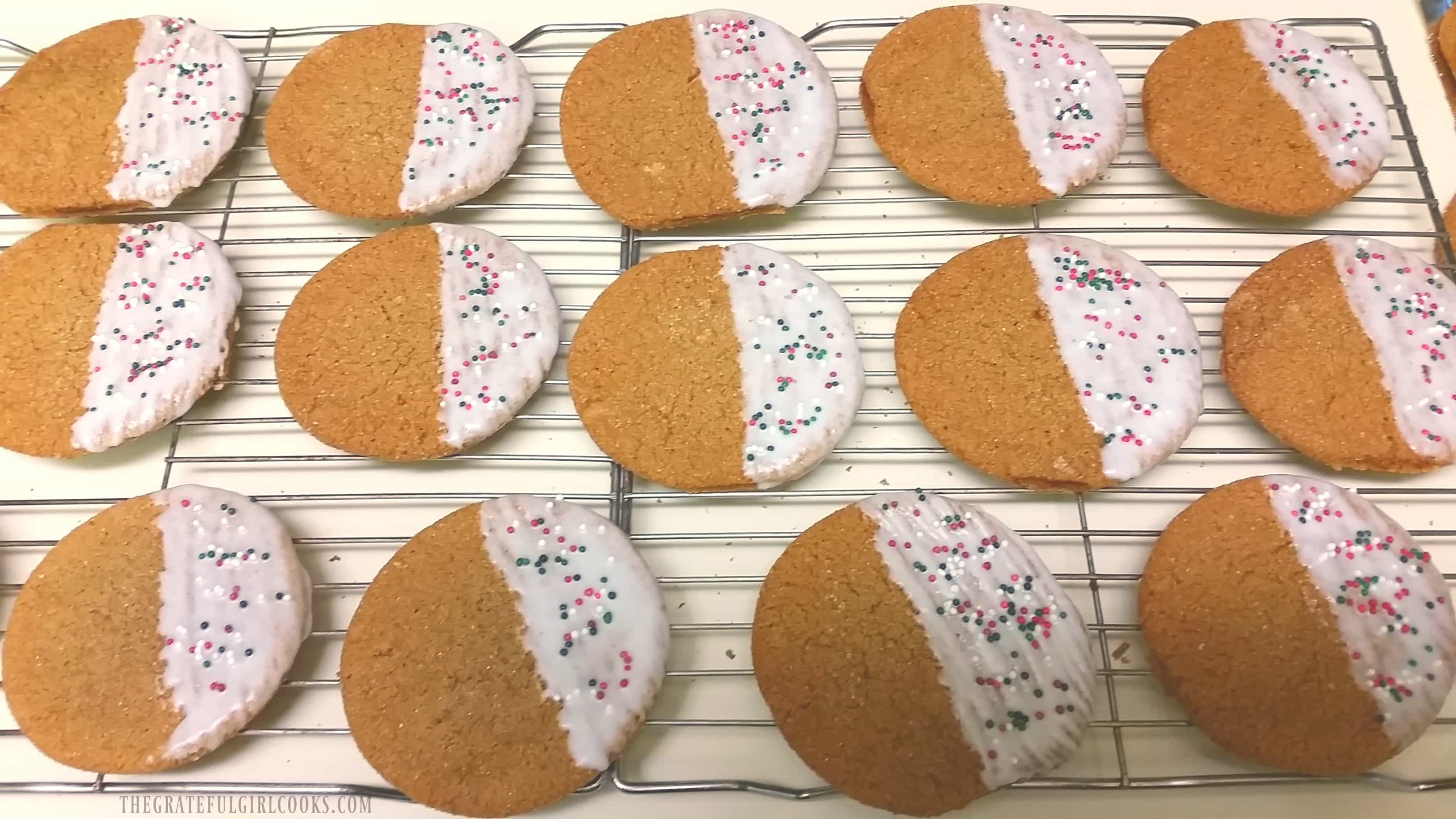 However you choose to decorate these delicious cookies, you will LOVE how they taste, and how easy they are to make!  Hope you will give them a try.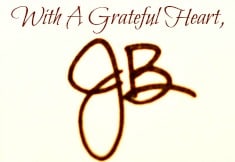 Recipe adapted from: Laura Kimball, via Taste of Home Magazine

Dipped Gingersnaps
A delicious dipped gingersnap, bursting with the flavors of ginger and molasses!
As Prepared By:
JB at The Grateful Girl Cooks!
Ingredients
2 cups sugar
1½ cups vegetable oil
2 eggs
½ cup molasses
4 cups all-purpose flour
4 tsp. baking soda
1 TBSP. ground ginger (powder)
2 tsp. ground cinnamon
1 tsp. salt
Additional sugar
For dipped cookies:
2 pkgs. (12 oz. each) vanilla baking chips
¼ cup shortening (Crisco)
For drizzle-glaze cookies:
2 cups powdered sugar
1-2 tsp. warm water (or more till glaze is slightly thin)
1 tsp. vanilla
Directions
Preheat oven to 350 degrees.
In a large mixing bowl, combine sugar and oil; mix well. Add eggs, one at a time, beating well after each addition. Stir in molasses.
In separate bowl, combine dry ingredients; gradually add to the creamed mixture and mix this very well.
Shape dough into ¾ inch balls (roll the dough between both hands to form a ball) and then roll the cookie ball in sugar (approx ⅓ cup, more or less) in a small bowl.
Place cookies 2 inches apart onto ungreased cookie sheets.
Bake at 350 degrees for 10-12 minutes, or until the cookie springs back when touched lightly. Remove cookies to wire racks to cool.
When completely cooled, you can either dip the cookies or drizzle a thin glaze over them...whatever you prefer. ENJOY!
For dipping: Melt the vanilla chips with shortening in a small pan over low heat. Dip the cookies half way into the mixture, shake or let the excess drip off. Place on waxed paper or foil-lined baking sheets to harden.
For drizzle-glazing: In small bowl, mix powdered sugar, vanilla and warm water till you have a slightly thin glaze, adding more sugar to thicken or a touch more water to thin. Place cookies on foil to catch the glaze that might run off the cookies. Drizzle the glaze on top of cookies. Let harden.

Here's one more to pin on your Pinterest boards!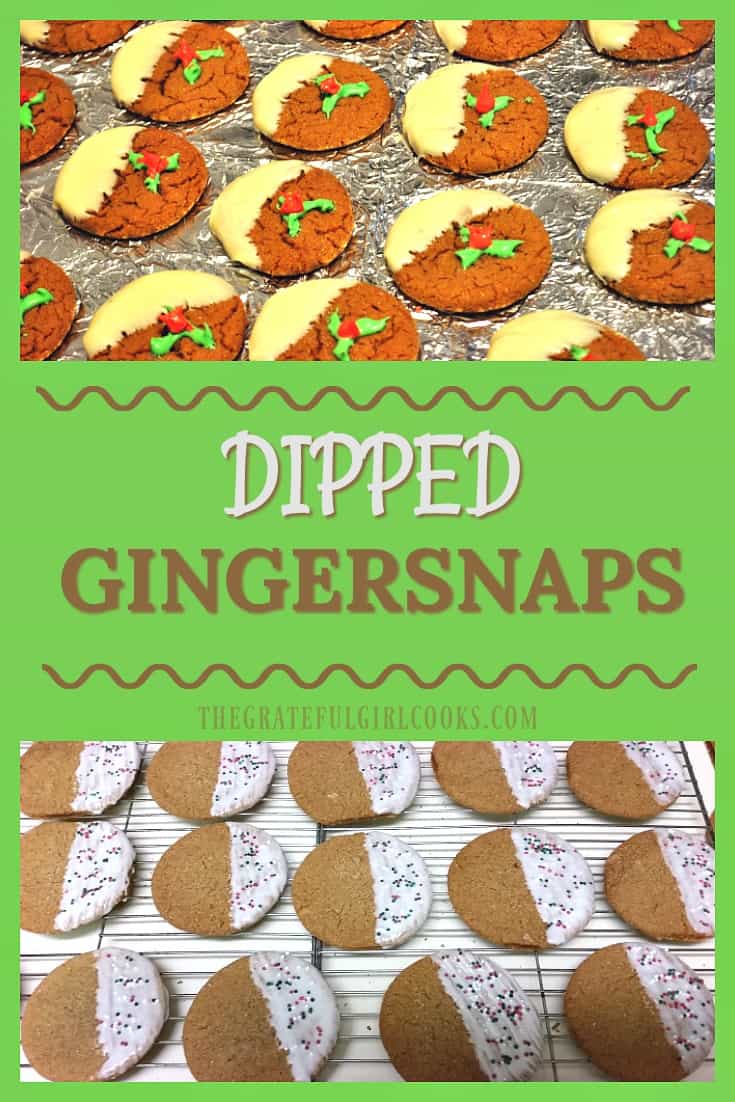 Save
Save
Save