I made a Dutch Crumb Apple Pie this past week for my hubby (because I love him).  It's one of his favorite pies!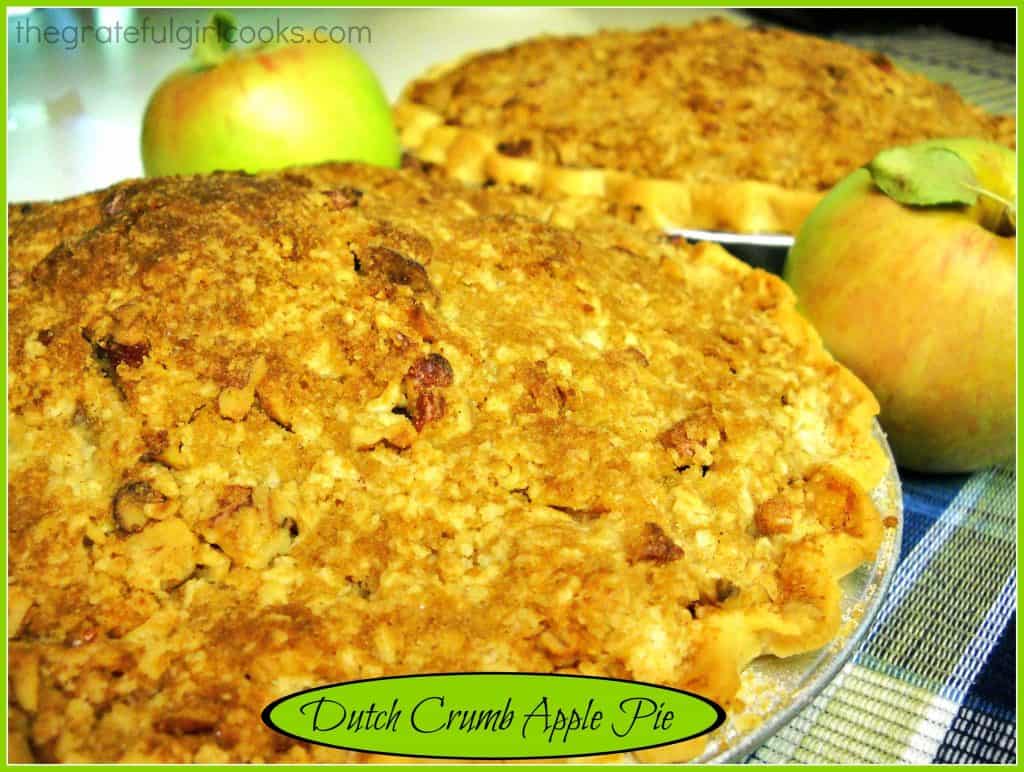 He owns a real estate appraisal business, and has been working LONG, crazy hours for the past couple months to keep up with demand. He mentioned to me a few weeks ago on an incredibly busy, stressful day, how good a piece of Dutch Crumb Apple Pie pie sounded. So I made him a pie this week as a "thank you" for how hard he works for our family. THIS pie. It's delicious!
I've been making apple pies for as long as I can remember, from the same old recipe I found in a cookbook when I was a newlywed, almost 40 years ago. Last Fall I made several pies and enjoyed surprising a few friends and neighbors with a pie of their own!  I used to make apple pies with a top crust, but discovered a couple of years ago that we really enjoyed a "crumb" topping on apple pie.The brown sugar and pecans in the topping really give this pie a wonderful taste.  I found the recipe for the topping in the same cookbook, added it to the pie recipe…and we LOVED it!
I used Gravenstein apples I picked last summer (they were frozen, but I thawed them before making this pie), but Granny Smith apples are a perfect substitute (firm and tart).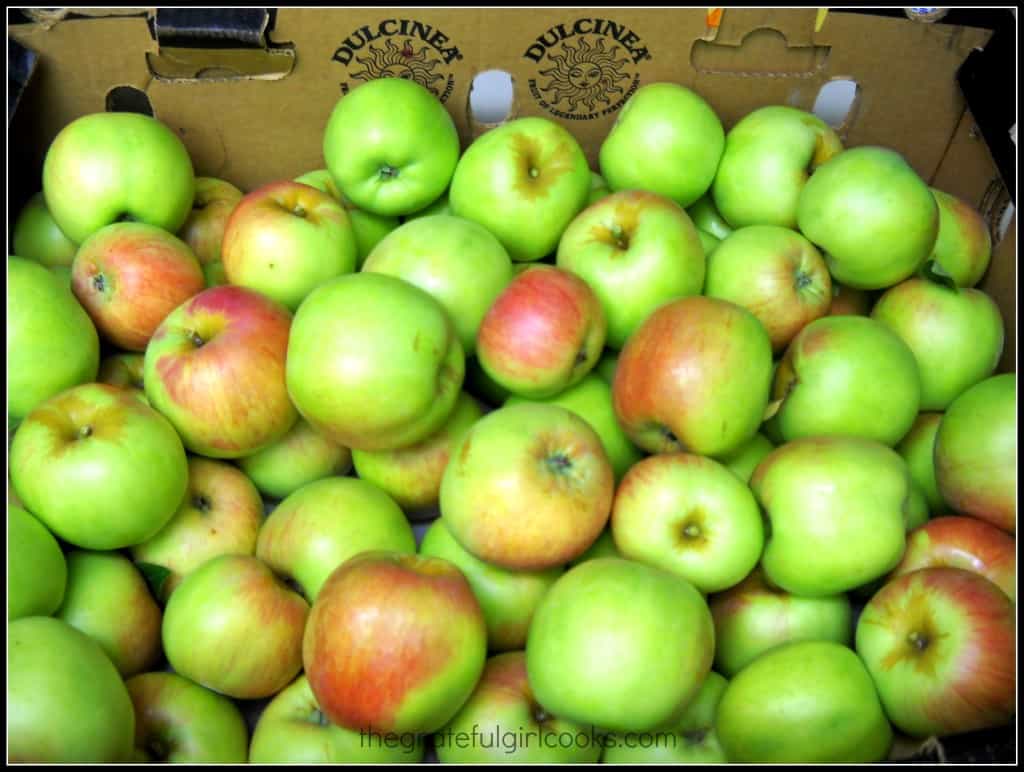 Here's how you make this absolutely delicious pie:   Preheat your oven to 425 degrees.  Make a single pie crust. Use your own recipe, buy one, or make my recipe (DIY Mom's Pie Crust!). Prick the dough on bottom and sides with tines of a fork, so the dough doesn't "puff up" while baking.

Prepare the apple filling per recipe instructions. Set aside.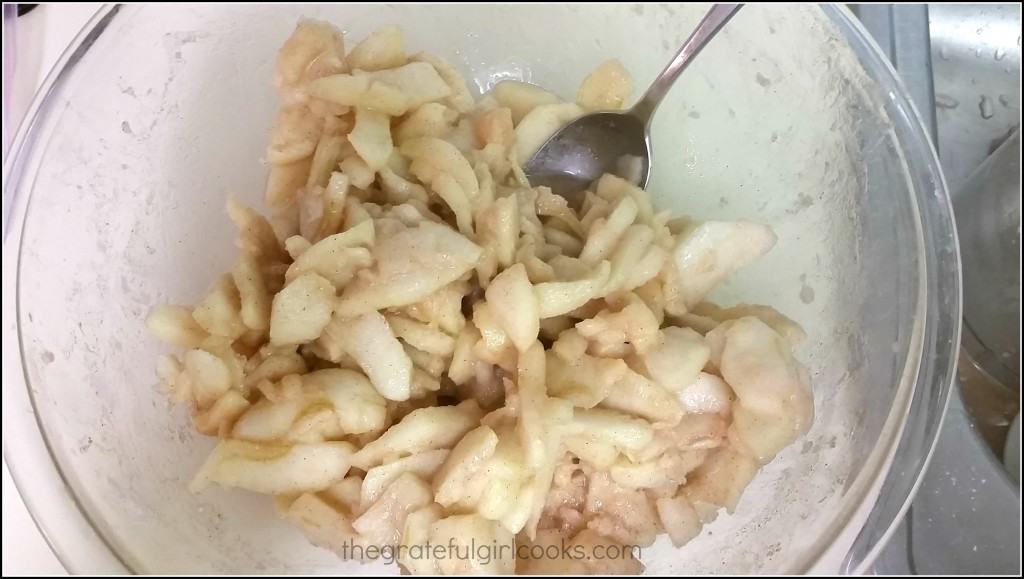 Prepare crumb topping, using a pastry blender to cut butter into mixture. Mix until all butter is worked in, and is about the size of peas.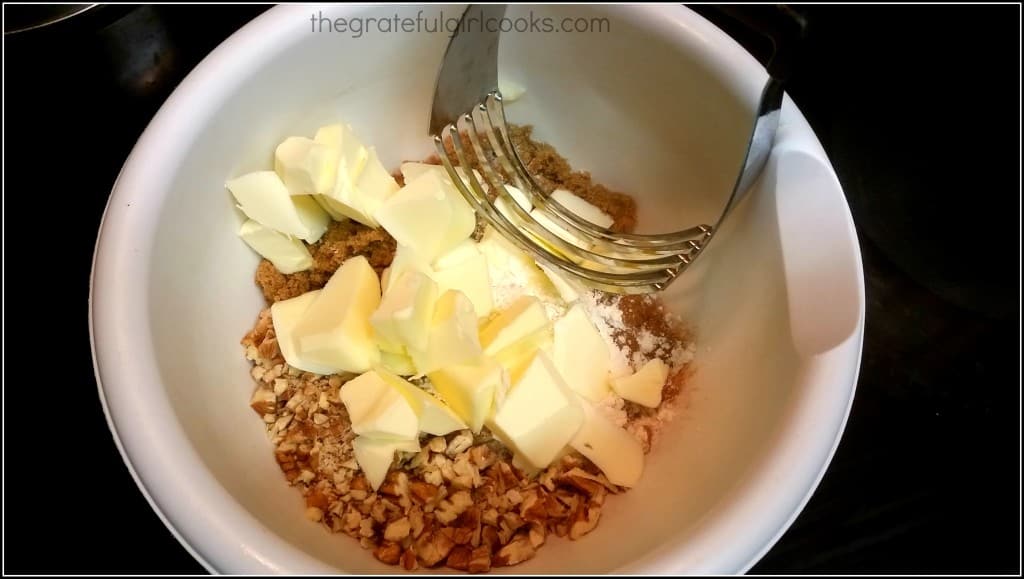 The topping mixture should look something like this when done: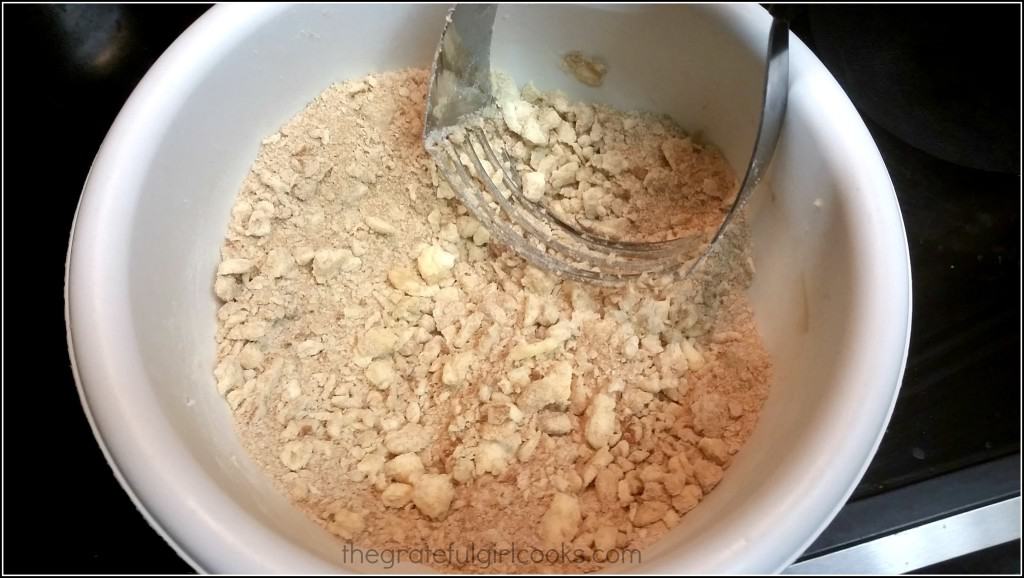 Add the apple filling to the prepared pie crust.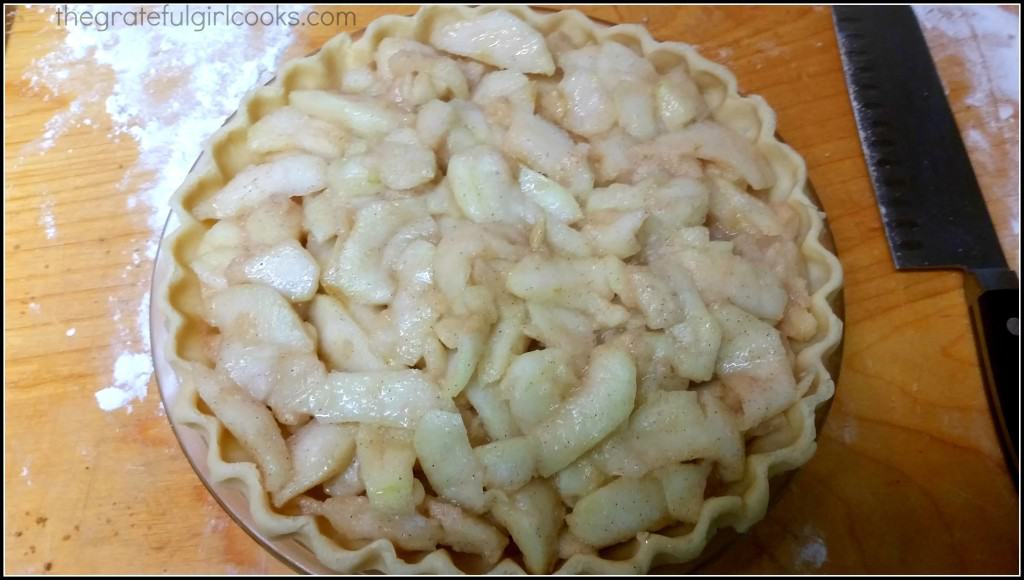 Carefully distribute the crumb topping mixture on top of the apples. I cup my hand around the sides as I go, to keep most of the crumbs ON the pie and OFF the kitchen counter.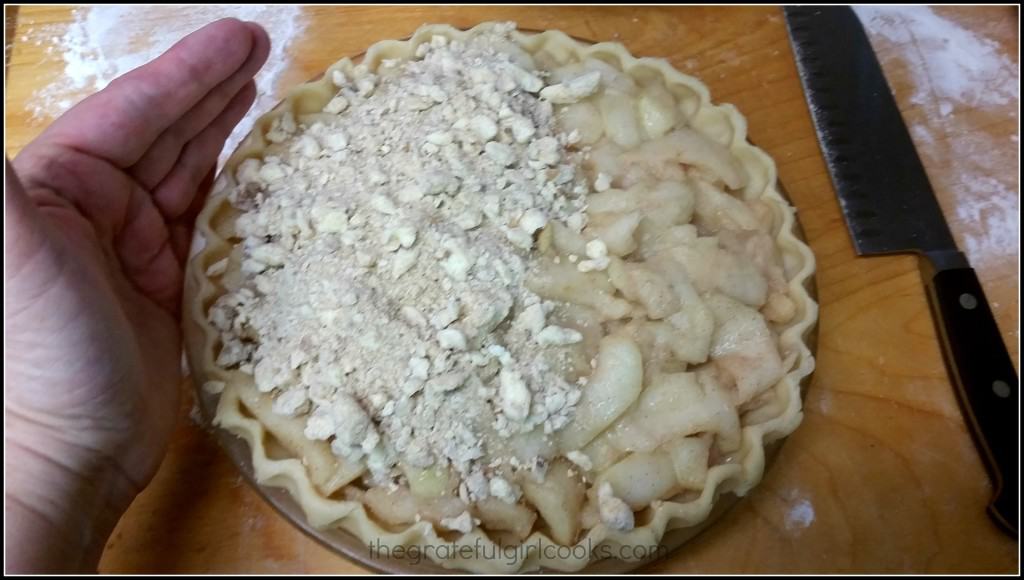 Spread crumb topping over entire surface of pie and mound it up toward the center of pie.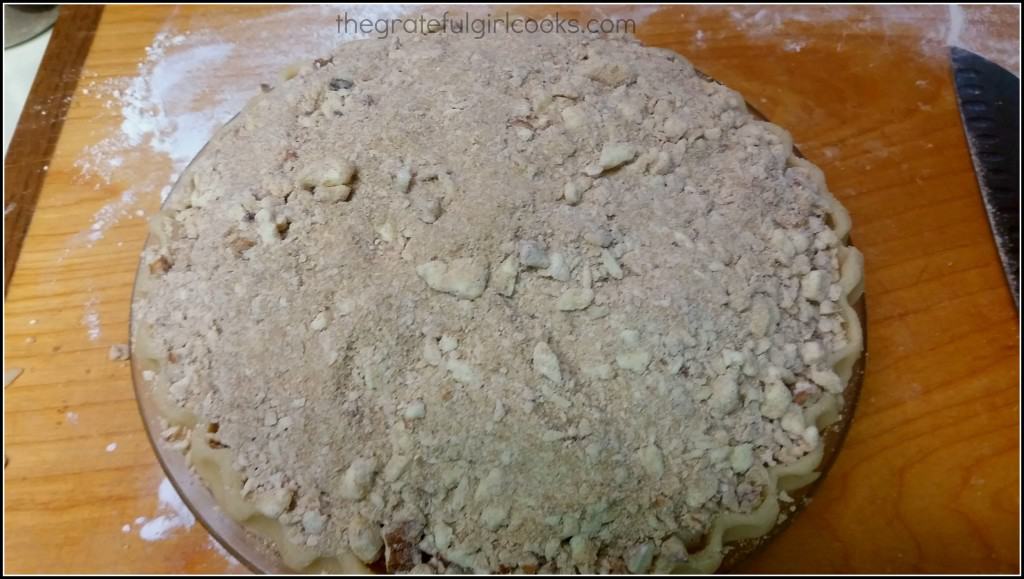 This is what it should look like from the side. See how high it is in the middle?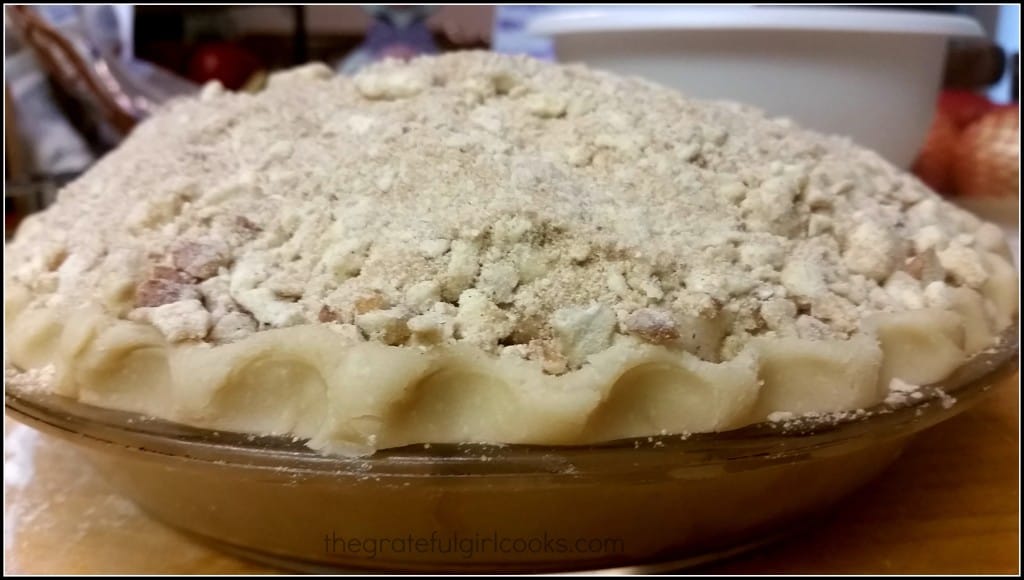 Bake the pie at  425 degrees, for  40-45 minutes. I put a piece of aluminum foil on the rack below the rack the pie is baked on, to catch any wayward drips (easy to clean up), Pie should be a wonderful, golden brown color when done.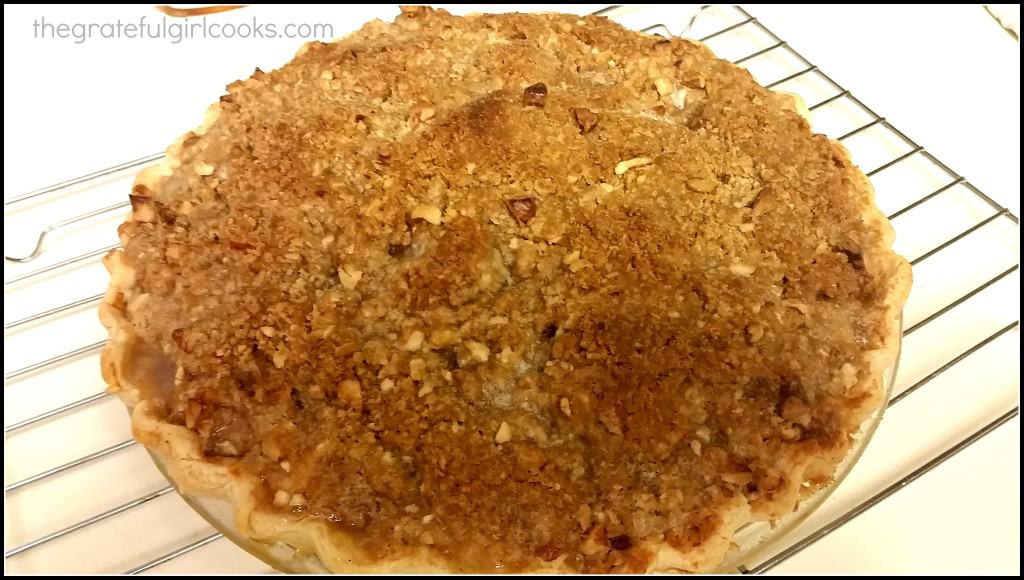 Let cool for a bit, then dig in! Here's what the inside of the pie looks like: (Same pie… but used my phone's camera for this one…)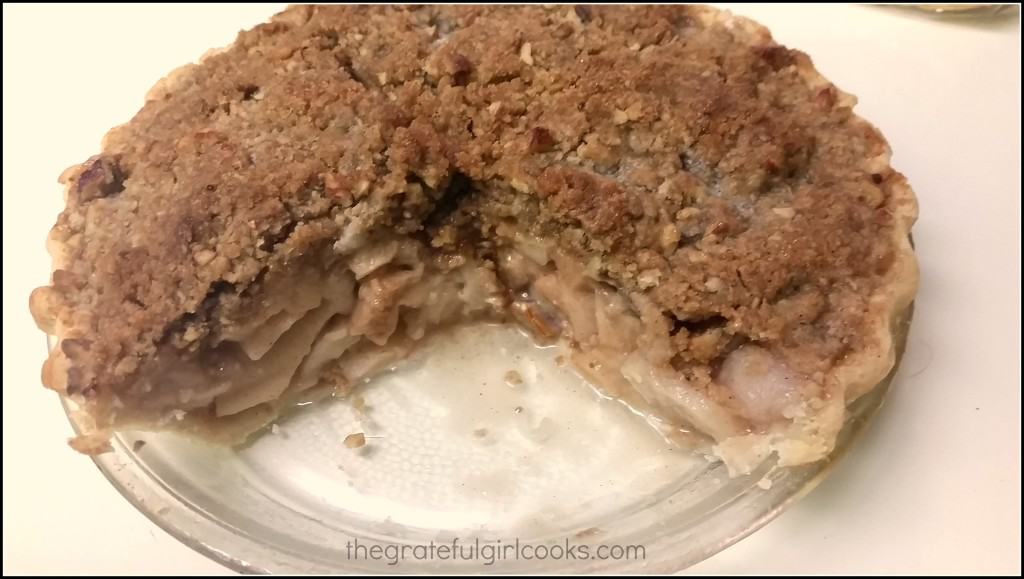 And here's what a slice of the pie looks like with a scoop of my homemade vanilla ice cream, (gotta have the pie a la mode, of course). So incredibly good!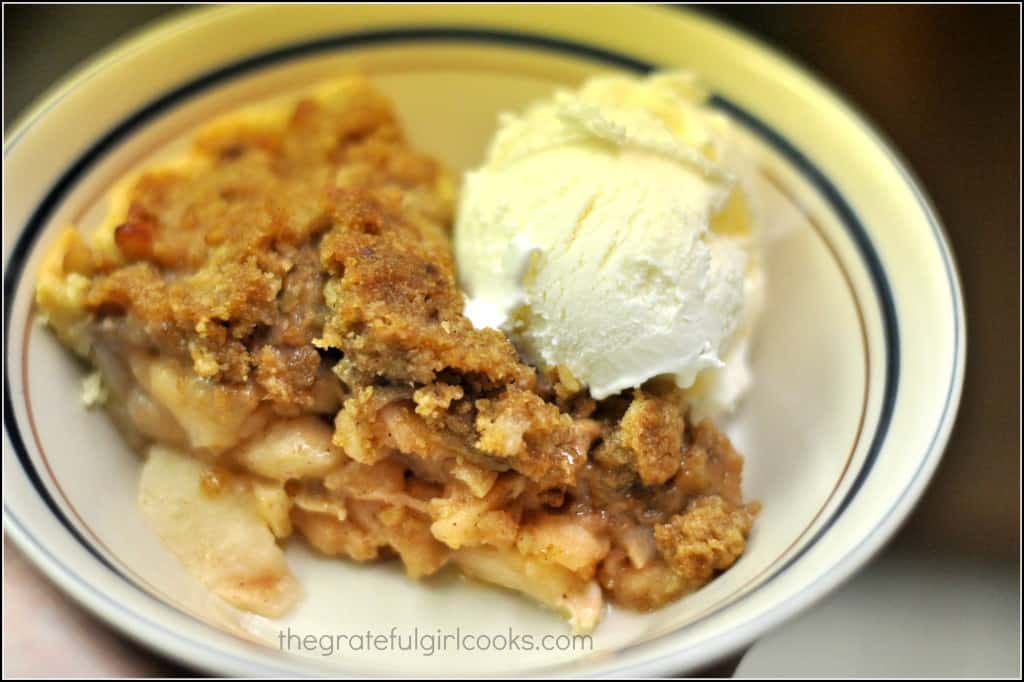 Hope you will give this recipe a try! We love it, and think you will, too!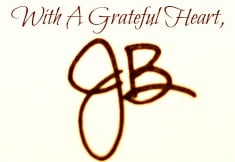 Recipe Source: "The New Pillsbury Family Cookbook", copyright 1973 by The Pillsbury Company. [Apple Pie recipe: page 149]. [Crumb topping recipe: page 147].

Save