If you are looking for an easy to prepare, budget friendly AND flavor-filled dinner, then you just have to try this Easy Island Glazed Pork Tenderloin! It tastes FANTASTIC!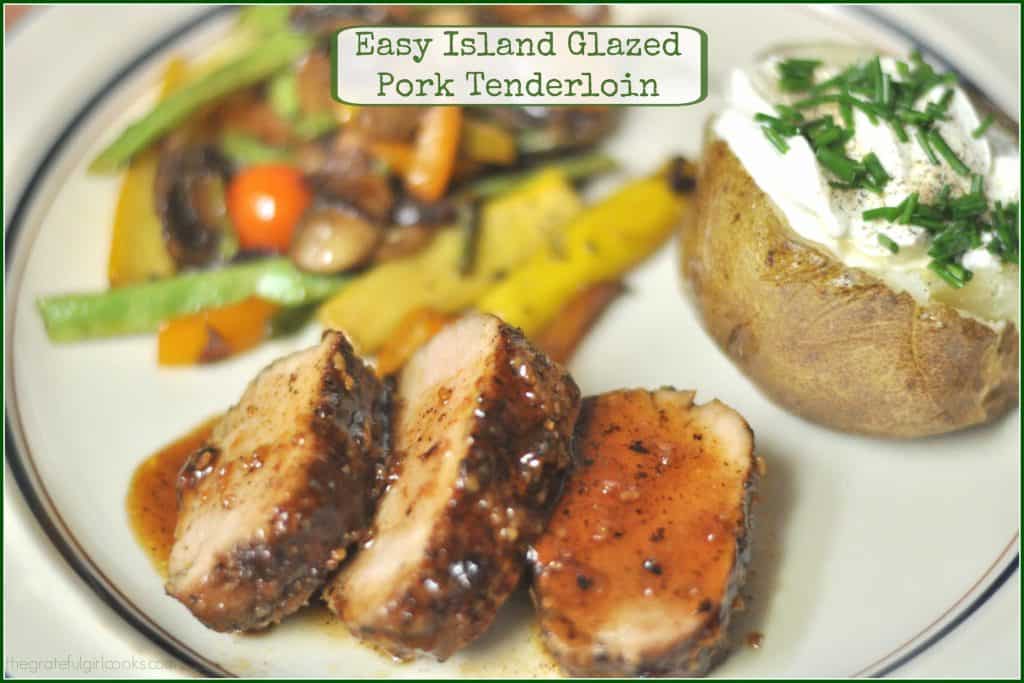 I enjoy cooking pork tenderloin, because it is fairly inexpensive (this one was one and a half pounds and cost $6.99, but gave us enough for 4 good sized servings), AND it cooks in less time than a large pork roast or thick chops.  This recipe is very easy to prepare, because there are not a lot of steps. A dry rub of "Island-inspired" spices are used to coat the tenderloin, the meat is seared, a simple sweet n' slightly spicy glaze is added to the tenderloin, then it bakes for about 25 minutes. That's it! There is so much phenomenal flavor on the pork, I really think you will enjoy this just as much as we did… it's THAT good!  Here's what you do to prepare this dish:
Preheat your oven to 350 degrees F. While oven is preheating, mix together the spices for the dry rub (salt, cinnamon, cumin, chili powder, and black pepper).  One mixed, rub the spices over the entire tenderloin (top, bottom and sides). Make sure to rub the spices into the meat, using your fingers.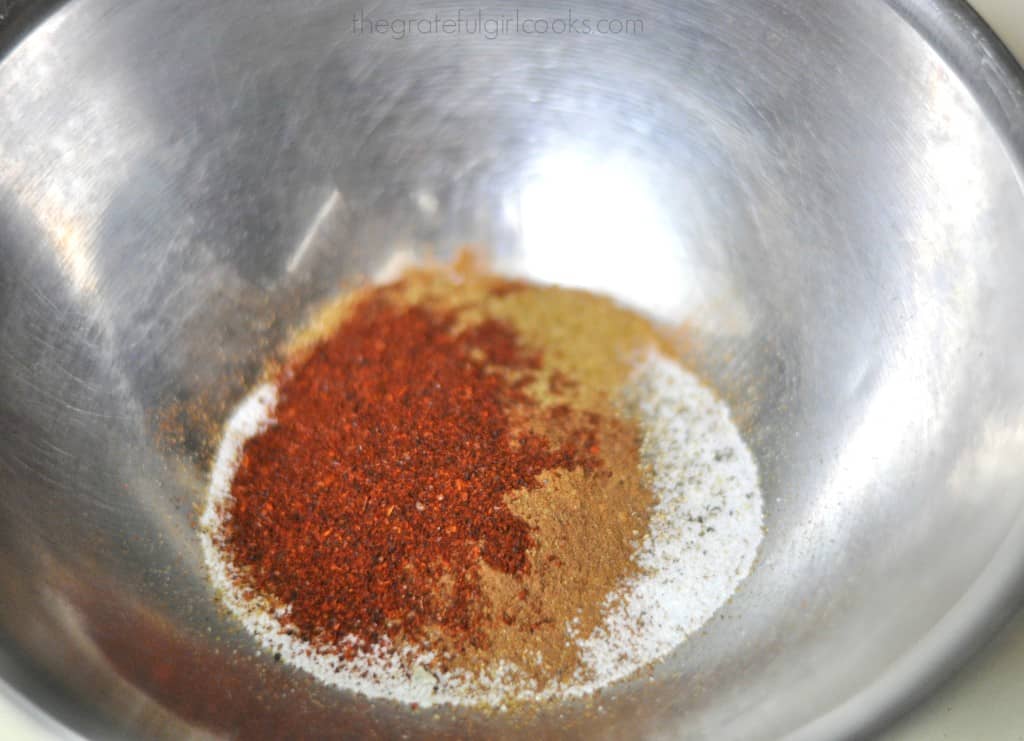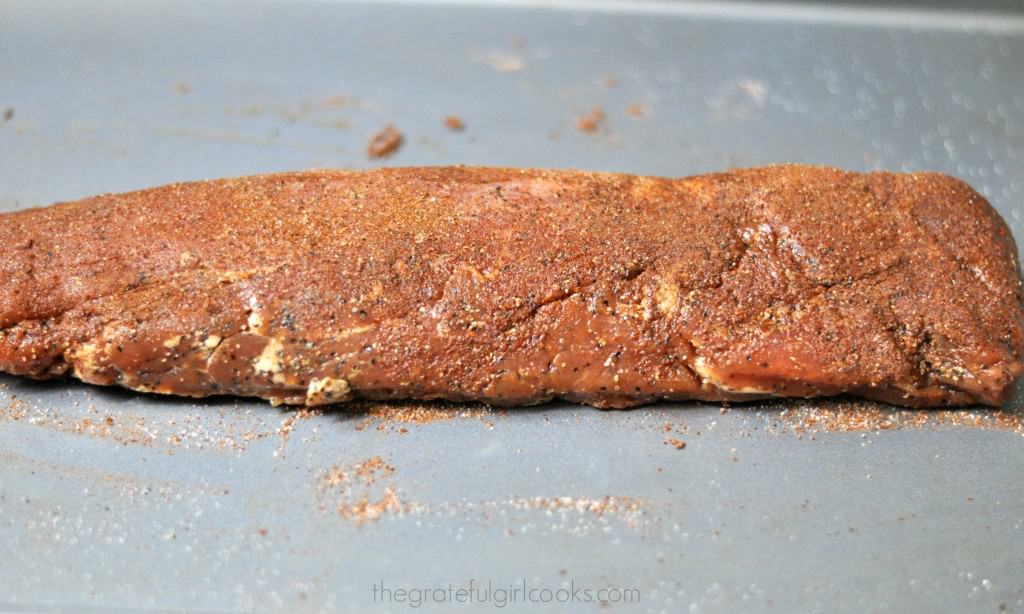 Heat olive oil in an OVENPROOF skillet (see NOTES section of printable recipe for tip). Heat oil on medium-high. Once oil is very hot (but not smoking), add the seasoned tenderloin to the hot skillet. It should sizzle as it hits the hot oil.  Let it sear on one side for a couple minutes, then turn it over and brown the other side for two or three minutes. Turn the meat onto its side, as well, to give the tenderloin a nice brown appearance all over.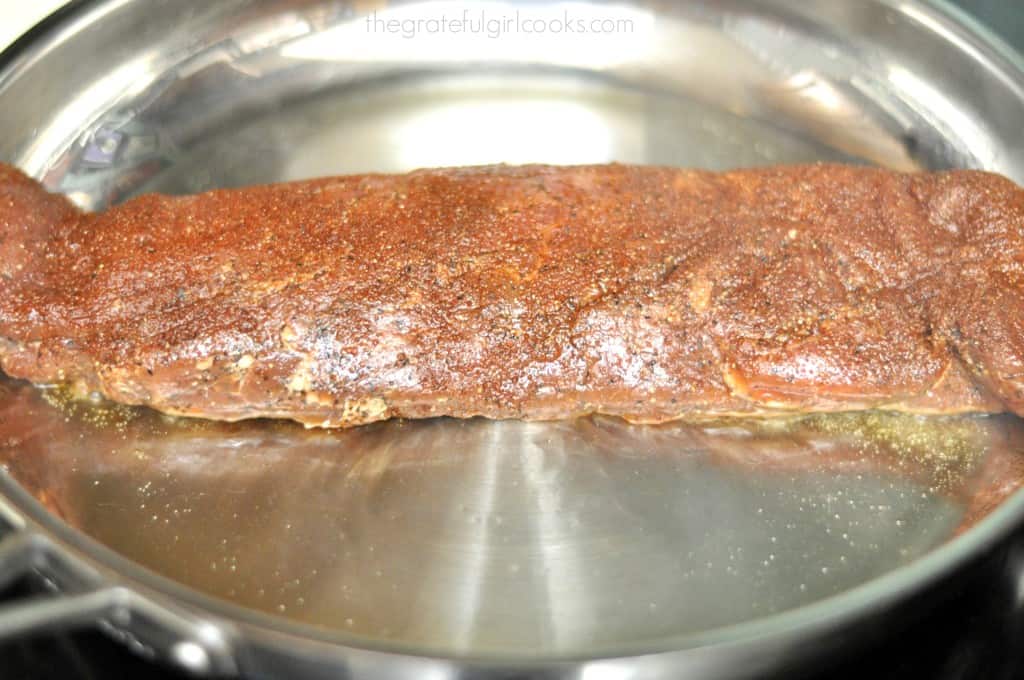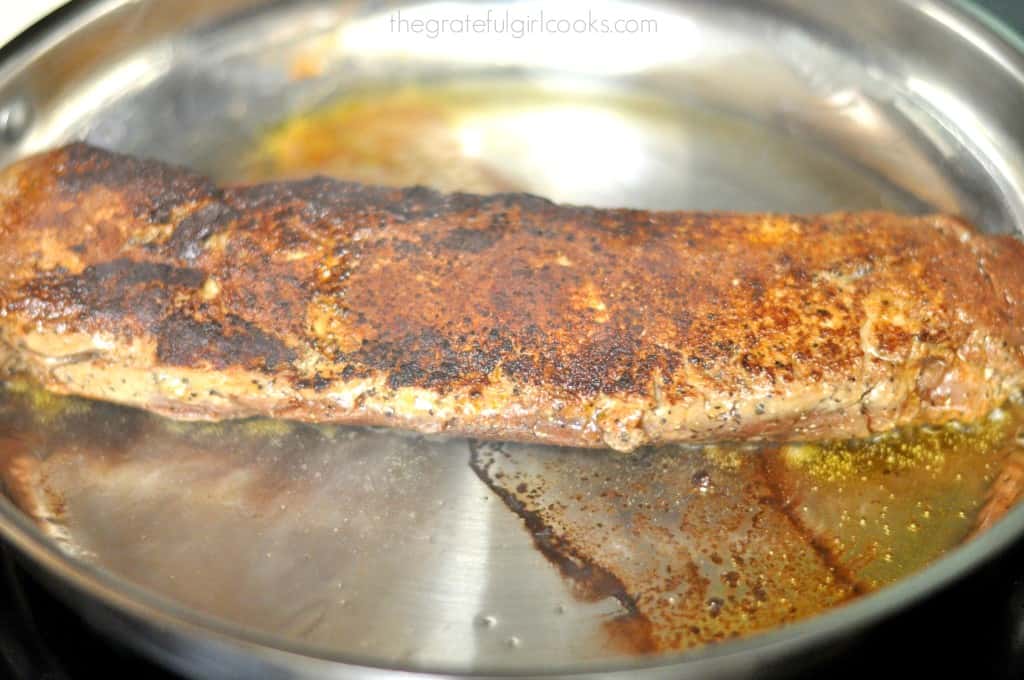 Mix up the glaze ingredients with a fork or spoon in a small bowl (brown sugar, minced garlic and sriracha sauce) until you end up with a thick glaze.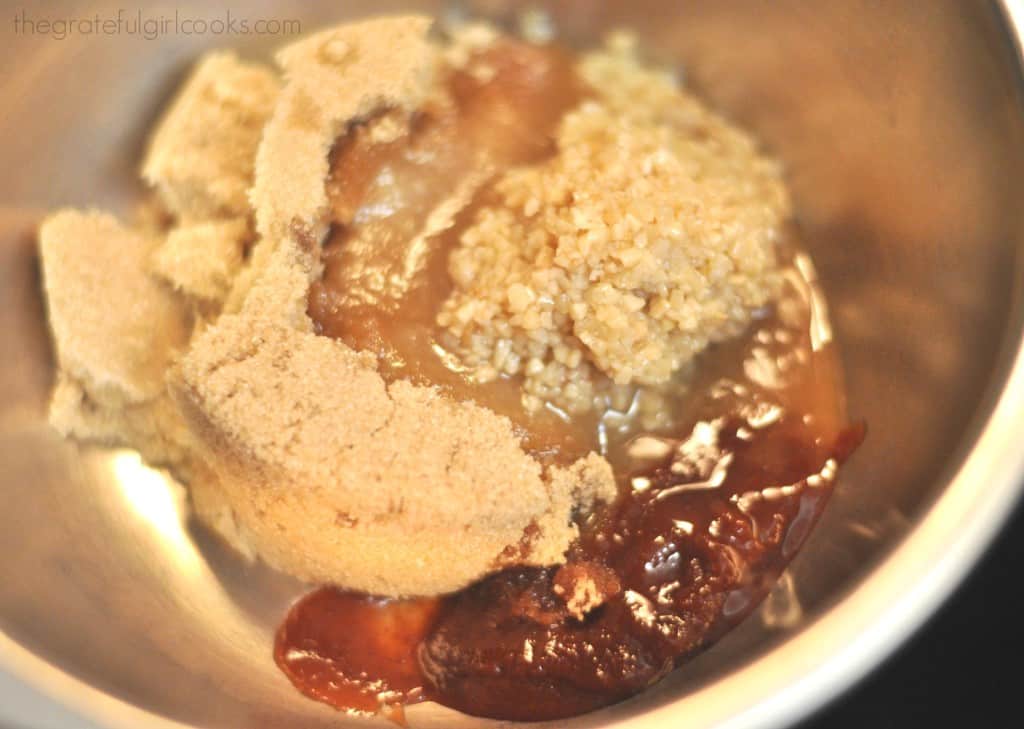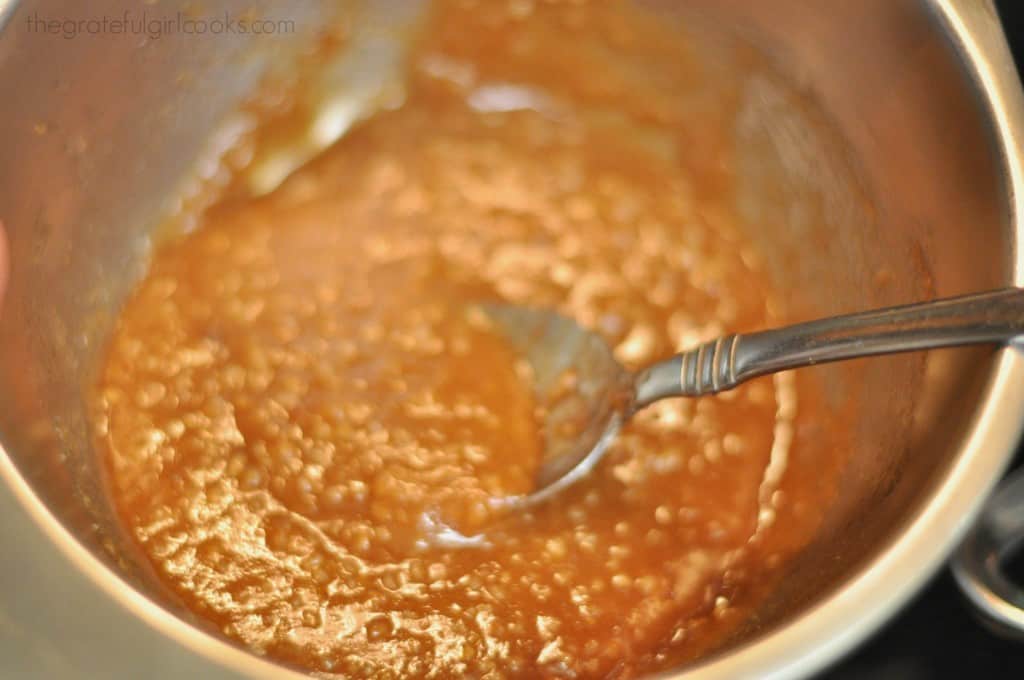 Coat the tenderloin (top and sides) with the glaze. I used a spoon, and spread it all over. Some will run down the sides into the pan. No problem… it will be a wonderful sauce to drizzle over the cooked pork slices, when done.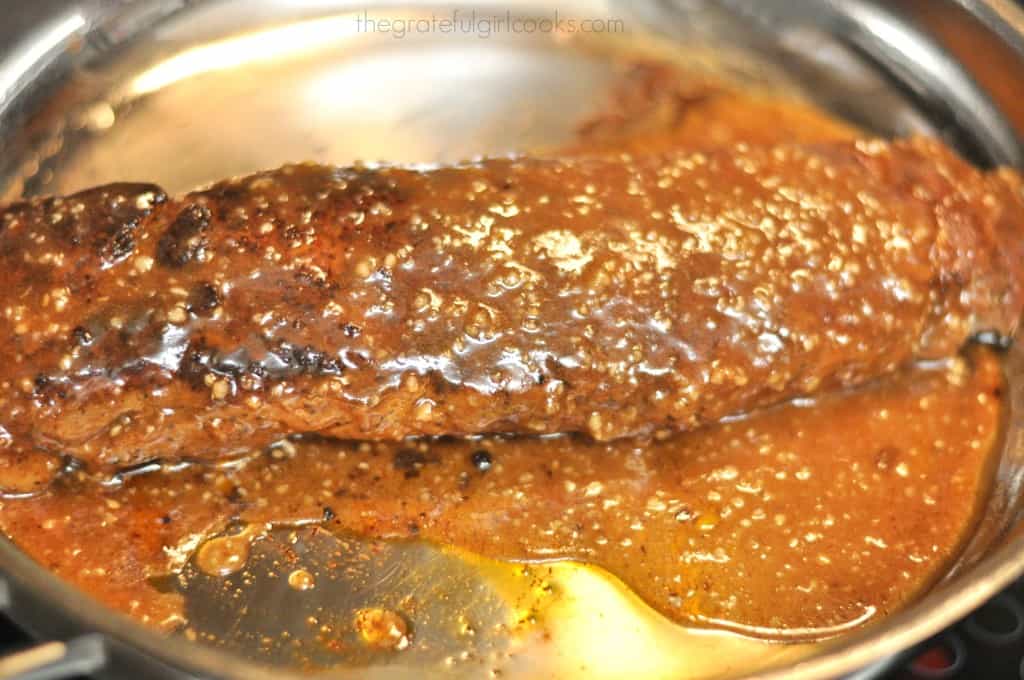 Bake, uncovered, in a 350 degree oven for about 23-25 minutes. Cooking times will vary slightly, depending on the size tenderloin you are cooking, but make sure pork is cooked through, to an internal temperature of at least 145 degrees.  When done, remove hot skillet from oven. Let pork sit, undisturbed for about 5 minutes to let the juices redistribute inside the pork.  Carve into one inch slices, place on serving plates, and make sure to spoon up some of that delicious glaze and drizzle over the pieces of pork before serving!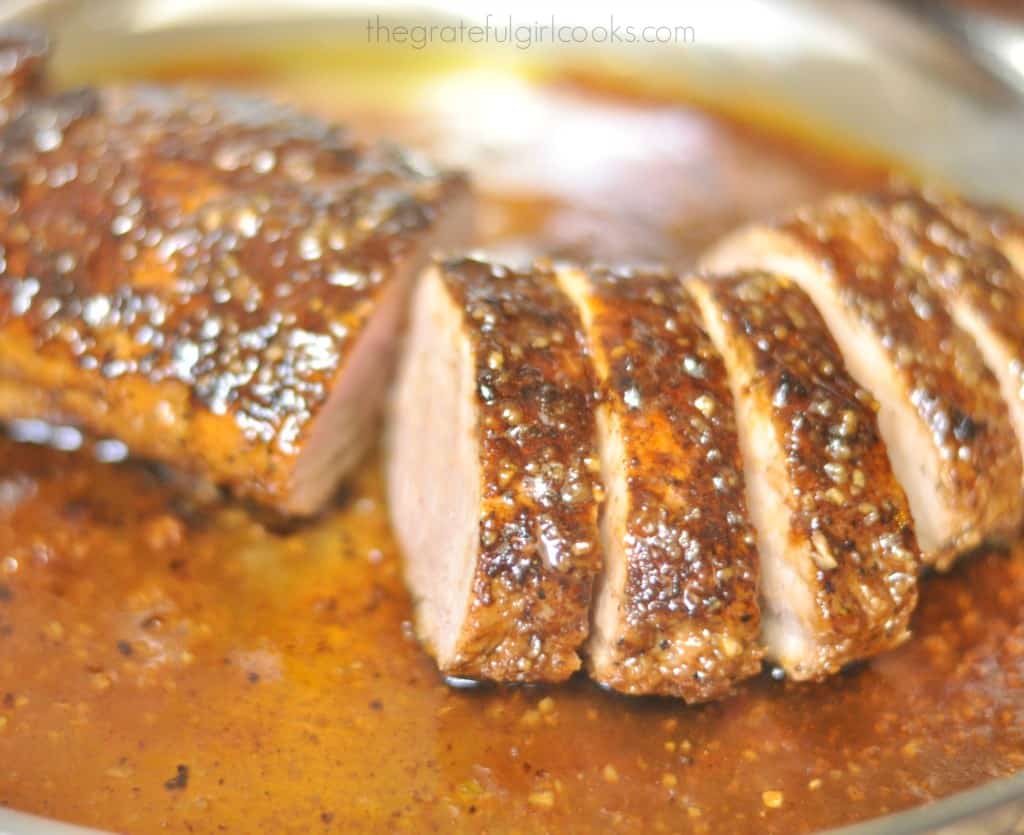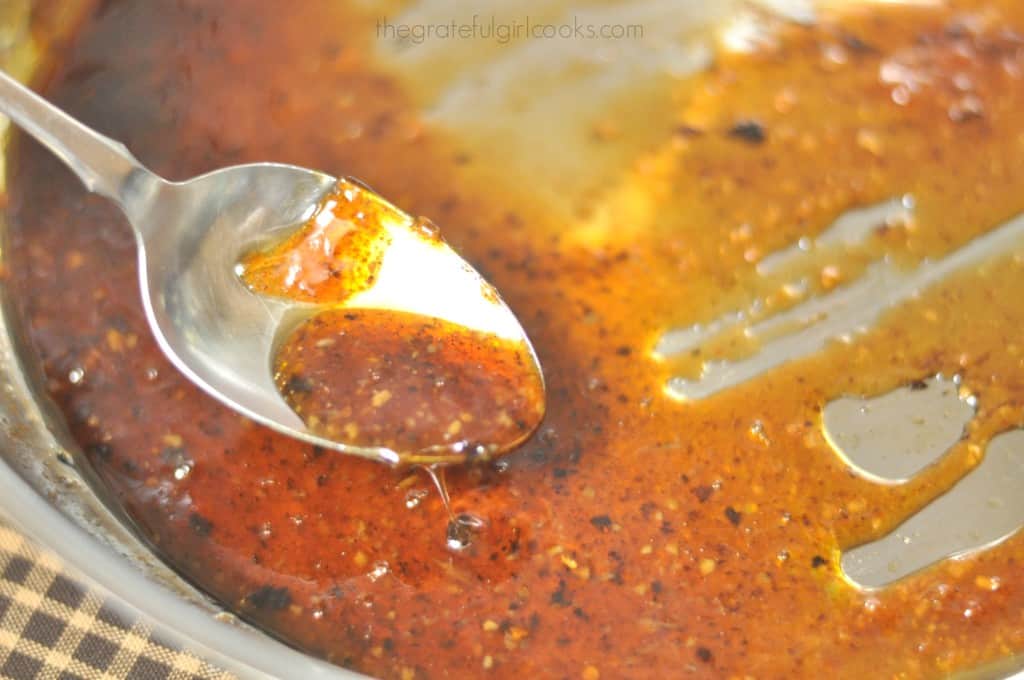 Here is how I served this dish… delicious Island glazed pork tenderloin, with a small baked potato and sautéed vegetable medley on the side. It was amazingly delicious; the meat was very tender (cut with a fork tender), and the flavor was outstanding!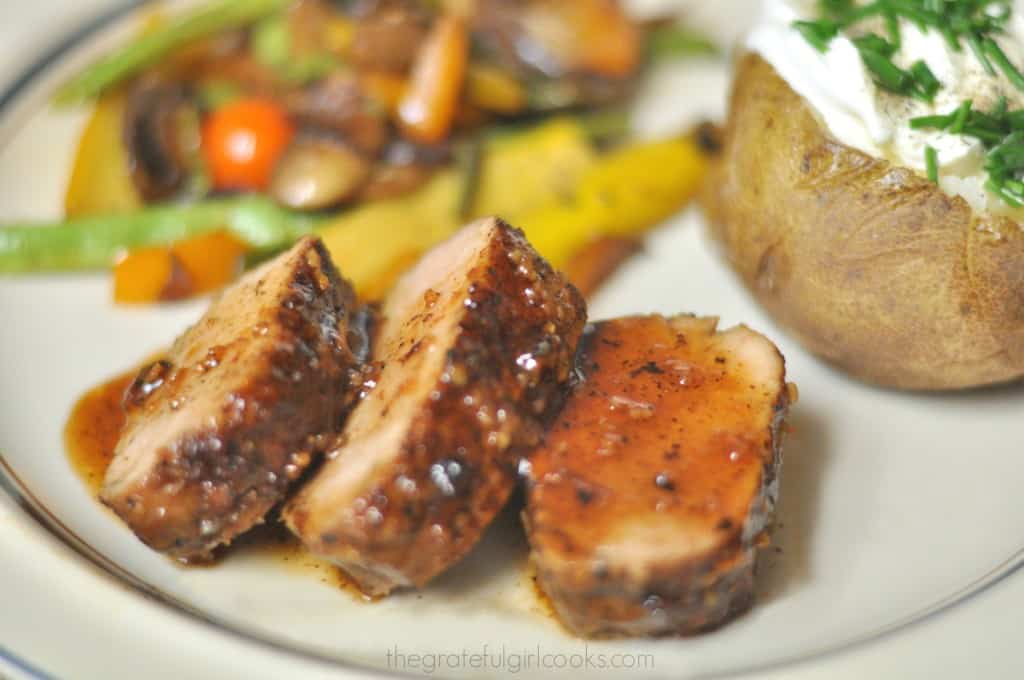 I really hope you will consider making this recipe for pork tenderloin. It is quick and easy to prepare, easy on the budget (4 servings for about $7) and truly… the spice combination is wonderful. We loved this dish, and I will definitely make it again.  Have a blessed day, and may God bless the work of YOUR hands in all you do for others!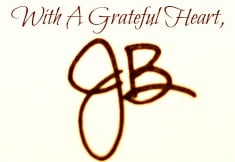 Recipe Source:  http://www.lecremedelacrumb.com/2015/09/island-glazed-pork-tenderloin-html

Save
Save
Save
Save
Save
Save
Save
Save
Save
Save
Save
Save
Save