Do you enjoy eating English Muffins for breakfast? We sure do, which is why I decided to learn how to make them several years ago, simply for the JOY of learning HOW they are made from scratch.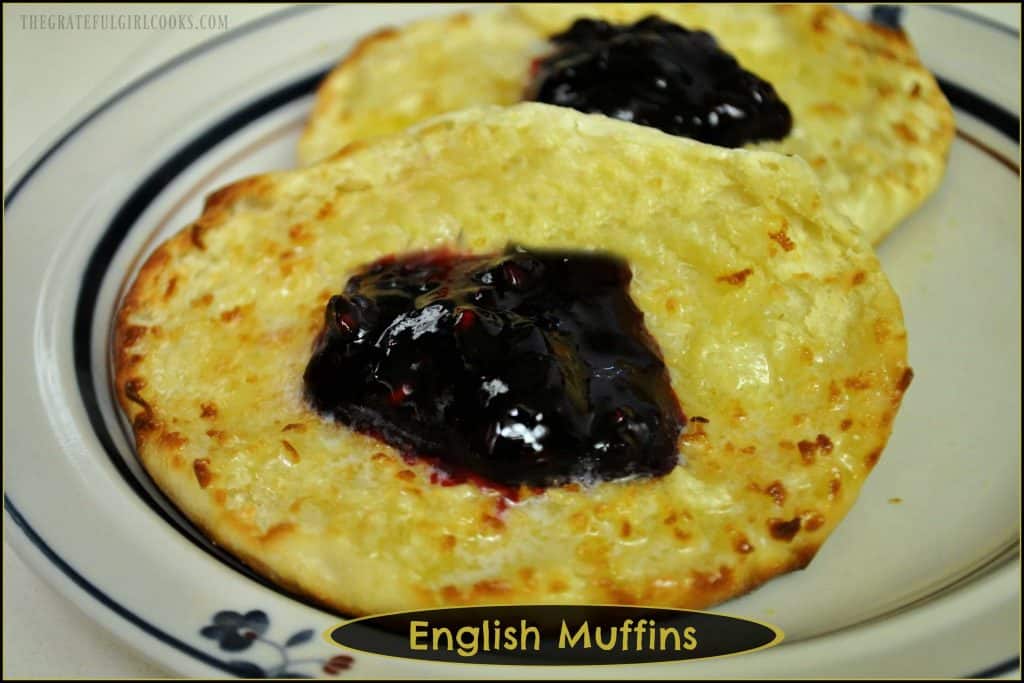 I grew up eating English Muffins. Whenever my Mom would make them for breakfast, I would  toast and butter them, and then would spread one half with peanut butter and the other half with whatever jam pulled at my taste buds that particular morning! YUM.  Several years ago I decided I wanted to LEARN how to make them myself. Granted, it IS much quicker to pick them up at the grocery store and make them, but I wanted to know "how to make them" simply for the experience of learning!  The first time I made them (using this recipe), they turned out fantastic, so I have made them several times since, always with great results.  Here's how you make them:
Place flour, sugar, yeast, salt and egg into the bowl of a stand mixer (place in large bowl if you don't have a stand mixer), but do not stir.   In a separate saucepan, heat milk and butter on medium heat until a thermometer measures between 110 and 115 degrees, then remove pan from heat.  Pour the warm milk mixture into the bowl with the dry ingredients. Stir only till wet dough forms.
Using a dough hook attachment for stand mixer, knead dough for 5 minutes until the dough pulls away from sides of bowl, and is smooth and soft.  If not using stand mixer, turn out dough onto lightly floured work surface and knead for 10 minutes by hand.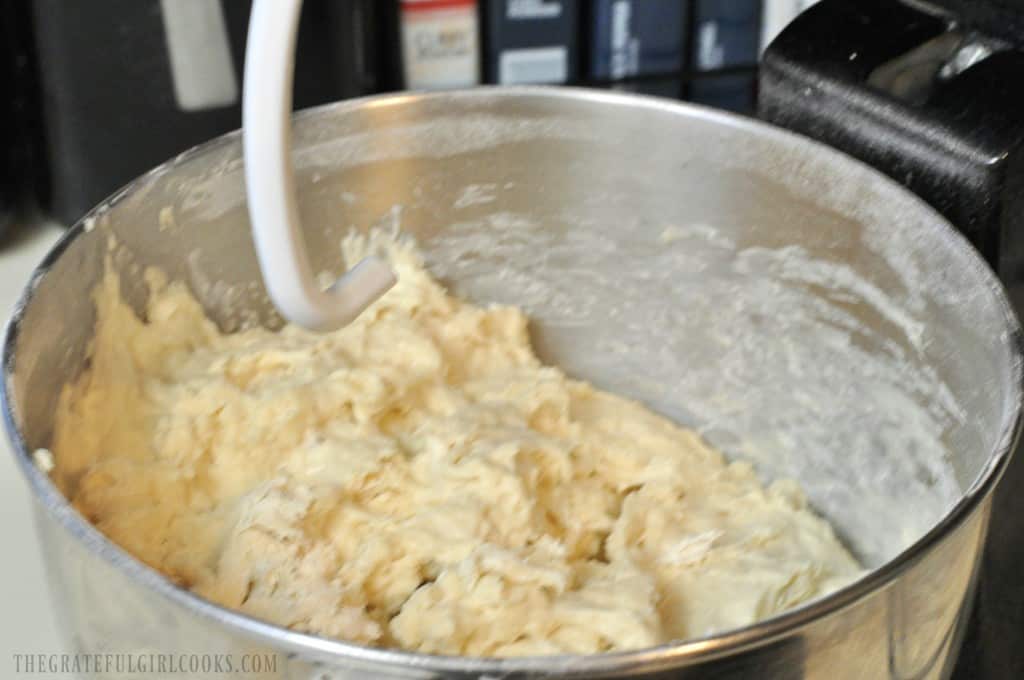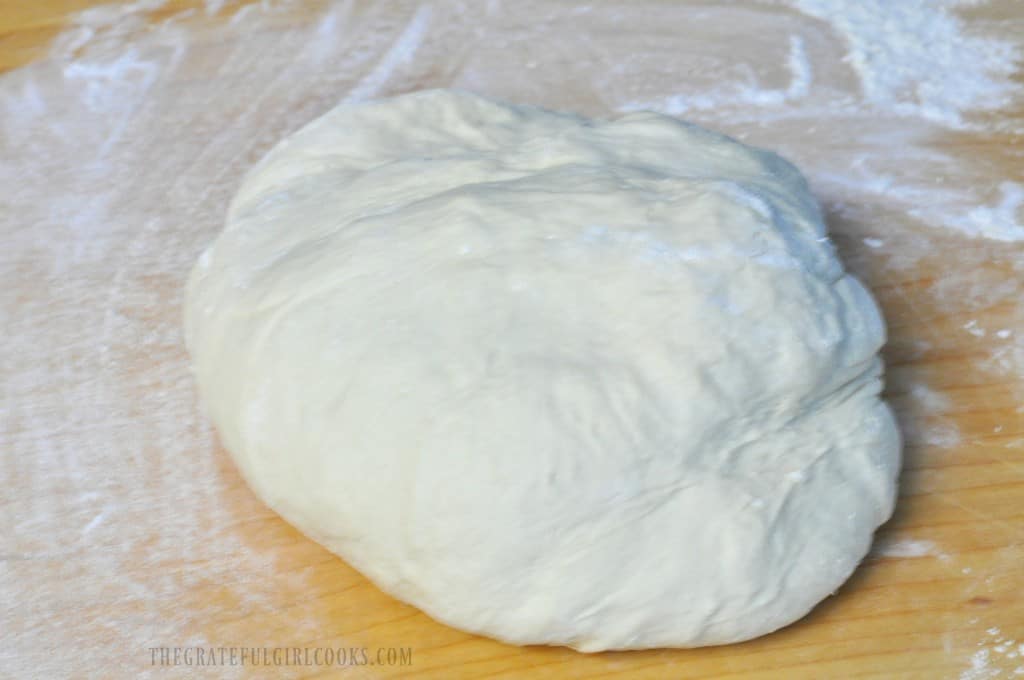 Form the dough into a ball shape; put it into a large bowl that has been coated with non-stick spray (or oil). Turn the dough ball over so that oil has coated surface.  Cover the bowl (with plastic wrap or a couple dish towels), and let it sit on the counter for an hour so the dough can rise and double in size.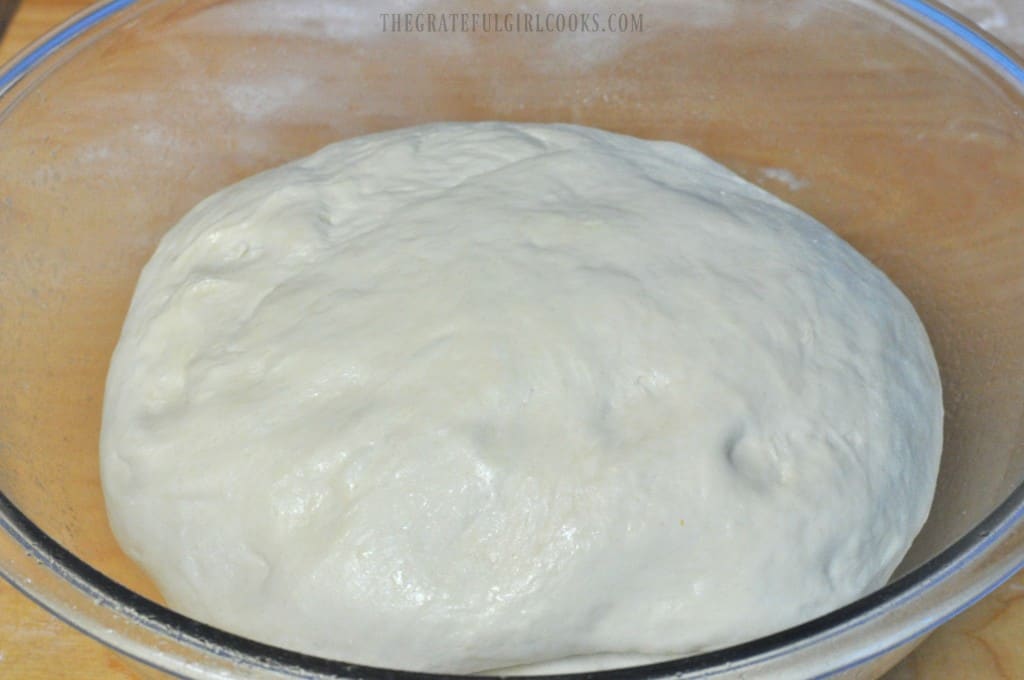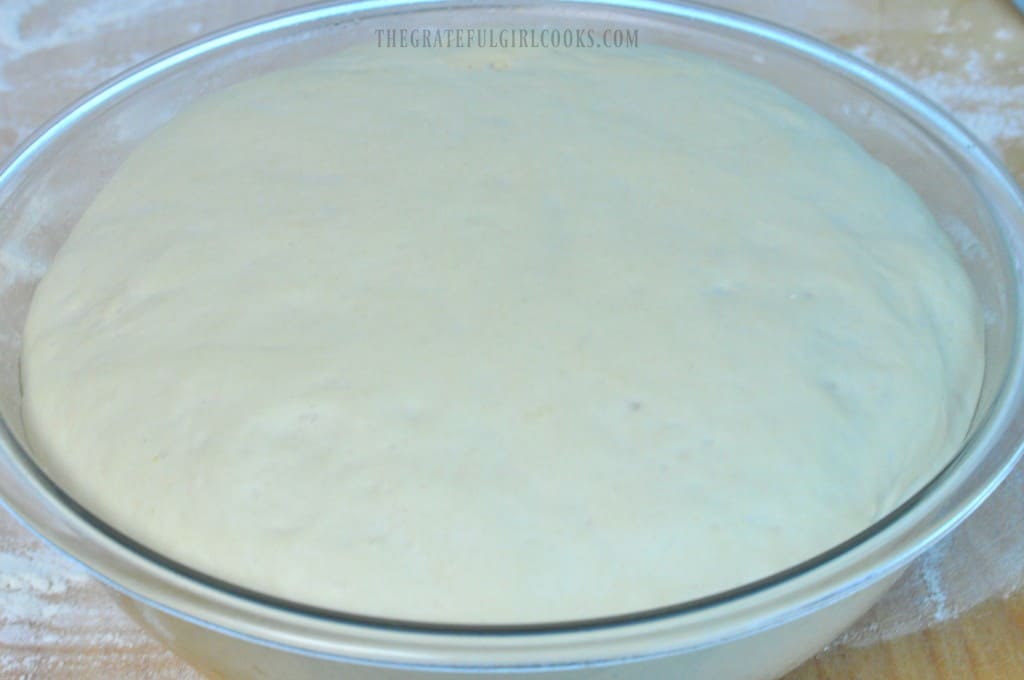 Once dough has risen, preheat your oven to 350 degrees.  Spray a large griddle (or a couple large skillets) with non-stick cooking spray. Sprinkle the griddle well with Semolina (or Farina). Punch down the dough and divide into 16 pieces, then shape each piece into a ball of dough.  Press each one down until it has a 3 inch diameter. Place dough balls onto griddle pan (with Semolina coating). You will want to keep about 1 inch between each piece, and may need to cook them in 2 separate batches. If cooking in batches, sprinkle a baking sheet with the Semolina, then place extras on it, then cover with parchment paper.
Turn temperature on griddle to 275 degrees (LOW). If using skillets, place on low heat on cooktop.  Cook the muffins for 7 to 15 minutes on first side (they need to be dark golden brown). Carefully turn over and cook other side for same amount of time.  If the muffins begin to puff up too much, put a piece of parchment paper on top and place a cookie sheet on top of the paper. This will act as a weight to prohibit them from rising too high during the cooking process (remember we're cooking English muffins, NOT hamburger buns!).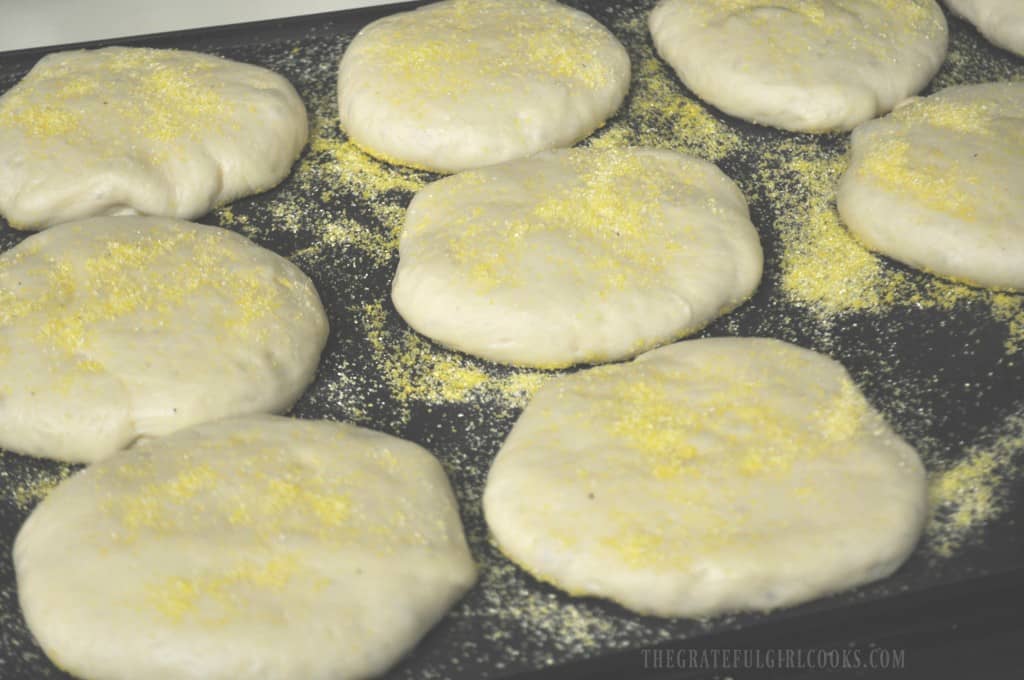 You can test for doneness by inserting a thermometer (instant read) into the middle. It should read 200 degrees. Both sides should be a dark golden brown, as well.  If you find they are still not completely cooked through to the center, put the muffins onto a baking sheet and place them in the oven (which is still heated to 350 degrees) and cook them for another 10 minutes.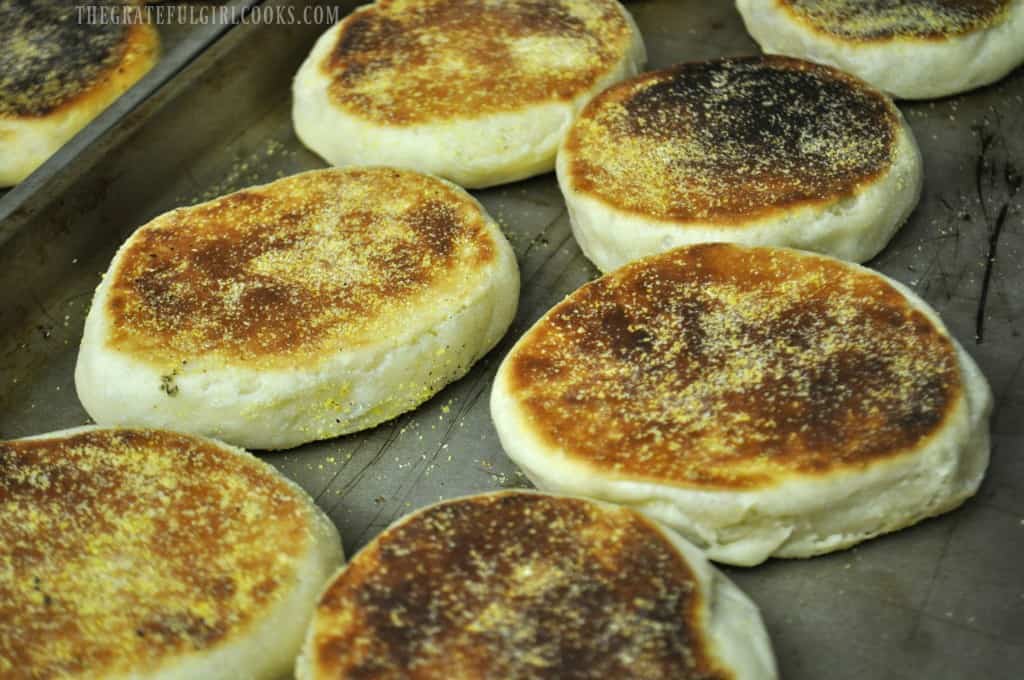 When done, let the muffins completely cool.  Use a fork inserted into the middle and reinserted around the edges to gently open up the muffin.  By using a fork to do this, you will see a lot more "nooks and crannies" (in the words of the original author).  The nooks and crannies are a great way to hold all that butter once lightly toasted!
I still like them with jam!  That's probably my favorite way to eat English muffins!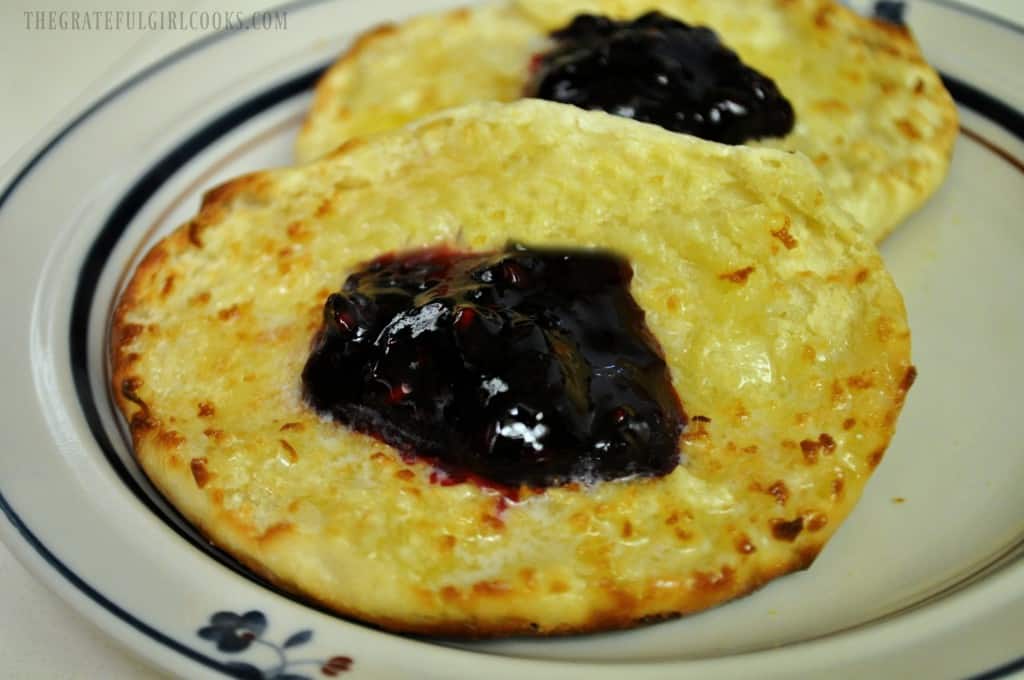 While it takes a while to make these from scratch, I hope you will consider at least trying this recipe. It's always fun to learn something new each day… maybe today is the day you learn how to make English muffins!  Have a wonderful day, and may God bless you in all you do.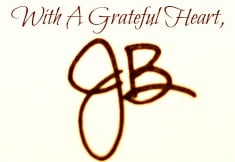 Recipe Source: http://www.girlversusdough.com/2014/04/28/english-muffins/

Save
Save
Save
Save
Save
Save
Save