I've been making this meatless Florentine Lasagna Roll for almost 20 years… for potlucks and delicious dinners with our family! Filled with spinach, three kinds of cheese, garlic and onion, then covered in a simple Italian flavored tomato sauce, this recipe is easy and FABULOUS!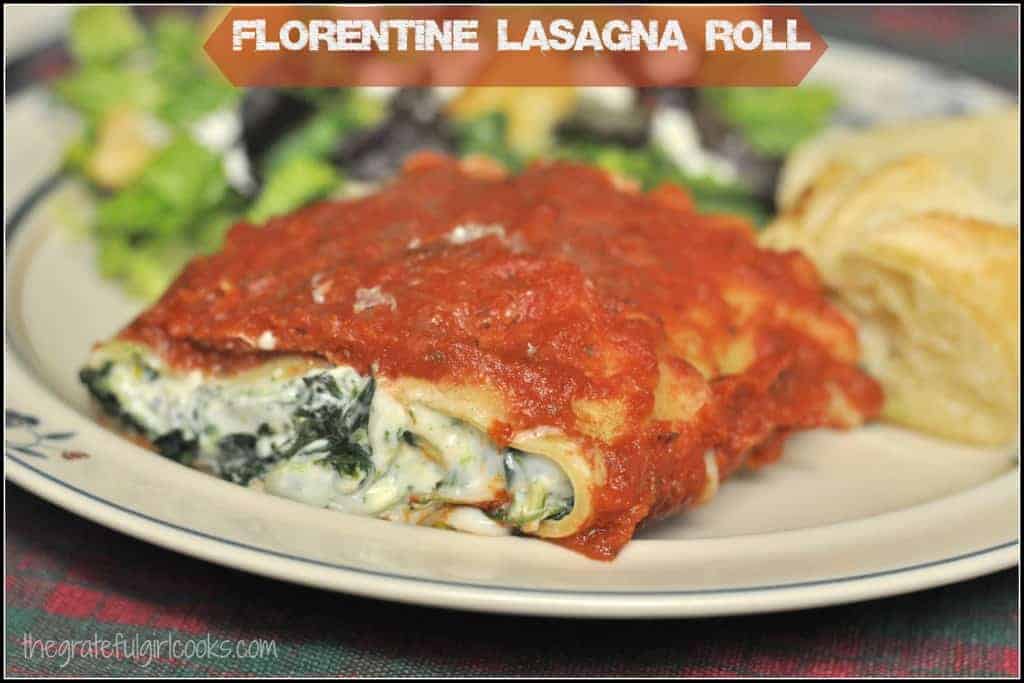 Even though this meal is "meatless", you don't need it with three cheeses, spinach and fantastic Italian flavors shining through in this meal!  The recipe is "simple"; all you do is cook lasagna noodles, mix together a cheese and spinach filling and spread it over the noodles, roll it up, cover with an Italian-flavored tomato sauce and bake. Easy, right? Right. Anyone can make this great dish!  Here's how..
Cook spinach and drain well.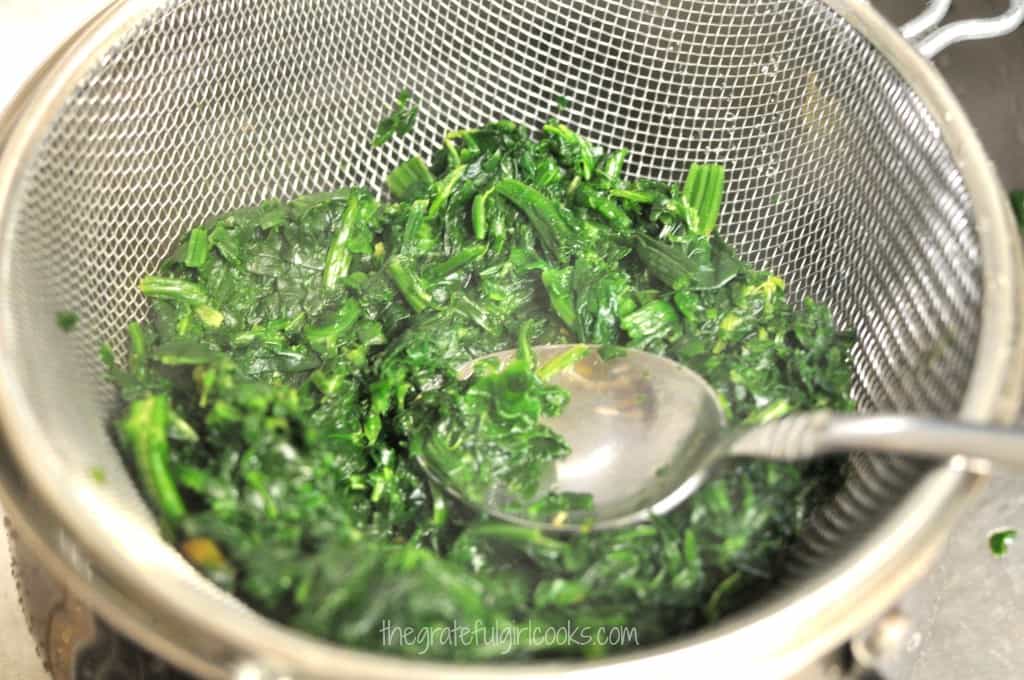 In medium sized bowl, combine cream cheese, Parmesan cheese, cooked and drained spinach, chopped onion, garlic cloves, black pepper, and egg.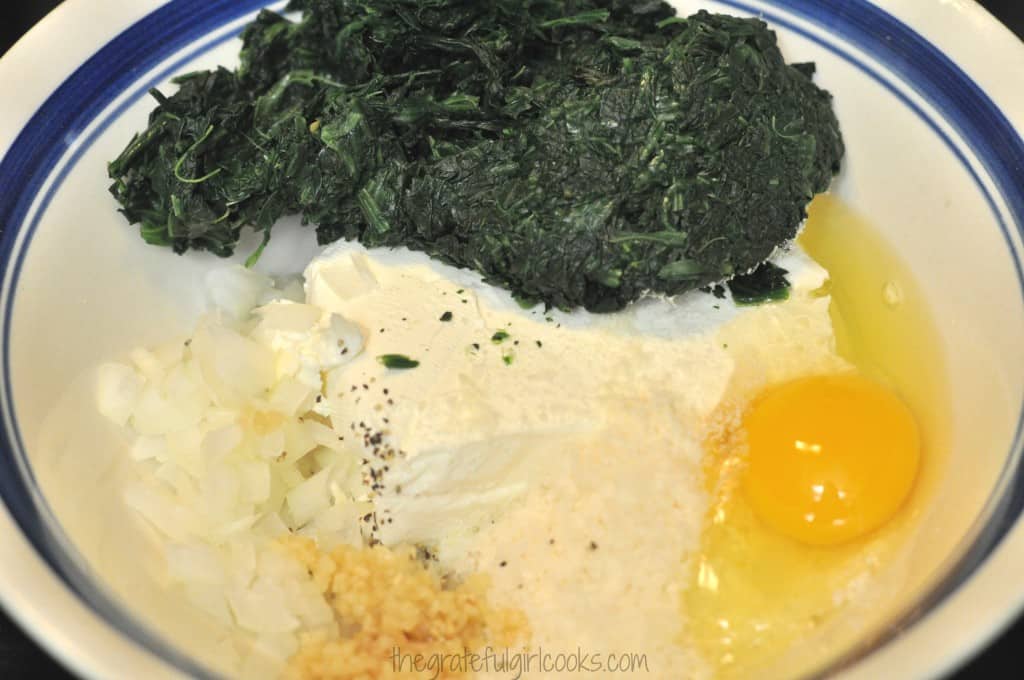 Mix well, to completely combine ingredients. Set aside.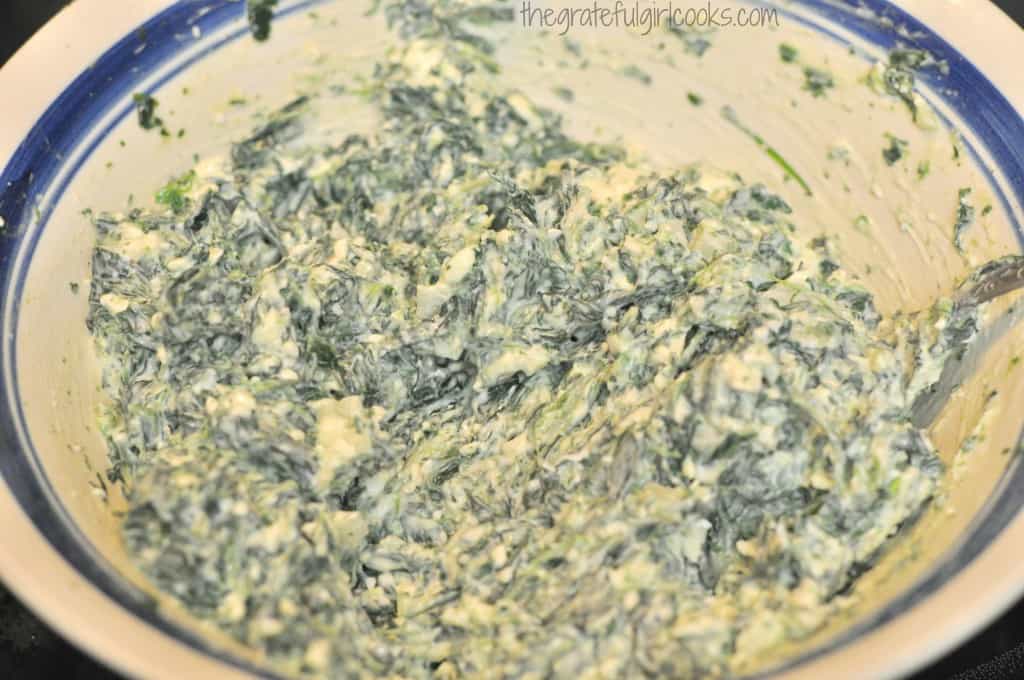 Cook the lasagna noodles according to package instructions. You need 10 cooked lasagna noodles for this recipe. I cook 12, in case any of them split or break. (Think of it as pasta insurance.) Once cooked, I drain the noodles, then arrange them on a large sheet of wax paper, overlapping the long (curly) sides to form a rectangle like this…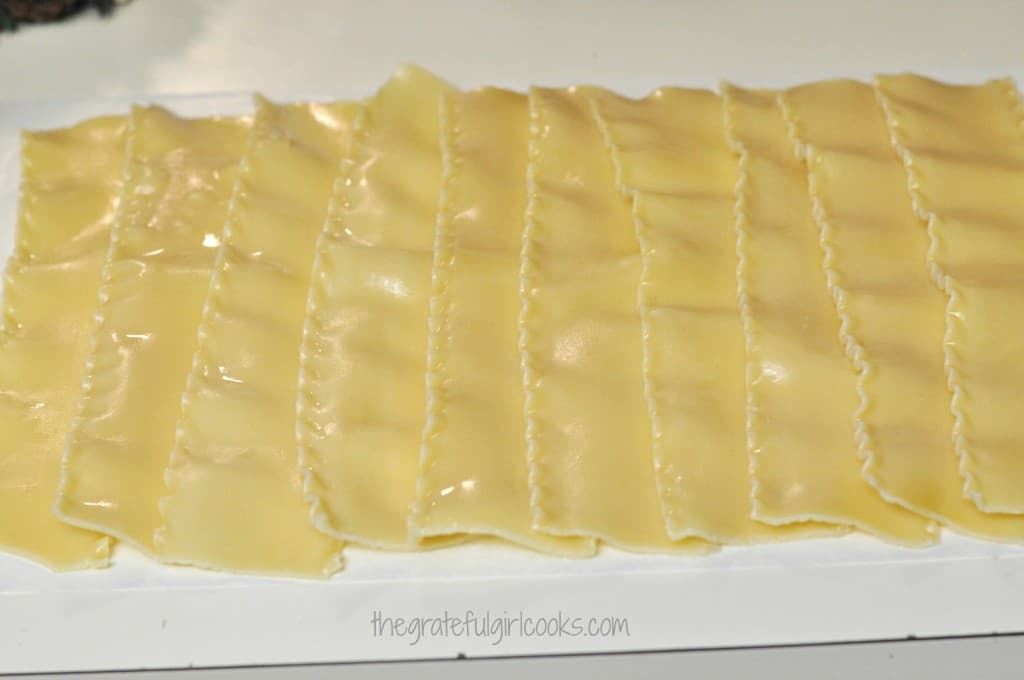 Once noodles are fully arranged, carefully spread the filling over the noodles. I put spoonfuls of filling all over the noodles, then use the back of a spoon to spread out the filling.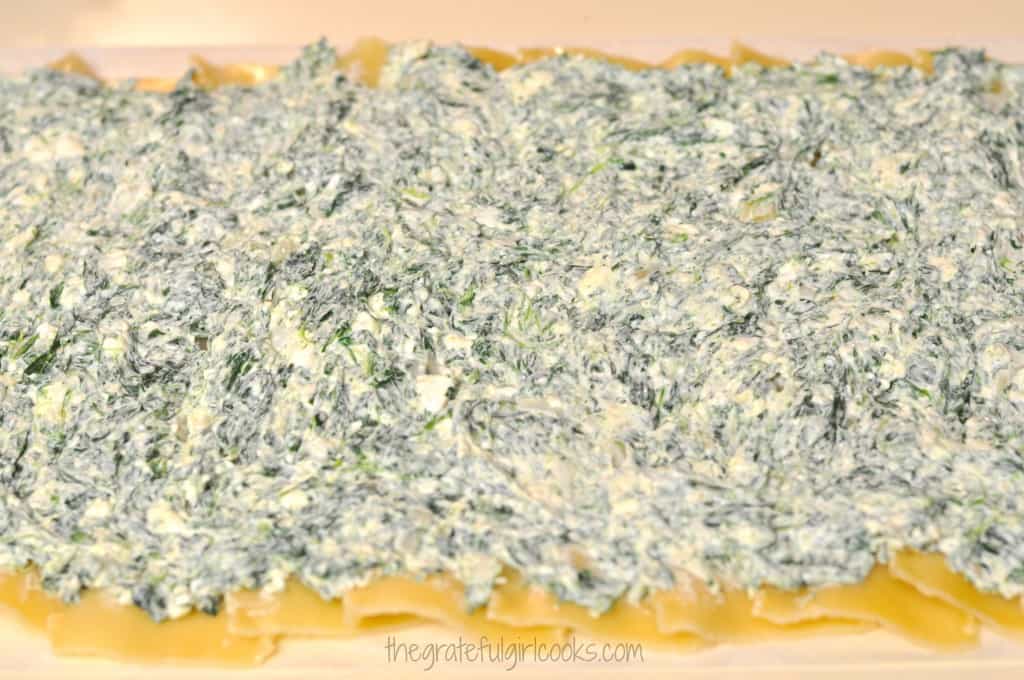 I spread grated Mozzarella cheese all over the cheese/spinach filling, then carefully roll up the pasta and filling.  To roll it up: Using the wax paper to help, begin tightly rolling the noodles up (starting with the side of rectangle with straight pasta edges). Use the wax paper to help roll noodles tightly as you go. Tuck the noodle edges under as you complete the first roll,  so you have a tight, firm roll to begin with.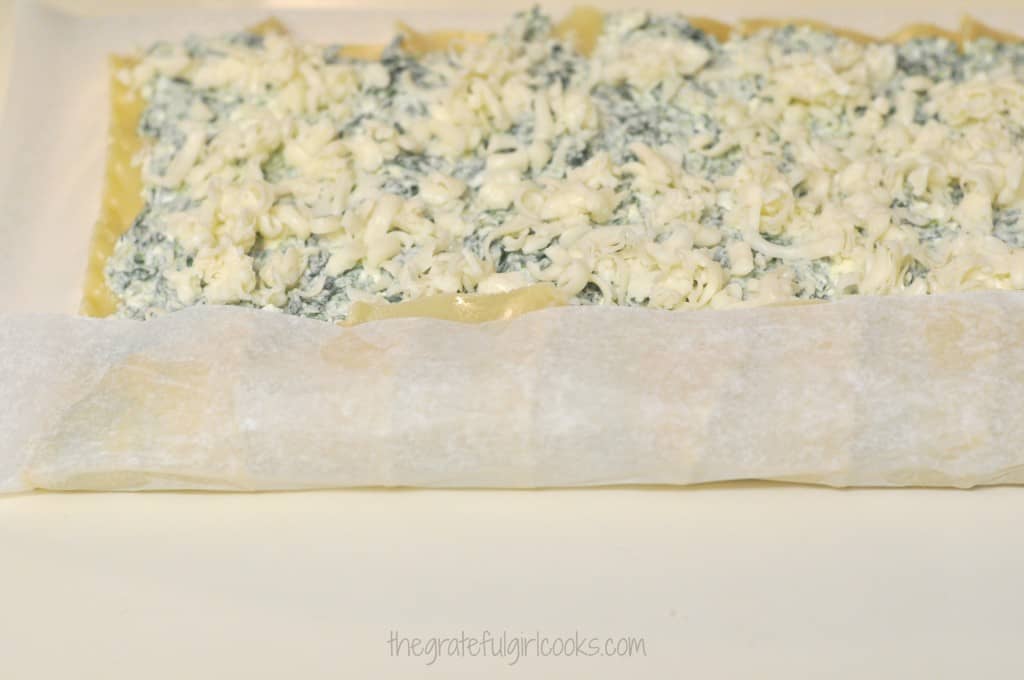 I pulled back some of the wax paper as I rolled to show you what it should look like.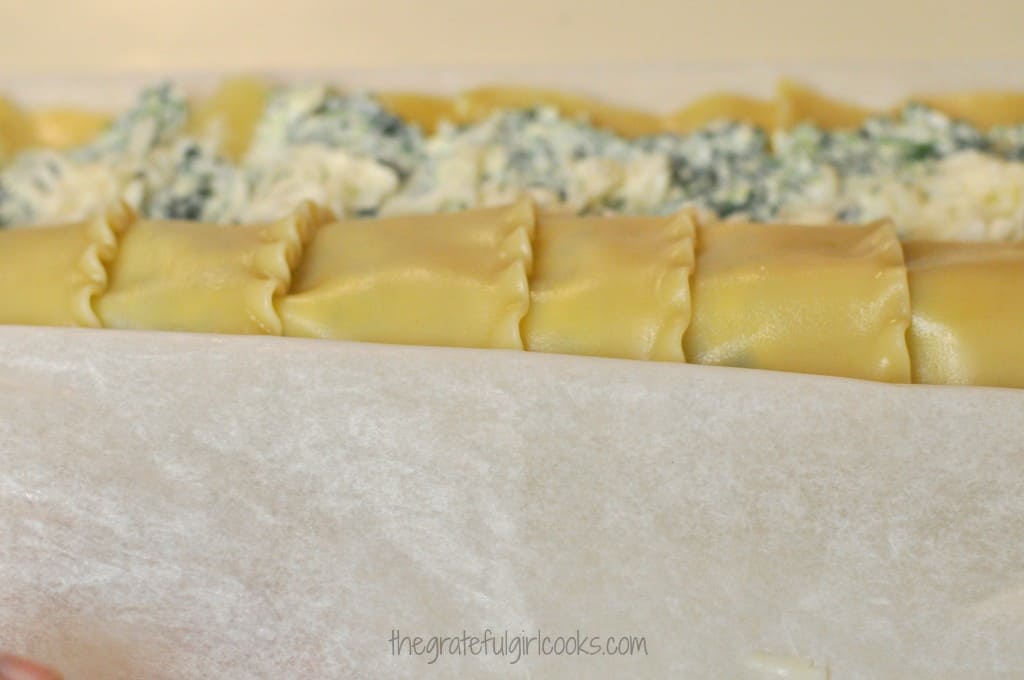 When pasta is completely rolled up,  place the finished roll on a large baking sheet (one with rimmed edges). Carefully remove the last bit of wax paper from underneath the roll. The lasagna roll should look like this.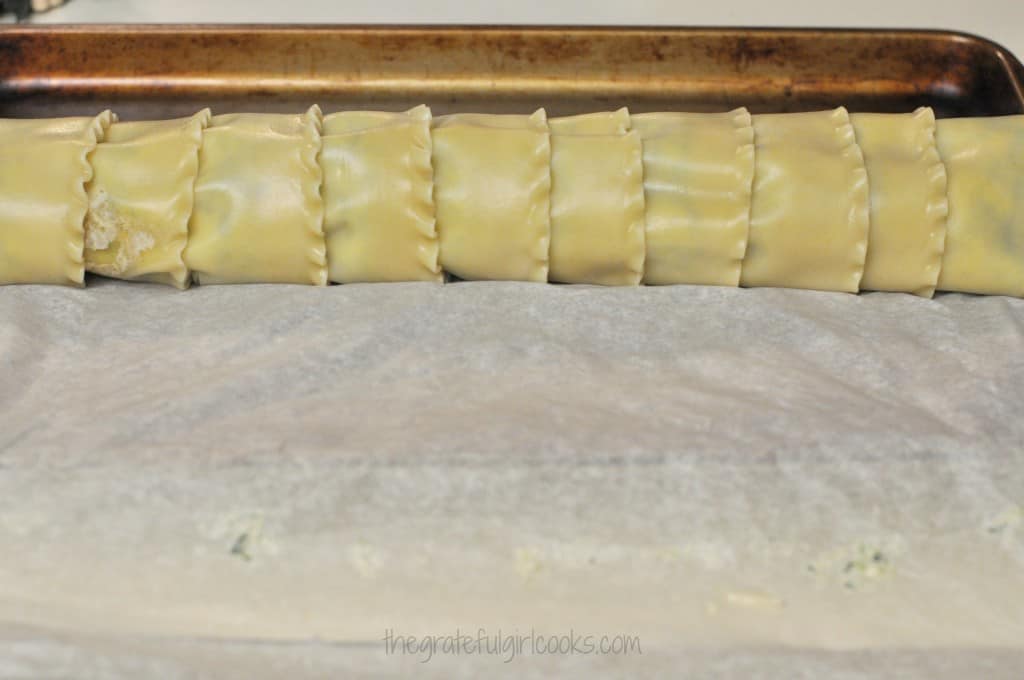 In a bowl, combine the sauce ingredients (tomato sauce, sugar, basil and oregano); stir to combine.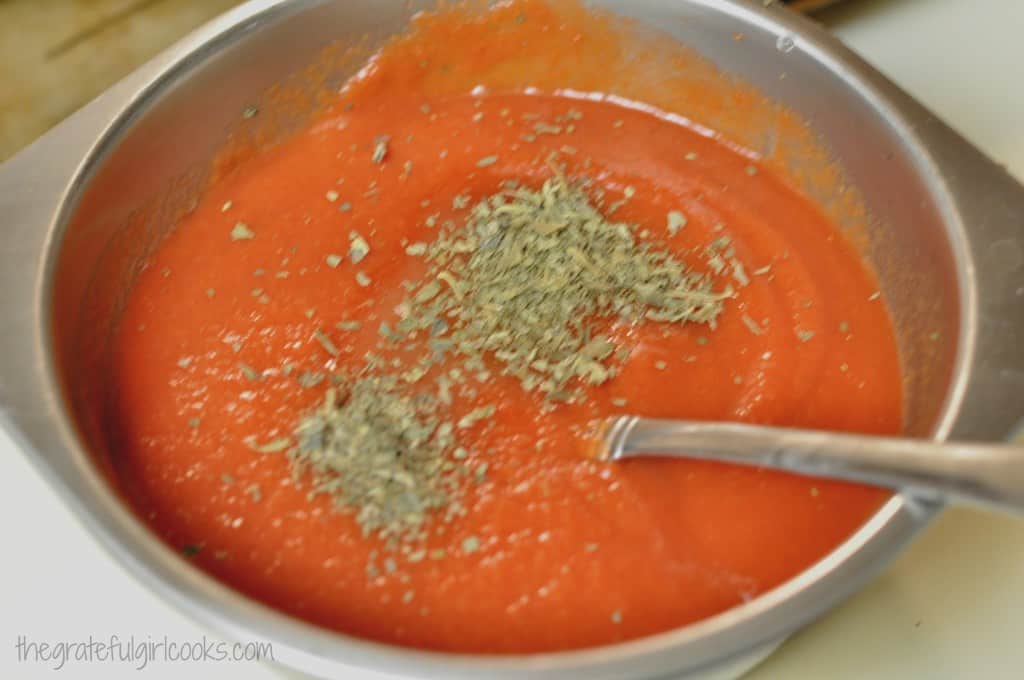 Spoon sauce over the entire surface (top and sides) of Lasagna Roll. Use all the sauce.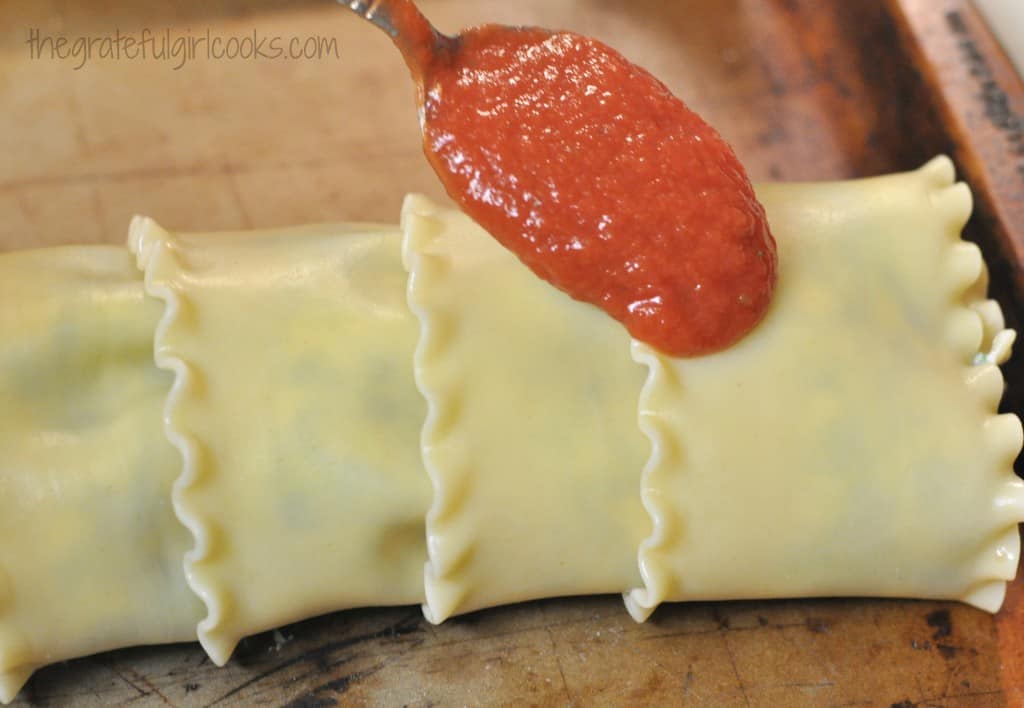 When completely covered with sauce, grate Parmesan cheese all over the top and sides of the roll.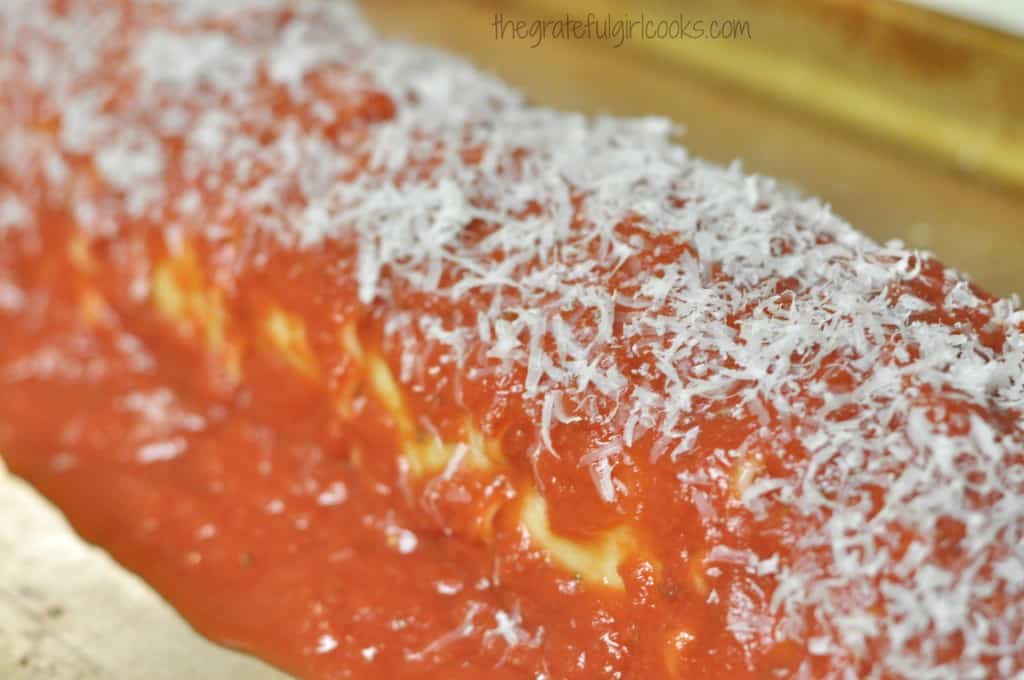 Bake in a preheated, 350 degree oven for 35 minutes. Remove baking sheet from oven, and let the Lasagna Roll stand for 5 minutes before slicing.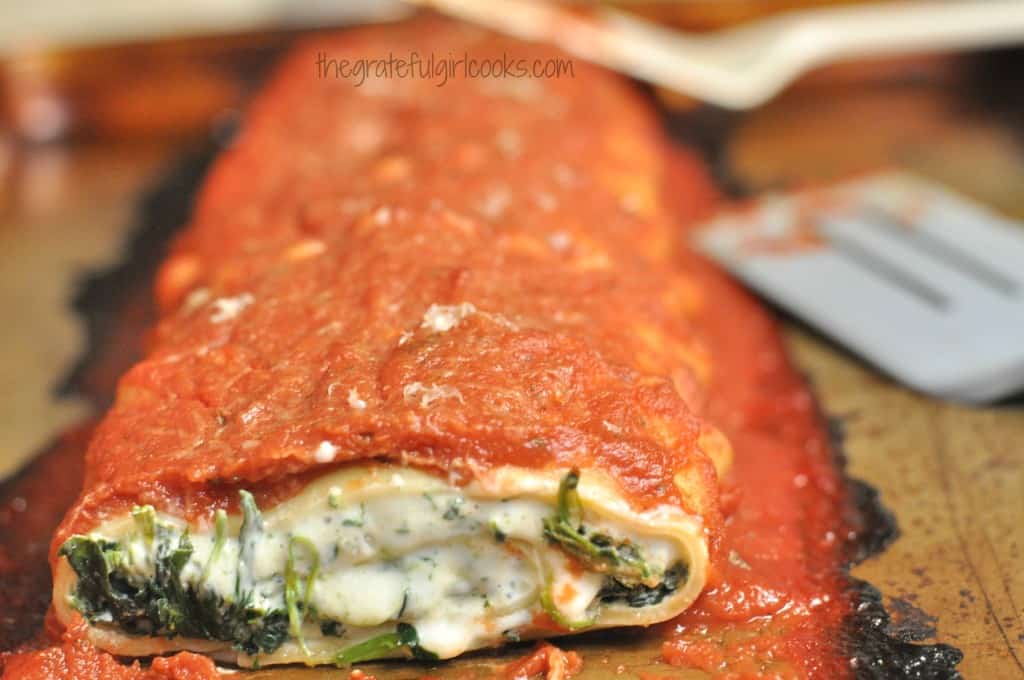 With a sharp knife cut slices of the Florentine Lasagna Roll, and place on individual serving plates with a large spatula. Serve with some crusty bread and a great salad, and BOOM! You've got yourself a great Italian "meatless" meal… just like that!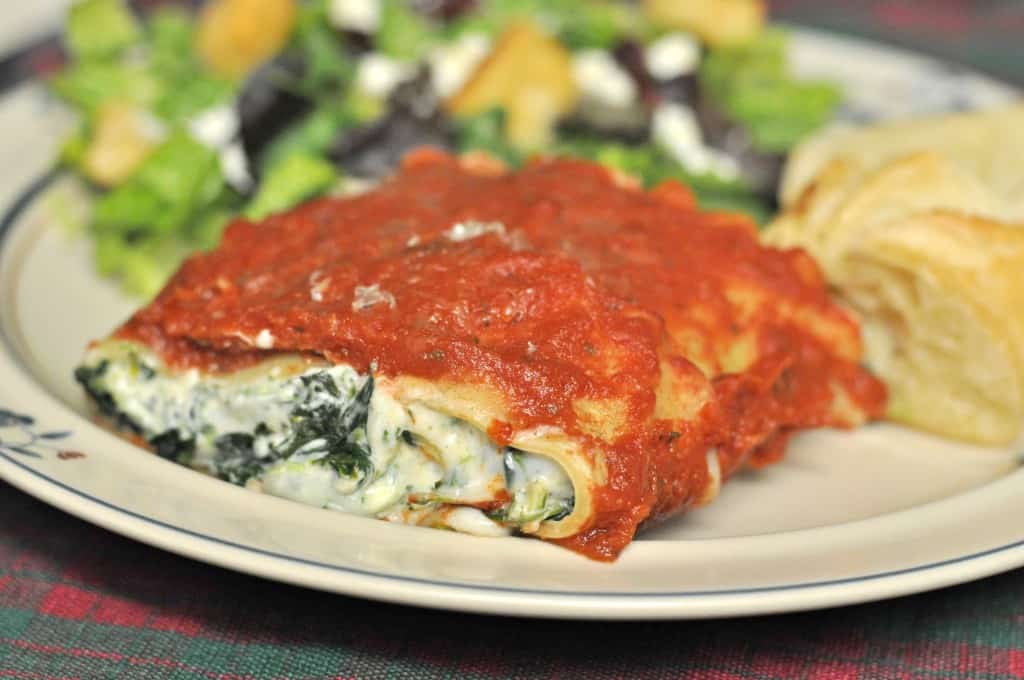 Trust me… this meal is DELICIOUS. You won't even miss having meat in it. The flavors are amazing, it's really EASY to make, and looks quite nice, too! Sure hope you will give this recipe a try. I think you will be pleasantly surprised!
Have a great day during this busy holiday season. My husband and I made an intentional decision this year to NOT fill up this holiday season with "busy-ness" and constantly looking for "things" to entertain us, as our culture tends to promote. Instead, we are enjoying a simple holiday season this year, trying to focus on what Christmas really means to us… the birth of our Savior, Jesus. His humble birth changed everything, and for that we are GRATEFUL.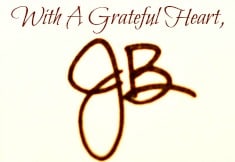 Recipe Source: unknown (wrote recipe on a 3×5 card over 20 years ago- didn't note where I got it from)

Save
Save