Well… I finally canned my first batch of Ham and Bean Soup a few months ago. I am loving having this delicious soup in my pantry, ready to open, re-heat, and eat whenever we wish!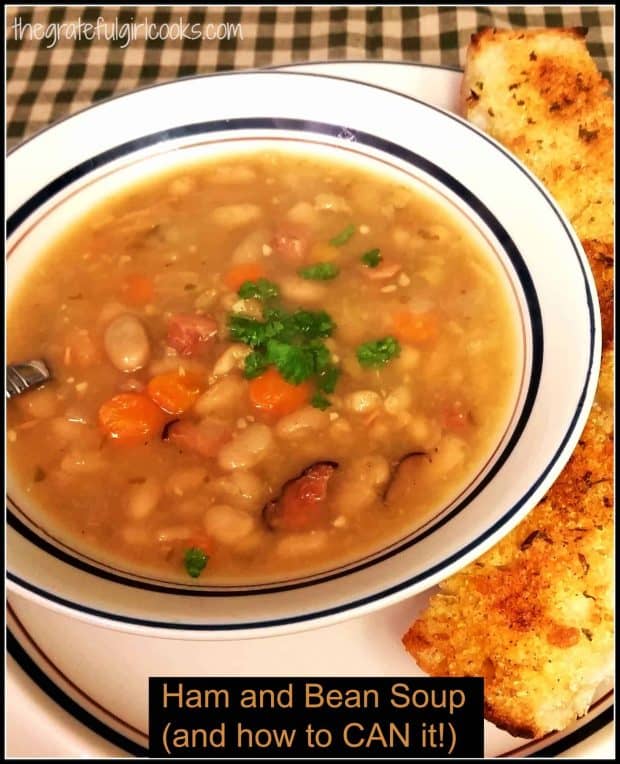 My pressure canning experiences are becoming more frequent (I've since canned my recipes for chili, and spaghetti sauce), and I really love the convenience of having jars of homemade soups, sauces, and veggies, etc. sitting in our pantry (along with canned fruits and jam), just waiting to be eaten!
The soup is very hearty… flavored with ham, navy beans, onions, garlic, carrots, celery, etc. Once cooked, it thickens a bit, and is wonderful as an entree or a lunch serving. Even if you don't can, you can still make a nice sized pot of this soup to feed your family very inexpensively. The soup is very filling, and delicious!
If you want to can this soup, you must use a pressure canner. This recipe, as posted, will yield approximately 6 pints (12 cups) or 3 quarts of soup. You will need to pressure can the soup for 75 minutes (pints) or 90 minutes (quarts) at 10 lbs. pressure, following recommended pressure canning guidelines and manufacturer's instructions for your canner.
Here's the basics of how I made this yummy soup: First thing to do is rinse the beans to remove any sediment, rocks, etc.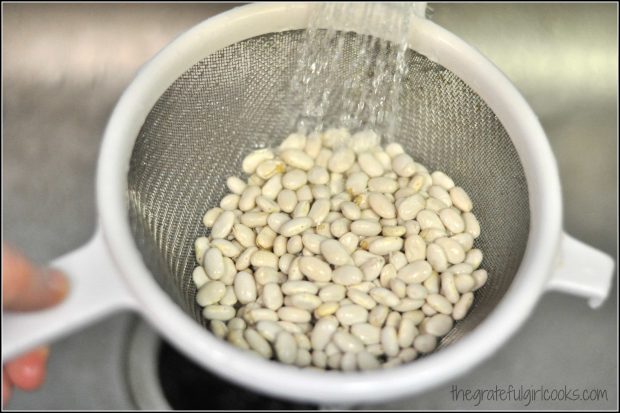 Cover the beans with 2 quarts of water, then bring them to a boil.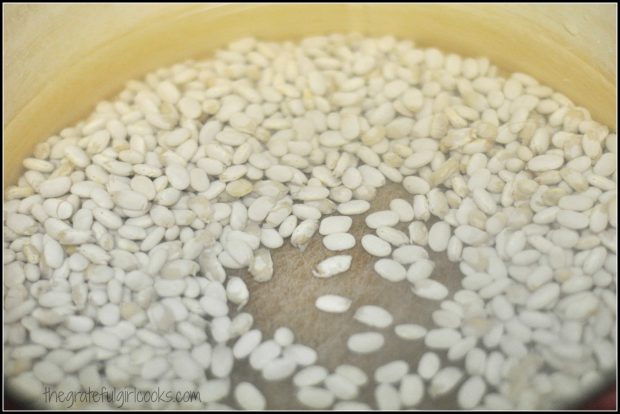 After beans begin boiling, turn heat to simmer for 2 minutes. Remove pan from the heat, cover it, and let the beans rest for an hour.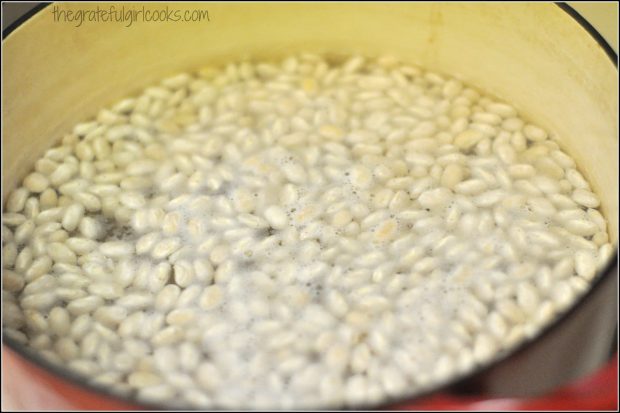 While beans were "resting", cut up the ham and veggies for the soup. (I even used some of my dehydrated celery in place of "fresh" celery-worked perfectly!)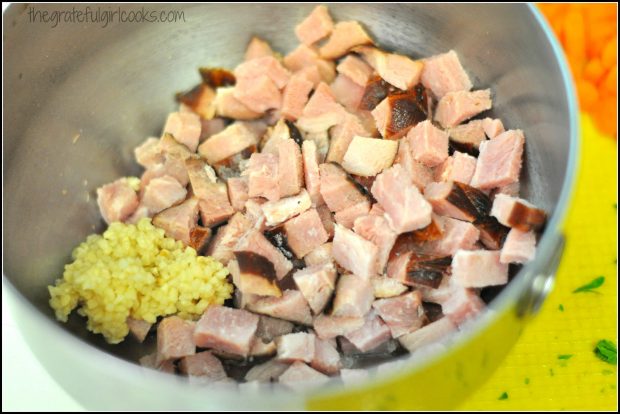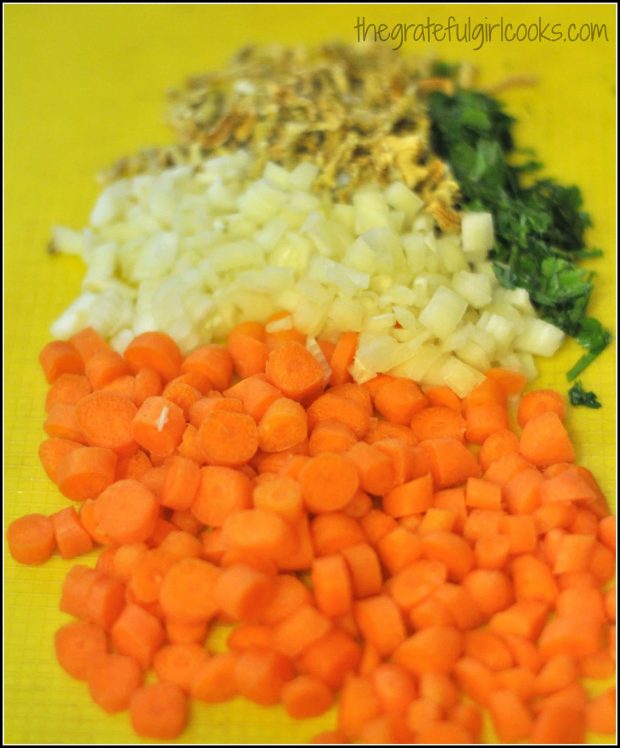 After beans had "rested" for an hour, rinse them, then put them into a large stock pot, cover them with water (1 1/2 quarts), add the ham pieces and spices, and let it simmer on medium-low (covered) for 45 minutes. Add the carrots, celery, and onions and cook it for 15 minutes longer. If you are NOT going to can the soup, you may wish to cook the soup just a bit longer (uncovered), which will help to thicken it.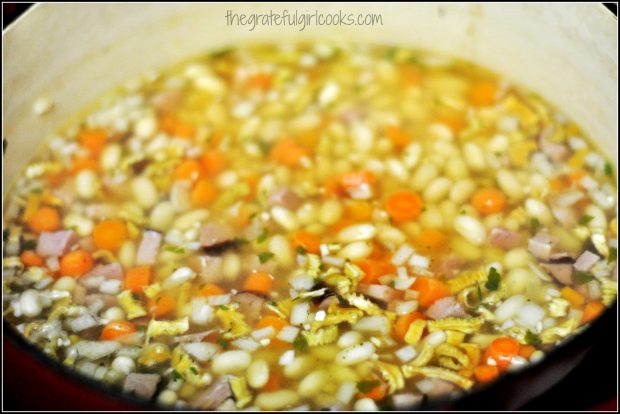 Prepare canning jars, lids, and screw bands according to recommended canning guidelines. (Make sure jars stay warm until you are ready to fill them). Fill the jars 3/4 full with the ham and veggie pieces (used a slotted spoon and a canning funnel for less mess).  Finish filling the jars with the hot liquid, making sure to leave a 1″ headspace in the jar. Follow canning guidelines to remove air bubbles from the jars, clean the jar rims well, then seal them with lids and screwbands to fingertip tight, and into the pressure canner they go.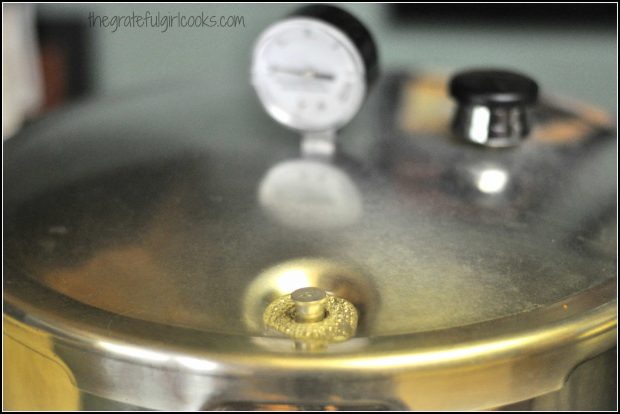 Can quart jars at 10 lbs. pressure for 90 minutes. If you are using pint jars, process at 10 lbs. pressure for 75 minutes. (If above 1,000 feet elevation: weighted gauge (15 lb weight), dial gauge (12 lbs- at 2,000-4,000 feet elevation).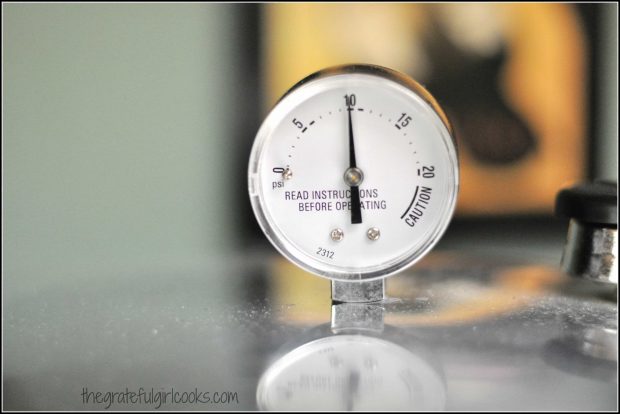 When processing time is done, follow recommended pressure canning guidelines for jar removal, according to the manufacturer's instructions for canner (wait for pressure to drop naturally, remove vent cover, wait 10 more minutes), then place hot jars of soup on a dish towel on kitchen counter for 24 hours, to cool and seal completely. Label jars (love my dissolvable labels-so easy to clean off), check to make jars have properly sealed, remove screw bands, wipe jars clean, and place them in pantry to await a craving for (and the convenience of) this yummy, "ready-to-heat-and-eat" soup!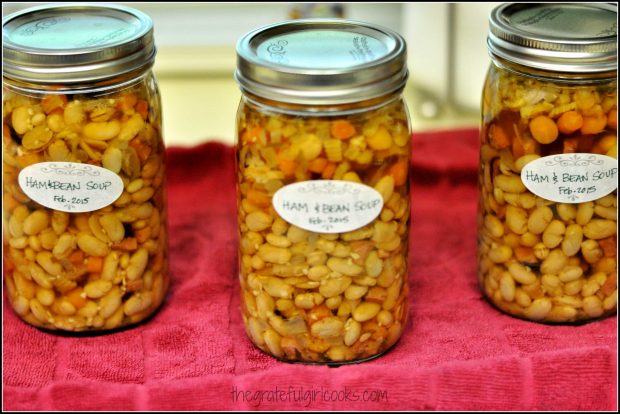 This is a picture of the very first time I opened a jar (about a month later) and heated it up for our dinner. DELICIOUS!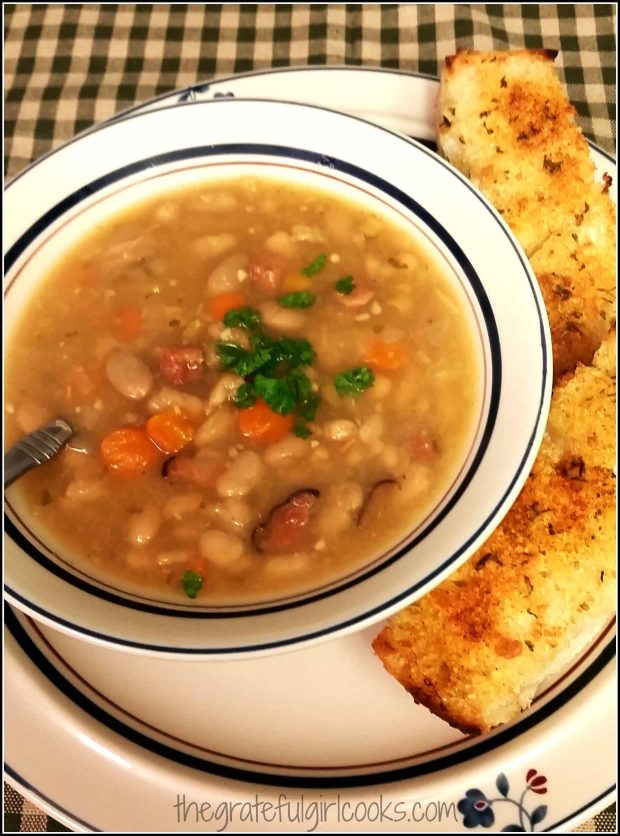 Sure hope you will give it a try (hope you will make it EVEN if you don't can, for long term storage)!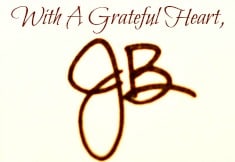 Recipe Source: http://iowasue.blogspot.com/2011/07/home-canned-bean-soup.html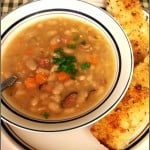 Ham and Bean Soup (and how to CAN it!)
This hearty ham and bean soup will fill you up... plus instructions for canning it to save for later!
Servings
:
6
pints (or 3 Qts.) Total 12 servings
Calories Per Serving
:
187
kcal
Ingredients
1

pound

dried Navy beans

1 1/2

quarts

water

(can also use chicken broth, if desired)

1 1/2

Tablespoons

minced garlic

1

large brown onion

, chopped finely (about 1/2 pound)

5

celery stalks

, sliced

6

ounces

carrots

, sliced thinly (1/4" slices)

1/2

pound

fully cooked ham

, cut into 1 inch pieces

1

whole Bay leaf

6-8

whole peppercorns

Salt/pepper to taste

(if canning, add 1/2 teaspoon of salt per pint, 3/4 teaspoon per quart)

Parsley

, chopped (add some to soup-to taste; also use as garnish when serving soup fresh)
Instructions
To prepare the soup:
Rinse beans thoroughly. Place beans in large soup pot; cover with 2 quarts of water. Bring beans to full boil, then reduce heat to simmer, and cook for 2 additional minutes. Remove the soup pot from heat. Cover pot; let beans sit for one hour. Drain.

Place beans back into soup pot. Cover with 1 1/2 quarts of fresh water (or chicken broth). Add the ham pieces, chopped parsley, and minced garlic. Add the peppercorns, and bay leaf (might want to put the peppercorns and bay leaf into a tea ball or a spice bag-they need to be removed from soup before serving OR canning). Simmer (covered) for about 45 minutes. After 45 minutes, add the carrots, celery, and onions; cook for an additional 15 minutes. Remove spice bag. If NOT canning, add salt as desired. Serve soup hot, and enjoy!
If Canning:
While soup is cooking, prepare canning jars and lids, according to general canning guidelines (wash jars, keep warm, prepare lids according to manufacturer instructions, etc.). Add 3 quarts of water to your pressure canner and let it begin simmering (uncovered).

When ready to fill warm jars, use a slotted spoon (and a canning funnel) to fill jars 2/3 full, with ham and veggie pieces. Then ladle the hot liquid into jars, being sure to leave 1" headspace. Remove air bubbles from each jar using a plastic knife or utensil. Wipe the rim of each jar really clean, then place lid and screwband on jar. Tighten to fingertip tight.

Place covered and sealed jars onto rack in pressure canner (that contains 3 quarts water that has been simmering). Cover pressure canner. Crank up the heat; vent the steam for 10 minutes, then process at 10 pounds of pressure: Pints: 1 hour, 15 minutes. Quarts: 1 hour, 30 minutes.

When processing time is complete, remove canner from heat. Let the pressure drop completely on it's own (follow your canner's manufacturer instructions carefully!), then carefully open lid. Remove hot jars with canning tongs and set them on a dish towel. Let them sit, undisturbed for 24 hours.

Check to ensure all jars sealed properly, remove screwband rings, wipe jars clean, label, and store in pantry, out of direct sunlight.
Recipe Notes
Cook time indicated is for preparing soup to serve fresh.

If canning this recipe, cook time will also include 1 hour, 15 minutes for pints, OR 1 hour, 30 minutes for quarts.

If your elevation is over 1,000 feet, weighted gauge used should be 15 pounds.
A dial gauge should be at 12 pounds pressure for elevations 2,000-4,000 feet.
Nutrition Facts
Ham and Bean Soup (and how to CAN it!)
Amount Per Serving (1 g)
Calories 187
Calories from Fat 27
% Daily Value*
Total Fat 3g 5%
Cholesterol 11mg 4%
Sodium 837mg 35%
Potassium 608mg 17%
Total Carbohydrates 26g 9%
Protein 12g 24%
* Percent Daily Values are based on a 2000 calorie diet.
Here's one more to pin on your Pinterest boards!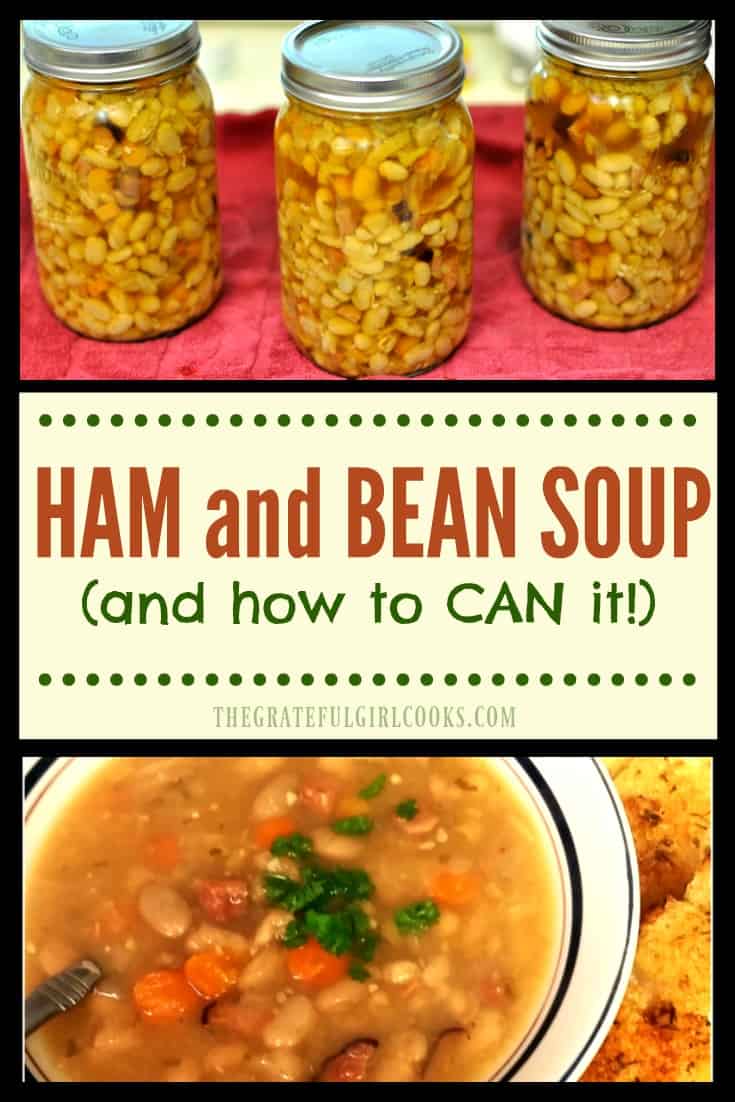 Save
Save