I've been testing recipes to serve guests during the upcoming holidays… various bruschettas and crostinis, and recently tried this recipe for a spreadable herb and garlic-flavored cheese… Homemade Boursin Cheese, to be exact! It was so easy to make, and is crazy delicious!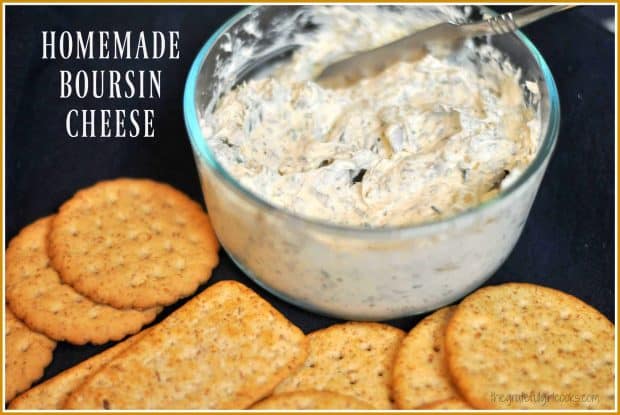 What exactly IS Boursin Cheese, you ask?  I researched it and found online (thanks Wikipedia) that besides the fact that it is a completely delicious cheese spread, it was created in Normandy, France in 1957 by Mr. Francois Boursin.  Mr. Boursin apparently got his inspiration from "fromage frais" ("fresh cheese"), in which his countrymen would enjoy fresh creamy cheese that they seasoned themselves – with their choice of fresh or dried herbs and garlic, then spread on bread.  Mr. Boursin created a recipe for this delectable creamy cheese, and the recipe became known for being the first flavored FRESH cheese sold throughout France, and it's popularity has spread throughout the world.
The cheese is super simple to replicate using whipped cream cheese and a variety of herbs and minced garlic. All ingredients are stirred together to blend and then refrigerated (covered) for 24 hours to let the flavors develop. That's it!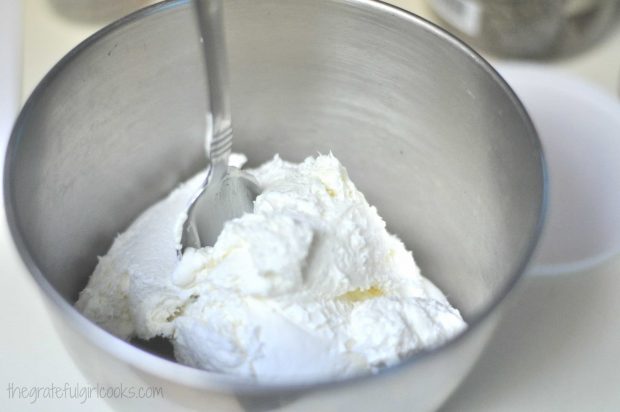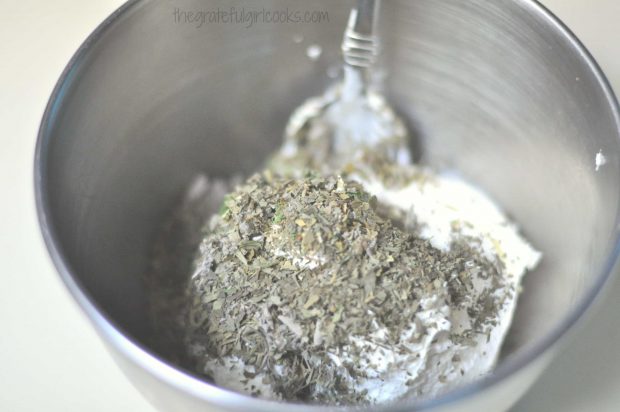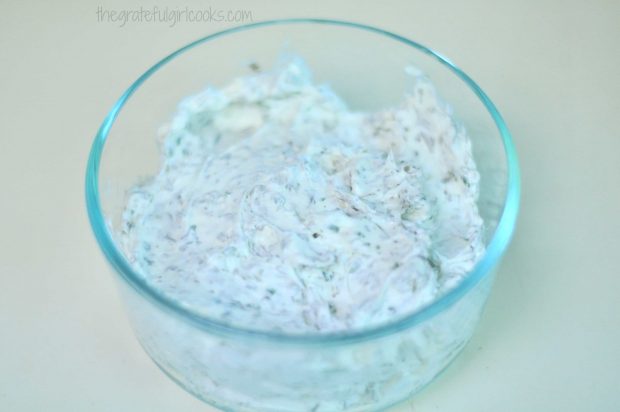 After the cheese has been covered and refrigerated for 24 hours, it is ready to serve at any gathering of family and/or friends. Serve with an assortment of crackers or small baguette slices.  The recipe is EASILY doubled or tripled to serve a small or large crowd, and it tastes amazing! Sure hope you will give this recipe a try!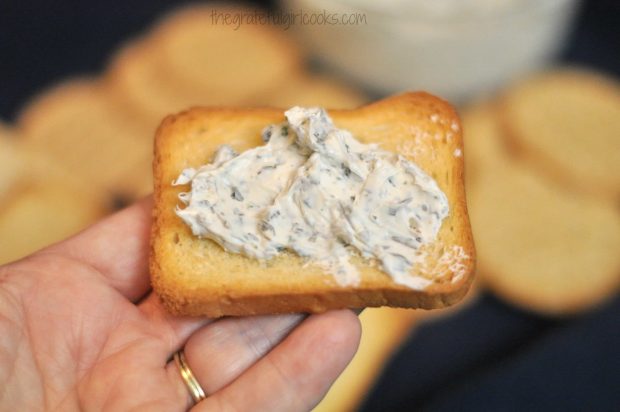 I am definitely going to be making this again! I'm so glad I found this recipe, because it is a PERFECT appetizer! When I tasted the finished product, I was amazed at how much flavor was in the cheese!
Sure hope you will consider making this… the prep time is less than 5 minutes, and 24 hours later, you will have an amazing appetizer spread to serve with your choice of crackers or bread! YUM!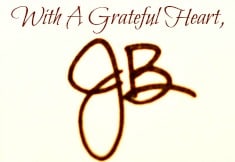 Recipe Source:  http://theviewfromgreatisland.com/homemade-boursin-cheese-recipe/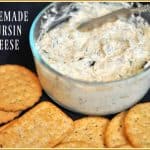 Homemade Boursin Cheese
A soft creamy flavor-packed cheese spread, enhanced with a variety of herbs and fresh minced garlic... perfect served with gourmet crackers or sliced baguette.
Ingredients
12

ounce

tub of whipped cream cheese

1

large clove garlic

, finely minced
2 "scant" teaspoons of each:
dried parsley

dried oregano

dried tarragon

dried marjoram

dried thyme

dried sage

dried basil

dried chives

(Note: I used fresh minced chives from our garden!)
Instructions
Combine all ingredients in a medium sized bowl. Mix well (by hand) to fully incorporate all ingredients, and mixture is creamy.

Cover bowl or place into an airtight covered container, and refrigerate cheese mixture for 24 hours to let flavors fully develop (for absolute best flavor).

To serve, place bowl of Boursin cheese alongside a variety of gourmet crackers or French baguette slices. Spread cheese onto the crackers or bread with a small butter knife, and enjoy!
Recipe Notes
Prep time is just that... prep time to prepare the cheese. Does not take into account time for refrigeration.
Here's one more to pin on your Pinterest boards!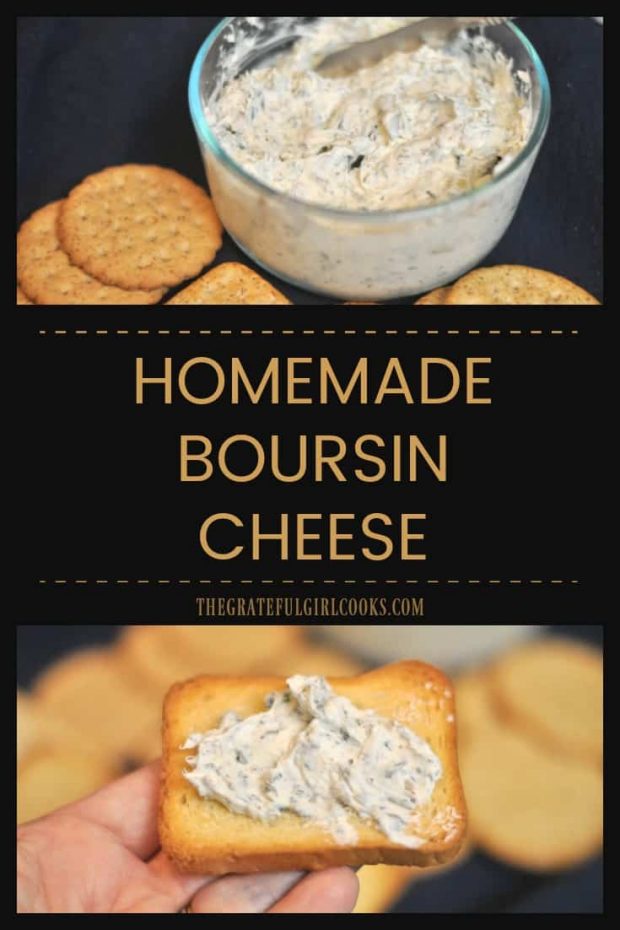 Save
Save
Save
Save
Save
Save
Save
Save
Save
Save
Save
Save
Save
Save
Save
Save
Save
Save
Save
Save