As I write this post, it is the middle of winter in the Pacific Northwest…cold and overcast. Sigh. I find myself longing for more hours of sunlight, warm weather, and the smell of smoke coming from our hard-working BBQ grill, as another delicious chicken dinner is prepared.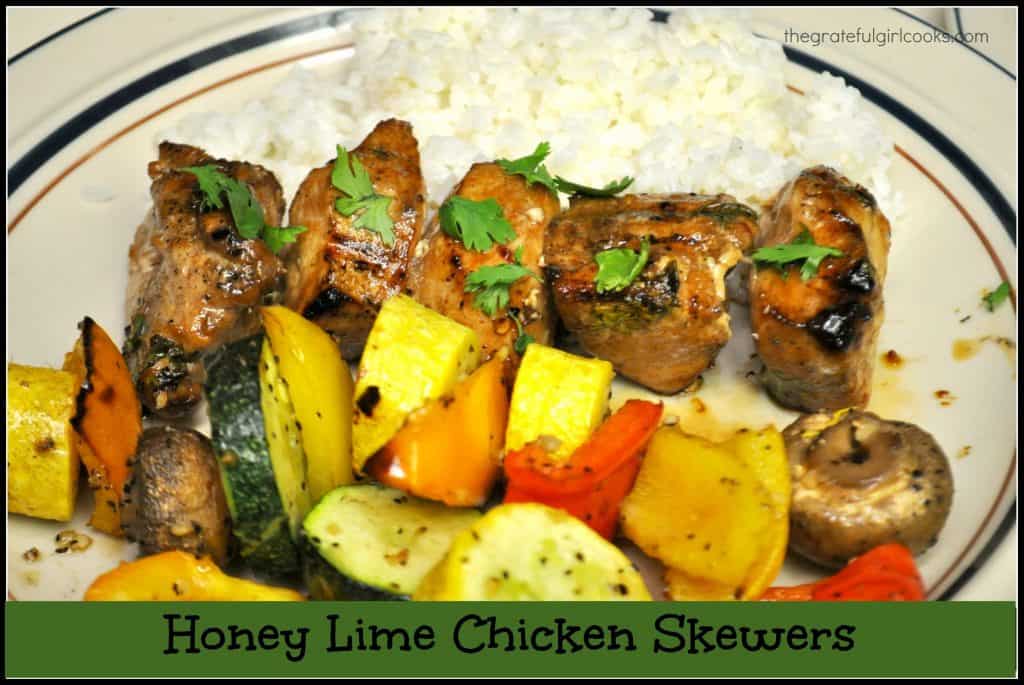 We grill as soon as is it warm enough to hang around outside without getting frozen or pelted with rain; I can hardly wait for warm weather and Daylight Savings Time to arrive! There's nothing better than sitting outside, sipping iced tea on a warm evening and watching my husband ("The Grill Master") help me cook dinner, armed with briquets, charcoal lighter, and kitchen tongs!
I love this recipe I found on Pinterest last year…it's one of those "Perfect For Those Lazy Days Of Summer" meals. Marinade the chicken early in the day, throw it in the refrigerator before you head to work or go have some summer fun, then skewer and grill it later for an amazing dinner! This is a very quick, easy, and  tasty meal. A real "no-brainer" recipe that is easily doubled, if you're feeding a few people. I hope you enjoy it as much as we do!
Marinated chicken (and veggies) on skewers and ready for the grill!
Note: I used metal skewers. If you will be using wooden skewers, remember to soak them in water for approximately 15 minutes (this will prevent them from burning on the grill…which would NOT be a good thing!)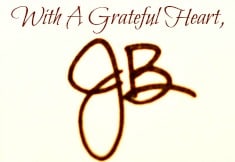 Recipe Source: http://kitchenmeetsgirl.com/honey-lime-chicken-skewers/  

Honey Lime Chicken Skewers
Fire up the BBQ grill for these delicious Honey Lime Chicken Skewers! Perfect for a warm summer night!
As Prepared By:
JB at The Grateful Girl Cooks!
Ingredients
For Marinade:
3 Tablespoons soy sauce
2 Tablespoons honey
1 Tablespoon vegetable oil
Juice of 1 lime
2 garlic cloves, minced
1-2 teaspoons Sriracha sauce
Red pepper flakes, to taste (I use about ⅛ teaspoon)
1 pound boneless, skinless chicken breasts (cut into large chunks)
2 Tablespoons cilantro, chopped (for garnish)
Directions
In a small bowl, combine the first 7 ingredients. Mix thoroughly together.
Pour the marinade over the chicken breast chunks. A large zip-loc type bag works great to hold the marinating chicken (and it means one less dish to wash, so it's a "win-win" thing). You can marinade the chicken in any container with a lid, if you wish.
Marinate the chicken in the refrigerator for a minimum of 1 hour. (I recommend marinating the chicken in the morning and letting it soak in the marinade all day...just saying!)
Grill on medium-high heat for 6-8 minutes per side, or until the juices run clear.
Remove skewers from grill, remove skewers from chicken and serve. ENJOY!
Notes
The chicken skewers are best when served alongside grilled skewered vegetables like zucchini, onions, mushrooms and yellow squash. Use whatever veggies you enjoy!

*** I used metal skewers. If you will be using wooden skewers, remember to soak them in water for approximately 15 minutes (this will prevent them from burning on the grill...which would NOT be a good thing!)
Save
Save