One summer several years ago I was "overrun" with green beans growing in my backyard raised bed garden. I KNEW I wanted to learn how to can green beans to preserve them, so I used a birthday gift card I received and bought a pressure canner. The rest is history!

That was several summers ago, and I've now learned and progressed in my pressure canning  (and water bath canning), to where I am now canning lots of veggies, beans, soups, jams, and stews… AND I LOVE IT! There's something wonderful about pulling a jar of homegrown green beans (or other foods) right out of our pantry that makes me smile!  And the fact that I've never had a "bad" unsealed or cracked jar tells me I must be doing it right!
So here's the "how to" of canning green beans.  Always refer to your pressure canner's manufacturer's instructions for your specific canner before beginning.  Start with fresh beans (for this batch I combined green and yellow beans from our garden). Wash beans, then drain them.  Trim the ends off the beans, then snap or cut them into 2 inch pieces. (I enjoy "snapping" beans while I watch the news).  I usually pack beans tightly into jars (to get an estimate of how many jars I will need), then remove beans,  re-wash jars, then proceed with canning process. Set beans aside until ready to pack into hot jars.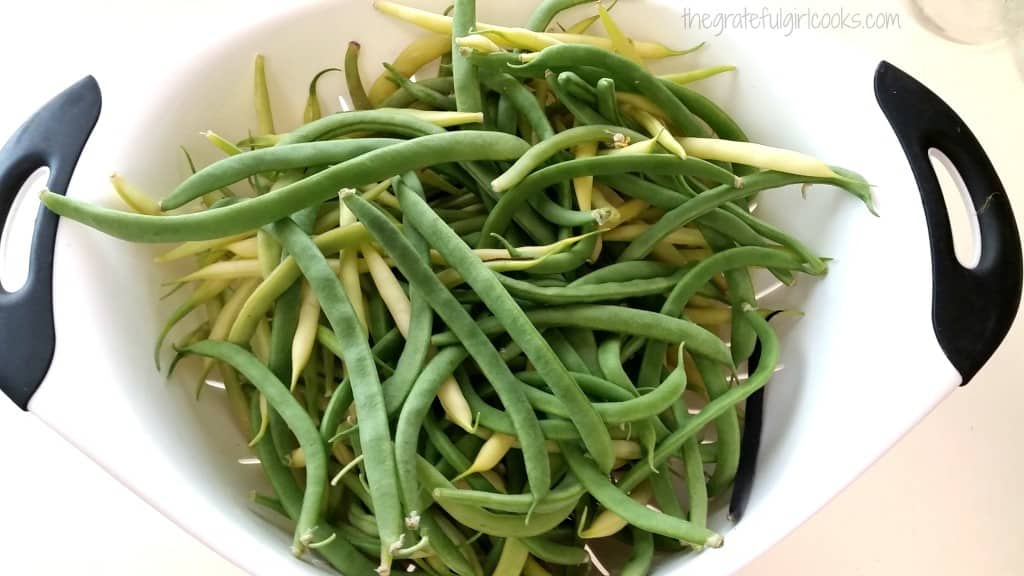 Wash the canning jars, then place them upside down on a dish towel-lined baking sheet.  Place them in a preheated 200 degree oven for about 20-25 minutes. Some people put them in simmering water to heat, but I like the convenience of having my stove top free while I am heating the water up in my pressure canner and heating boiling water to add to the filled jars.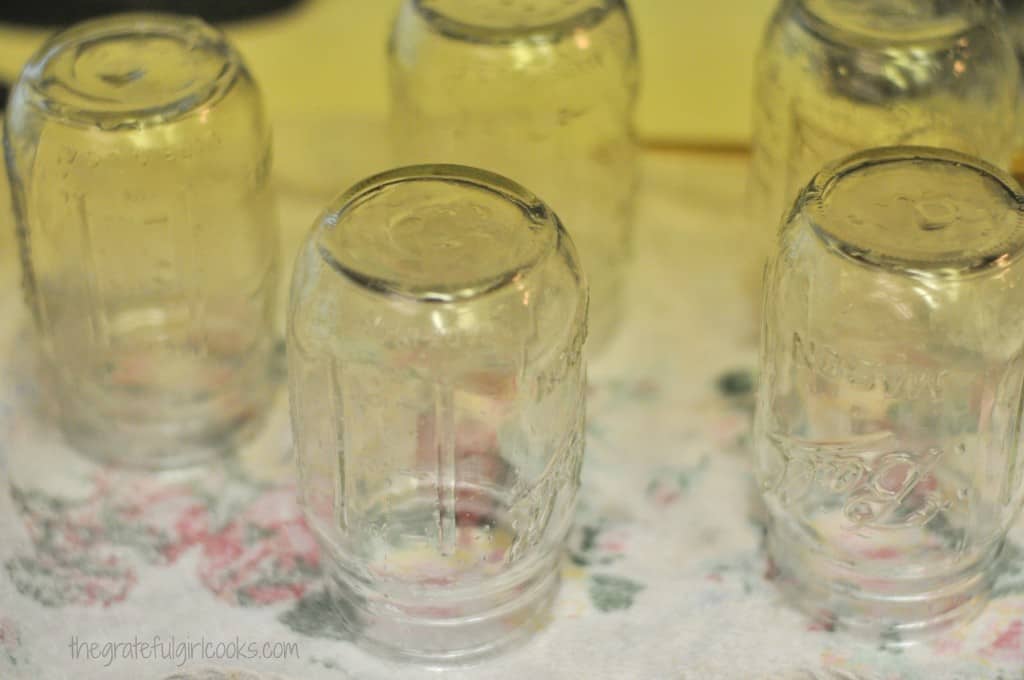 While the jars are in the oven heating, prepare pressure canner, jars and lids according to manufacturer instructions. Bring a kettle of water to a low boil. About 5 minutes before the jars are finished heating and the beans are ready to be added, pour some of the very hot water over the flat jar lids (and let them sit in the water in a bowl for 5 minutes – this softens the rubber seal).
I usually "raw pack" the beans (one of TWO canning methods), which means to tightly pack the raw green beans in the heated jars. Fill the jars to within one inch of the top of jar. Place 1/2 teaspoon canning salt into each jar. Pour boiling water (I use a canning funnel) into each jar, leaving 1 inch headspace. (See NOTES section of printable recipe for alternate method).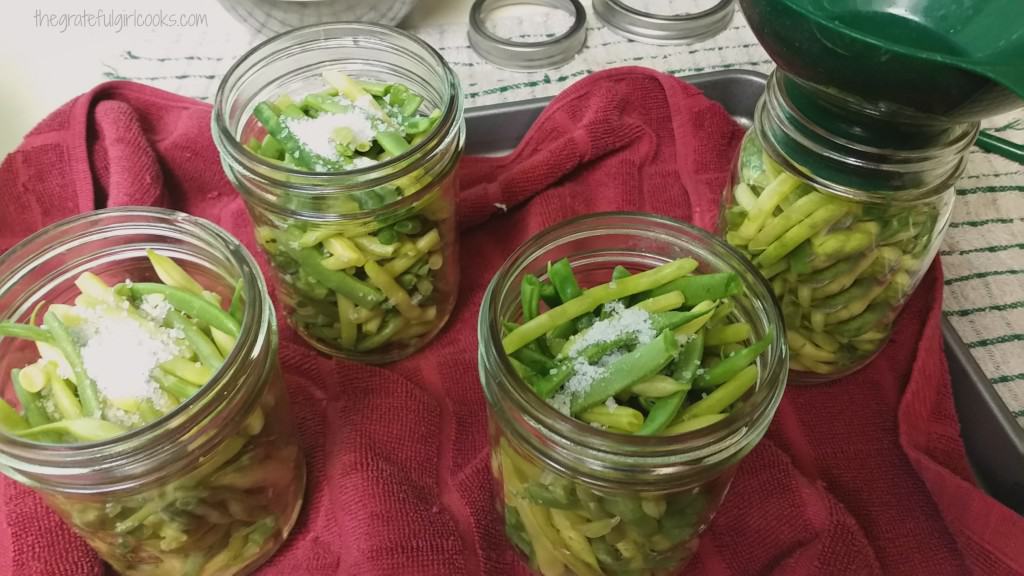 Remove air bubbles from jar; adjust the headspace by adding or removing liquid to ensure you have the correct 1 inch headspace. Use a paper towel and wipe the rim of each jar dry/clean. Place the heated flat lid on jar, then add screwband and tighten to fingertip tight.  Carefully place the jars into simmering water in the pressure canner, lock the canner lid in place, then turn it to medium high heat. As water inside comes to a boil, steam will escape through the vent. Let the steam vent for 10 minutes, then place vent cover on to close vent.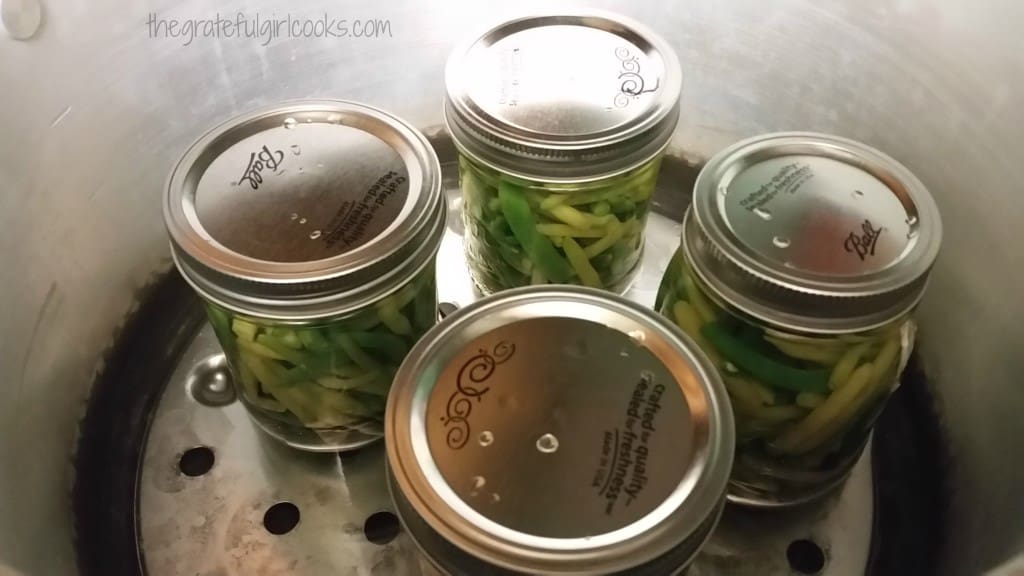 Continue heating until the pressure canner reaches 10 pounds pressure. Maintain this pressure throughout the cooking time indicated. (Pint jars = process for 20 minutes, Quart jars = process for 25 minutes).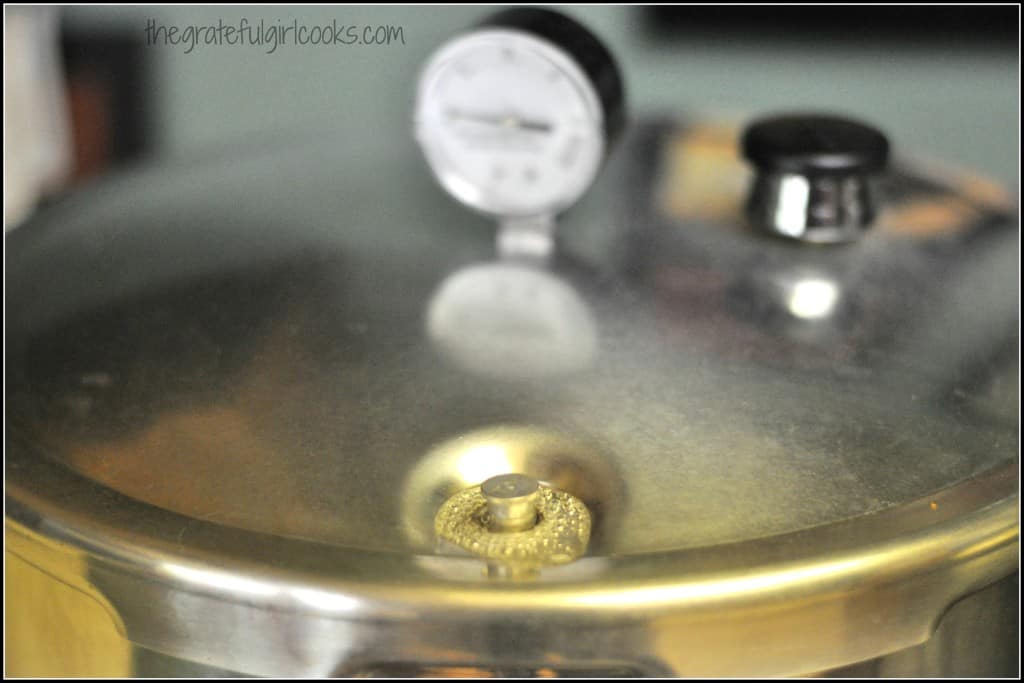 When processing time is completed, turn off the heat. Let the pressure drop down to zero naturally. Once the pressure returns to zero, wait a couple more minutes, then carefully remove vent cover only. Wait another minute, then carefully remove canner lid. Let the jars sit in the canner for 10 more minutes, then remove them, using canning tongs. Place the HOT jars onto a dish towel on the counter (DO NOT place directly on counter… temperature variations could make the jars crack!). Here's a picture from another batch of jars using only GREEN beans.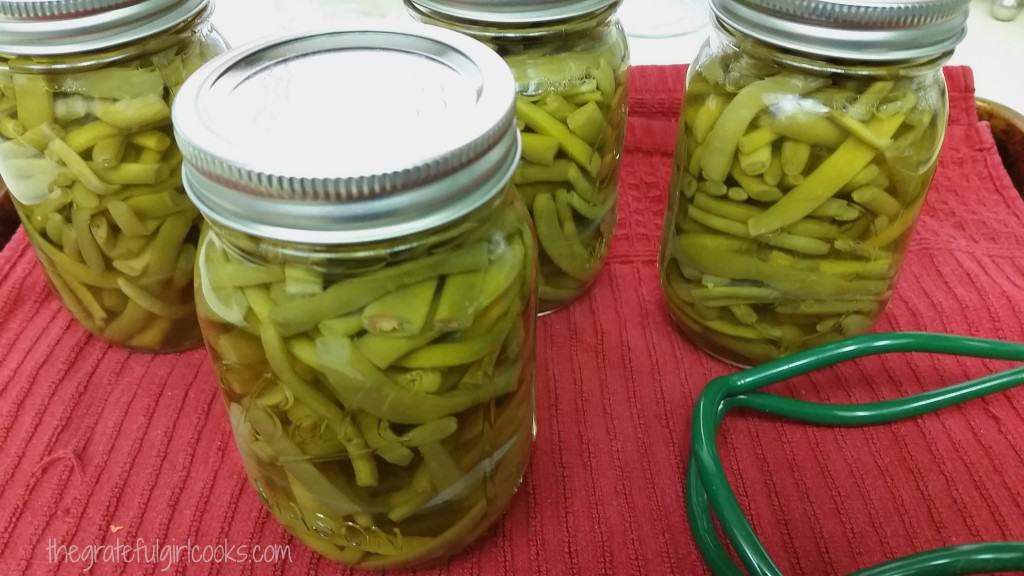 Let the jars cool completely (for 12-24 hours) without disturbing, then check to make sure they sealed properly, label and store. Smile… and enjoy the reward from your small amount of work… a pantry full of green beans! I LOVE that I can preserve beans from our garden each year and pull a jar of home-grown green beans off a pantry shelf any time I want… (haven't bought beans in years!).
Remember – vegetables and meats, soups, etc. must be pressure-canned, due to low acidity present in those foods… unfortunately they CANNOT be processed in a water bath canner (not enough heat to kill off any potentially harmful bacteria!).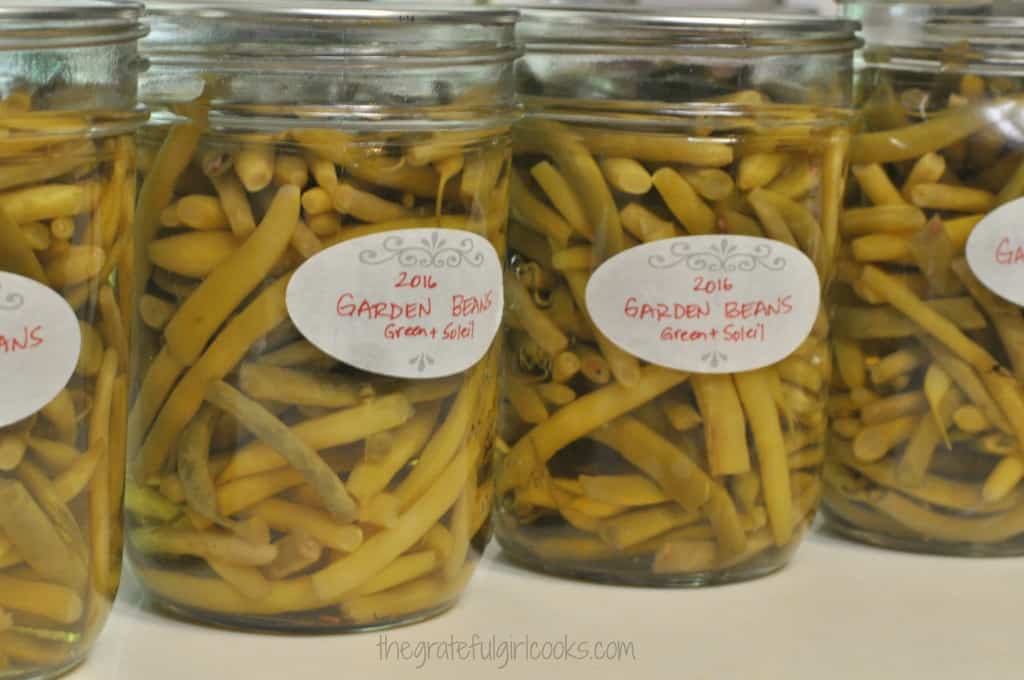 For me personally, it is very rewarding to see jars of homegrown vegetables (and soups, stews, jam, etc) line our pantry shelves… it feels awesome! I am so glad I learned to pressure can and have enjoyed the results produced ever since!  Have a blessed day!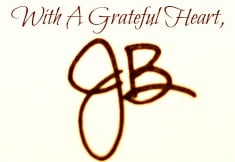 Recipe Source:  Ball Complete Book of Home Preserving, Published 2012, Robert Rose, Inc., Jarden Corporation, page 386 (and part of page 385)

Save
Save
Save
Save
Save
Save
Save
Save
Save
Save
Save