If you're looking for a completely easy to prepare and delicious "cake" to serve at your upcoming Easter brunch, or just looking for a new cake recipe…then I have the recipe for YOU! This Hummingbird Cake can easily double as a coffeecake OR as a dessert cake!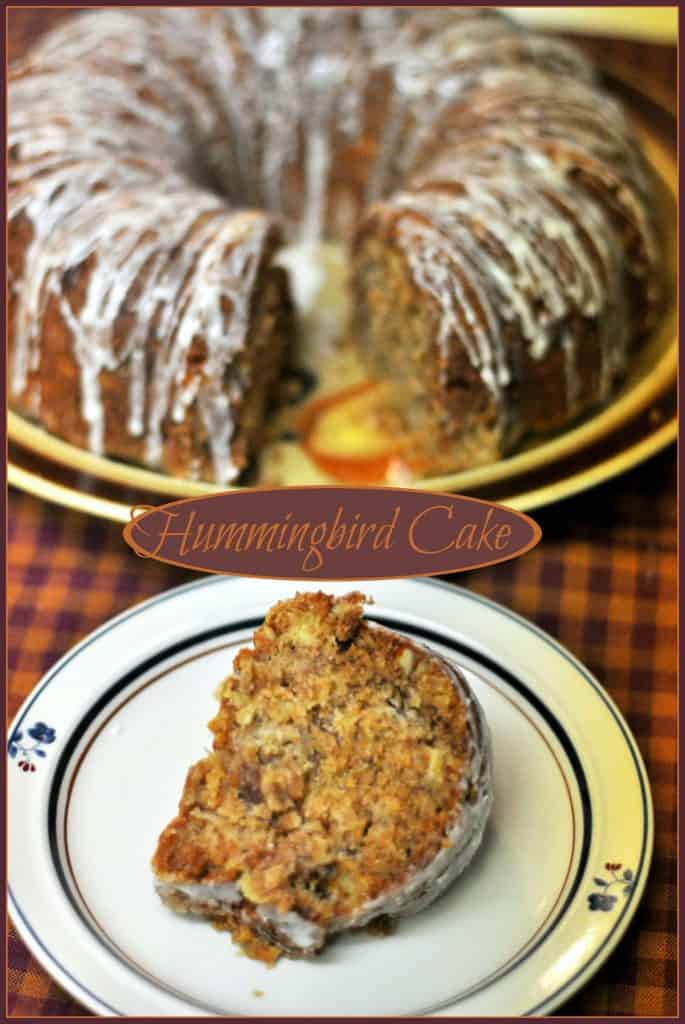 I have been making this cake for over 30 years… I wrote the recipe down LONG ago on a 3×5 card, but didn't write down where I found the original recipe (oops). Don't have a single clue why it is called a hummingbird cake. *PUBLIC SERVICE ANNOUNCEMENT: No hummingbirds were harmed in the making of this cake*. That said… this is a wonderful, moist cake, filled with pineapple, bananas, coconut and nuts. Not too sweet… just right! Perfect for grabbing a slice for breakfast, afternoon tea, OR dessert!
The recipe is simple; if you can stir, then you can make this. It can be made in ONE BOWL, and the only requirement is that you mix the ingredients by hand! Super easy to make, and absolutely delicious! This would be a perfect cake to fix for an Easter brunch, AND it can feed a small village… (12-15 servings, depending on thickness of slices). Here's what you do to make this cake:
Mix together the oil, sugar, eggs and vanilla in a large bowl. No need for beaters. Just stir, because this is a thick batter.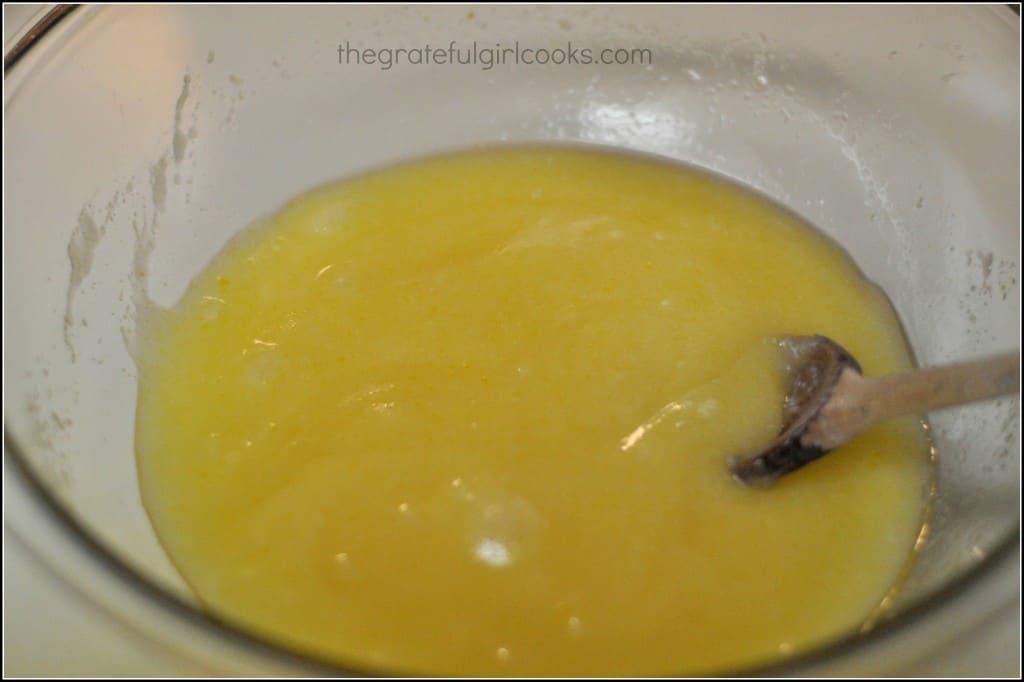 Now sift in the dry ingredients (flour, cinnamon, baking soda and salt). Stir well to combine.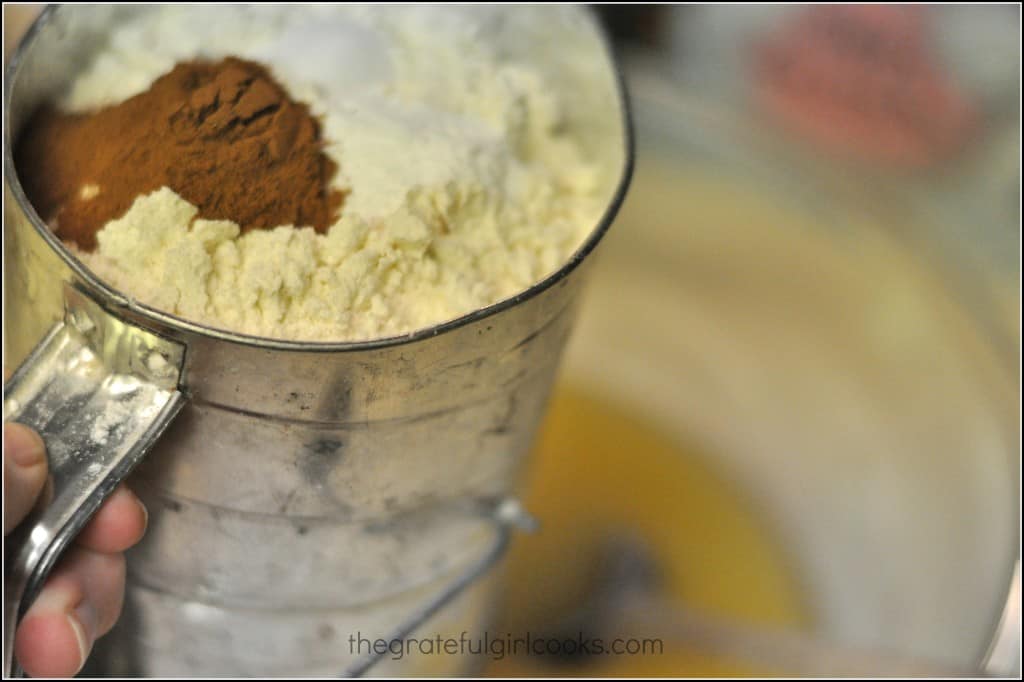 The batter will be very thick (that's why you stir the batter), and will look like this: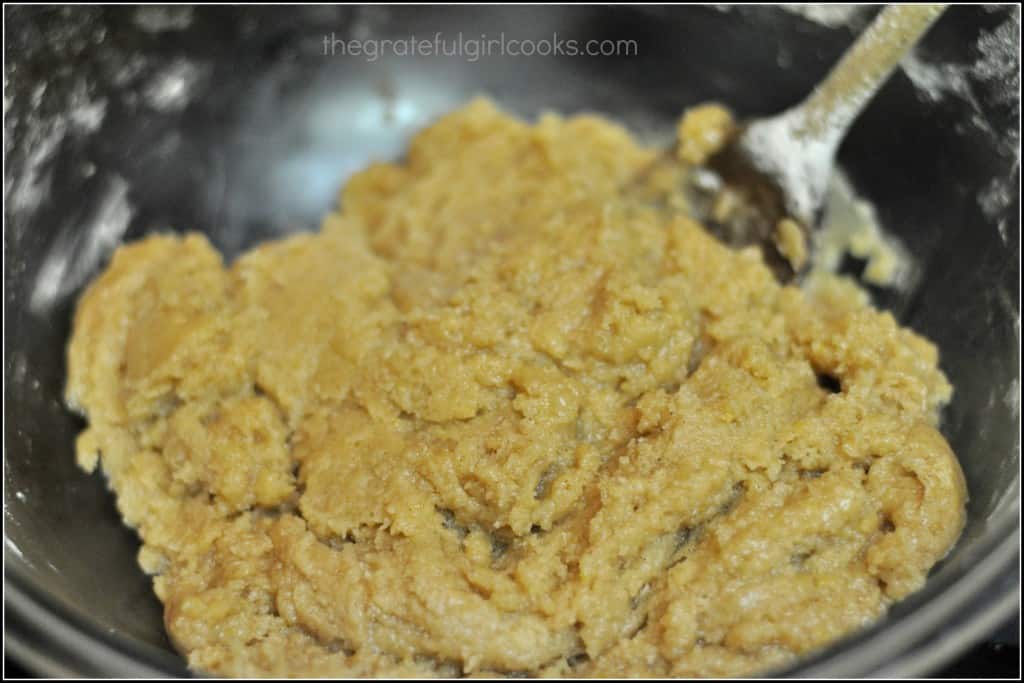 Drain the crushed pineapple, and chop the bananas and nuts. Add them, along with flaked coconut to the batter and thoroughly mix ingredients together.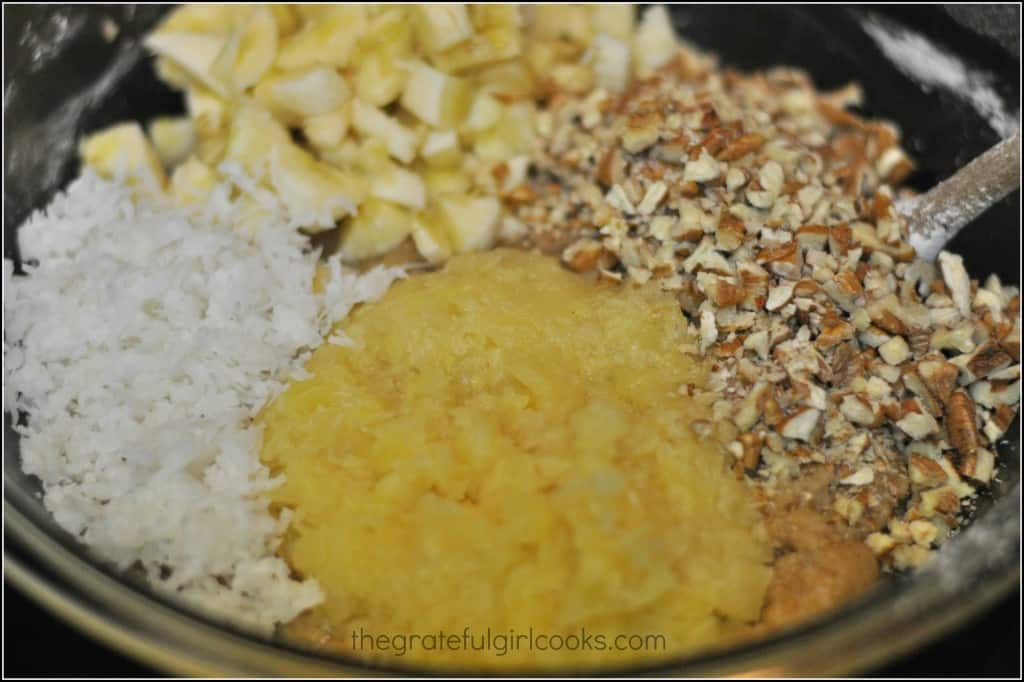 Grease and flour a bundt pan very well. Spoon the cake batter into the bundt pan, then level the batter around the pan. Bake at 300 degrees for 90 minutes.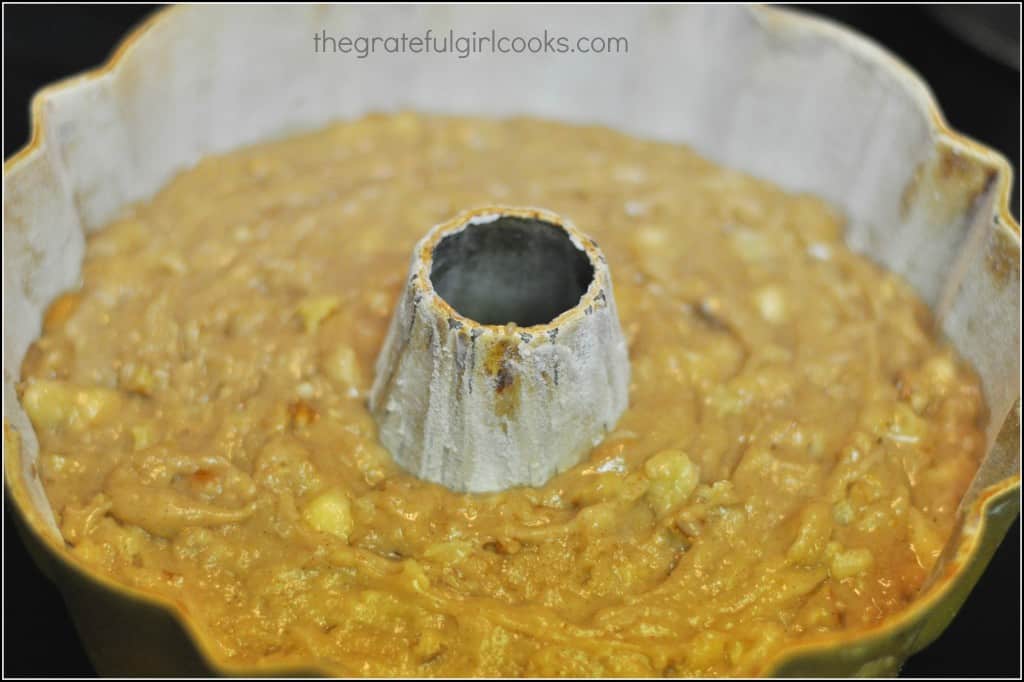 Let the cake cool (in the pan) for about 10 minutes, then carefully invert the cake onto a serving plate. (Put the serving plate on top of the bundt pan, hold both serving plate and bundt pan and carefully flip cake over. It should remove easily from pan, if you greased and floured your pan well before baking. It should look like this: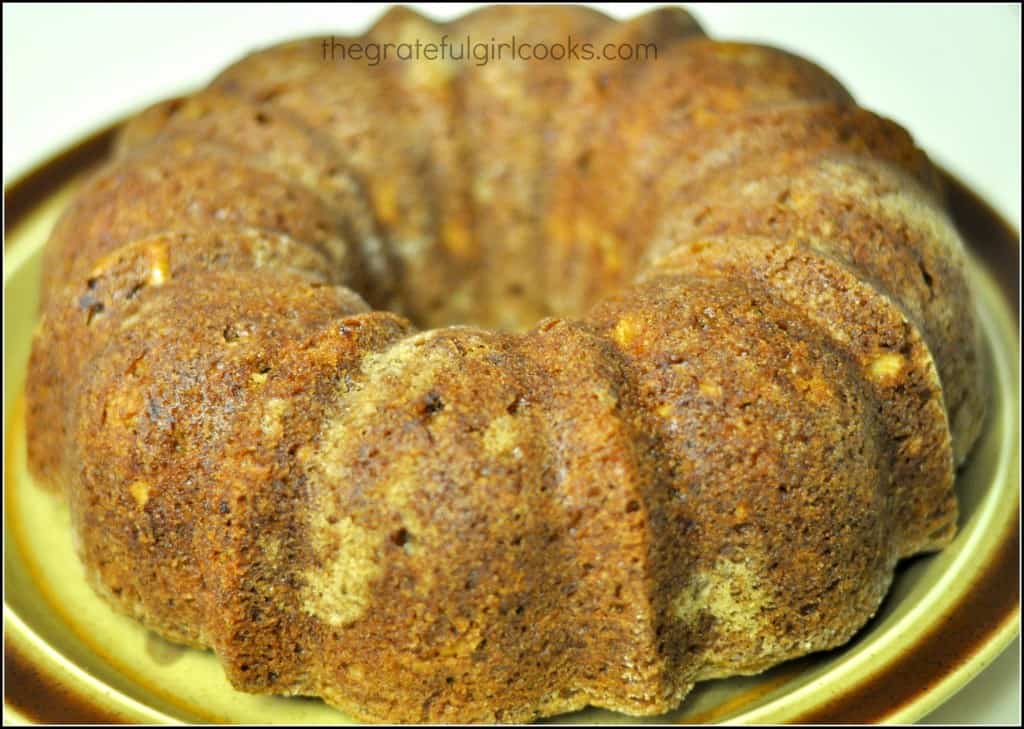 The cake is perfect just like this… BUT if you want it to LOOK prettier, let the cake cool, then mix together the powdered sugar, vanilla and water until you have a glaze. You can drizzle the glaze decoratively over the top of the cake like this: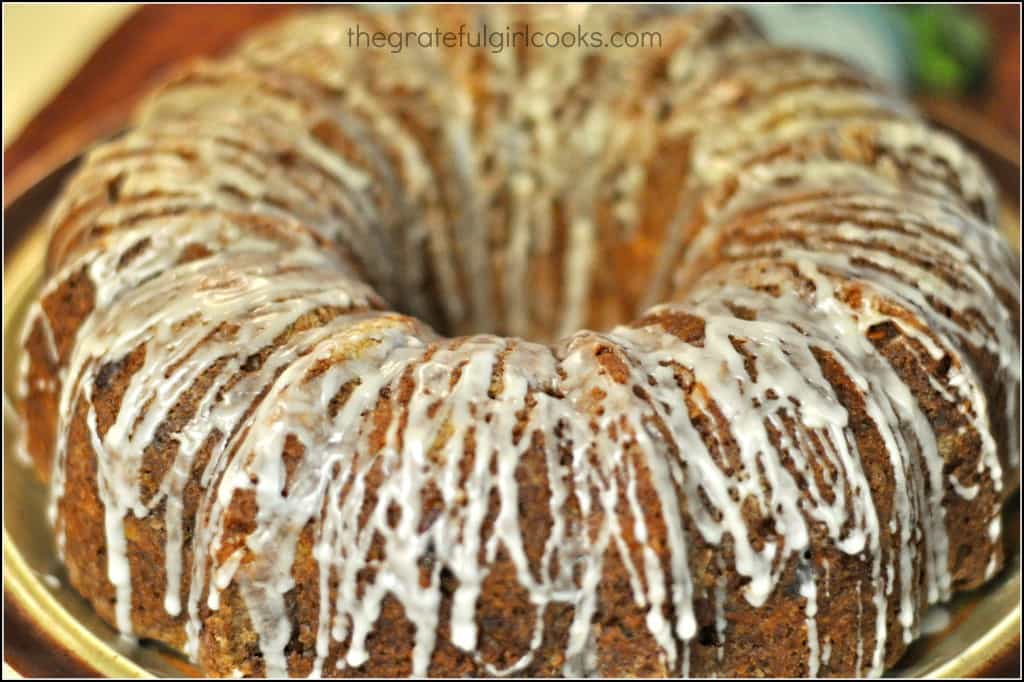 There you have it… let the cake cool completely and then slice a piece! Perfect for Easter brunch (or any other time, for that matter!)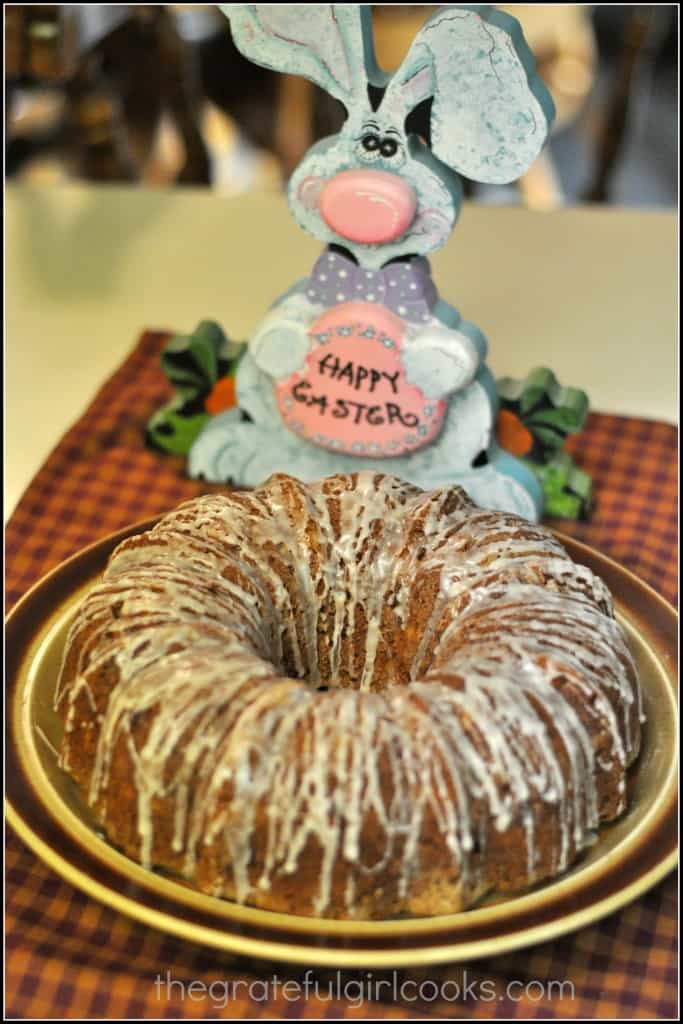 The cake is moist, and filled with flavor, without a lot of hard work. How perfect is that?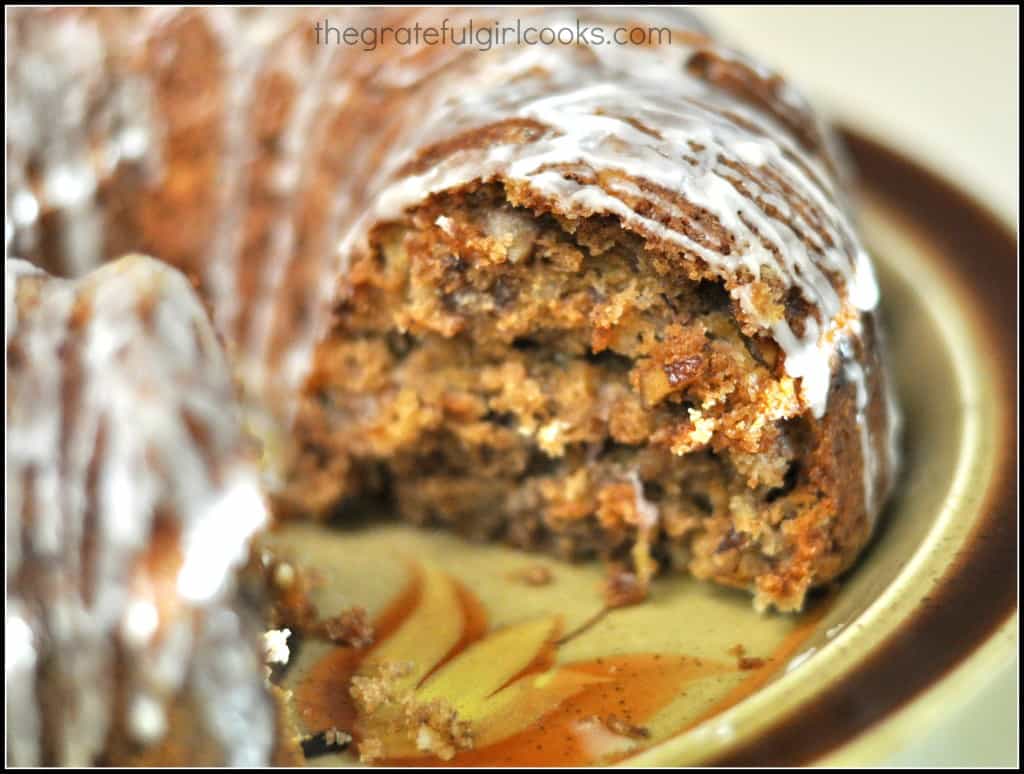 Pour yourself a cup of coffee or tea, slice a piece of this delicious cake… and enjoy!!!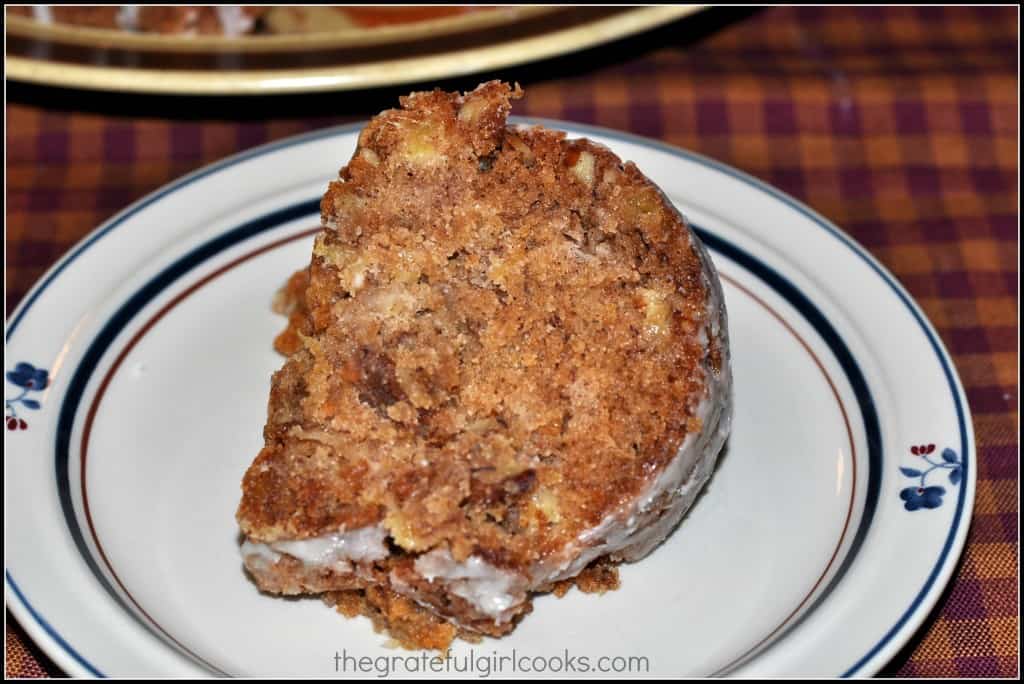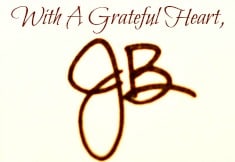 Original Recipe Source: Unknown

Hummingbird Cake
This easy to prepare cake is perfect for brunch or dessert. Packed with pineapple, bananas, nuts, and coconut, it is a moist and delicious treat!
As Prepared By:
JB at The Grateful Girl Cooks!
Ingredients
For cake:
1½ cups vegetable oil
2 eggs
2 cups granulated sugar
1 teaspoon vanilla extract
3 cups all purpose flour
1 teaspoon cinnamon
1 teaspoon baking soda
½ teaspoon salt
1 (8 ounce) can crushed pineapple (drained)
1 cup chopped pecans or walnuts
2 bananas, chopped
½ cup shredded coconut
For glaze:
1½ cups powdered sugar
½ teaspoon vanilla extract
water (add a few drops at a time until glaze is "drizzle-able)
Directions
Preheat oven to 300 degrees. Mix all ingredients by hand because this is a THICK batter.
In a large bowl, mix the oil, sugar, eggs, and vanilla until combined.
Sift the dry ingredients (flour, cinnamon, baking soda and salt) into the mixing bowl with the oil/sugar mixture. Stir well to thoroughly combine.
Add the drained crushed pineapple, chopped bananas (small chunks), nuts, and coconut. Stir well until all ingredients are completely combined.
Grease and flour a large bundt pan well. Spoon in the batter, making sure to level off the batter around the pan.
Bake at 300 degrees for 90 minutes. Remove cake pan to a wire rack to cool for 10 minutes.
Carefully invert the cake onto serving platter. Let cool.
Prepare glaze by mixing the powdered sugar and vanilla in a small bowl. Add a few drops of water at a time, stirring until glaze is "drizzle-able".
Drizzle the glaze decoratively over the top of the cake. Let glaze firm up, then serve cake at room temperature.
Enjoy!
Notes
The cake only takes about 15 minutes active time to prepare and get into the oven. The rest of the baking time is inactive time. Go do something fun!
Save
Save
Save
Save