The recipe I want to share today is called "Joy's Spinach Salad". It is absolutely wonderful!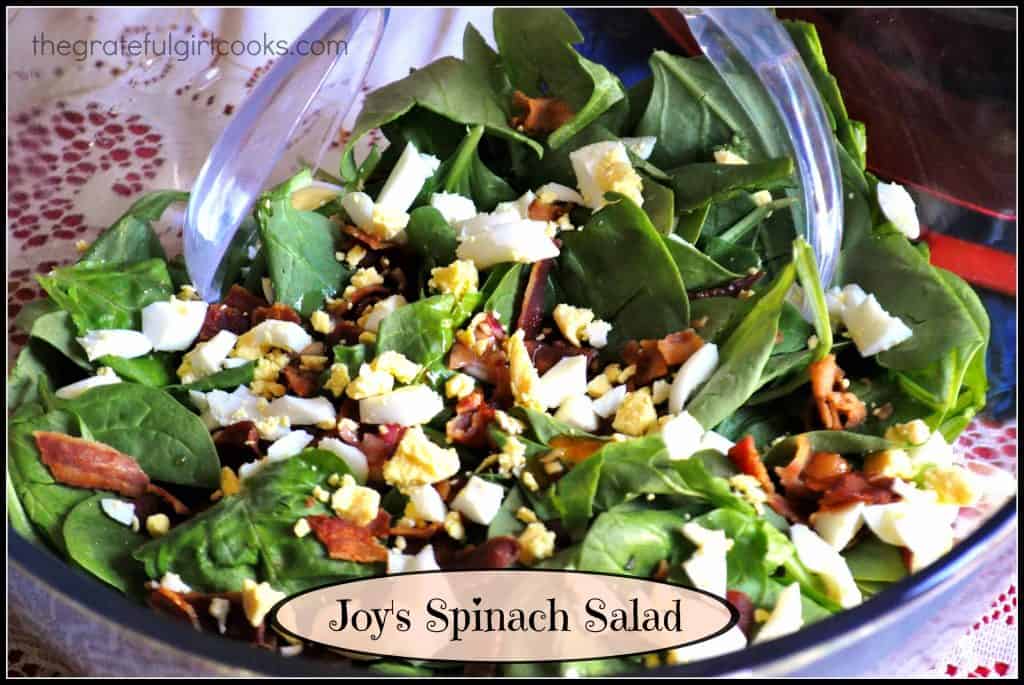 Years ago (almost 20), we lived in Central California, where my husband was a Music Pastor in a large church. We were privileged to get to know many wonderful and truly kind-hearted people during our five year ministry there, and always enjoyed getting to share a meal with some of these friends.
My husband and I were fortunate to have dinner one evening with a sweet couple from our church…Marv and Joy. We were served a wonderful dinner, which included an absolutely delicious spinach salad. Well… I * totally * loved that salad, and decided right then and there that I needed the recipe for all time forward! So I asked Joy for her recipe…and she graciously shared it with me. It's the only spinach salad recipe I have used ever since that time! Joy made her own dressing (kind of like a French dressing), which is not heated as some spinach salad dressings are. Delicious!
To this day, I think of them fondly when I prepare this and see her name on that stained 3×5 index card. I accidentally took the picture of the salad before I added the mushrooms and bean sprouts… my bad! (just use your imagination!)
This absolutely delicious salad and salad dressing are very easy to prepare (my favorite kind of recipe!). Give it a try…I think you will love it!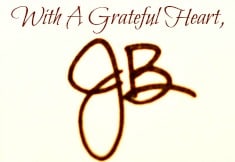 Joy's Spinach Salad
Delicious spinach salad and salad dressing... absolutely perfect in every way!
As Prepared By:
JB at The Grateful Girl Cooks!
Ingredients
For salad:
2-3 bunches fresh spinach, leaves torn into small pieces (or use equal amount of baby spinach)
1 can water chestnuts, drained and chopped
3-4 green onions, chopped (both green and white parts)
½ cup fresh bean sprouts
6-8 slices bacon, cooked crisp, then crumbled
2 hard boiled eggs, chopped
8 white mushrooms, sliced thinly
For the salad dressing:
1 cup oil (I use olive, but vegetable or canola work, as well)
¼ cup wine vinegar (red or white-both will work)
⅓ cup ketchup
⅔ cup granulated sugar
1 medium brown onion, finely chopped
salt (to taste)
Directions
In a medium bowl, whisk all the salad dressing ingredients together till fully blended. Cover and refrigerate. Remove from refrigerator about 15 minutes before serving, and whisk again.
Mix all the salad ingredients together (reserving some bacon, egg, and mushrooms for garnish on top so it looks nice).
When ready to serve, pour the dressing on top (you will not need it all-just put on as much of the dressing as you prefer), and toss to coat. Serve. Enjoy!
Notes
*The leftover dressing is great on any mixed green salad. Store it in a closed bottle or mason jar in the refrigerator. It will keep for quite a while!
Save
Save