My family didn't have a lot of money as I was growing up. Truth is, things were fairly tight most of the time, but my Mom sure knew how to stretch a dollar and feed her family well. This delicious "comfort food" recipe for Mom's Swiss Steak is one she fixed often for our family.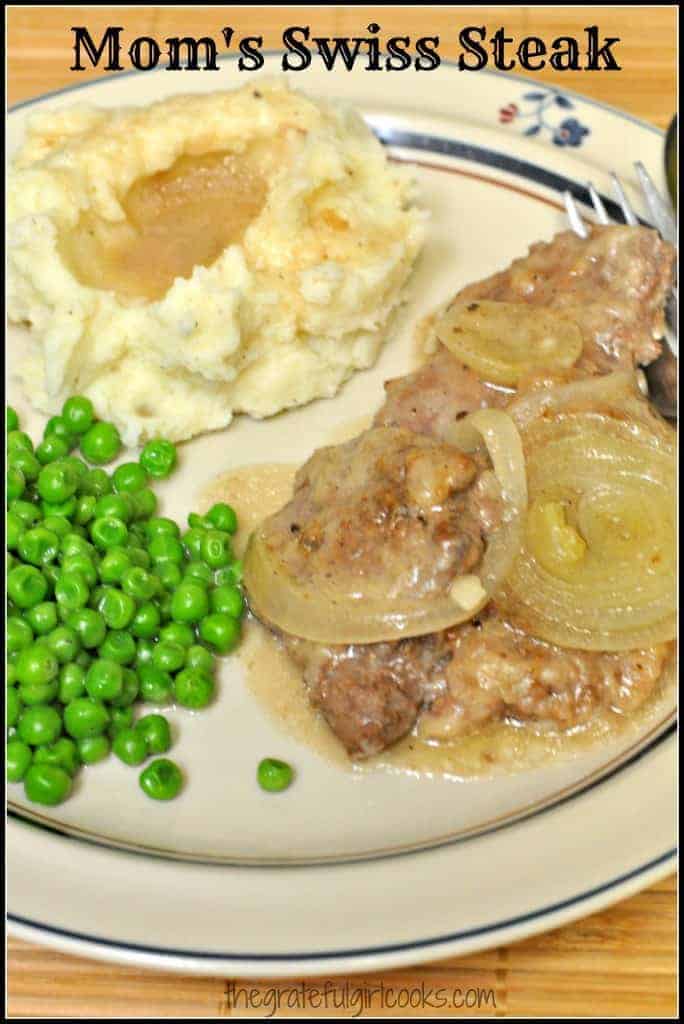 This dish really is quite simple to make and only has a few ingredients: round steak, an onion, some flour, water, a bit of oil, salt and pepper. Not too expensive to make at all!
To begin, you need to cut a 1 1/2 – 2 pound round steak into serving pieces (the pieces don't have to be too big, because they will "get bigger" once flattened by pounding out thinner). Place one piece at a time between two pieces of plastic wrap (to prevent splatters- one piece plastic wrap on bottom and one on top of meat), and pound flat with a meat mallet (the dull side). Think of this as cheap therapy (you're welcome!). Pound the meat with the flat side of the mallet, one at a time, until each piece is flattened out and much thinner). Remove meat from plastic and repeat with remaining pieces until all pieces have been "tenderized".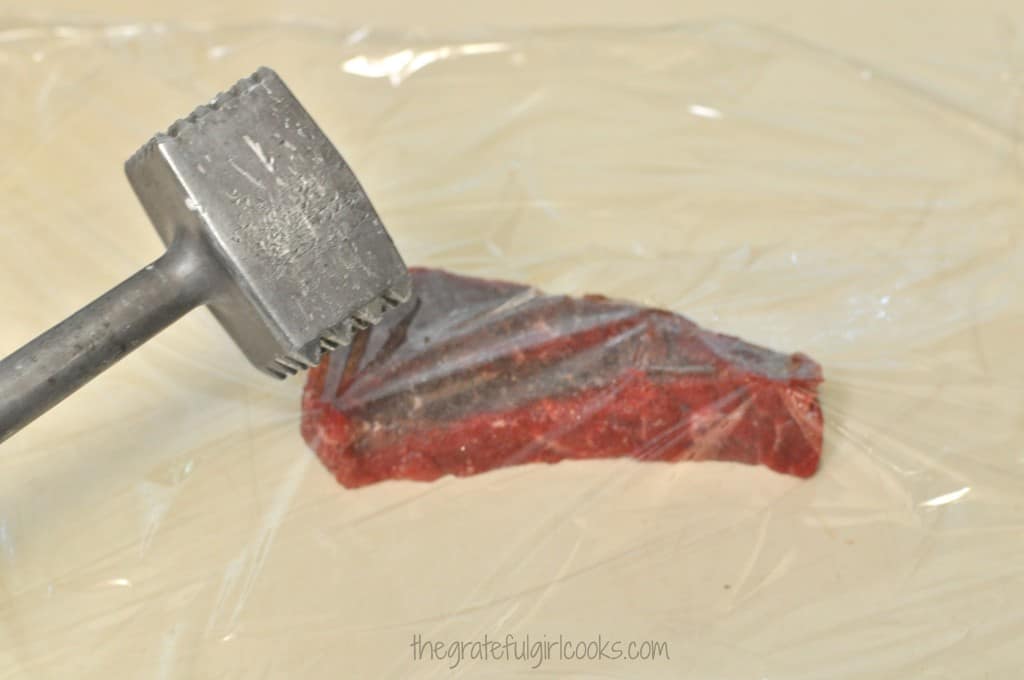 Season each piece generously with salt and pepper, then dredge each piece in flour, to cover all sides of the meat.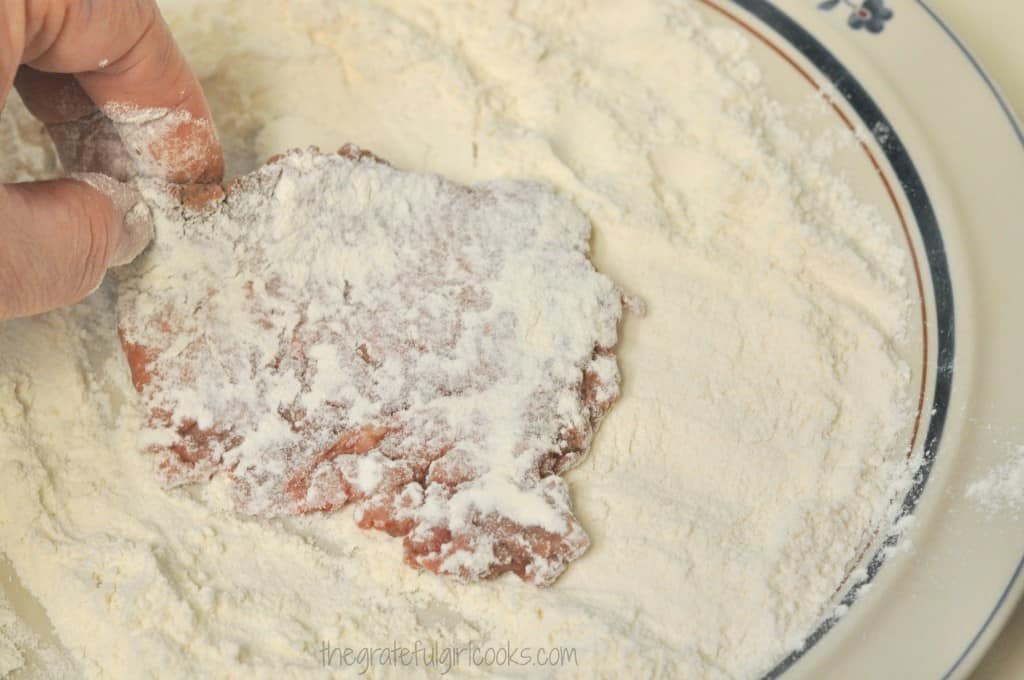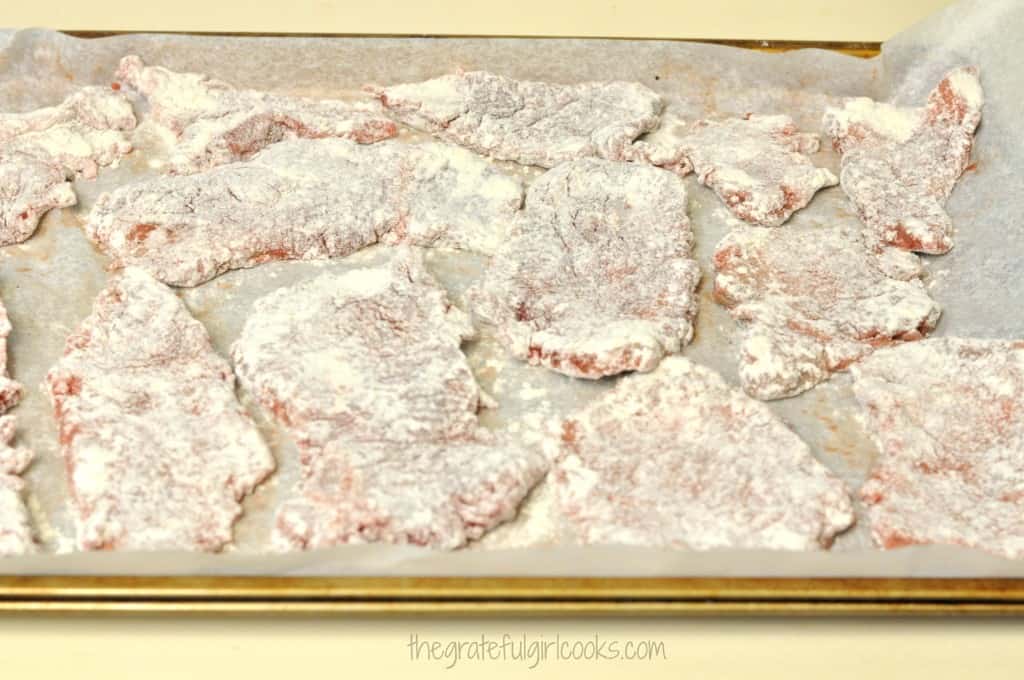 Heat oil in large skillet; once oil is hot, add and sear meat on medium-high (turning over once) until browned on both sides (but not fully cooked). Do this in batches, if necessary, to avoid overcrowding the skillet.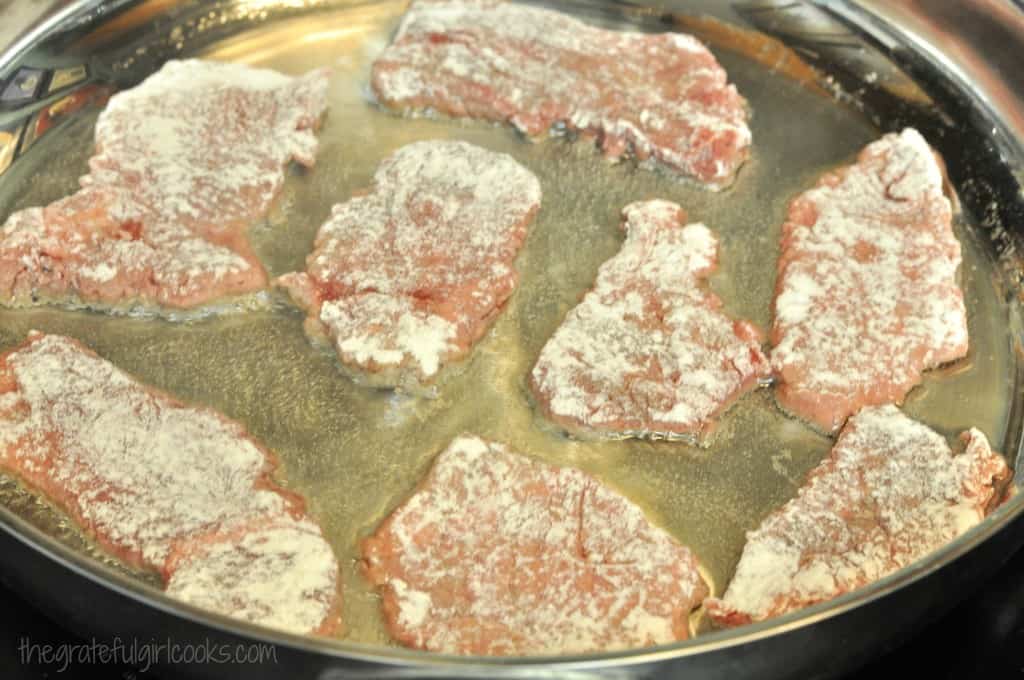 Lay the browned pieces of meat in a large casserole dish. Top each piece with a slice of onion. Once one layer is done, add the meat and more onion to make another layer, until all meat is in baking pan. Leave 1/4 cup of the meat oil/drippings in the skillet, and discard the rest.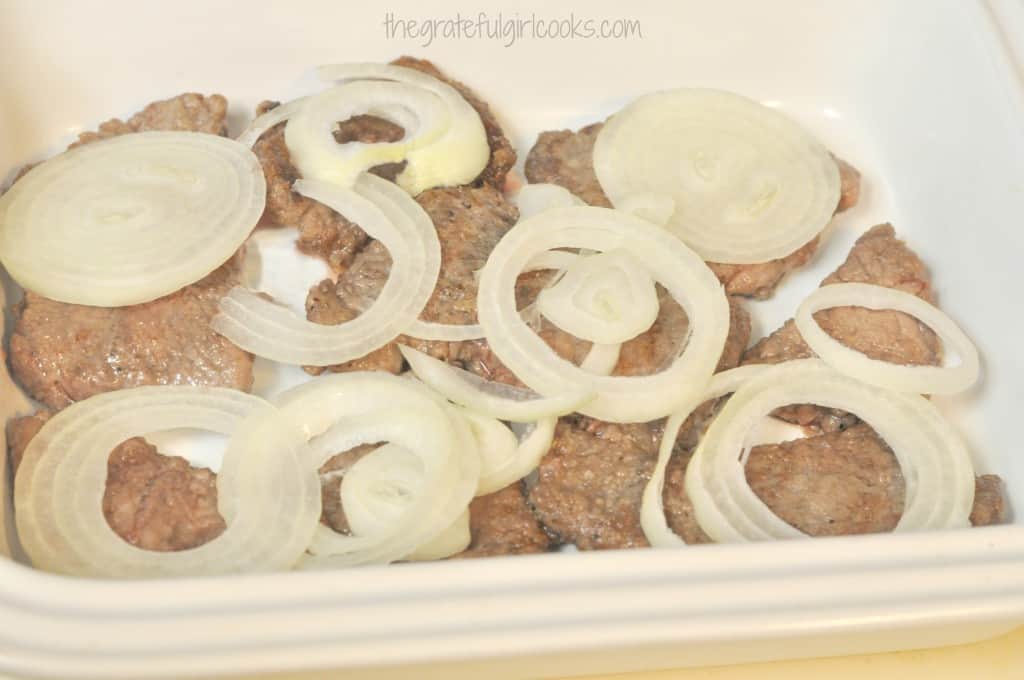 Make a very thin flour/water gravy and add to skillet (for the pictures I added 4 cups water to the skillet, then mixed up the flour with 1 remaining cup of water, added to skillet, then mixed to combine).  Salt and pepper the mixture liberally, to taste. Bring the mixture to a boil (and slightly thickens), then carefully pour the "gravy" over the meat in the baking pan.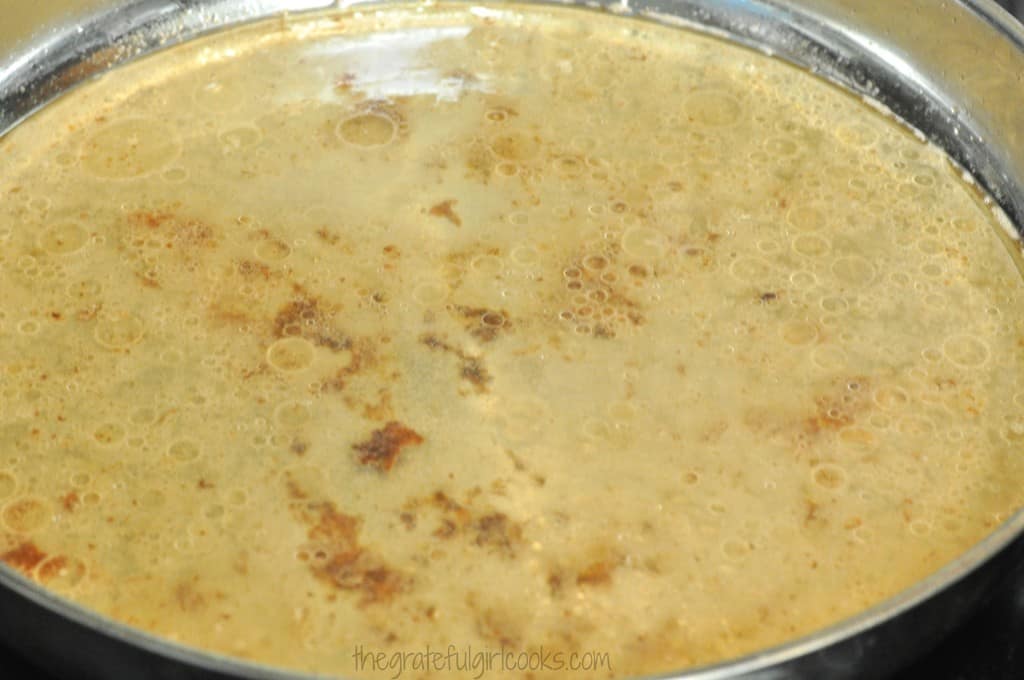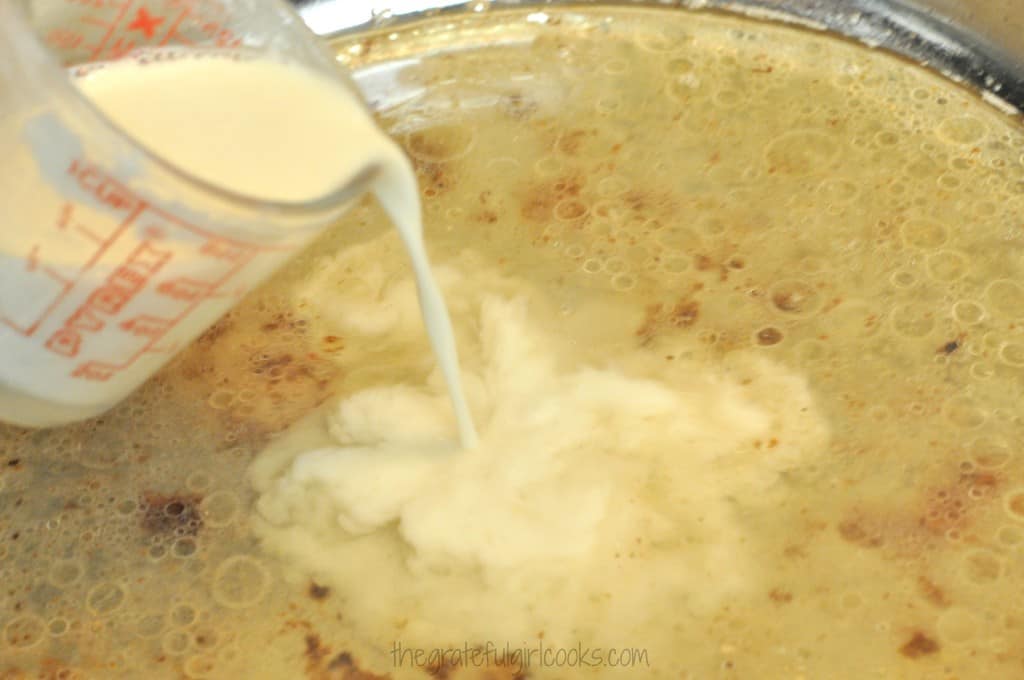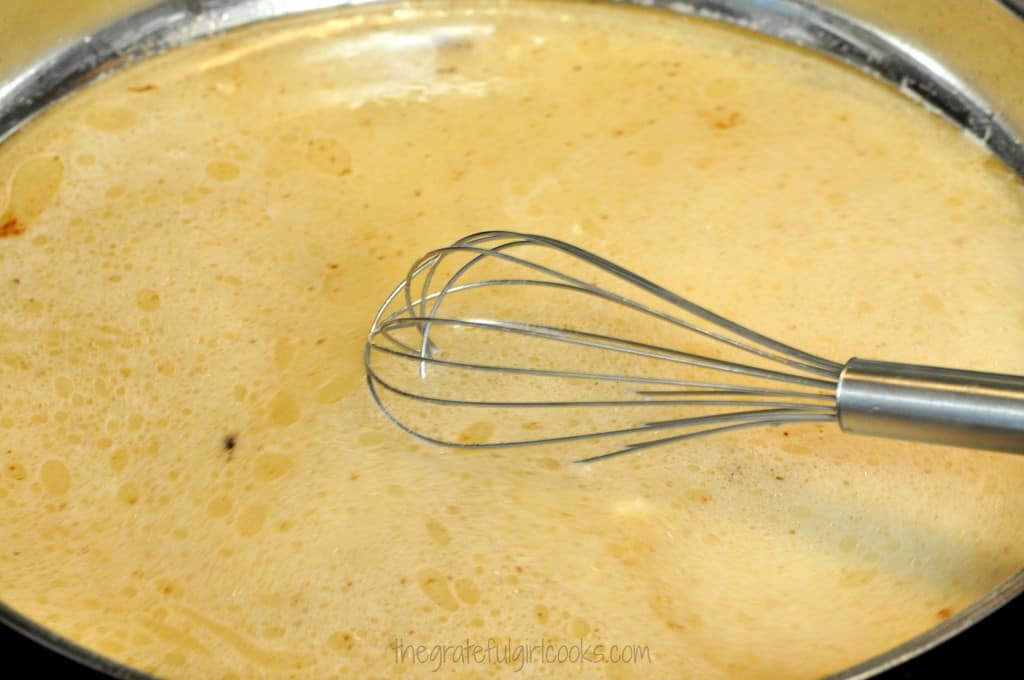 Once the thin "gravy" is poured over the meat/onion in the pan, cover the casserole dish with a lid or aluminum foil. Bake at 350 degrees for 1 1/2 hours.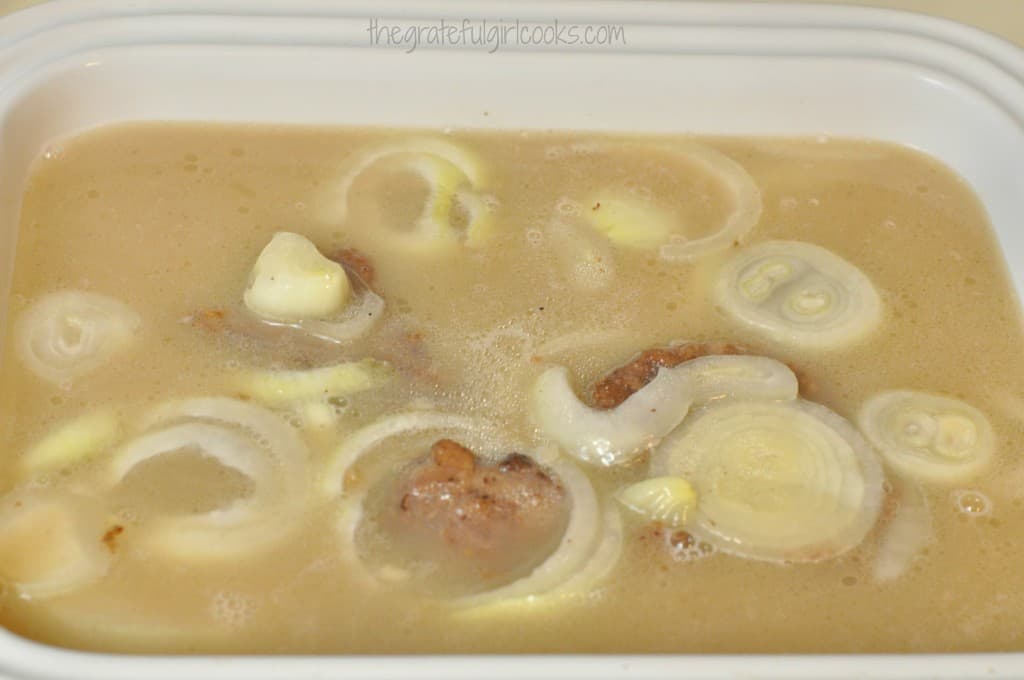 When done, the meat will be very tender, and the gravy will taste wonderful, due to the onions infusing flavor while baking. Serve the meat and onions onto serving plates. Spoon some of the gravy over the top, and serve! We LOVE it with mashed potatoes, and use some of the gravy for the potatoes, as well. This is a definite "comfort food" meal; the smell and taste of the tender Swiss Steak is wonderful!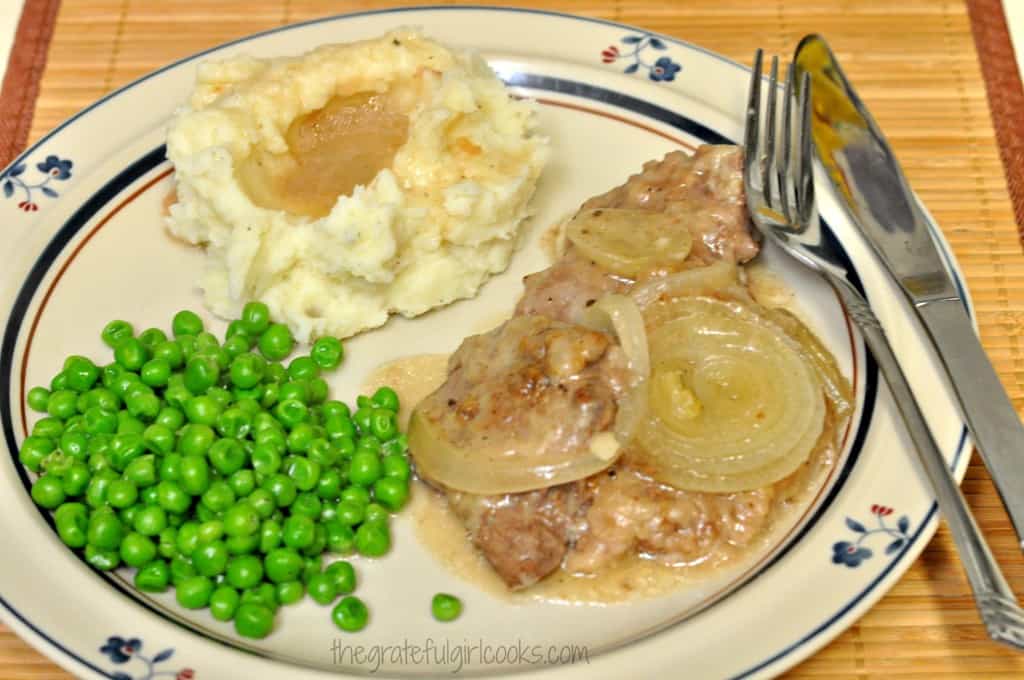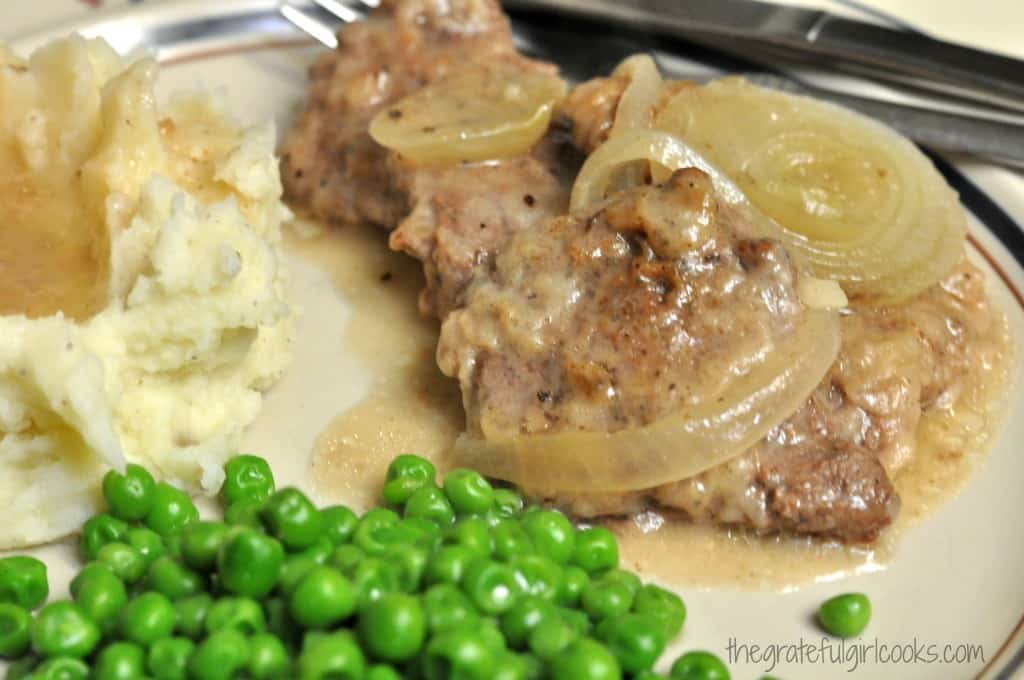 Sure hope you will consider giving this family recipe a try. It's a fairly simple way to stretch your hard earned money, and makes enough to feed a hungry family or provide ample leftovers for a couple (like us)!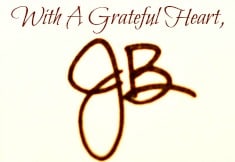 Recipe Source: My Mom Fredia, who has been making this for over 50 years!

Save
Save