In all my years of cooking, I have NEVER made risotto, even though I've thought about  it many times. Sooo…I recently tried a mushroom risotto recipe I found on Pinterest, added some pan-seared shrimp to it… and LOVED it!  This Mushroom Risotto with Pan-Seared Shrimp was far easier to make than I originally thought it would be… I will make it again!!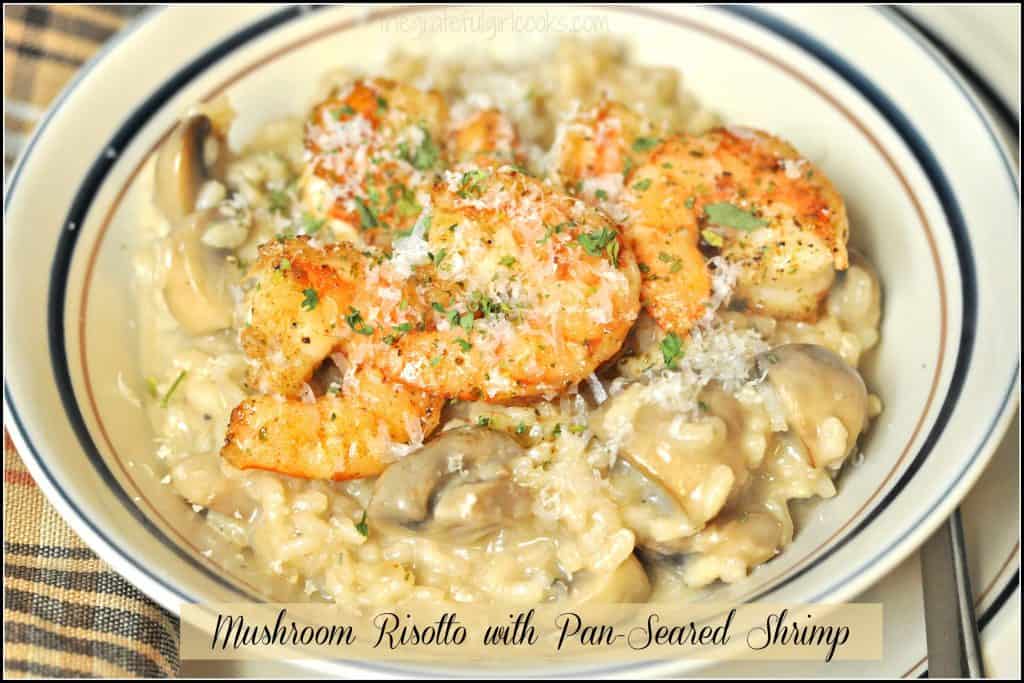 The only hard thing about making risotto (and it's not hard at all), is the continual stirring of the rice as you add in broth and wine as you cook. If you have all the ingredients ready to go before beginning this recipe, it's really no big deal! Here's what you do to make this absolutely delicious dish:
Clean and cut mushrooms into quarters. Melt butter and olive oil in large saucepan. Saute mushrooms until lightly browned (several minutes). Salt, then continue cooking for a couple additional minutes. Remove mushrooms from pan; set aside.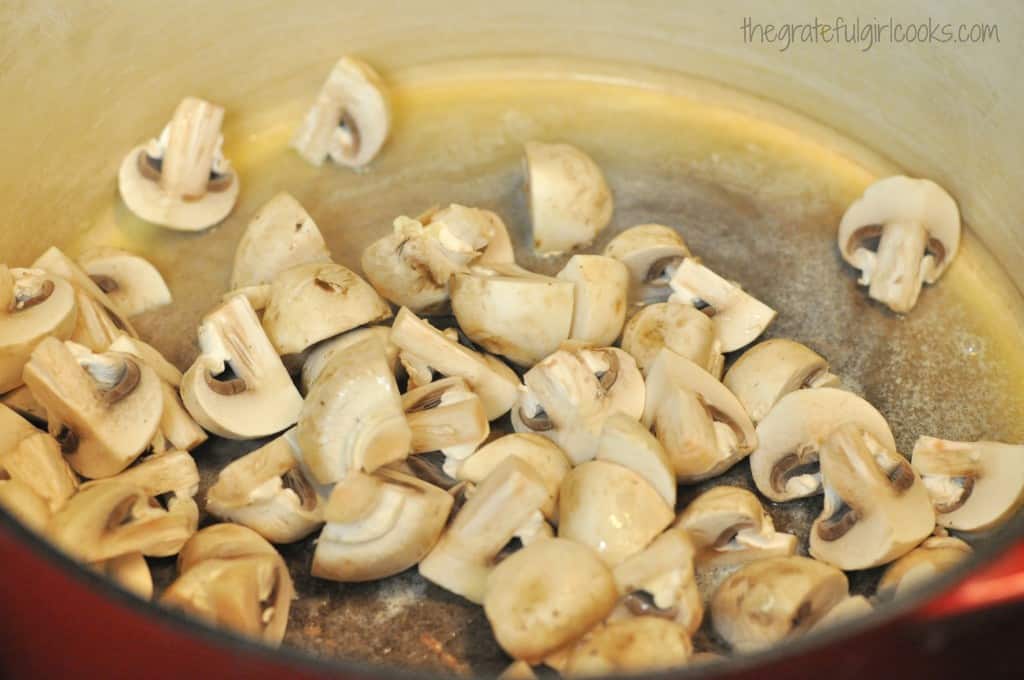 The salt helps moisture be released from mushrooms… they are looking good.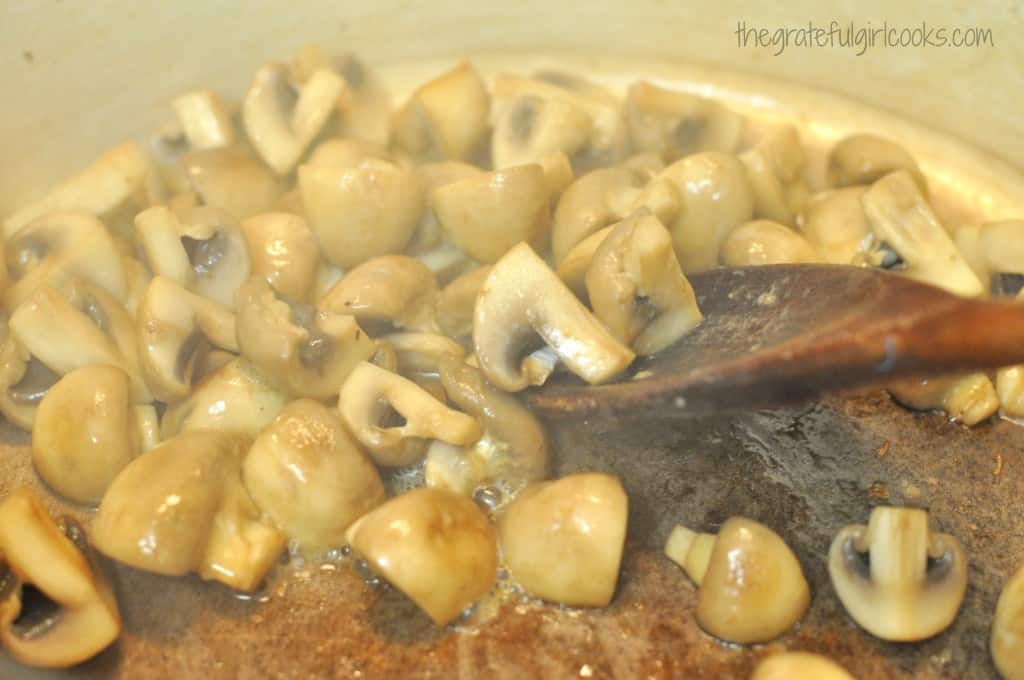 After removing mushrooms from pan, melt additional butter and olive oil. Saute the chopped onion for 5 minutes (medium-high).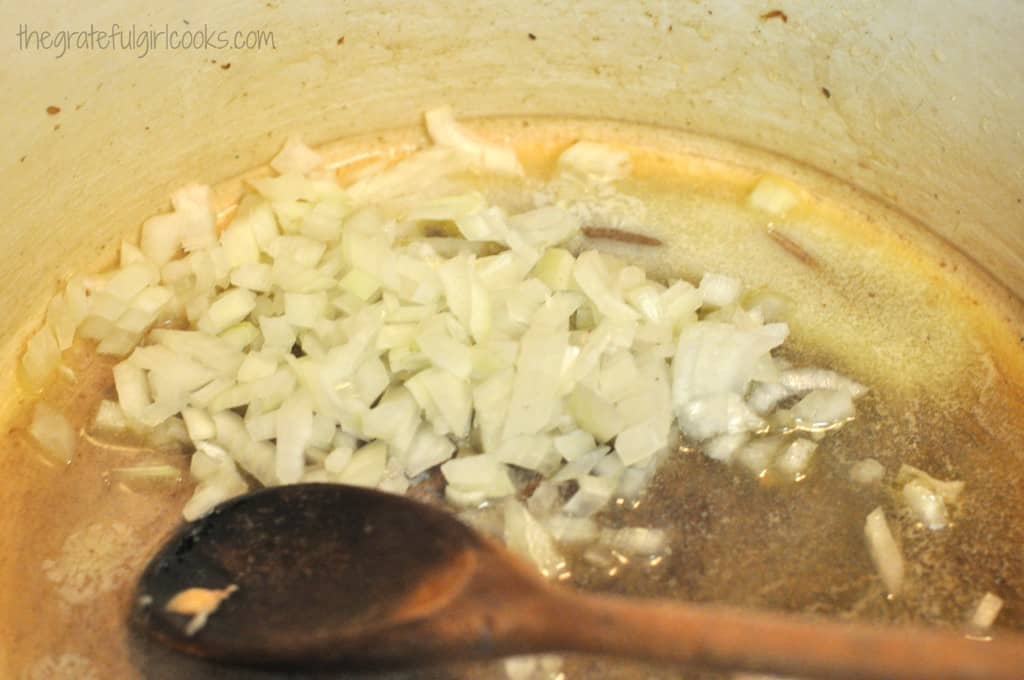 Now add ARBORIO rice (have to have this kind of rice to make risotto, folks).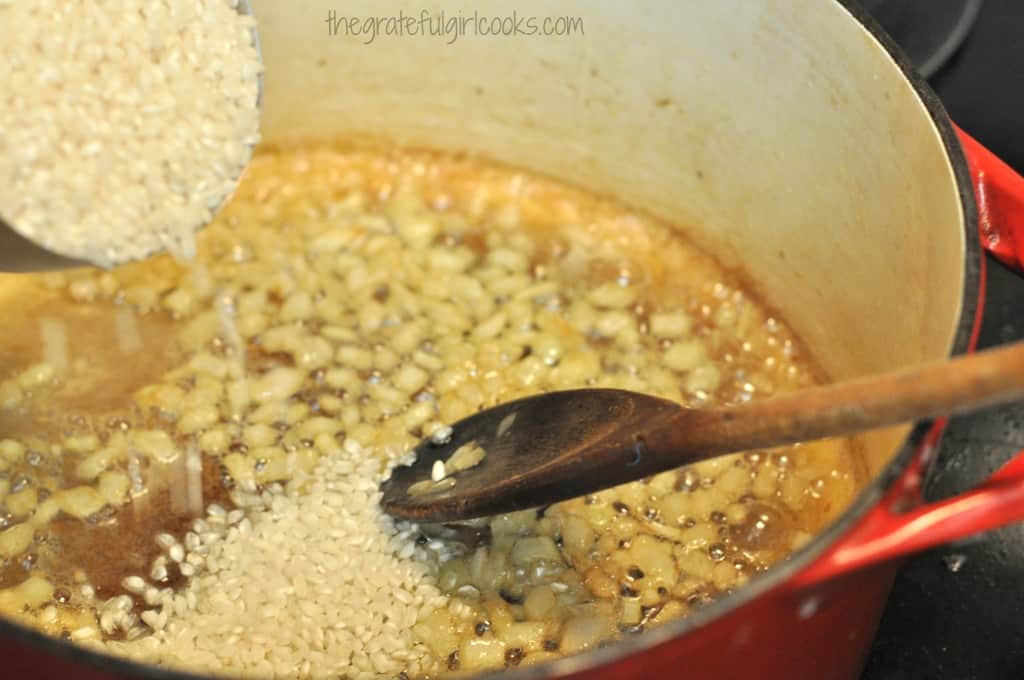 Stir the rice in with the onions. Cook a couple minutes until rice begins to turn a light brown.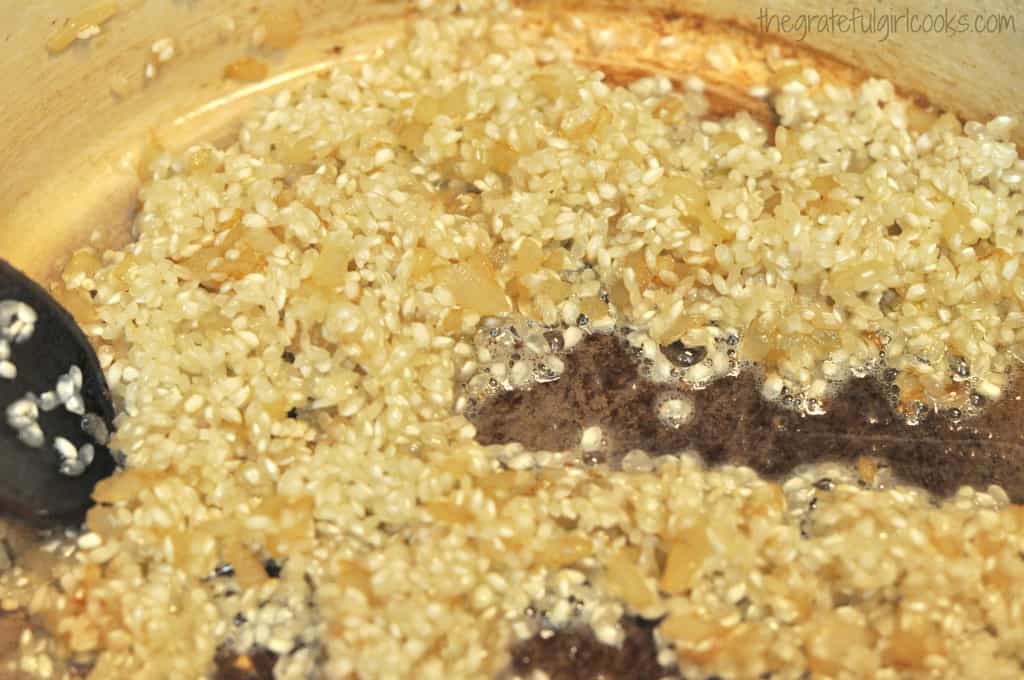 Now here's the important step. Add wine, let liquid boil and be absorbed. Then add a cup of broth into mixture, while stirring constantly. Continue to stir rice. When almost all of liquid has been absorbed, add more broth 1/4 cup at a time. Continue cooking and stirring, then adding 1/4 cup broth at a time to rice as liquid is absorbed, until finally all the broth has been incorporated into rice. (this will take about 25-30 minutes in total).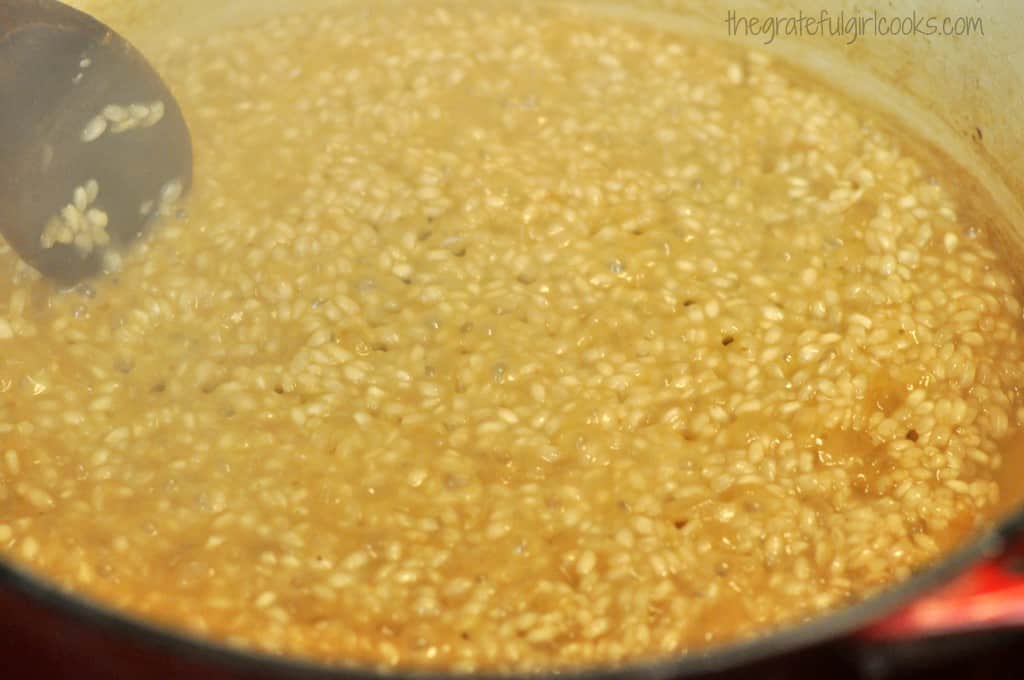 When done, all the broth should have been used, and the rice should be tender, but not smushy. (there should still be a tiny bit of liquid left in pan). Add cooked mushrooms to rice.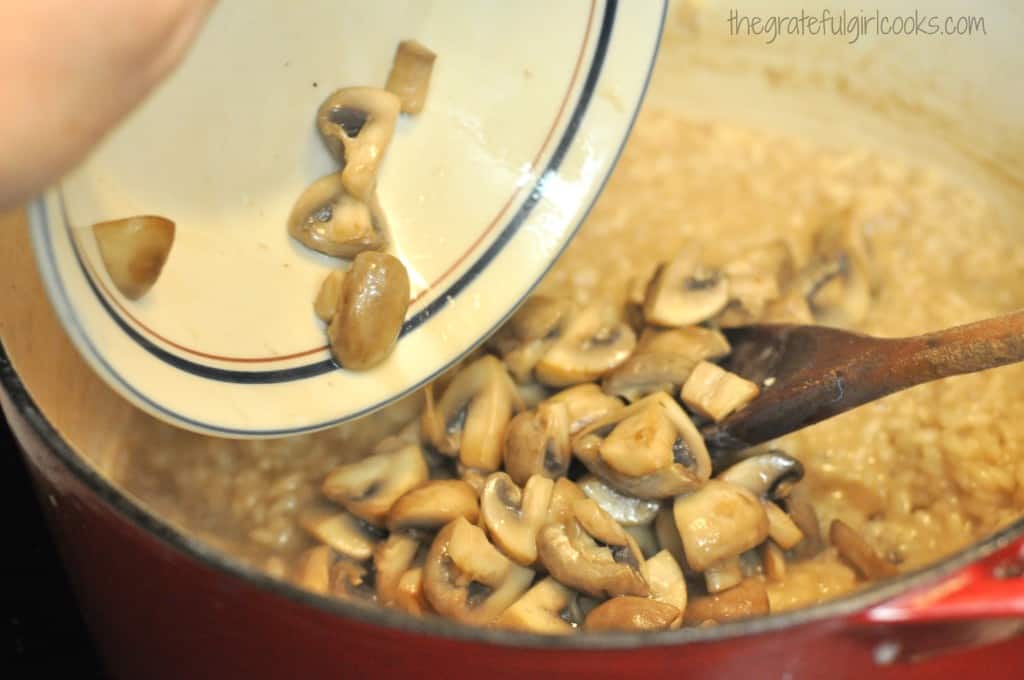 Add grated fresh Parmesan cheese, and some salt and pepper (to taste). Stir ingredients well, to combine. Remove pan from heat. Cover the pan and let the risotto sit for 4-5 minutes. While risotto is resting (such hard work being stirred so much, right?), cook the shrimp.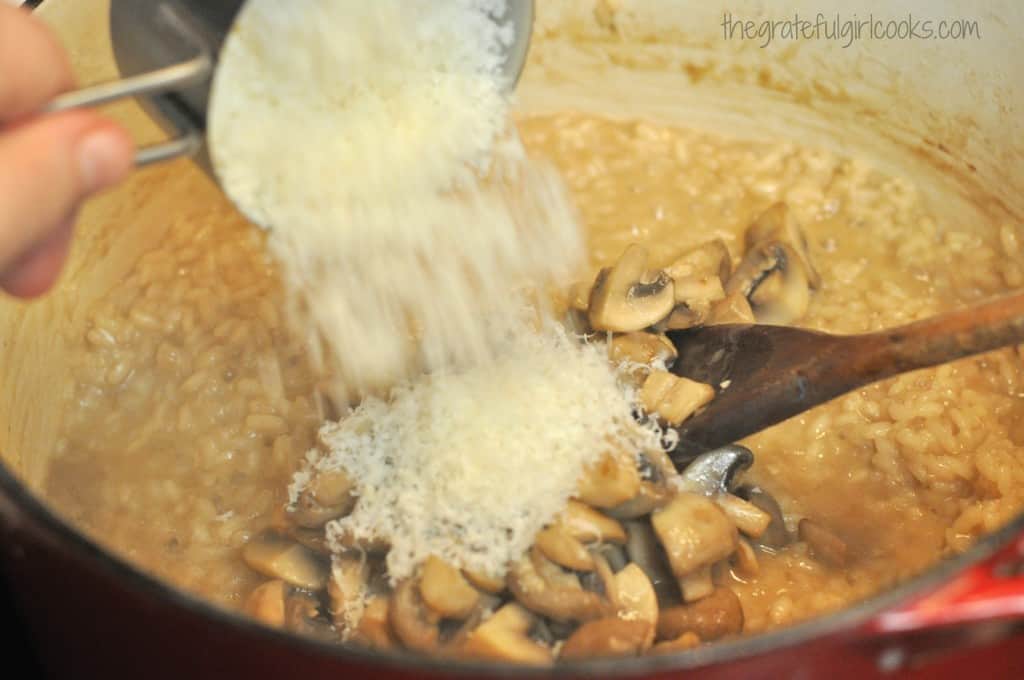 Cook cleaned, de-veined, and seasoned shrimp in butter and olive oil in separate skillet. Cook for abut 2-3 minutes per side on medium high heat.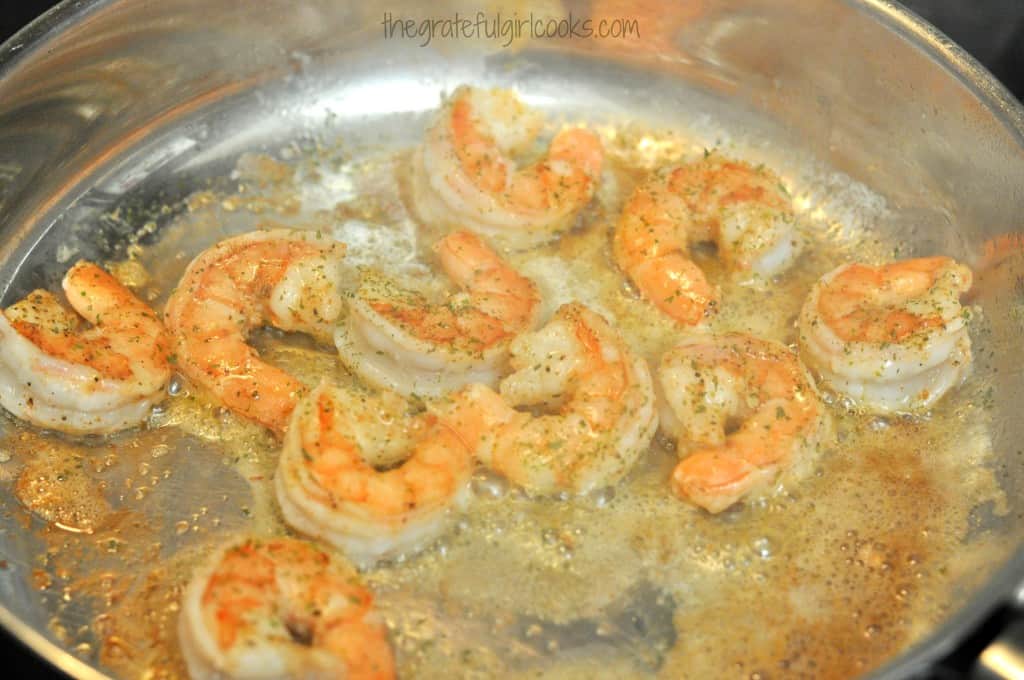 Spoon out individual serving portions of the mushroom risotto and place 4-5 pan-seared shrimp on top. Garnish with parsley, and additional grated Parmesan cheese. Serve hot!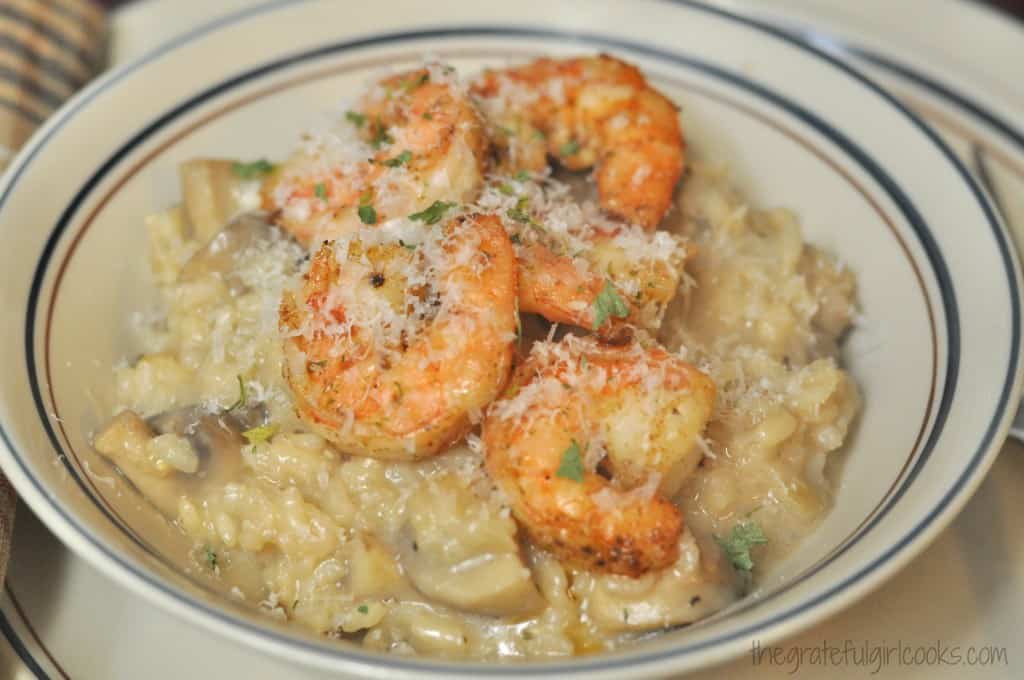 Sure hope you will give this one a try. It is so creamy, full of flavor… and EASY! This is a versatile recipe. If you want the risotto as a side dish… omit the shrimp! If you want it vegetarian- omit the shrimp! If you don't like shrimp… how about using pan-seared chicken pieces? How easy is THAT!
I am so glad I tried making risotto (finally), and am looking forward to creating many new risotto dishes (now that I learned the technique for making it – thanks to Martha, at "A Family Feast")!
Have a fantastic day, friends. Make it a good one!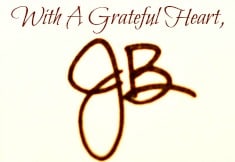 Mushroom Risotto Recipe Source: http://www.afamilyfeast.com/mushroom-risotto/

Mushroom Risotto with Pan-Seared Shrimp
Creamy mushroom risotto, cooked with wine and Parmesan cheese, and topped with pan-seared shrimp. YUM!
As Prepared By:
JB at The Grateful Girl Cooks!
Ingredients
For mushrooms:
1 8 ounce pkg. mushrooms (baby bella or white button-I used white button)
1 Tablespoon butter
1 Tablespoon olive oil
Salt
For Arborio rice:
2 Tablespoons butter
2 Tablespoons olive oil
½ large brown onion, finely diced (total of 1 cup diced onion)
1 cup Arborio rice (no substitutes!)
⅓ cup dry white wine
2½ cups chicken stock or broth
¾ cup grated fresh Parmesan cheese
Salt and Pepper, to taste
For Shrimp:
1 Tablespoon butter
1 Tablespoon olive oil
½ pound medium shrimp (about 10-15)
Garlic powder, dried parsley (enough to lightly season shrimp)
For Garnish:
Dried parsley flakes
Grated Parmesan cheese
Directions
Have all ingredients ready/prepped before beginning.
Prepare The Mushrooms:
Clean mushrooms, then cut into quarters (include stems). Melt 1 T. butter and 1 T. olive oil in medium skillet. Cook the mushroom (stirring often) on medium-high for several minutes until lightly browned. Sprinkle with just a bit of salt, then cook for another minute. Remove pan from heat, and set aside.
Prepare the Rice:
Melt olive oil and butter in a large saucepan over medium-high heat. Add the onion. Cook for 5 minutes, stirring frequently.
Add rice; cook and stir for a couple minutes until rice begins to turn a light brown color.
Pour in white wine. Let liquid come to a boil, then be absorbed into rice.
Pour one cup of broth into rice, and stir constantly. Make sure to keep the heat at a medium simmer. Each time almost all (but not all) of the liquid has been absorbed, add ¼ cup more broth, stirring constantly. Continue this process (rice absorbs liquid, adding more liquid) until broth is gone. This will take about 25-30 minutes.
When done the rice should be tender (and there should be only a little bit of liquid remaining). Turn off the heat, then add the mushrooms, freshly grated Parmesan cheese, salt, and pepper. Str well, to fully combine. Put a lid on pan, and let sit for 5 minutes. While risotto is sitting covered, quickly cook the shrimp.
Sprinkle shrimp lightly with garlic powder and dried parsley flakes and mix together, to coat shrimp (this is easier/quicker if you season shrimp at time you clean and de-vein them- before you begin cooking this recipe). Melt butter and olive oil in hot, medium-high skillet. Add seasoned shrimp. Cook quickly... about 2-3 minutes per side, until done.
Spoon risotto into (or onto) individual serving dishes. Place 3-5 pan-seared shrimp on top of each portion. Garnish with additional grated Parmesan cheese and parsley flakes. Serve hot, and enjoy!
Save
Save
Save