This is a great day for soup! This is a day for Olive Garden Toscana Soup!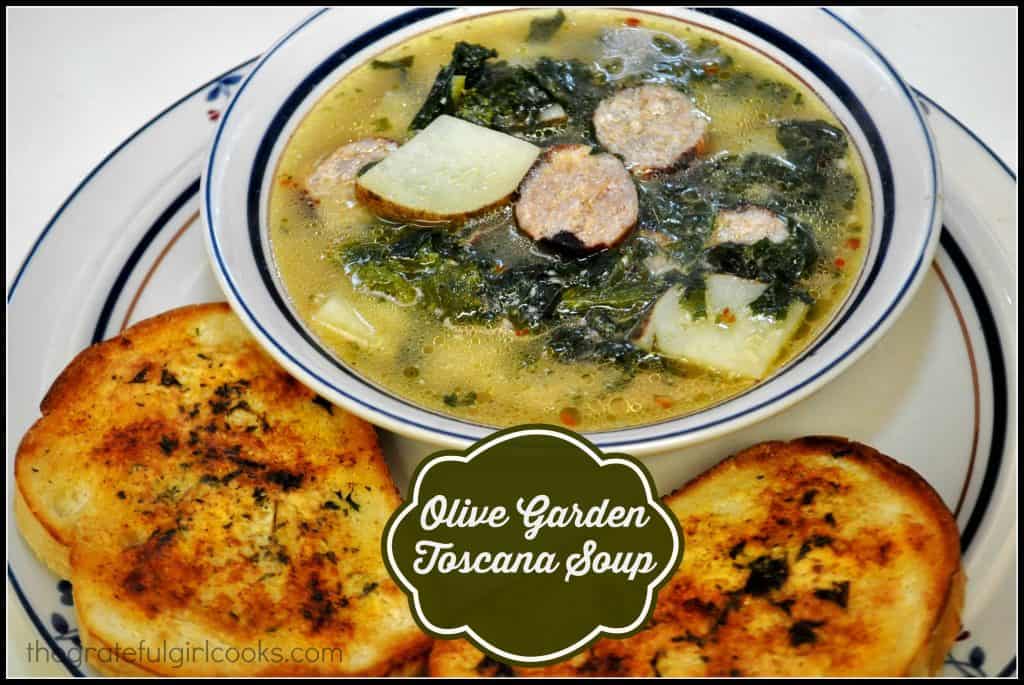 I'm sitting in my office at home looking out the window at freshly fallen snow in our backyard. We had a crazy snowstorm (it gets a bit crazy in Portland when we have significant snow) yesterday, and another 3-5 inches is expected for later this afternoon.
My husband and I have both been fighting pesky head colds for several days now, so we decided a big pot of soup was just the ticket for us to have around for 1) the snowstorm, and 2) leftovers, so I wouldn't have to cook too much while sick. It was a really good idea (we occasionally have good ideas!)
Once we settled on what KIND of soup it was easy: A big pot of Toscana Soup, a copycat version of the popular soup found at Olive Garden. I dug out my trusty cookbook called "Top Secret Restaurant Recipes", by Todd Wilbur… and got busy in the kitchen.
I can't count how many times I have made this recipe over the years…it's always soooo tasty and filling (and ridiculously easy to make, too!). The blended flavors of Italian sausage, potatoes and kale (which I conveniently grow in our garden) are wonderful in a light, creamy broth. Seriously good soup! Perfect way to warm up on a cold, snowy day…or any time you want a great bowl of soup!
Hope you will give it a try and will discover, if you haven't already, just how delicious this soup really is!
Recipe adapted from the cookbook: "Top Secret Restaurant Recipes", by Todd Wilbur, (published 1977).
Save
Save
Save
Save
Save