If you love bacon…and you love pasta…you're going to LOVE this Pasta Carbonara recipe!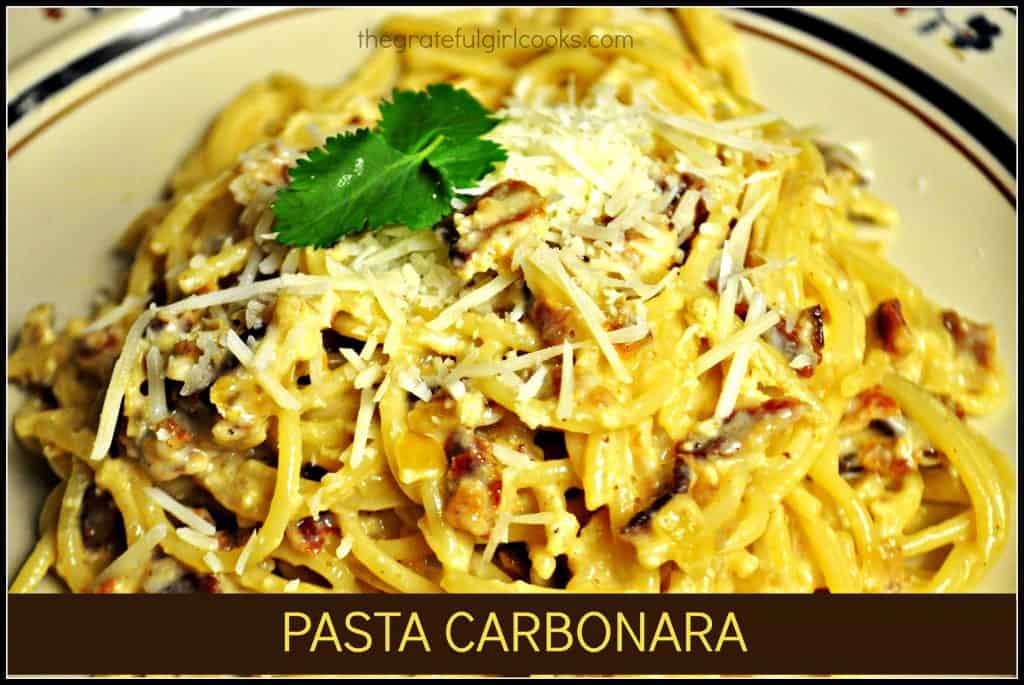 I love to try recipes created by Ree Drummond, The Pioneer Woman. Love her recipes, photos and sense of humor. This recipe is adapted from her version of this classic pasta dish. I only made a couple of changes to fit our tastebuds. This recipe is RIDICULOUS! I'm not kidding…the smell of the bacon, onions, and garlic is amazing as it cooks away in the kitchen.
I made this (again!) for my husband and I last night and we both LOVED it. I might have even exclaimed several times out loud… "Oh my gosh…this is sooooo good!" Honestly, it is quite simple to make, very economical, and if that's not enough…it's incredibly delicious! I've made it with spaghetti noodles (as in pic above) and with fettucine noodles. Any old pasta will do!
The recipe makes enough for four generous servings; since our sons are grown and it is now just the two of us taking up space in our home, we have LEFTOVERS! Yes…truly a good thing. Hope you will try this pasta and LOVE it!  Here's how to make it:
While water is coming to a boil for pasta, fry the bacon until crisp. Drain most of the bacon grease from skillet, but leave approx. 2 TBSP in the skillet. Remove and drain bacon pieces on a paper towel. When cool, crumble the bacon into small pieces.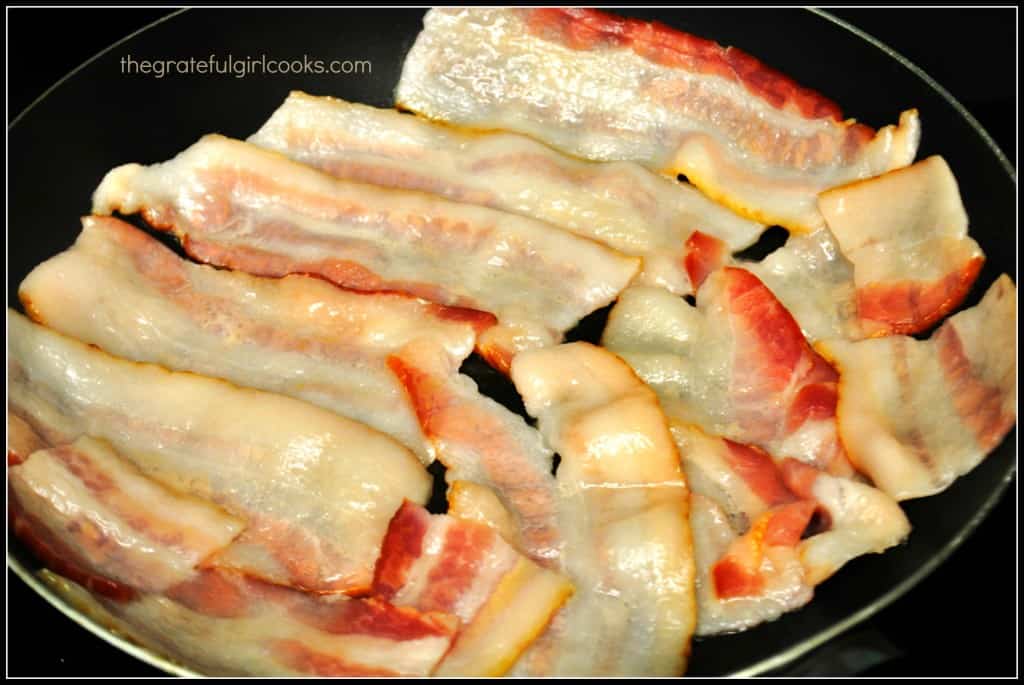 Return the skillet you cooked the bacon in to the stove.
Add the onions and mushrooms and cook over medium-low heat until golden brown (3-4 minutes).  Add the garlic, and continue cooking for about a minute (don't let that garlic burn!). Throw the bacon back in, too, while you're at it!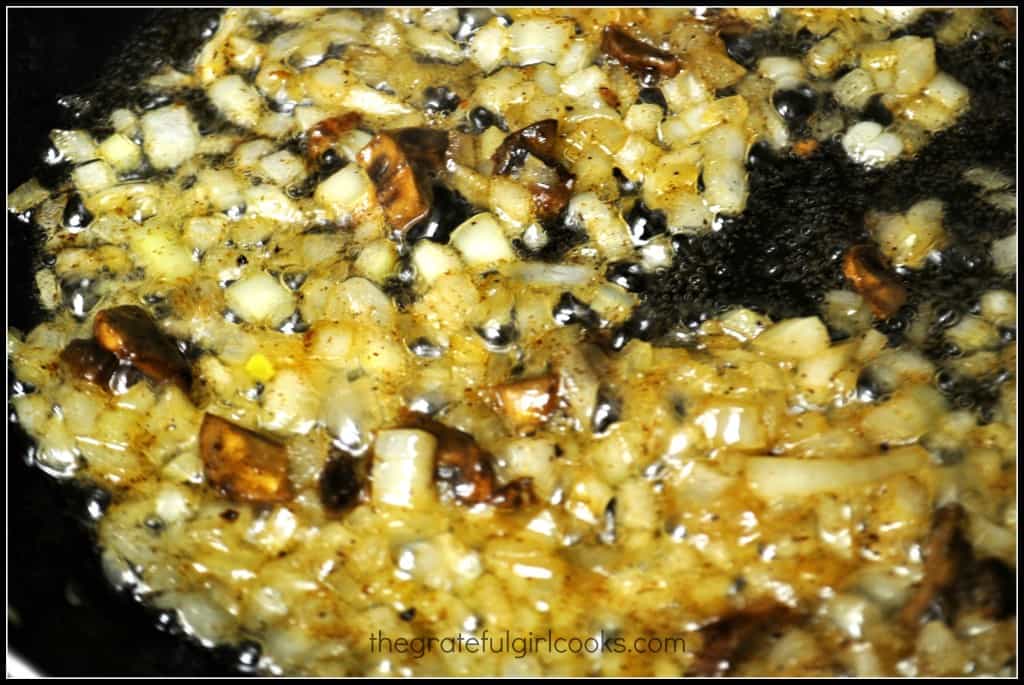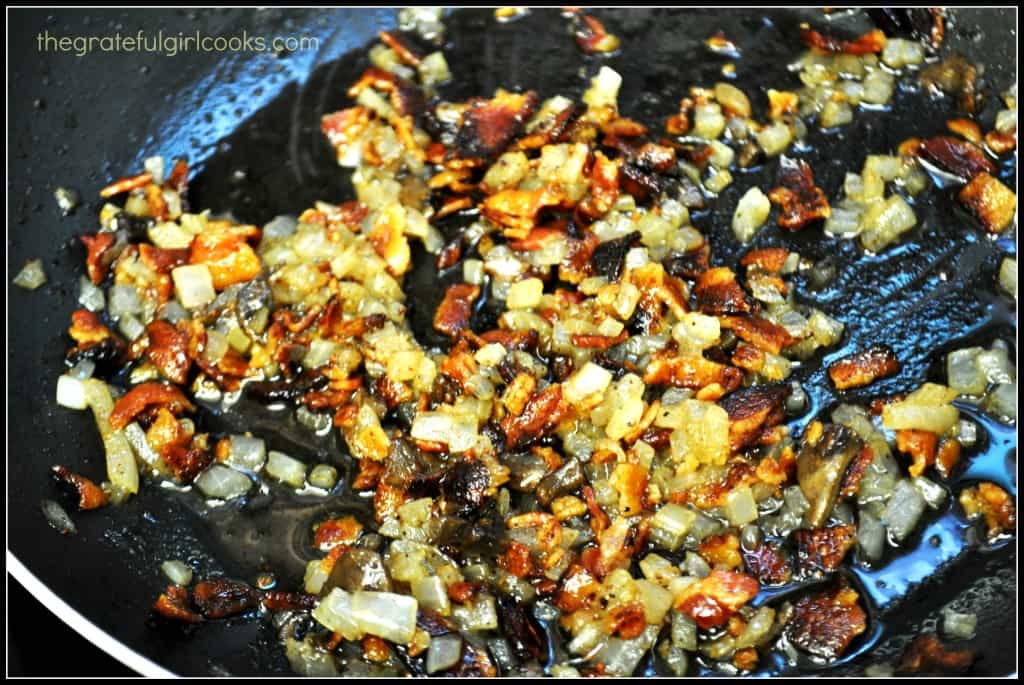 Make the sauce. In a small bowl, beat the eggs, cream cheese, parsley, salt, pepper and red pepper flakes together using a whisk or fork.
Because there are fresh eggs in the sauce, you will want to "temper" them. All this means is introducing hot liquid very slowly into the mixture so when you add the hot pasta to the sauce, the eggs won't scramble. Okay? It's EASY. Wait…what???? Don't freak out…Here's what you do:
Take about 6 Tablespoons (one at a time) of the starchy hot water from your pasta (when it is about half way cooked). SLOWLY (yes, I mean a SLOW DRIZZLE) add the water, one Tablespoon at a time to the egg mixture, stirring continuously. This helps to warm up the egg mixture a bit. Once "tempered", slowly pour the mixture into the skillet with the bacon mixture while the heat is on low, stirring continuously, until egg mixture is fully blended in with the bacon mixture.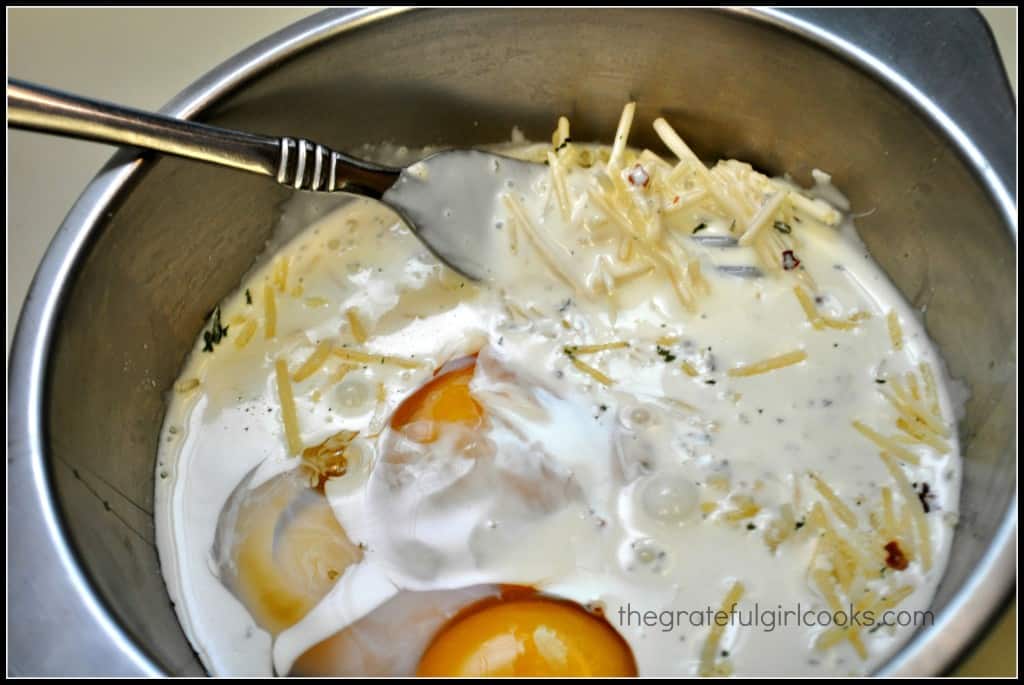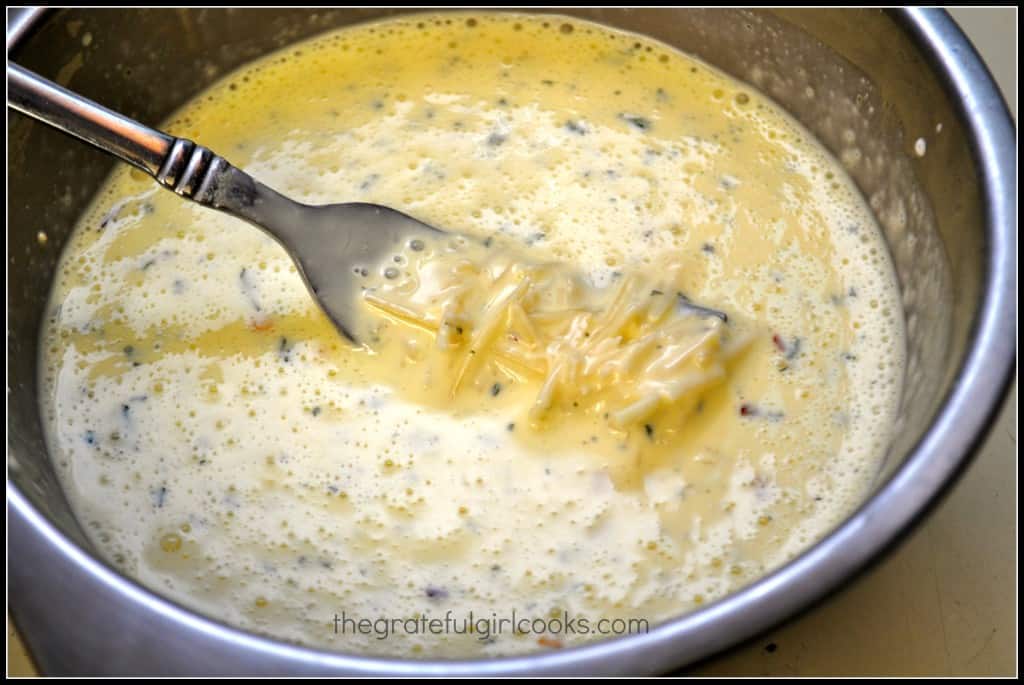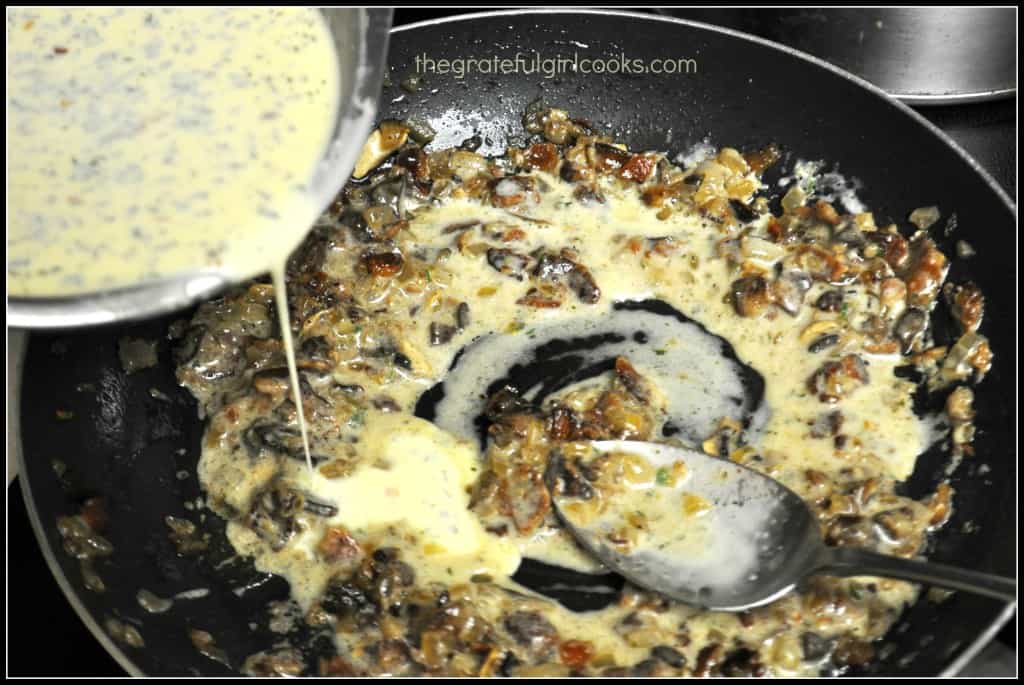 Add cooked pasta to hot carbonara sauce, stir well to combine, then serve!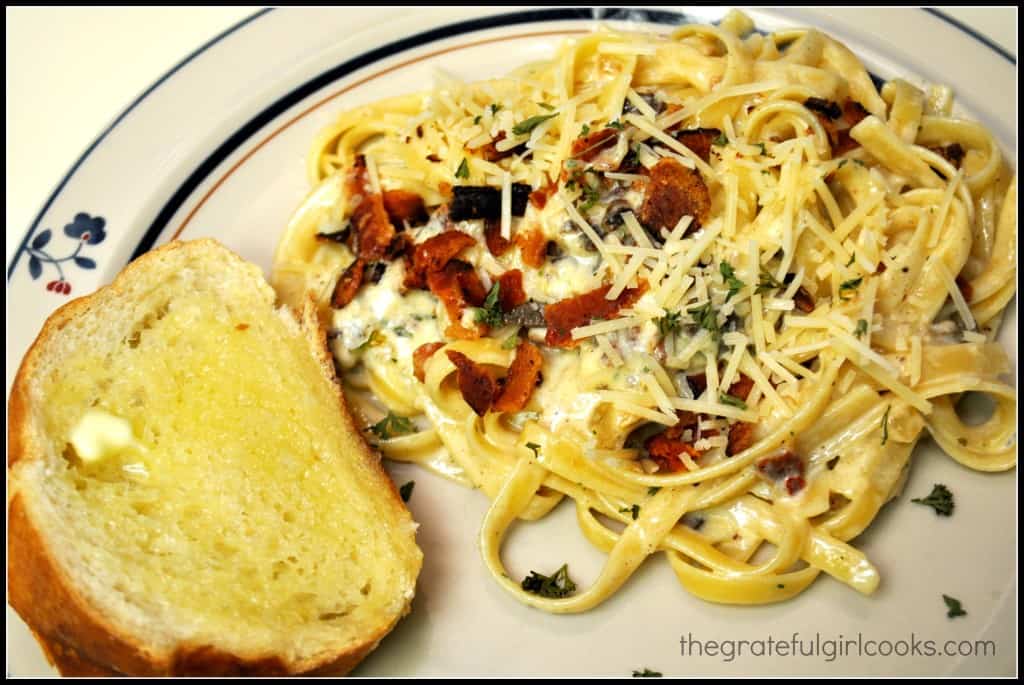 Hope you enjoy this dish! It tastes fantastic!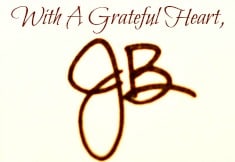 Recipe Adapted From: http://thepioneerwoman.com/cooking/2012/05/pasta-carbonara/

Save
Save
Save
Save
Save