A couple years ago I decided to make my own birthday "cake" (really…who does that?).  But I really didn't want a cake… so I made this delicious Peach Shortbread Tart for myself and my family.  And let me tell you… I enjoyed every single bite of it! Happy Birthday to ME!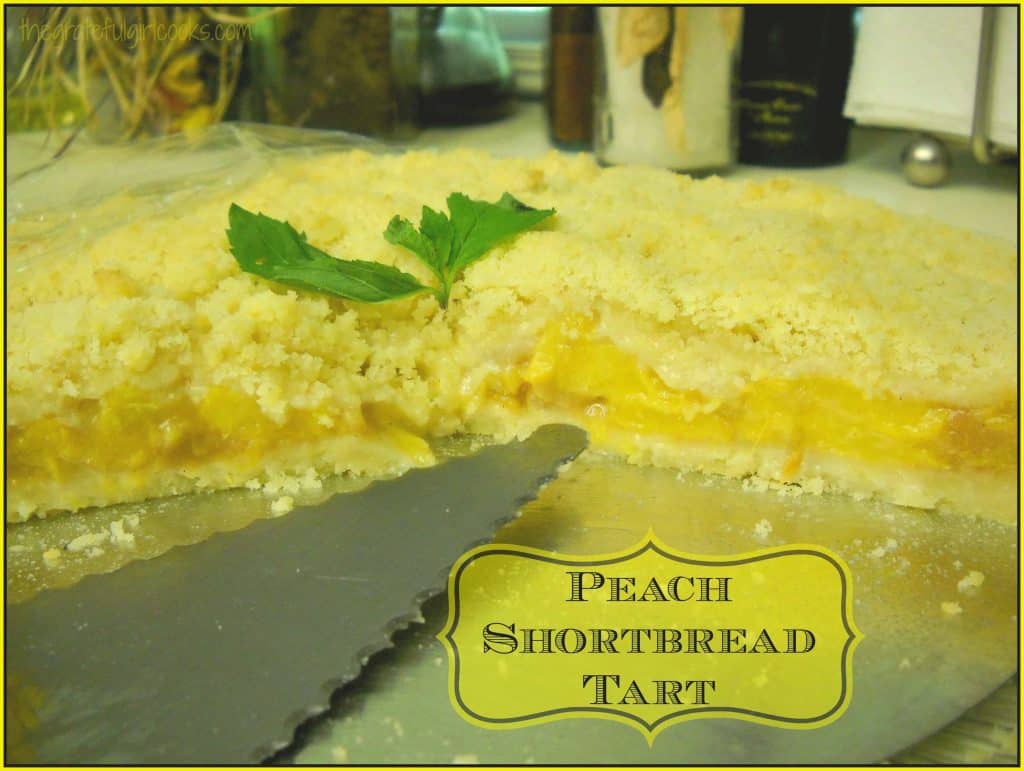 I had recently been out to a local orchard and had picked about 40 pounds of fresh, juicy peaches (my birthday is in July, so that's the time for the ripest Northwest peaches!). I decided to use some of the peaches and "tweak" one of my favorite tart recipes that I received from a friend of mine years ago. The original recipe is for an Apple Shortbread Tart, and I've also used the same basic recipe to make a Boysenberry Shortbread Tart…incredible yumminess!  This time I made it a PEACH Shortbread Tart!
The basic recipe is simple… you make a shortbread crust. You make the filling. You top the filling with some of the reserved shortbread crust crumbs. You bake it. You eat it. You totally LOVE it! End of birthday story!
The shortbread crust is extremely simple to make. It's ready in a jiff.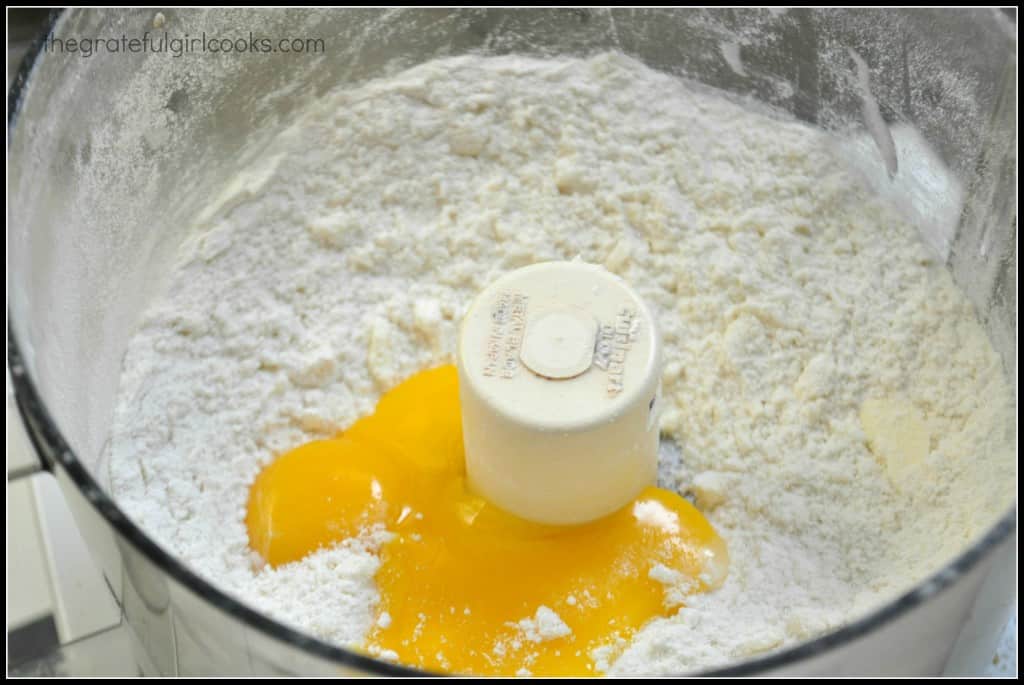 Here's the crust before putting all the goodies in it!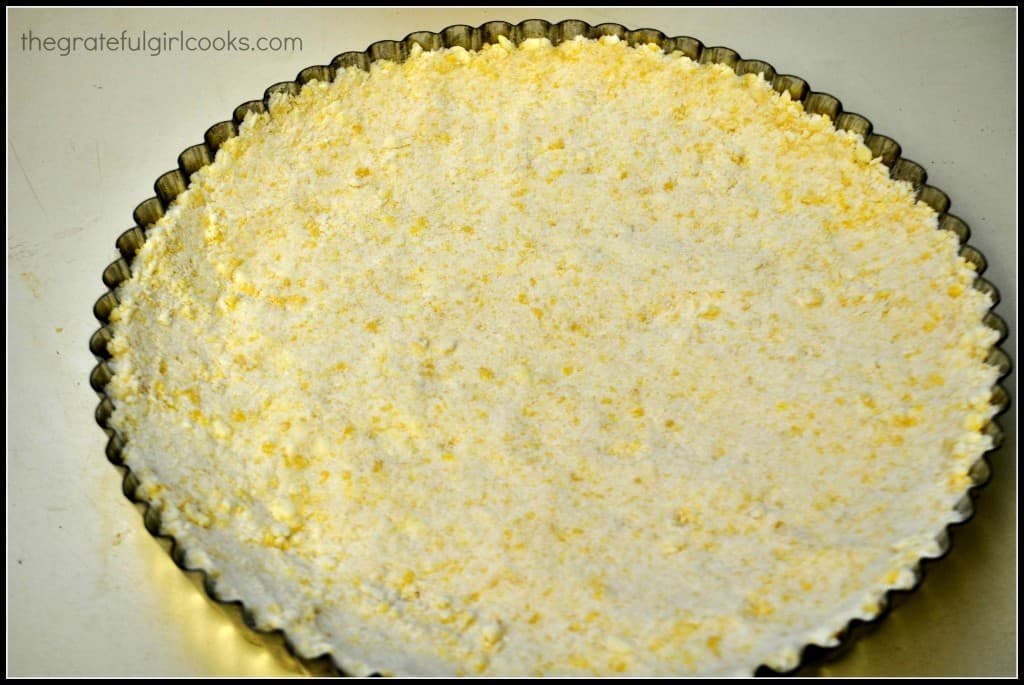 See these gorgeous peaches? Yep. I picked about 40 pounds of 'em at a local You-Pick farm. These are what I used to make this tart. Lip smacking good.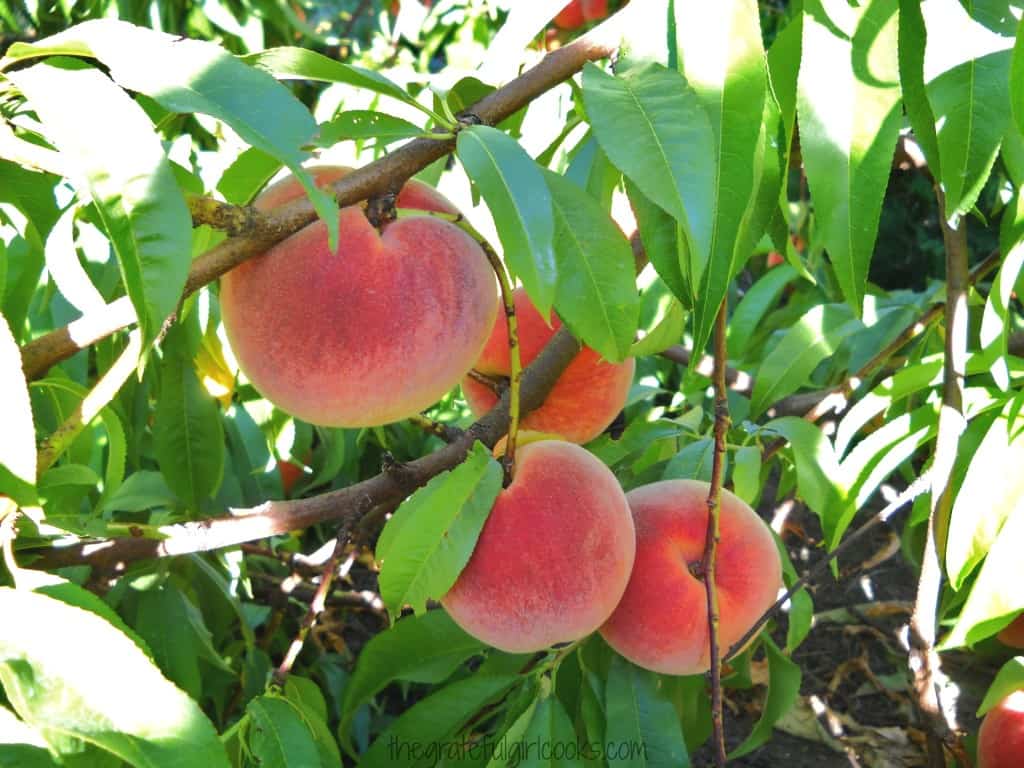 Here's my finished birthday dessert, served with simple vanilla ice cream. You can also see one of our family fixtures… the "Boring Birthday Guy". He makes an appearance at all of our family birthday celebrations. He's really quite the party animal.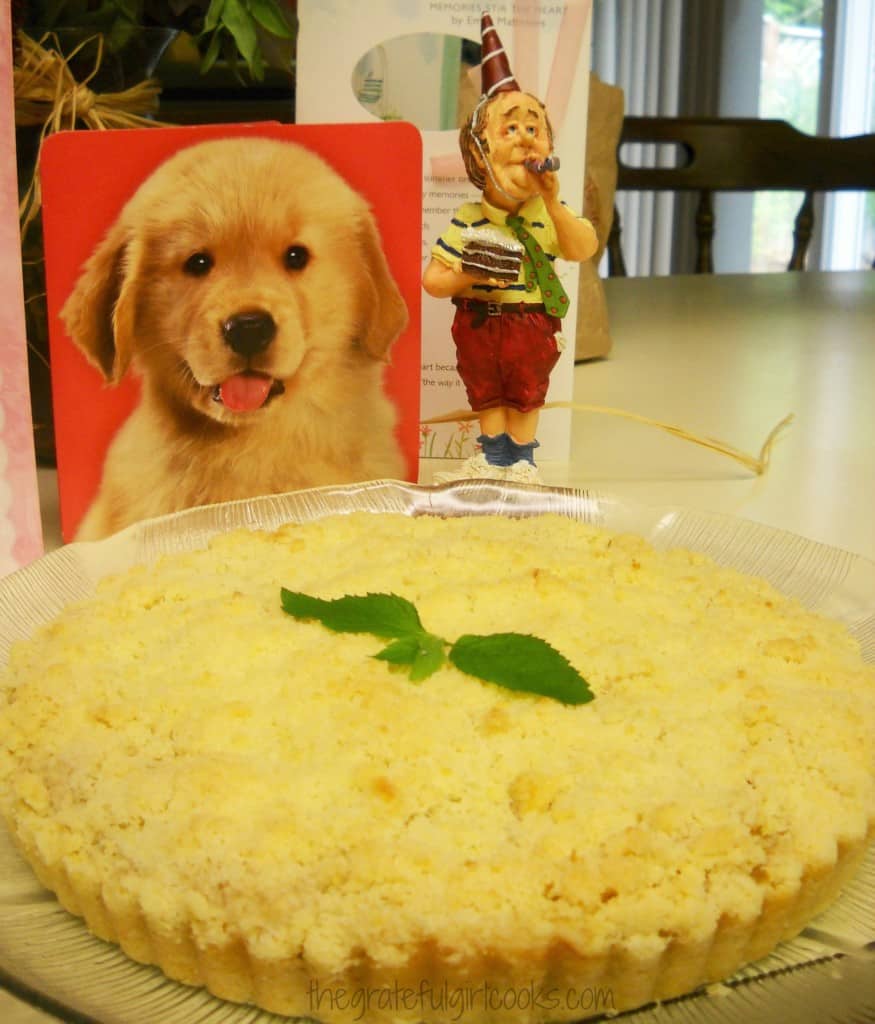 And this is me… the birthday girl… ready to dig into a scrumptious birthday dessert I made for myself. Go figure! I polished off that piece and the mandatory scoop of ice cream in no time flat! HA HA! Some birthdays are like that! In case you are interested, I also have posted the recipes for an Apple Shortbread Tart and a Boysenberry Shortbread Tart! All are fantastic!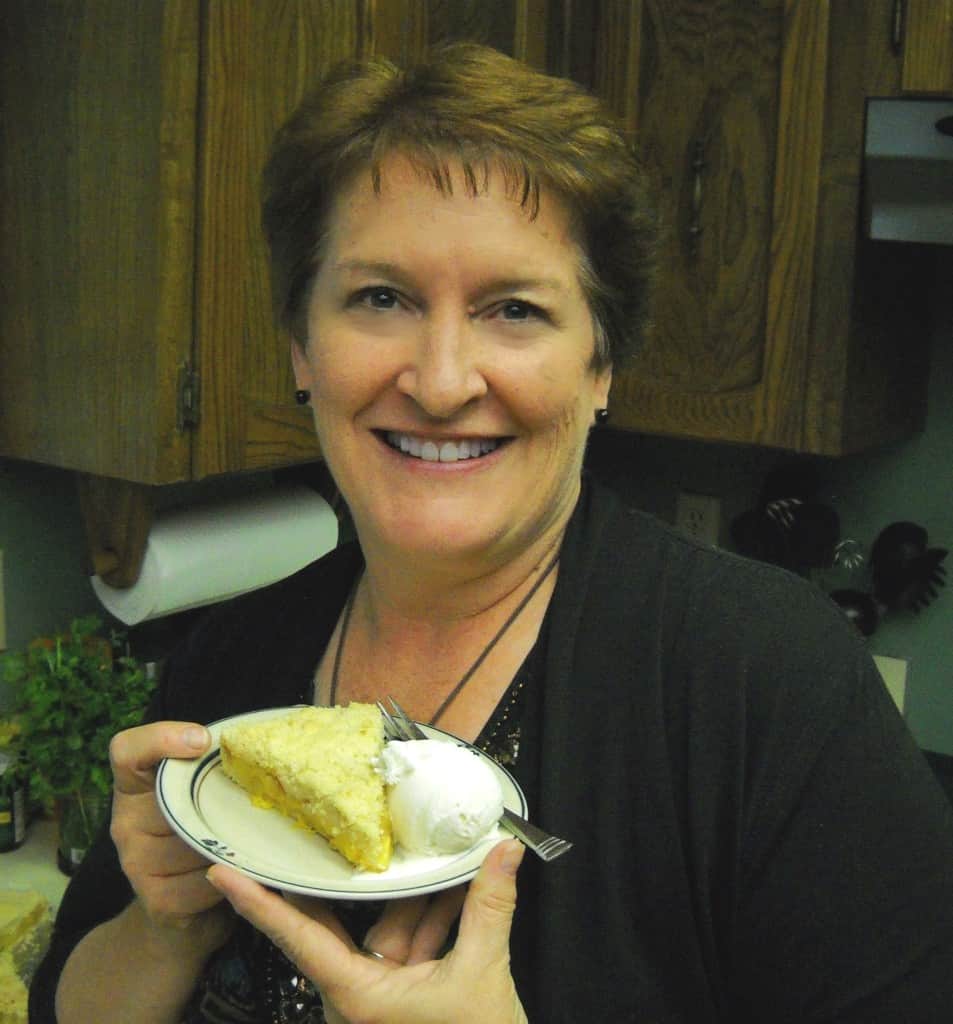 Anyways… if you like fresh peach pie, then you will LOVE this Peach Shortbread Tart, even if it's NOT your birthday. It's absolutely delicious! Here's another photo of another time I made this dessert for a "Peach-themed" dinner party!  I made a Peach Coulis (sauce) to drizzle on top! YUM.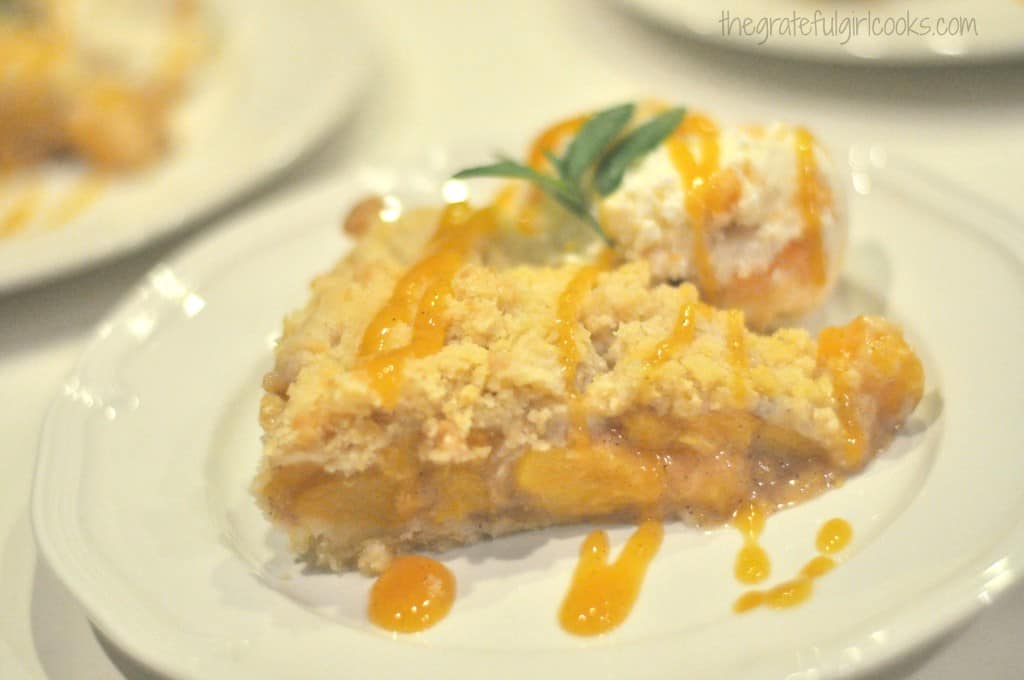 Sure hope you will consider making this delicious dessert.  Have a fantastic, "peachy" kind of day!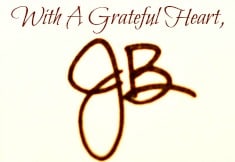 Recipe Adapted from my friend, Shari Altree's recipe for Apple Shortbread Tart

Save
Save