Looking for a new recipe for bar cookies? How about trying this one for Pecan Chewies? They are buttery, chewy, simple to make, taste delicious, and the recipe makes two dozen… in hardly any time at all!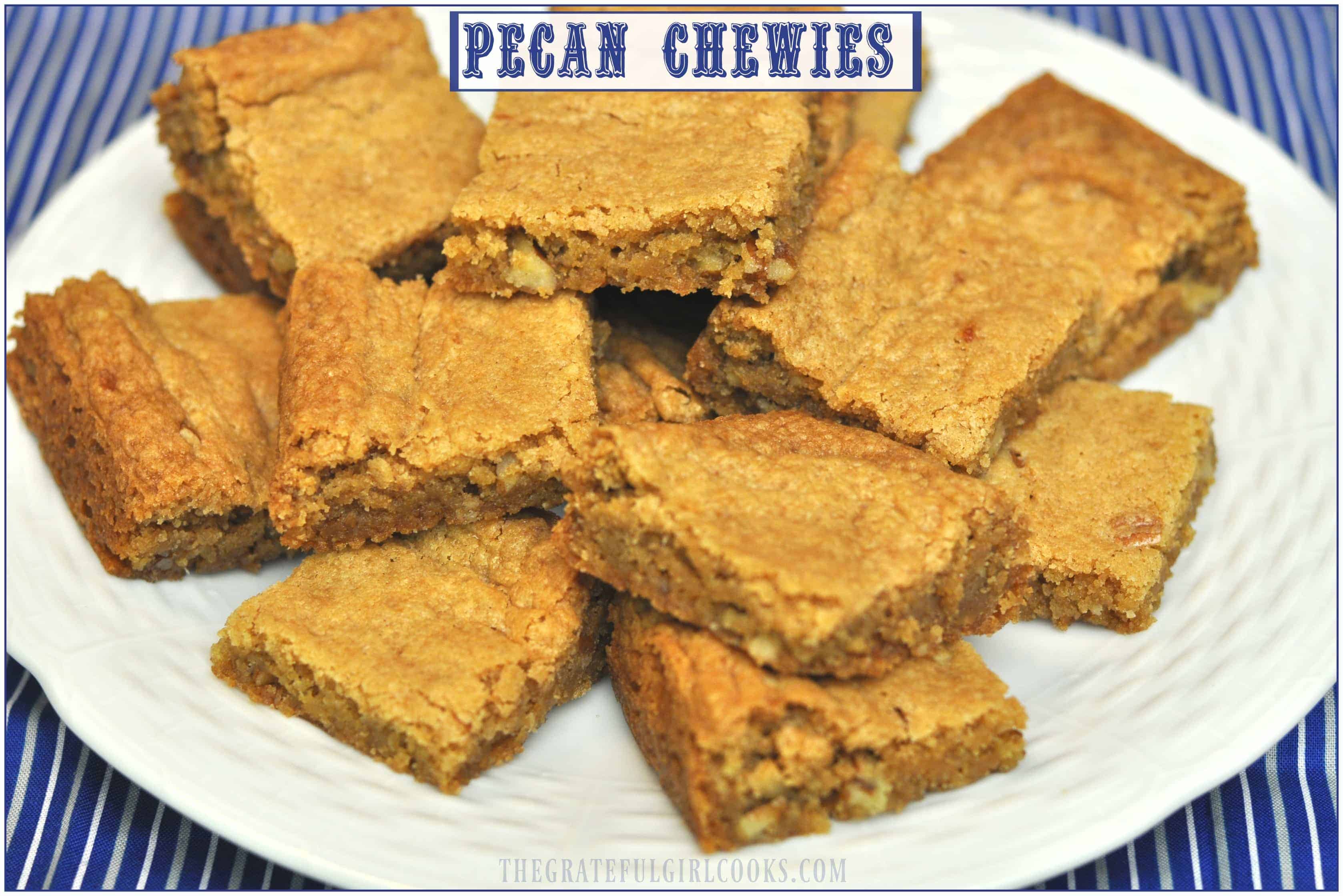 I found this recipe on Pinterest (thanks to Stacey at Southern Bite) and decided to make a batch, using some of the Texas pecans my Mom orders for us each year.  These Pecan Chewies are just that… a little bit chewy, not overly sweet, wonderfully buttery and delicious! They're also incredibly easy to make! Here's how to whip up 2 dozen in no time at all:
Preheat oven to 300 degrees F.  Spray a 13×9 inch cake pan with some non-stick baking spray before beginning.  Melt butter, and add it to a large bowl. Add granulated sugar and brown sugar, and mix it well by hand (no mixer needed!).  Add the beaten eggs, then the flour. Stir the dough really well, until all ingredients are incorporated into batter and no lumps remain.  Next… add in the chopped pecans and vanilla. Stir well, then evenly spread dough into prepared 13×9 inch baking pan.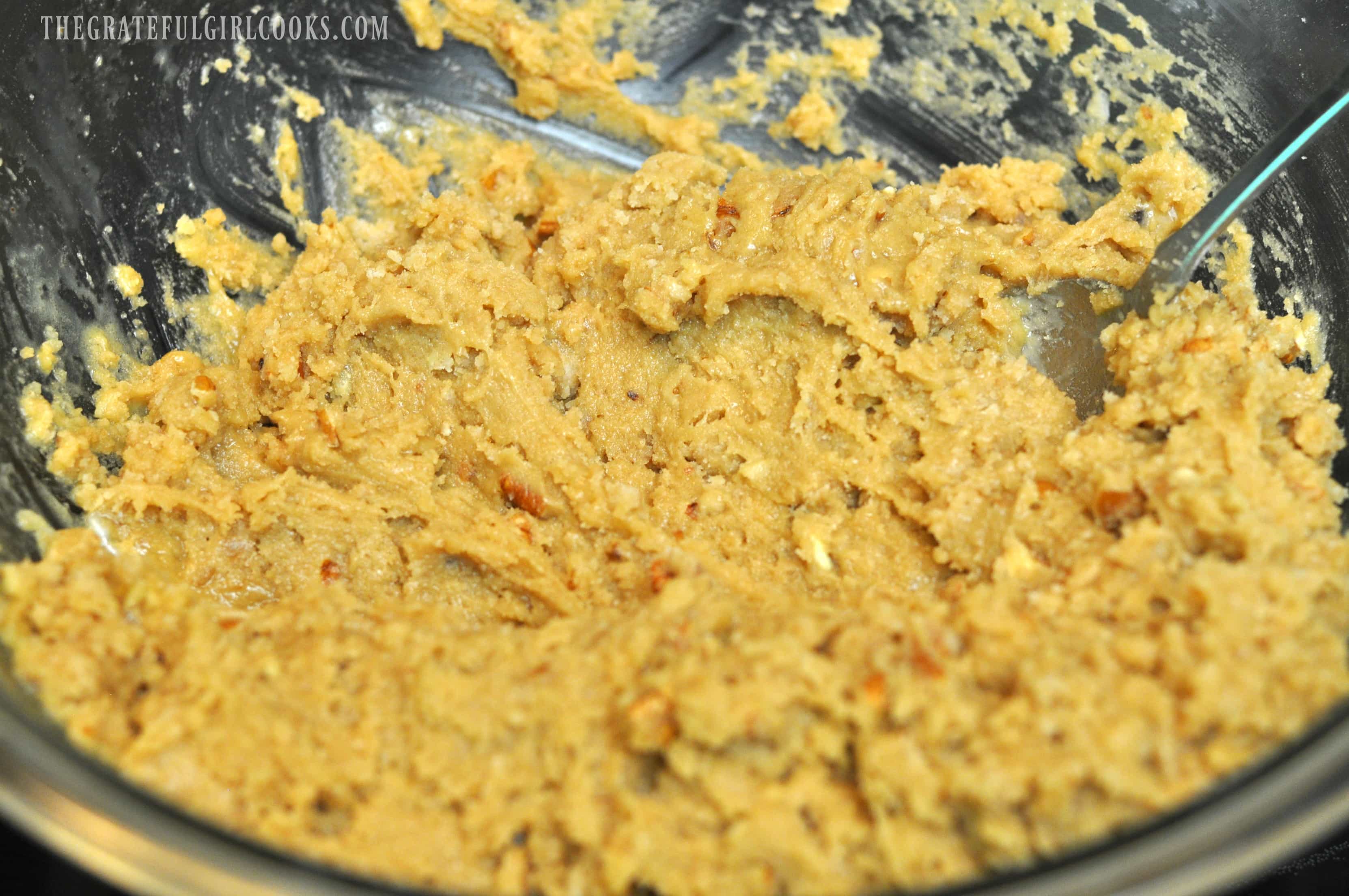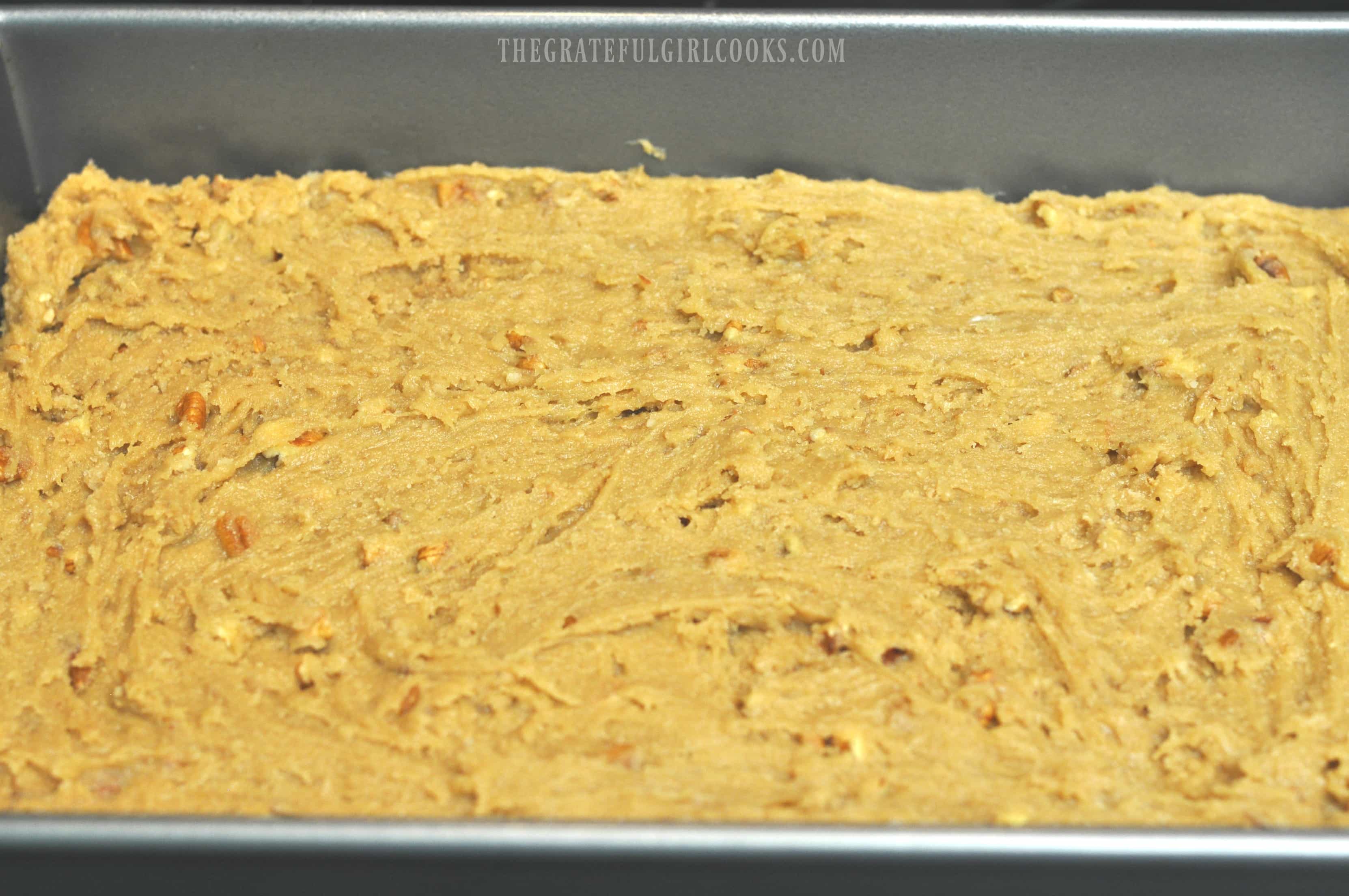 Bake at 300 degrees F for between 40 and 50 minutes (oven temps vary).  Make sure to NOT over bake the bar cookies.  I checked mine at the 40 minute mark and they were done!  When done, remove pan to a wire rack and let the Pecan Chewies cool.  Once they are at room temperature, cut into 24 portions.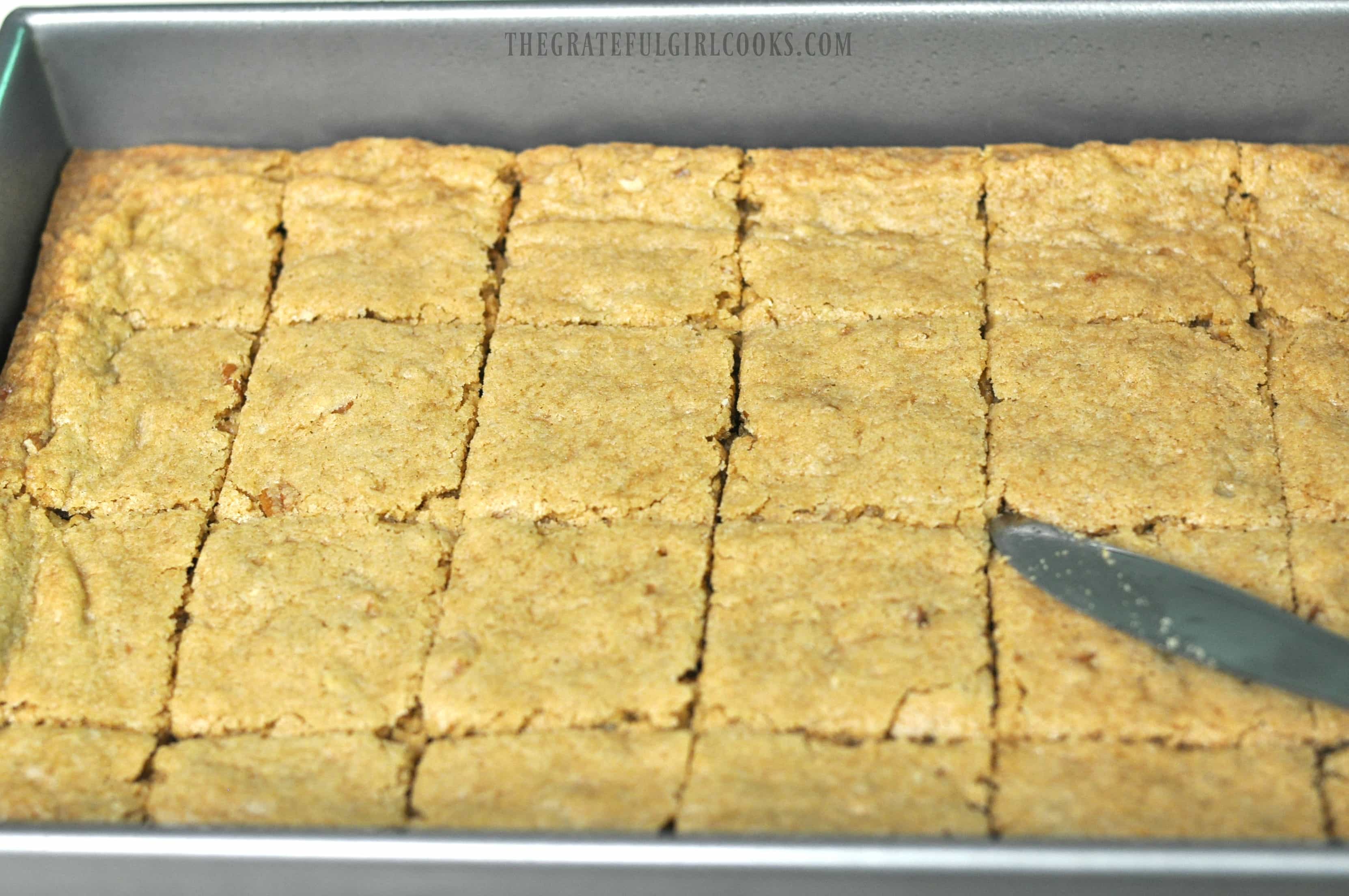 That's it! See how simple they were to make with only about 10 minutes work?  The bars all came out of the baking pan very easily, as well.  And they REALLY are good!  See those yummy chopped pecan pieces in them? YUM.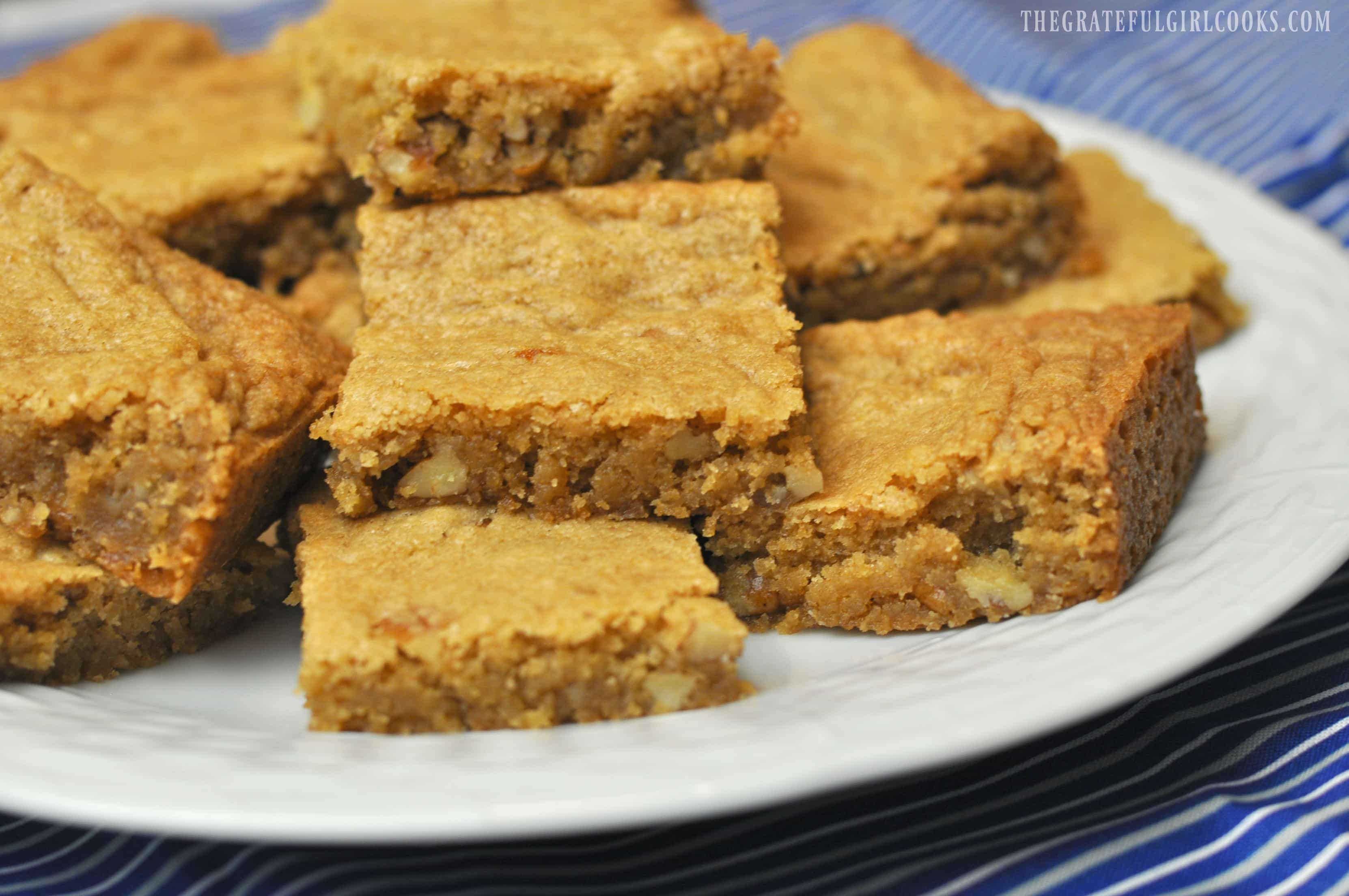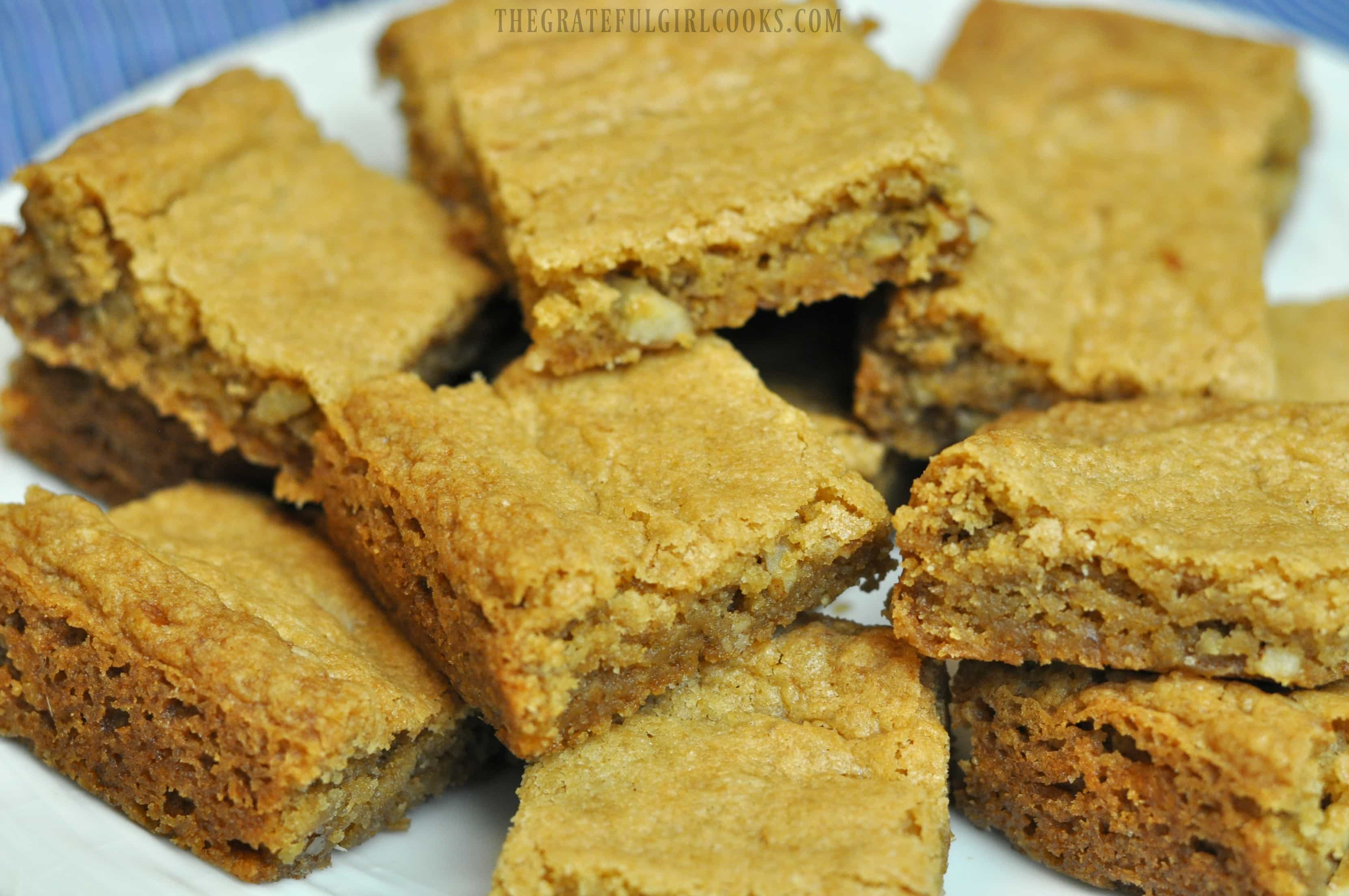 Look… I even saved you one. Want a bite? I love that these bars are not overly sweet.  I "might" have even had one with my morning coffee this morning… heh heh heh! I think you will really enjoy these chewy bar cookies, and there's certainly enough to share!
I hope you enjoy this recipe. It's always fun to try new recipes and I love it when I find a really GOOD one, like this! Speaking of good bar cookie recipes, you might want to check out my recipes for Chocolate Pecan Pie Bars, Blackberry Pie Bars, Lemon Bars or my decadent and Best Brownies. I think you will LOVE them all!
Have a wonderful day, and remember… be KIND to those you cross paths with today!  They may really need someone like YOU to encourage them!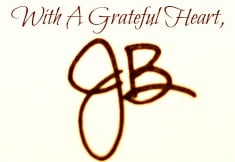 Recipe Source: http://southernbite.com/pecan-chewies/



Here's one more to pin on your Pinterest boards!

Save
Save
Save
Save
Save
Save
Save
Save
Save
Save
Save
Save
Save
Save
Save
Save
Save
Save
Save
Save
Save