I've been making this classic, simple recipe for yummy, old-fashioned Potato Salad for over 30 years now… for BBQ's, potlucks and picnics, and my family and friends always end up wanting more (including "to go" containers for our grown sons)!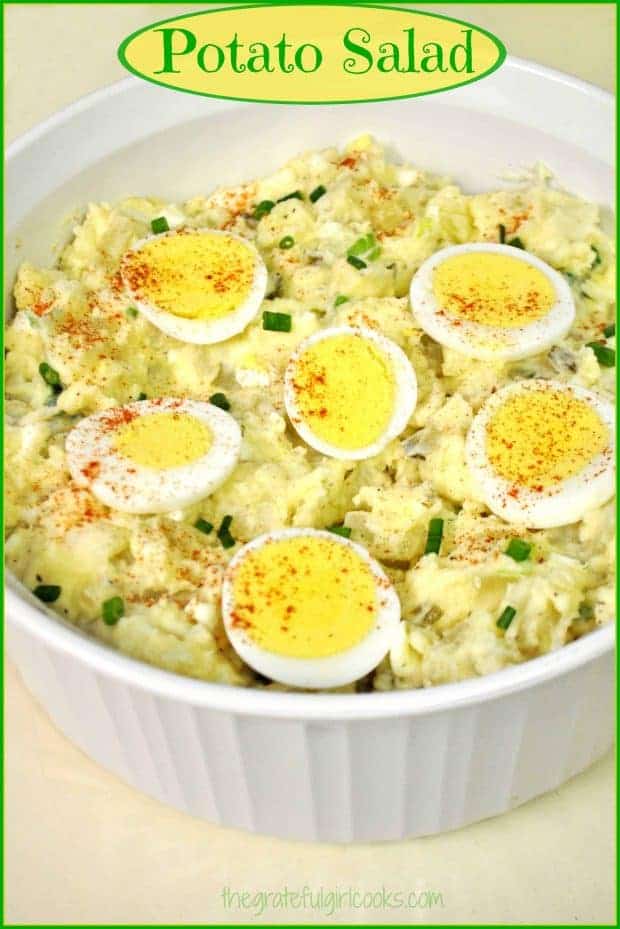 When I was growing up, I didn't like potato salad. My Mom (who is a fantastic cook) made hers with LOTS of sweet pickle relish, red onions and mustard, and I just didn't enjoy it (sorry, Mom)!  Well, many, many, many years ago, a friend of mine named Judy made potato salad for a baby shower I was the guest of honor at… and I LOVED it! I asked her what her "secret" was… and she told me… she used Claussen Dill Pickles, because they are refrigerated and have the "best" crunch factor!
Well, trust me… I don't owe my allegiance to any particular pickle company, BUT… I gotta tell ya, she was on to something.  I went home and began experimenting with my own version of potato salad (including those DILL pickles), came up with a winner recipe, and have been making potato salad this way ever since! True Story!  After making this salad hundreds of times over the past 30 years, I finally decided to try and write it down for my blog- (Truth: I usually don't measure anything for this potato salad, I make it by sight and taste, so it was quite the challenge to try and get it right).  Here's what ya do:
Boil Russet potatoes (with the skin on), until fork-tender.  Hint: See my note section in the printable recipe for a time-saver to cook hard-boiled eggs for the recipe in with the potatoes,  Drain potatoes, slightly cool, then peel and cube. Place potato chunks in a large bowl.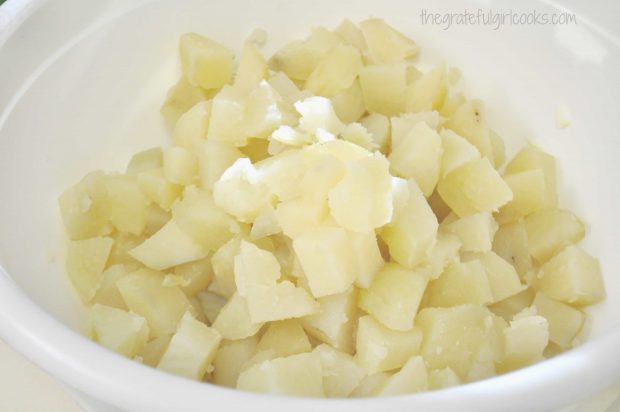 Slice green onions, chop Claussen pickles, and chop up 2 of the 3 hard-boiled eggs. Add these to potato chunks.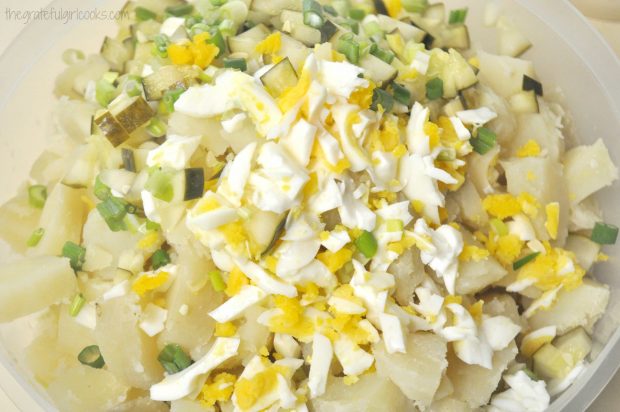 In separate bowl, combine mayonnaise, a small smidge of prepared yellow mustard, several Tablespoons of the pickle juice (straight from the jar!), and a bit of salt and pepper.

Pour "dressing" mixture over potatoes. Stir gently to fully combine all ingredients. If necessary, add additional mayonnaise (if needed- the amount will vary, depending on quantity and size of potatoes used). You don't want it dry… and you don't want it swimming in mayo, either!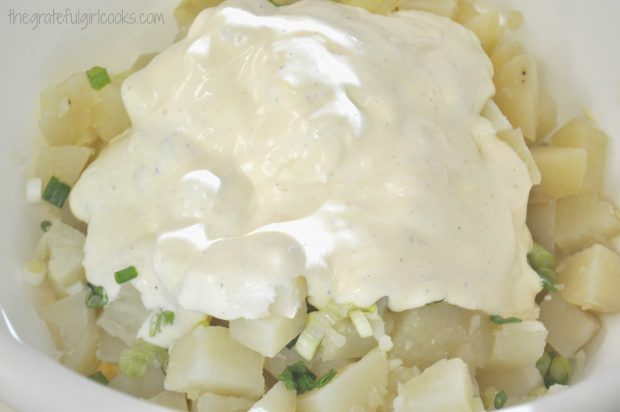 Once potato salad is completely combined, taste it to determine if you need a bit more salt and/or pepper. I usually add a bit more salt. Place salad into a large serving bowl.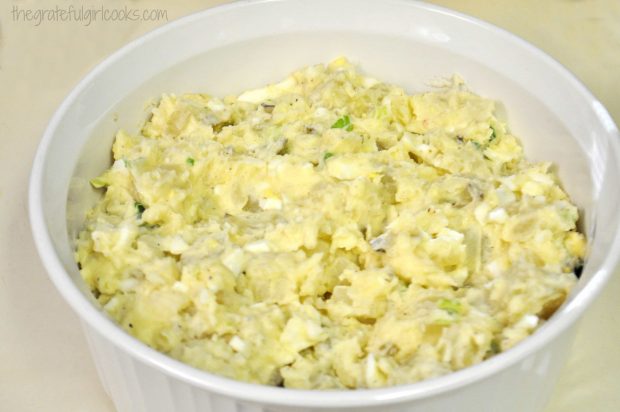 I use this contraption to thinly slice a hard-boiled egg for garnishing the salad (optional).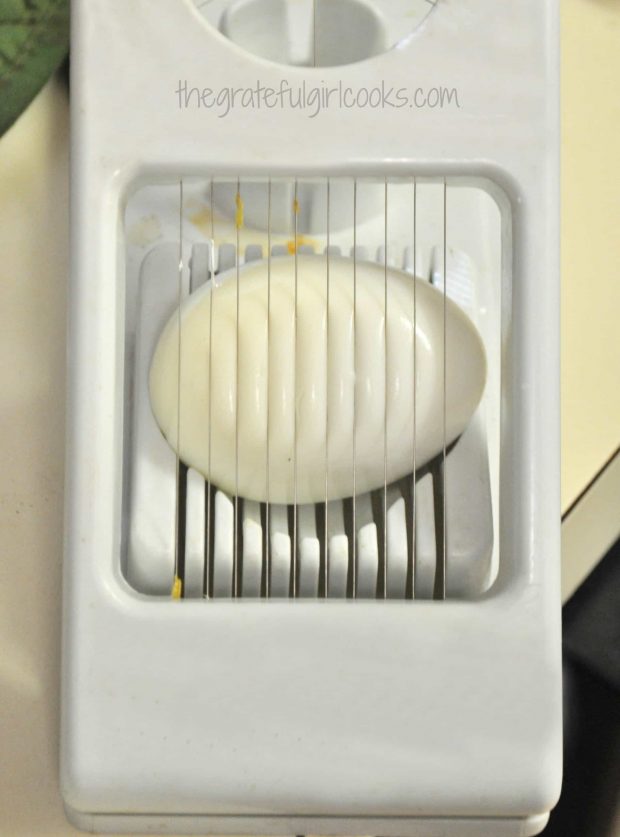 It thinly slices the egg for me, without making a mess!  Otherwise, just carefully cut thin slices with a very sharp knife!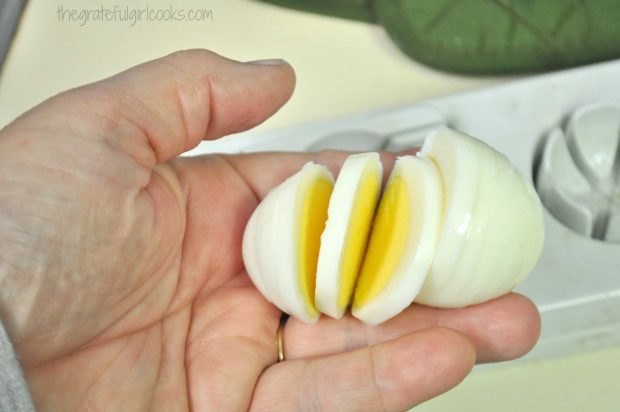 Place the egg slices on top of potato salad. Garnish with a few more green onion slices (the green part) OR chopped parsley. Sprinkle the top with paprika, and that's it!  Cover the salad and refrigerate for 5-6 hours before serving, for best flavor (and chill factor!).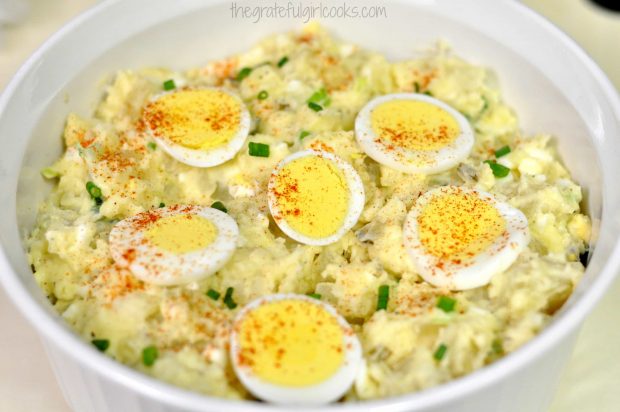 That's how I make this classic potato salad. It really is quite inexpensive to prepare, and is always enjoyed at family get togethers. For me, it's always a hoot to see just how much of this my grown sons can pile on their plates! (Have a little hamburger with that potato salad…).
Hope you will find time this summer to give this great recipe a try! We absolutely LOVE it!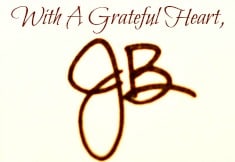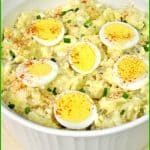 Potato Salad
This simple, old-fashioned Potato Salad will be a big hit at your next picnic or family BBQ!
Calories Per Serving
:
120
kcal
Ingredients
For Potato Salad:
5

large "baker" sized russet potatoes

(or 8-9 small potatoes)

2

green onions

, sliced (green and white parts)

4

Claussen dill pickle spears

(or 1 LARGE Claussen whole dill), chopped

3

hard boiled eggs

(chop 2 of them, reserve 1 for garnish, if desired)
For Potato Salad "Dressing":
5

HEAPING Tablespoons mayonnaise

(really big heapings-start with this-add more if necessary)

1/2

teaspoon

prepared yellow mustard

3

Tablespoons

pickle juice

(straight from the jar!)

Salt and black pepper

, to taste
For Garnish:
Use 1 reserved hard-boiled egg

, thinly sliced

Additional sliced green onions

(green part) OR chopped fresh parsley

Paprika

(to lightly sprinkle on top of salad)
Instructions
Boil potatoes (with skin on) until fork tender (time will vary depending on size of potatoes). It will typically take between 35 and 50 minutes. If done, you should be able to insert a knife blade into the potato with no problem. When done, drain, and peel potatoes. Once cool, cut potatoes into chunks and place into large bowl.

Slice green onions and chop dill pickle spears. Add to potatoes. Chop 2 of the 3 hard boiled eggs, and add to potatoes.

Mix up "dressing" for salad in a separate bowl, by mixing mayonnaise, mustard, pickle juice, and salt and pepper (start with 1/2 teaspoon salt/pepper).

Pour the "dressing" over the potato mixture. Stir gently to fully combine ingredients. If more "moisture" is needed, add more mayonnaise and continue stirring until fully coated. (amount of "dressing" and additional mayo will vary, due to amount and size of potatoes used).

Taste test. Add more salt/pepper, if needed. (I usually end up adding a bit more salt).

Place potato salad into serving bowl. Garnish top with thin slices of hard-boiled egg, then add additional sliced green onion (the green part) OR chopped fresh parsley. Lightly sprinkle with paprika.

Refrigerate for 5-6 hours (for BEST flavor and "chill" factor); Serve, and enjoy!
Recipe Notes
To save time, I boil the eggs in the same saucepan while I cook the potatoes! Usually takes them about 23 minutes when added to boiling water with all the potatoes. I take eggs out when done, and finish cooking potatoes! (one less pan!)
Nutrition Facts
Potato Salad
Amount Per Serving (1 serving)
Calories 120
Calories from Fat 18
% Daily Value*
Total Fat 2g 3%
Cholesterol 74mg 25%
Sodium 339mg 14%
Potassium 475mg 14%
Total Carbohydrates 19g 6%
Protein 4g 8%
* Percent Daily Values are based on a 2000 calorie diet.
Here's one more to pin on your Pinterest boards!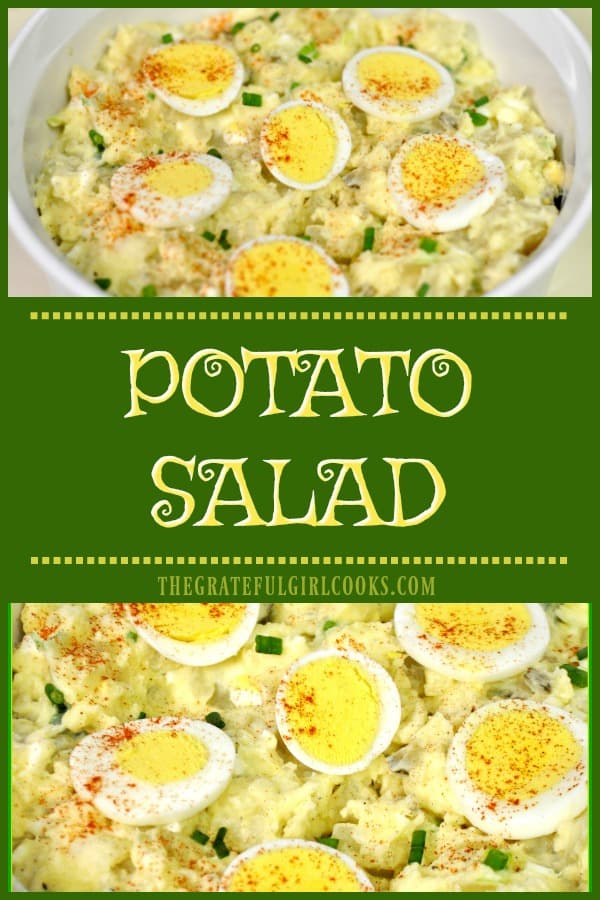 Save
Save