I happen to love coleslaw. I love the crunch of the cabbage, and the creamy, slightly sweet dressing it is mixed with. Coleslaw is so easy to make, and I like the way this Purple Coleslaw deepens in it's purple color the longer it is mixed together. More color on my plate!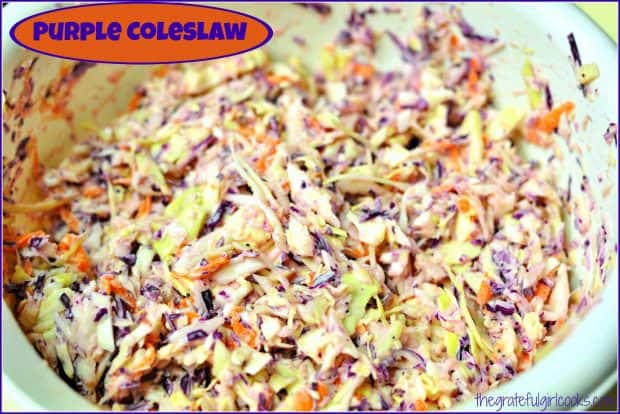 I know that it is easy to go to the produce section and buy pre-shredded coleslaw mixes. I know it is easy to go to the salad dressing section and buy a pre-made coleslaw dressing. I totally "get" the convenience of it, but I LOVE being able to make a great coleslaw using fresh produce, AND making my own "not out of the bottle" coleslaw dressing.
Store bought coleslaw mixes usually have lots of shredded green cabbage, shredded carrots and a teensy,tiny bit of purple cabbage. I like to make my own coleslaw THAT way, but I also love this recipe which adds a much larger amount of purple cabbage, which ultimately colors the dressing purple the longer the coleslaw is mixed together. It's kinda fun to serve a purple coleslaw, and it's a breeze to make my own!
First you shred about a cup of purple cabbage. I used a mandolin, but you can also do this with a cheese grater.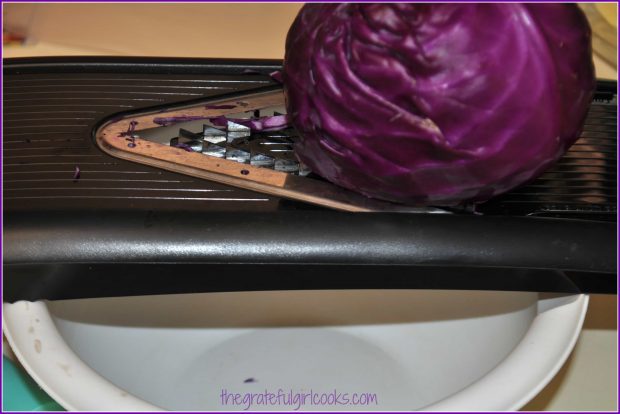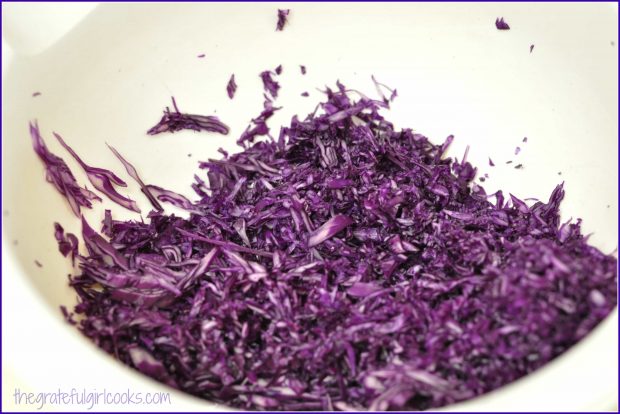 Then you do the same with green cabbage and some carrots.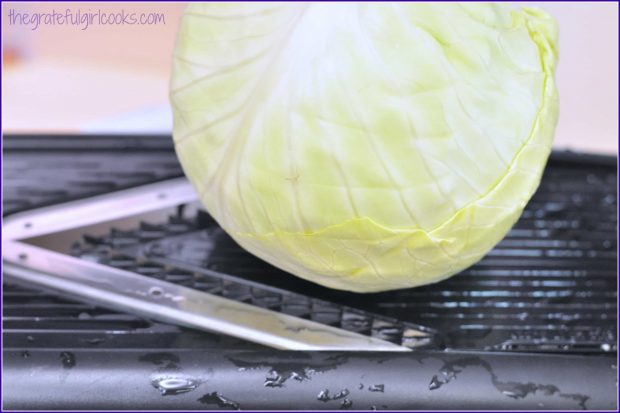 Once the veggies have been shredded, put them into a large mixing bowl.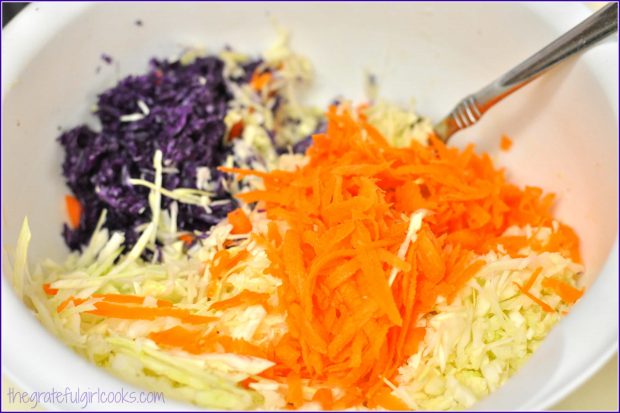 Mix the ingredients together. See how pretty it is already?

Now mix up the coleslaw dressing. Easy.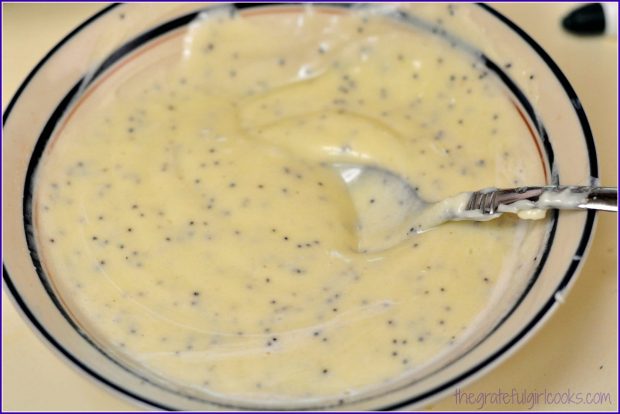 Add it to the shredded veggie mix. Stir well, to combine.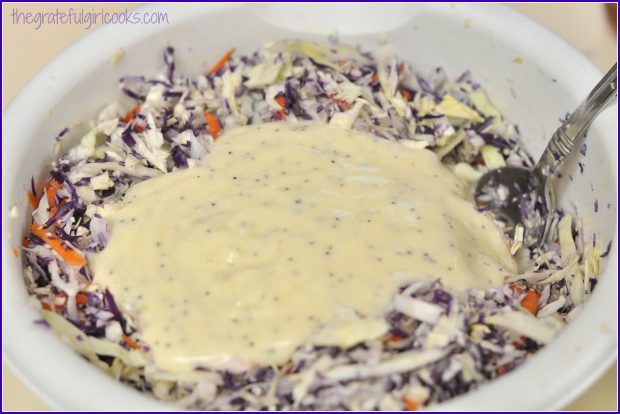 Cover with plastic wrap and refrigerate for at least an hour (the longer the better), so the flavors can come together. When ready to serve, give it a good stir, and dig in. Refrigerate leftovers. The longer you keep the coleslaw refrigerated (and stirred), the more purple the dressing will become, as the deep purple color from the cabbage mixes with the dressing. It's kind of a unique touch for a delicious coleslaw.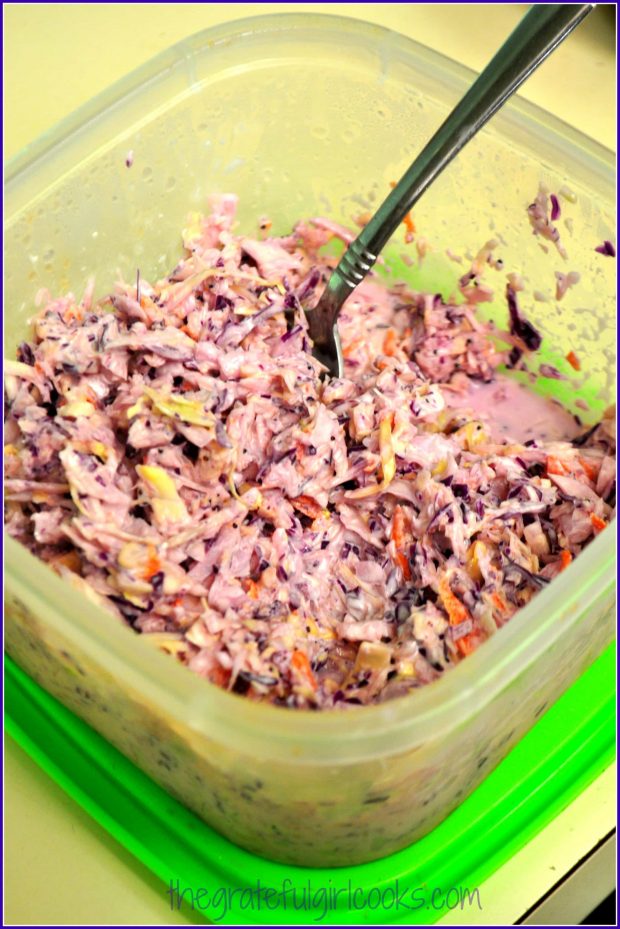 This is a perfect side dish for summer BBQ's. We really enjoy this great coleslaw. Sure hope you will give it a try. Have a great week!
Recipe source: My brain and lots of experimenting…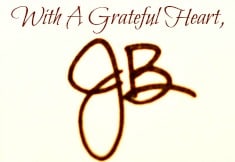 Recipe source: My brain and lots of testing..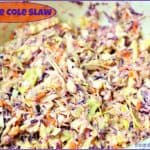 Purple Coleslaw
Quick recipe for a crunchy, delicious Purple Coleslaw. Perfect for summer BBQ's.
Servings
:
6
(1/2 cup) servings
Calories Per Serving
:
288
kcal
Ingredients
For Coleslaw:
2

cups

shredded green cabbage

1

cup

shredded purple cabbage

1/2

cup

shredded carrots
For Coleslaw Dressing:
1

cup

mayonnaise

2

Tablespoons

apple cider vinegar

1/4

teaspoon

salt

1/4

teaspoon

pepper

1

teaspoon

poppyseeds

2

Tablespoons

granulated sugar
Instructions
Shred green cabbage, purple cabbage, and carrots. Place into a large mixing bowl. Mix well, to combine.

In a small mixing bowl, combine the mayonnaise, apple cider vinegar, salt, pepper, poppyseeds, and granulated sugar. Mix well, to thoroughly combine.

Add the dressing to the slaw mixture. Stir well until all veggies are coated with dressing. Cover coleslaw with plastic wrap; place in refrigerator for a minimum of 1 hour (preferably longer), so that flavors come together and the slaw is very cold.

Serve, and enjoy!
Recipe Notes
Prep time does not include inactive refrigeration time. The longer the cole slaw is refrigerated, the better it is, and the more PURPLE it becomes!
Nutrition Facts
Purple Coleslaw
Amount Per Serving (1 g)
Calories 288
Calories from Fat 252
% Daily Value*
Total Fat 28g 43%
Cholesterol 15mg 5%
Sodium 349mg 15%
Potassium 117mg 3%
Total Carbohydrates 7g 2%
Protein 1g 2%
* Percent Daily Values are based on a 2000 calorie diet.
Save
Save