I found a recipe for a quick, easy danish pastry the other day and decided to give it a try. I changed up the recipe just a smidge and the end result? An absolutely delicious Raspberry Cream Cheese Danish pastry, that was enjoyed with a steaming cup of strong coffee!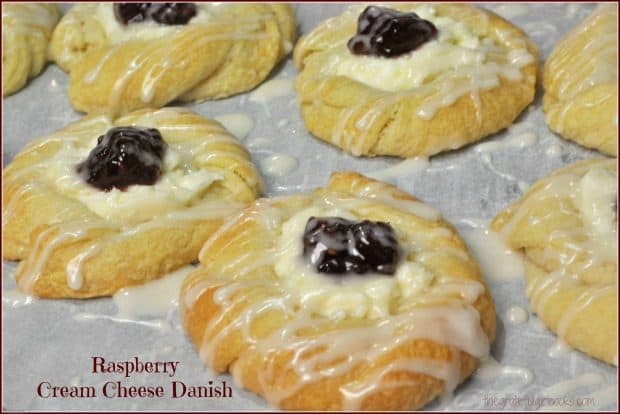 Our youngest son ("young" meaning 29 years old) popped in for a visit just as I started making these, so he ended up getting to enjoy them with us, and also went home with a big plate full of pastries. There are ALWAYS side benefits of visiting Mom and Dad, right?
This recipe is actually fairly easy; you will end up with 16 small danish pastries (about 2 per serving!). Here's how you make them:
Start with 2 cans of refrigerated crescent rolls. The dough will come out with 4 rectangular pieces of dough (two triangles of dough attached with perforations in between). Press the perforations closed to form a solid rectangle. Once you have done this to both cans of dough you should have 8 rectangles of dough. Sprinkle each rectangle very lightly with sugar (use 1 Tablespoon total evenly divided between rectangles).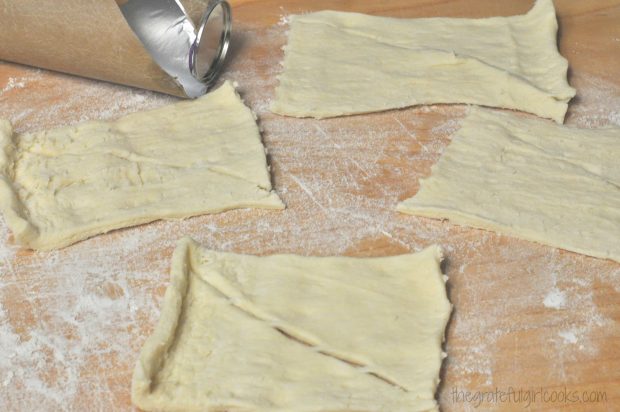 Gently roll out each rectangle to 8 inches long. Cut each rectangle in half length-wise. You will then have 16 rectangles, about 1 inch by 8 inches. Pick up each piece of dough by each end and lightly twist the dough ends in opposite directions (i.e. left hand twist toward you, right hand away from you). Form a small circle with the twisted dough, and pinch to seal the ends.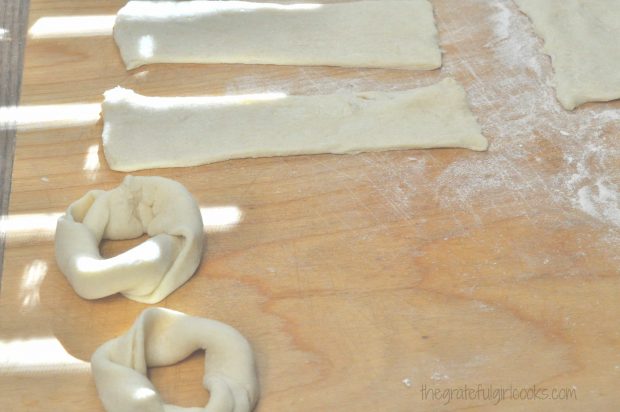 Place the dough circles onto parchment paper lined baking sheet(s), about 2 inches apart. Set aside.  Preheat oven to 350 degrees.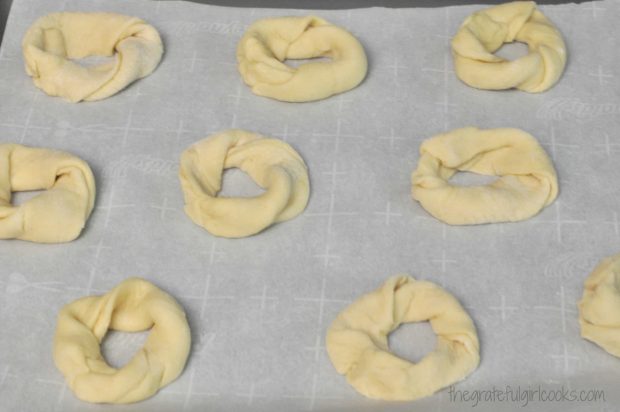 In a medium bowl, mix together room temperature cream cheese, 1 Tablespoon granulated sugar, lemon juice, vanilla extract and sour cream, until well combined.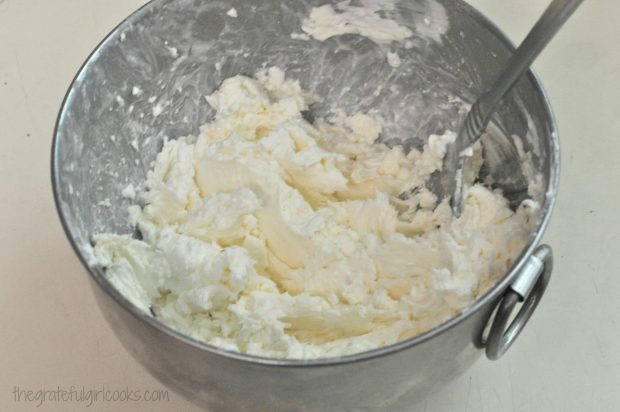 Add approximately 1 Tablespoon cream cheese filling to the center of each pastry. Lightly brush the pastry dough with melted butter. (NOTE: I was concerned that the cream cheese would run out the bottom of the pastry by leaving the pastry circle "open", but having the parchment paper underneath prevented that from happening!)
Bake the pastries in a preheated 350 oven for 13-15 minutes, or until they are light golden brown.  When done, remove from oven to a wire rack (LEAVE THE PARCHMENT PAPER UNDERNEATH)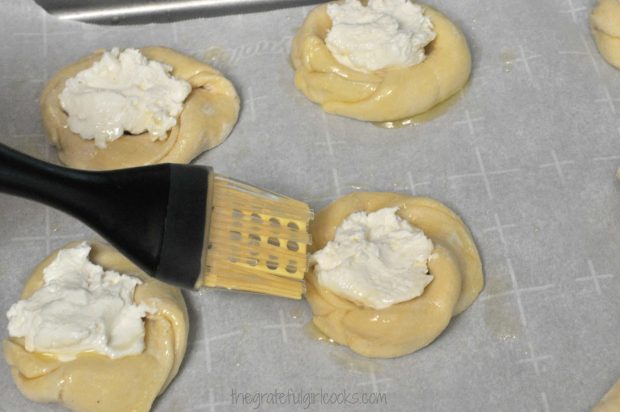 While pastries are cooling, prepare the glaze to drizzle over the top of the cooled pastries. Stir powdered sugar, milk, and vanilla extract together until smooth. You want to get it to a drizzling consistency. Too thick? Add drops of milk. Too thin? Add additional powdered sugar. Place the glaze into a squeeze bottle or into a zip-top bag (you can snip off a tiny spout on the bottom corner of zip-top bag and use it as a pastry bag). You can also just use a spoon to drizzle the glaze onto cooled pastries.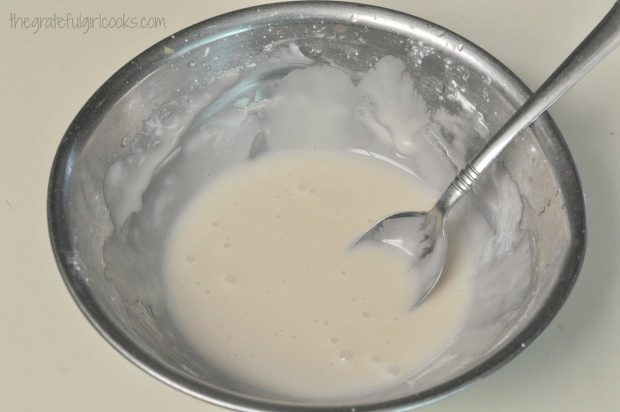 This is what they looked like fresh from the oven. Once they are completely cooled off, decoratively drizzle the glaze over each pastry. Let glaze firm up a bit, then serve!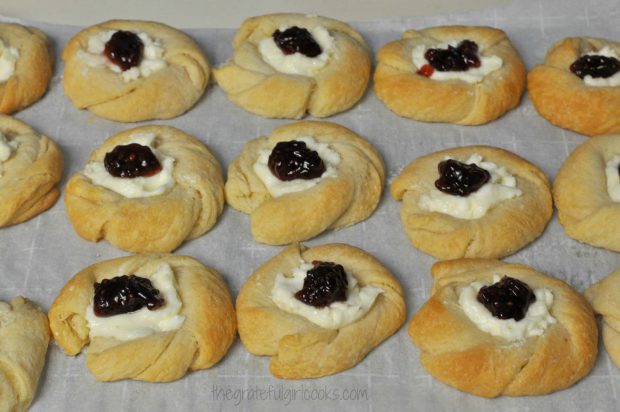 They are quite delicious, and weren't hard to make, either!  THAT is a win-win.  Now where's my huge mug of coffee??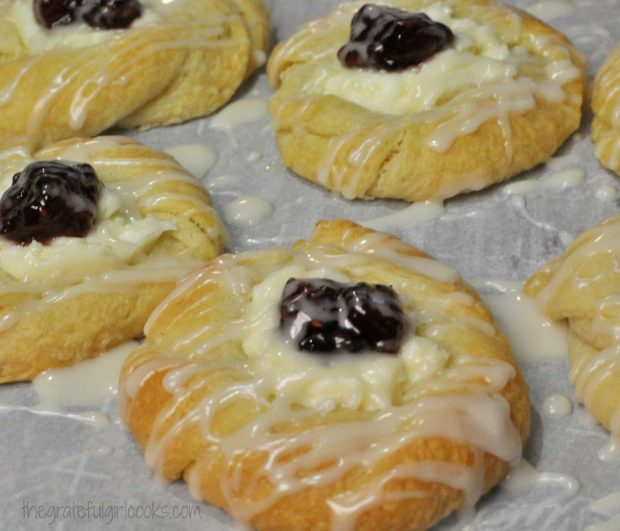 Hope you consider making these for the ones you love. See the notes section of the printable recipe for other flavors that would taste great as toppings for these pastries.  Have a wonderful day.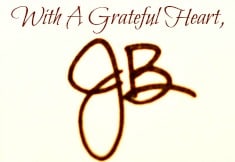 Recipe Slightly Adapted From: http://cakescottage.com/2016/03/07/easy-cream-cheese-danish/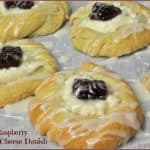 Raspberry Cream Cheese Danish
These raspberry cream cheese danish pastries are delicious, quick and easy to prepare, using store bought crescent roll dough as the starter!
Calories Per Serving
:
216
kcal
Ingredients
2

cans crescent rolls

1

package

(8 ounce) cream cheese, at room temperature

2

Tablespoons

granulated sugar

, divided

1

teaspoon

fresh lemon juice

3/4

teaspoon

vanilla extract

1

teaspoon

sour cream

Melted butter

, approx. 2 Tablespoons (for brushing onto pastries before baking)

Raspberry jam

(1 small dollop per danish)
For icing:
1

cup

confectioner's sugar

(powdered sugar)

1

Tablespoon

milk

(may substitute water)

1/4

teaspoon

vanilla extract
Instructions
Before beginning, preheat oven to 350 degrees. Line baking sheets with parchment paper.

Remove crescent roll dough from cans. Keep crescent roll in rectangle shape (two triangles together). Press the perforations closed between dough triangles to make solid rectangle. You should end up with 8 rectangles. Using one Tablespoon (total amount) granulated sugar, sprinkle each rectangle lightly with sugar. Lightly roll out each rectangle to 8 inches long. Cut each rectangle in half lengthwise. (You should now have 16 pieces of dough 1 inch x 8 inches long).

Pick up each piece of dough and holding on to both ends, twist the ends in opposite directions to make a loose "twisted rope" shape. Shape into a small circle and pinch ends of each circle together to seal. Place dough circles two inches apart on parchment paper lined baking sheet(s).

In a separate bowl, prepare filling. Combine (room temp.) cream cheese, remaining Tablespoon granulated sugar, lemon juice, sour cream and vanilla extract. Mix until well combined.

Place approximately 1 Tablespoon filling into the middle of each pastry circle (don't worry-the parchment paper underneath will keep the filling "in" the pastry!). Brush pastry dough with melted butter. Bake in 350 degree oven for 13-15 minutes (mine took 15), or until they are light golden brown. Remove pans from oven and let pastries cool on the parchment paper.

Prepare icing by mixing together powdered sugar, milk and vanilla extract. You want it thin enough to drizzle over cooled pastries. Too thick? Add drops of milk. Too thin? Add more powdered sugar.

Once pastries have completely cooled, place a small dollop of raspberry jam in the middle of the cream cheese filling; decoratively drizzle icing over the top of each pastry. Let icing firm up, then they are ready to serve! (icing can be put into squeeze bottle, drizzled with a spoon, or can be placed into a zip-top bag and the bottom corner can be snipped off to use as a piping bag.

Enjoy!
Recipe Notes
There are lots of flavor variations for these pastries. Instead of raspberry, why not try other jam or pie filling, like cherry, blackberry, blueberry, strawberry, or lemon? All would be fantastic!
Nutrition Facts
Raspberry Cream Cheese Danish
Amount Per Serving (1 danish)
Calories 216
Calories from Fat 108
% Daily Value*
Total Fat 12g 18%
Cholesterol 19mg 6%
Sodium 283mg 12%
Potassium 24mg 1%
Total Carbohydrates 25g 8%
Protein 1g 2%
* Percent Daily Values are based on a 2000 calorie diet.
Save
Save