I tried a new recipe for a quick dinner the other night… Skillet Monterey Chicken! This delicious one pan dish features chicken breasts, bacon, BBQ sauce, cheddar and jack cheese, and can be prepared and on the kitchen table in 20 minutes! Yum… it was perfect!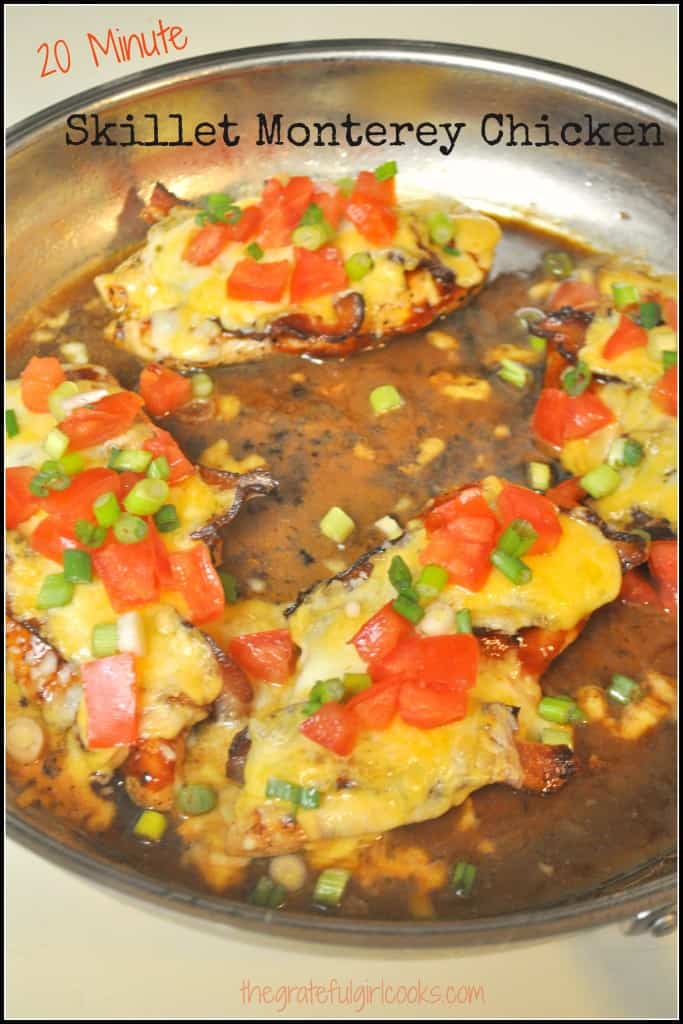 I saw this recipe on Pinterest (thanks Trish, at Mom On Timeout) and knew I wanted to try it… I mean, come on… chicken AND bacon AND BBQ sauce AND cheese? It's true. It was calling to me! Turns out, it was really good, and only took 20 minutes to prepare!  My hubby loved this dish, as well!  Now I know why it was such a popular menu item at Chilis restaurants for so long (our local Chilis restaurant closed- sigh)!
Here's how easy it is to make this dish:  Using an oven-proof skillet, fry bacon until crisp. Once bacon has cooled, cut each piece in half.  Leave some of the bacon grease in pan (to cook chicken breast in), but discard the rest.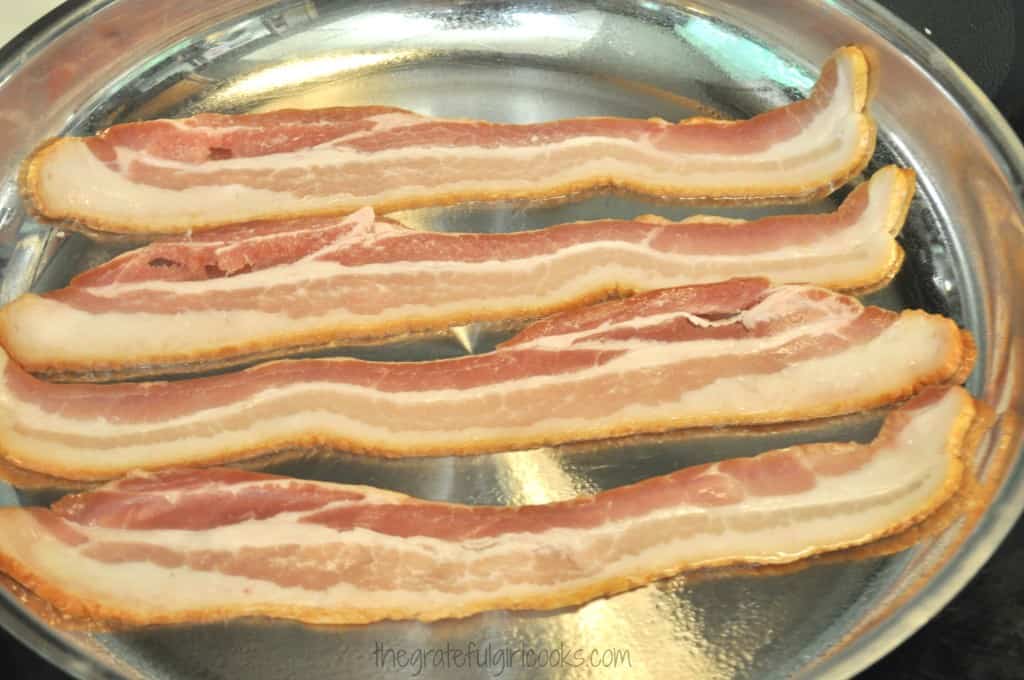 While bacon is cooking, salt and pepper the chicken breasts. Once bacon has been removed from pan, add the chicken breasts to the hot skillet.  Cook about 3 minutes per side on medium-high, until golden brown. (I cut two large chicken breasts in half lengthwise so they were fairly thin. If using whole chicken breasts, make sure to pound them out thinner, between sheets of plastic wrap, before cooking).
The little bit of bacon grease you left in the skillet really imparts great flavor to the chicken.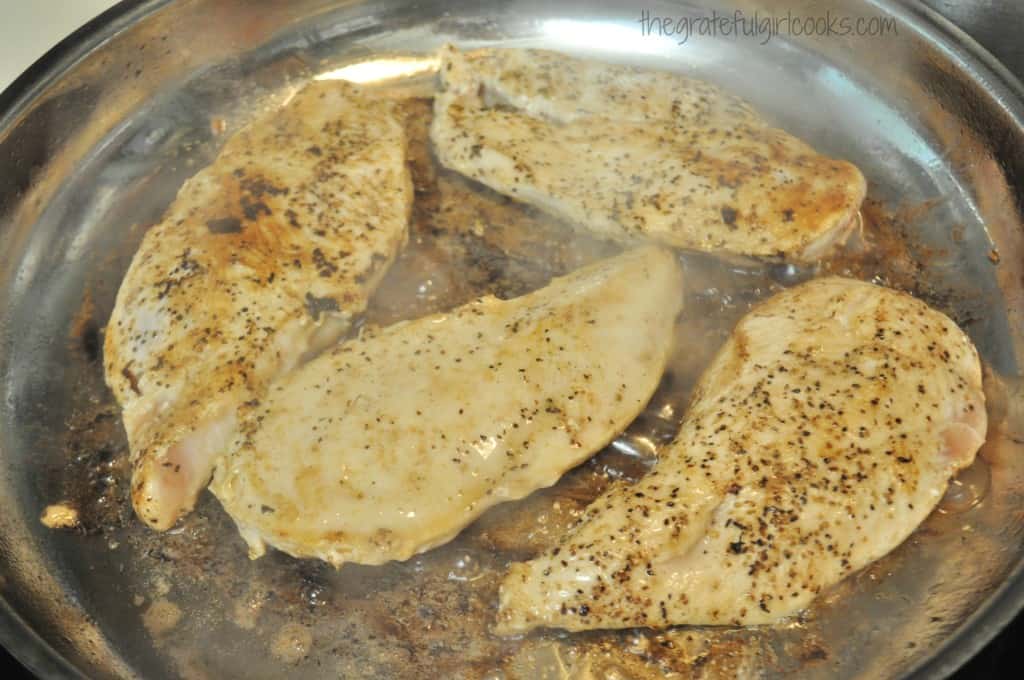 Once chicken has cooked on both sides, pour chicken broth over the chicken. Put a lid on the skillet, and continue to cook 4-5 more minutes (covered) or until the chicken is cooked through (this time varies depending on how thick the chicken breasts are).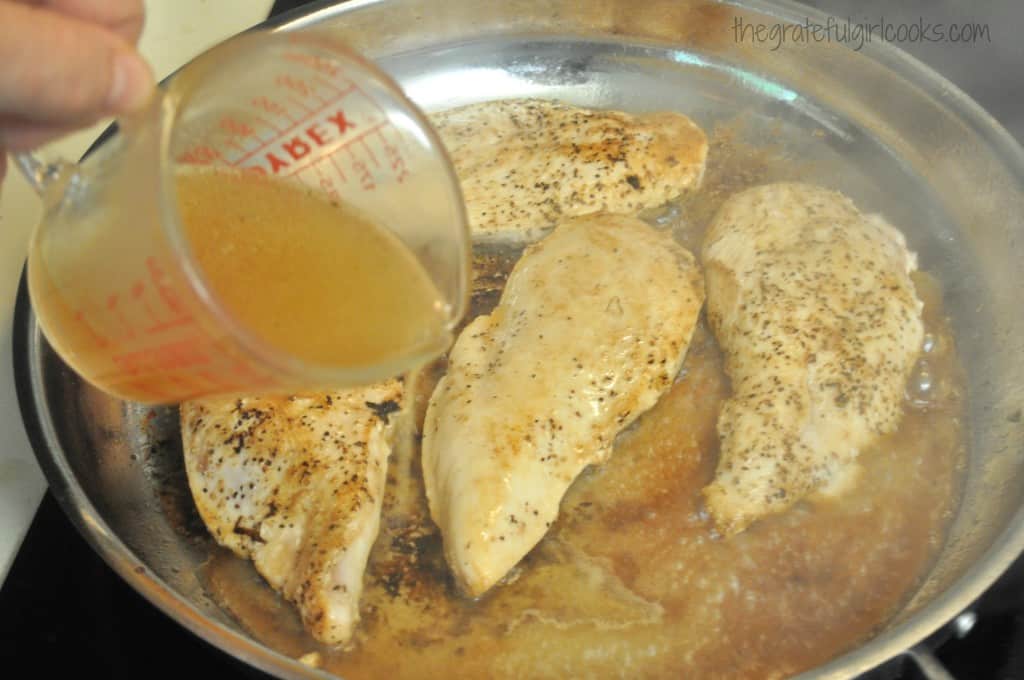 Once chicken is done, remove lid from skillet and remove skillet from heat. Before continuing, PREHEAT YOUR OVEN BROILER.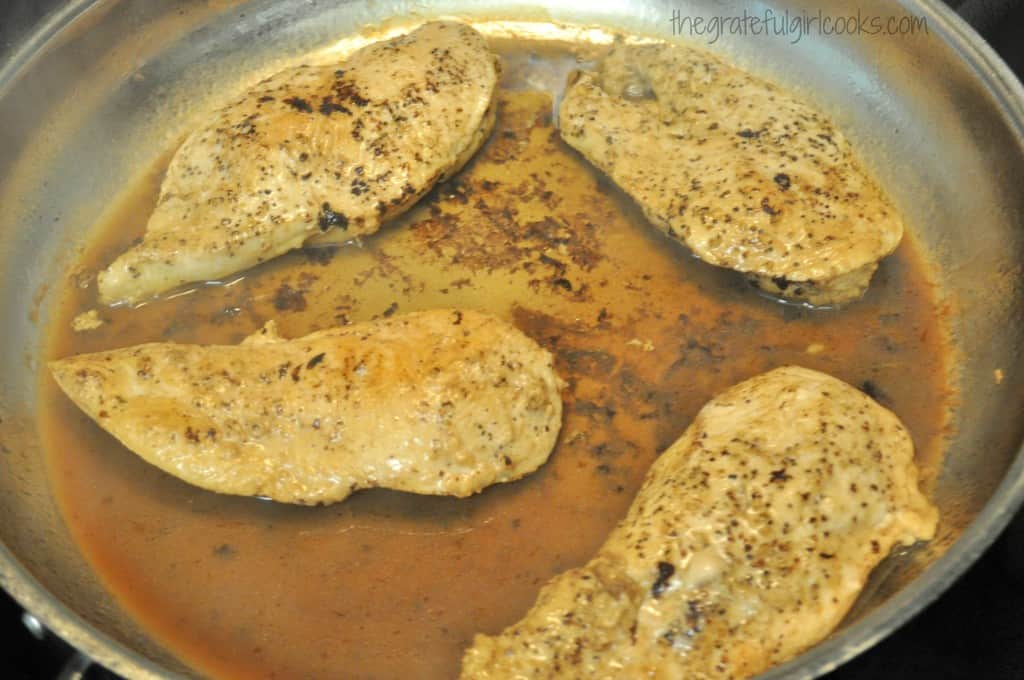 While broiler is pre-heating, spread BBQ sauce over each piece of chicken (1 Tablespoon on each piece).
Place two (half) pieces of bacon on top of the BBQ sauce.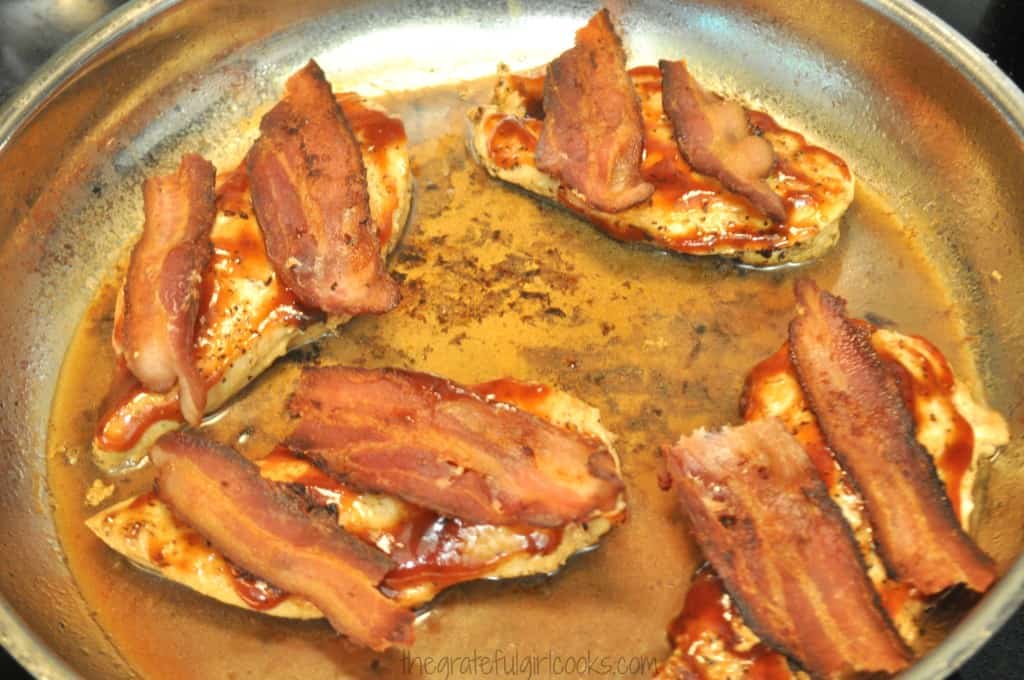 Divide the cheese evenly and place on top of the bacon, covering the entire piece of chicken.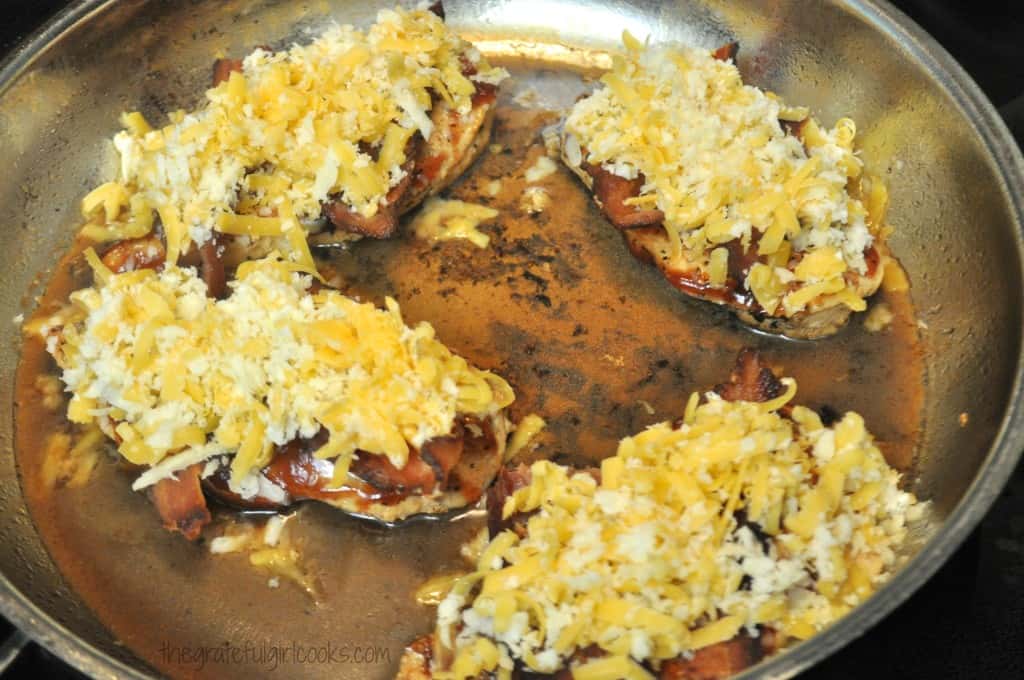 Place the skillet and chicken (see why you need an oven-proof skillet?) in the middle of oven under the broiler. Keep an eye on it. Once cheese is fully melted (anywhere from 30 seconds to 1-2 minutes), remove hot skillet from oven.  Top each piece of chicken with diced tomato and sliced green onions.  Looks and smells real good, right about now!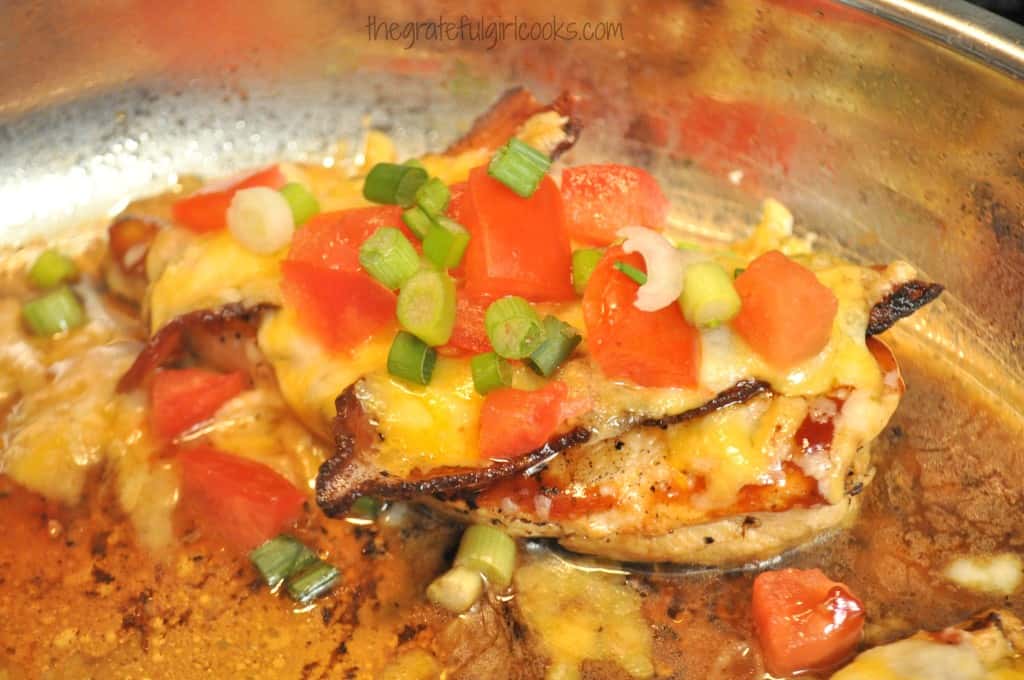 Transfer chicken pieces to individual serving plates, and enjoy this delicious Skillet Monterey Chicken!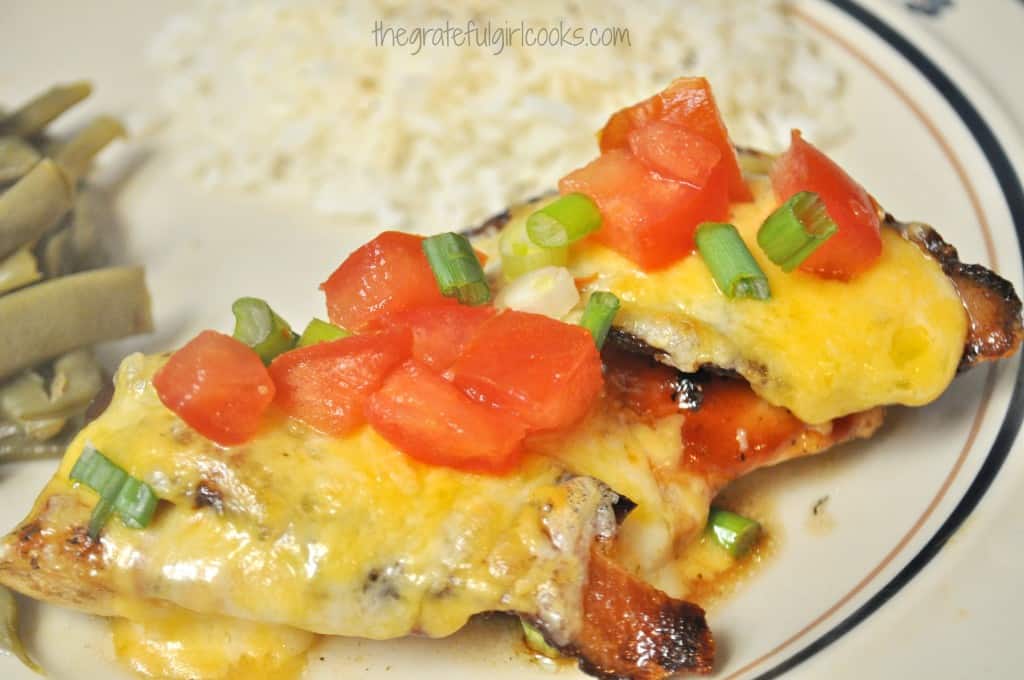 Hope you will consider making this chicken dish. It truly was very easy to make, and we loved it!  Have a fantastic weekend!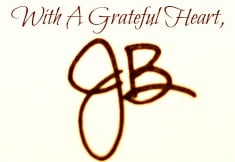 Recipe Source: http://www.momontimeout.com/2016/02/20-minute-skillet-monterey-chicken/

Save