I love a good biscuit, especially if it's Southern Buttermilk Biscuits!  I grew up eating homemade biscuits  because my Texas-born and raised Mom made them perfectly! We ate our biscuits with jam OR smothered with thick gravy (made with bacon, NOT sausage!).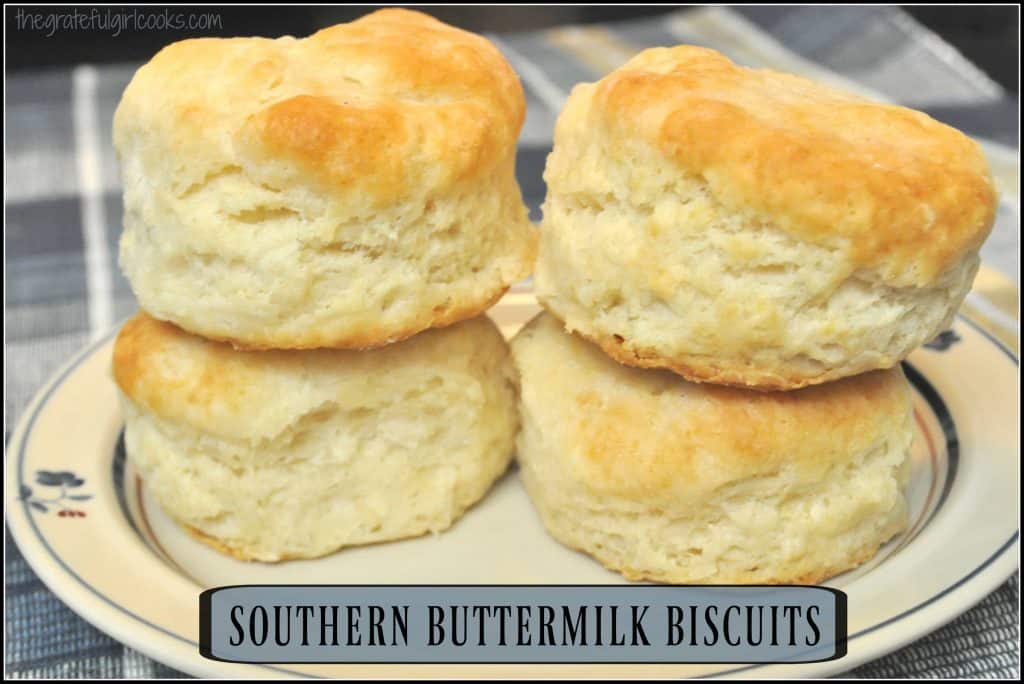 To me, a good biscuit has to be a tall biscuit! There's something majestic about a good rise on a biscuit… a far cry from the "hockey puck like" biscuits I've had (and made, unfortunately) before.  Well this is a great recipe for making tall, homemade, fluffy buttermilk biscuits.
They are easy to make, with a couple helpful "tips". Tip #1 is to put the butter you are going to use in the freezer for about 20 minutes before using it in this recipe. (It keeps the butter from melting in the dough… little flecks of butter will remain intact, and be, oh so delightful). Tip #2 is to not pat the dough down too thin. You want to cut the biscuits with the dough about 1-1½ inches thick. Trust me on this!  So here's HOW you make these:
First (while butter is freezing), sift together flour, sugar, baking powder, baking soda and salt.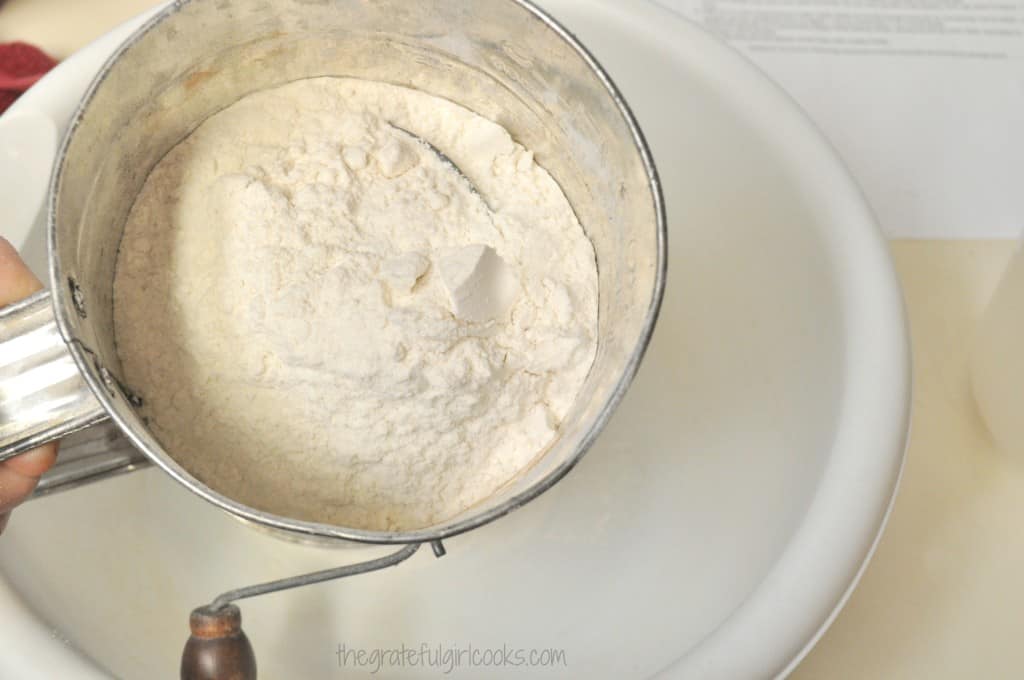 I used a cheese grater to grate the frozen butter. It's easy when butter is frozen! Add the butter to the dry ingredients.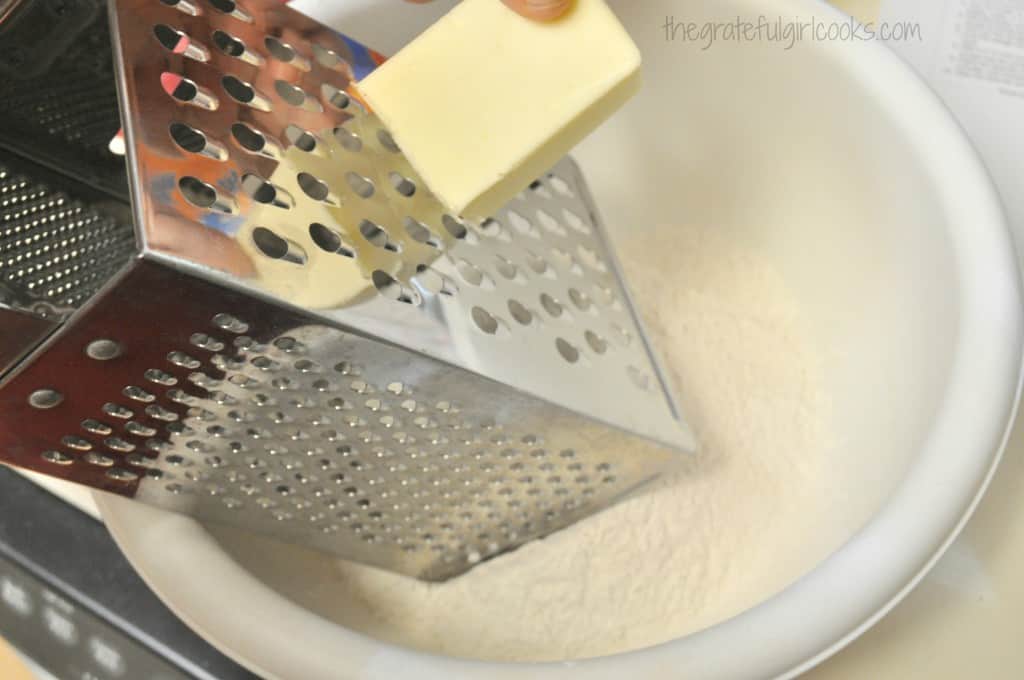 Use a pastry cutter and cut the butter shreds in with the dry ingredients until mixture becomes small coarse crumbs. (If you want, you can use a food processor to mix the dry ingredients and butter… pulse until it becomes small crumbs).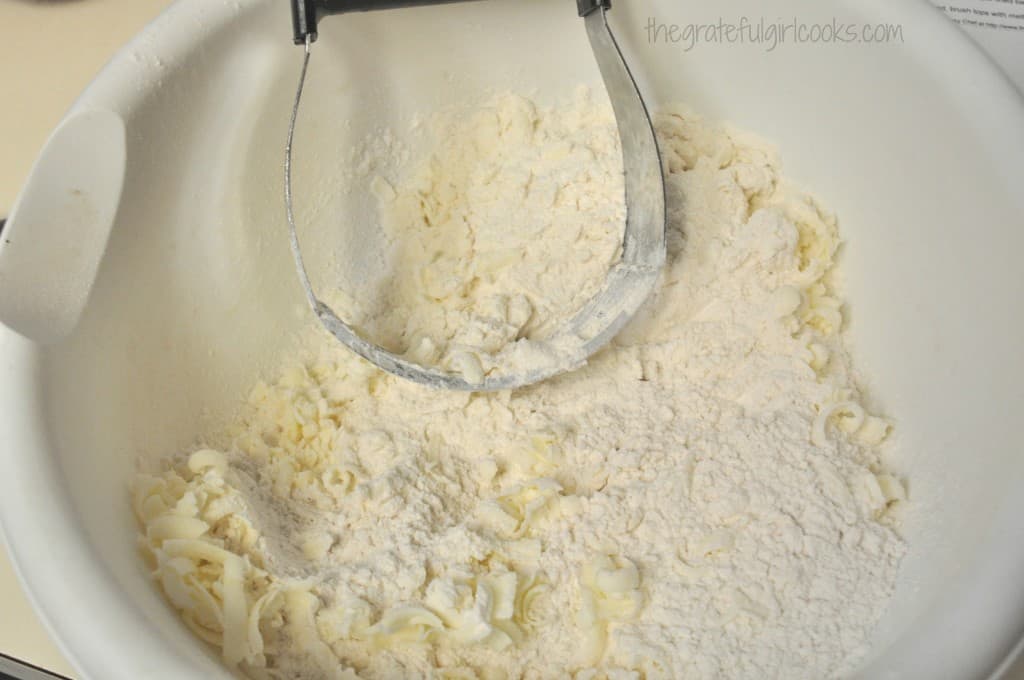 Make a deep well in the mixture.  Add cold buttermilk, then stir the mixture together until fully combined. The dough will be a bit sticky… don't worry about it!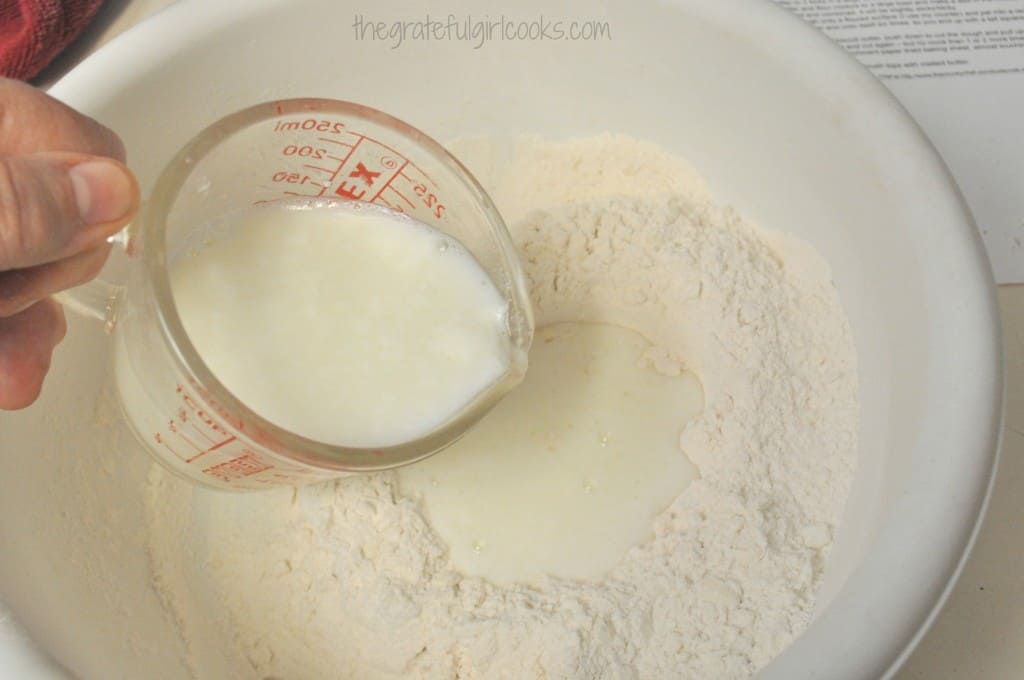 Turn the dough out onto a flour covered work surface. Put a little flour on your hands (to help prevent sticking), and shape the dough into a rectangle.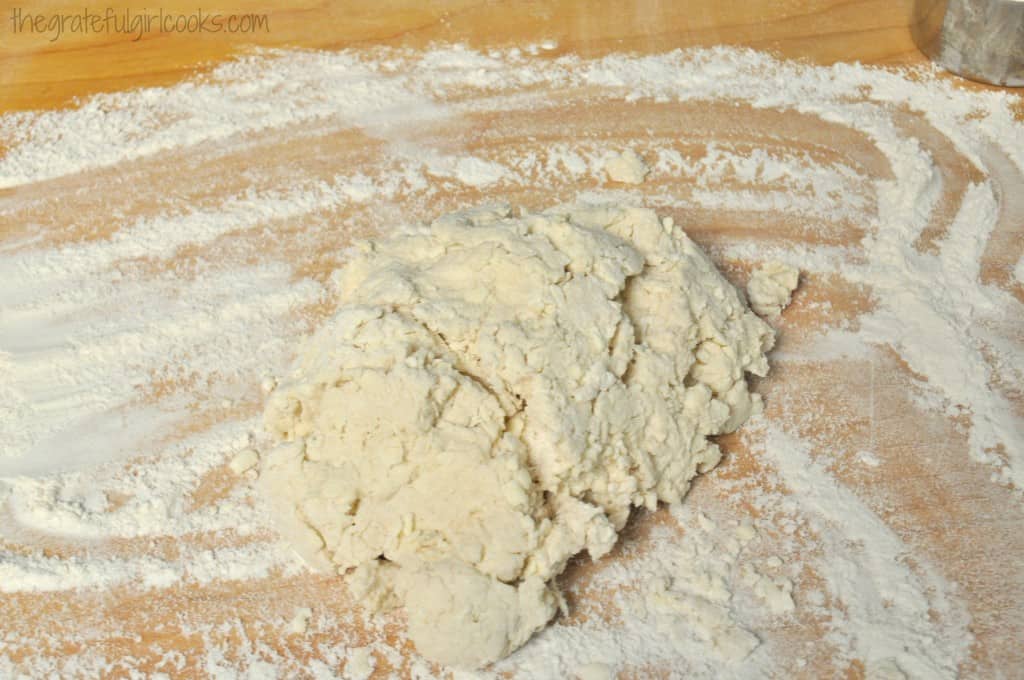 Once dough is a rectangle shape, fold the dough over onto itself 6 times. I folded one end over to touch the other, then rotated dough a quarter turn and did it again, etc. until I had "turned" the dough over on itself 6 times (this helps to create "layers").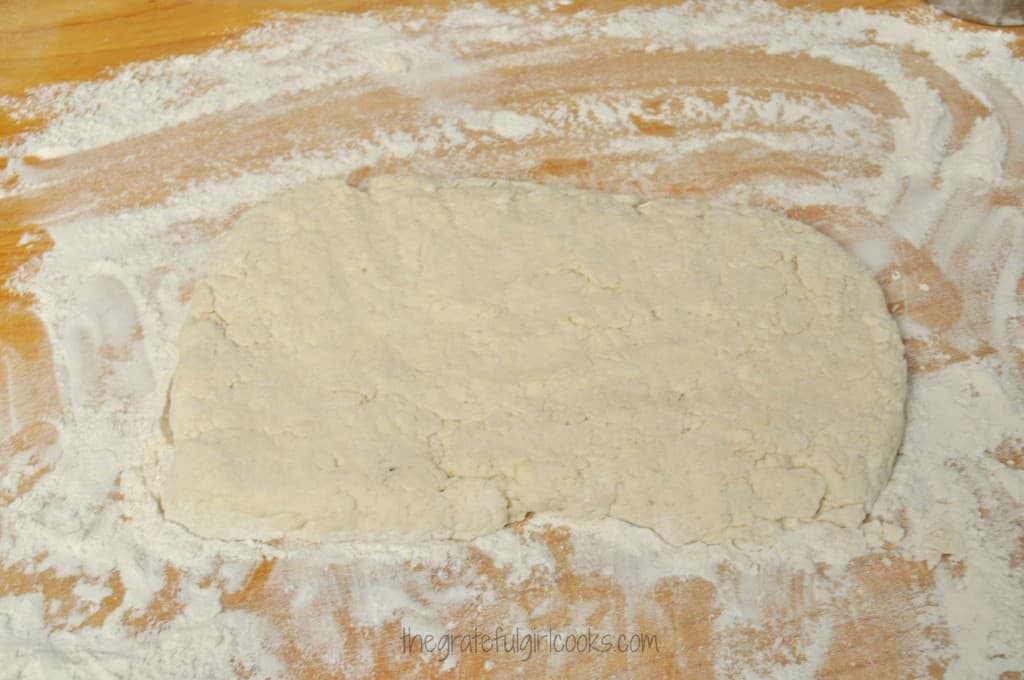 You should end up with a tall square. Use your hands to flatten down the dough until the dough is about 1-1½ inches thick. You can use a 2½ inch biscuit cutter OR use a clean half-pint canning jar (like I did – same size!). Cut out biscuits. Try not to twist the edges of the dough when you cut.  If you have leftover scraps, you can put them together and cut out more biscuits, but don't combine the dough more than a couple times! I was able to get 12 biscuits out of the dough.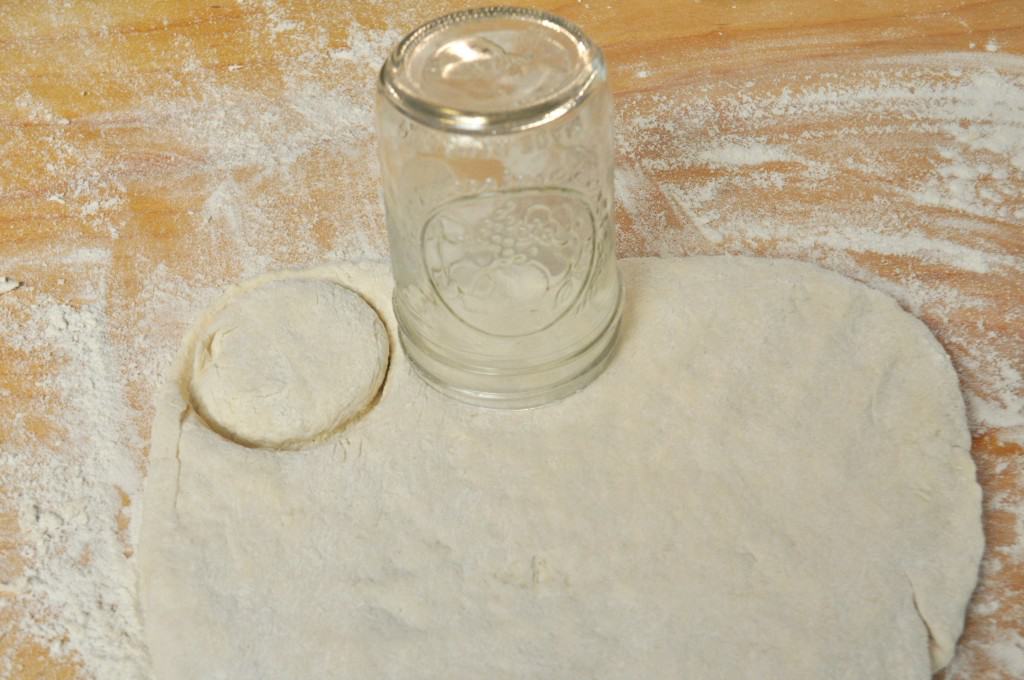 Carefully place the biscuit dough rounds onto a parchment paper lined baking sheet. Put the biscuits close together (just so they are ALMOST touching).  Bake biscuits in a preheated 450 degree oven for 12-15 minutes, or until golden brown on top.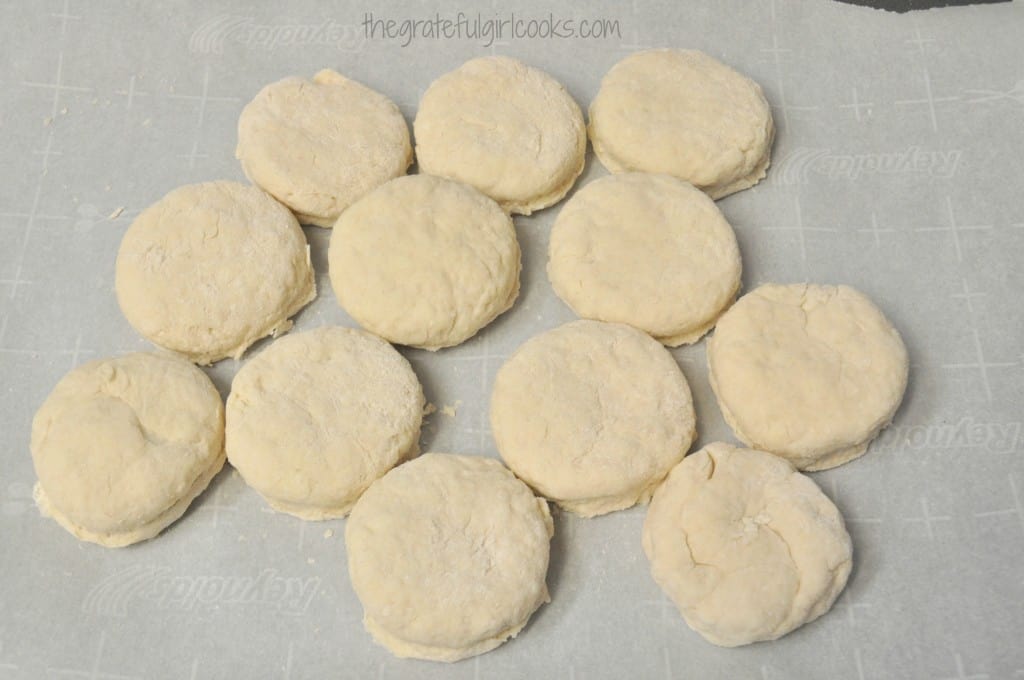 Brush melted butter over the tops of the biscuits when done. You can also take the biscuits out a minute or two before they are done, brush the melted butter on the tops, then put it back into oven for a couple more minutes. I've done it BOTH ways!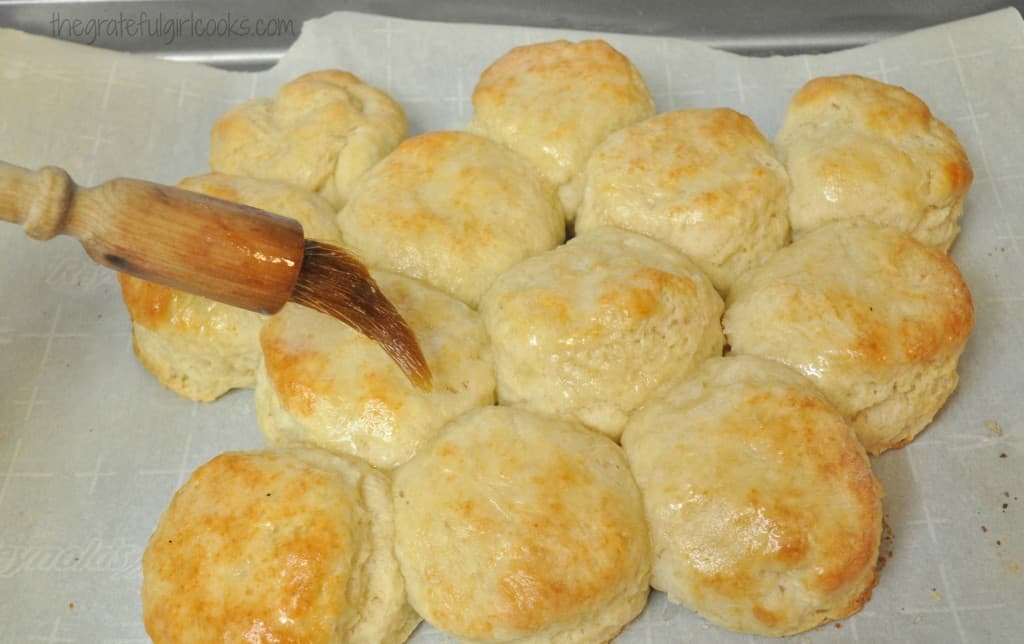 The finished biscuits should come out of the oven, with some nice height and soft layers!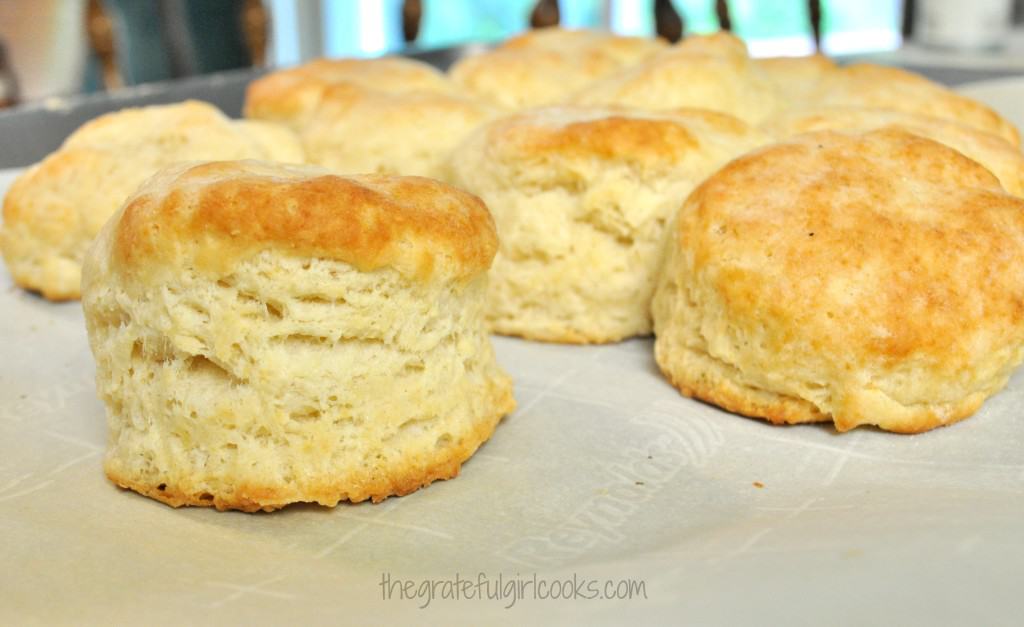 They are fantastic topped with butter and some jam (this is with some of my homemade raspberry jam!). Delicious!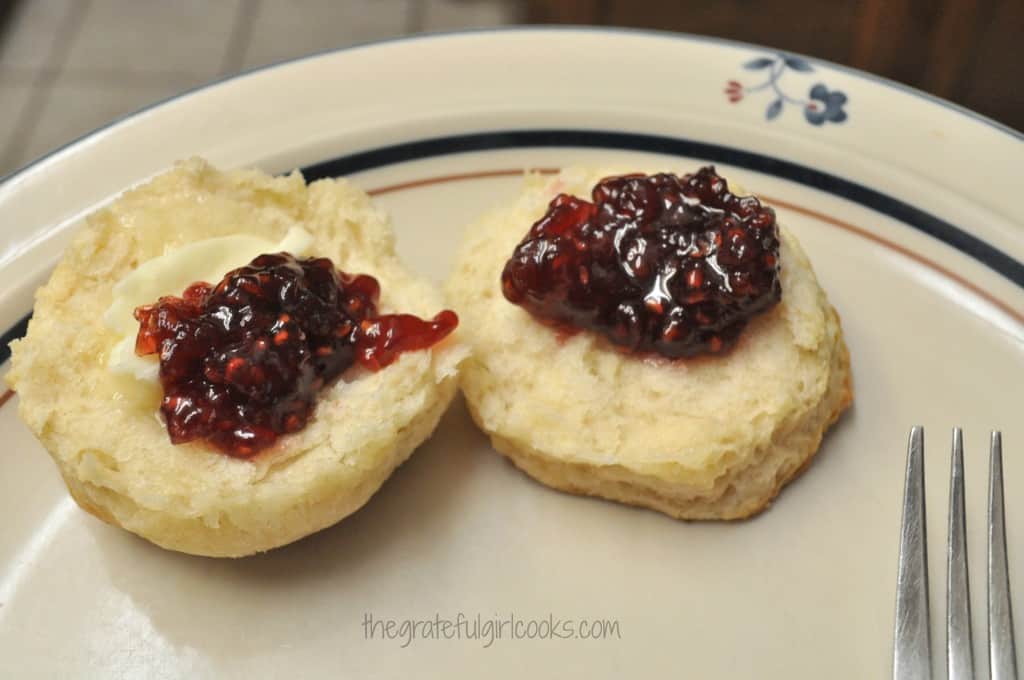 They are also fantastic smothered in thick, homemade gravy. Here's my recipe for Southern Bacon Gravy (for biscuits). Lip-smackin' GOOD!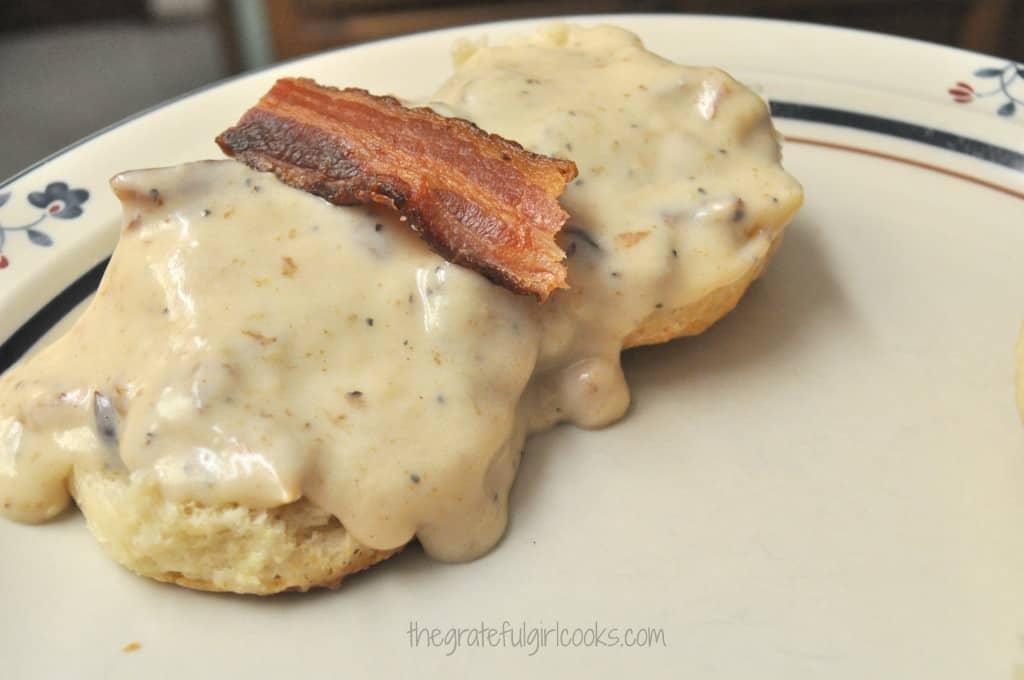 However you enjoy eating homemade biscuits (with jam, gravy or plain), I really think you will LOVE these delicious buttery biscuits!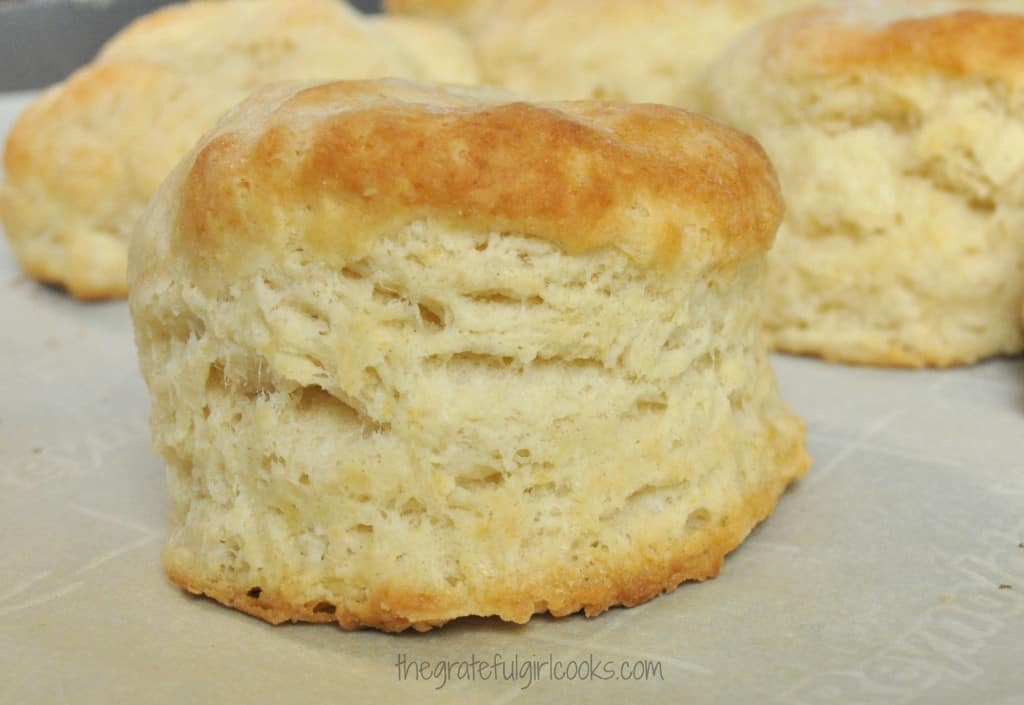 Have a great day!  I am grateful my husband and I were recently able to visit Victoria, BC for a weekend getaway (for my birthday). It was good to have an adventure together, see new sights, enjoy great food, each other's company, etc., but it was sure good to come back to our home sweet home in the beautiful Pacific Northwest! For all of those blessings, I am thankful.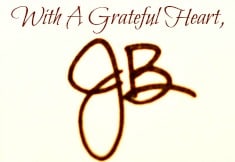 Recipe Source: http://www.thechunkychef.com/buttermilk-biscuits-and-sausage-gravy/

Southern Buttermilk Biscuits
Classic Southern-style buttermilk biscuits... big and tall, big and soft, and big on flavor!.
As Prepared By:
JB at The Grateful Girl Cooks!
Ingredients
6 Tablespoons butter (frozen-put in freezer 15-20 minutes before using)
2 cups all purpose flour
1 Tablespoon granulated sugar
1 Tablespoon baking powder
¼ teaspoon baking soda
1 teaspoon salt
1 cup buttermilk (cold)
**2 Tablespoons melted butter (for brushing on tops of baked biscuits)
Directions
Put butter into freezer for about 20 minutes before beginning! Preheat oven to 450 degrees.
Sift together flour, sugar, baking powder, baking soda, and salt in a large bowl. Grate frozen butter into the bowl. Using a pastry blender (or two forks), cut the butter into the dry ingredients until the mixture becomes coarse crumbs (with butter about the size of small peas).
Create a "well" in the middle of the crumbs. Add buttermilk. Mix the ingredients together until combined, and you have a slightly sticky soft dough.
Turn the dough out onto a floured work surface. Flour your hands and shape dough into a rectangle. Gently fold the dough onto itself 6 times. End to end, rotating between folds. Once done, you should have a rather tall square piece of dough. Pat this down until dough is between 1 and 1½ inches thick.
Cut biscuits out of dough (using a 2½ inch biscuit cutter OR you can use a half pint canning jar (like I did). Try not to twist the dough as you make the cuts. If you have leftover dough, you can combine them and cut some more biscuits (but only do this once or twice or the dough will flatten).
Place cut biscuit dough onto parchment paper-lined baking sheet. Place them very close together, so that they are ALMOST touching.
Bake biscuits in preheated 450 degree oven for 12-15 minutes, or until they are golden brown on top.
Brush the finished biscuits with melted butter right when you take them out of oven OR take them out right before they are finished, brush them with melted butter and pop them back in oven for last couple minutes. (I've done BOTH).
Serve, and ENJOY!
Notes

* When freezing butter... I cut the amount needed, froze the cube, then grated it while frozen. You can also cut the butter into small chunks, put the pieces on a plate, then freeze. You can mix the dry ingredients and frozen butter in a food processor, then transfer to a bowl, but I found it just as easy (and less cleanup) to do it all in a bowl, from start to finish!


Here's one more to pin on your Pinterest boards!

Save
Save
Save
Save