Have you ever heard the phrase "it's like trying to nail Jello to the wall"? Well, trying to get a good photo of a fantastic tasting Strawberry-Pineapple Jello Salad proved to be a huge challenge. I wanted to share this recipe with you in spite of that, so you need to know this jello salad tastes good, in spite of the photos. OK? OK. Now I can rest easier. Whew.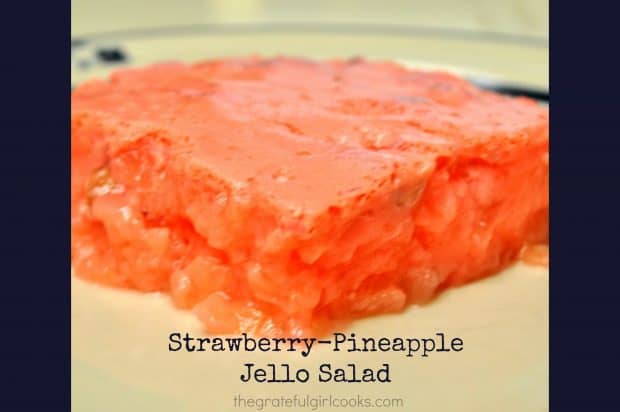 This salad is super easy to make, and it really is full of flavor! The salad contains crushed pineapple, pecans, cream cheese and the secret ingredient… wait for it… 7-Up! This salad is perfect for a meal to feed a good crowd of people, as it makes approximately 16 servings! I have posted the pictures and recipe for strawberry flavored, but many times I have substituted lime jello for the strawberry (everything else stays the same) and it is equally wonderful!
Here's what you do:  Dissolve jello powder in 2 cups of boiling water (use the drained pineapple juice as part of this liquid).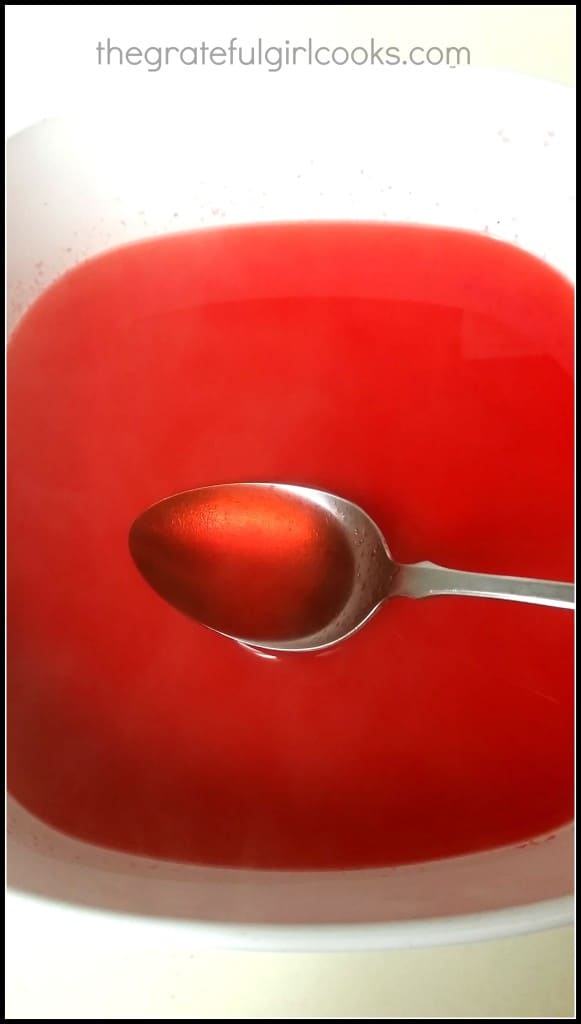 Once mixture is dissolved, put the liquid in a blender with the cream cheese. Blend well until jello and cream cheese is completely combined.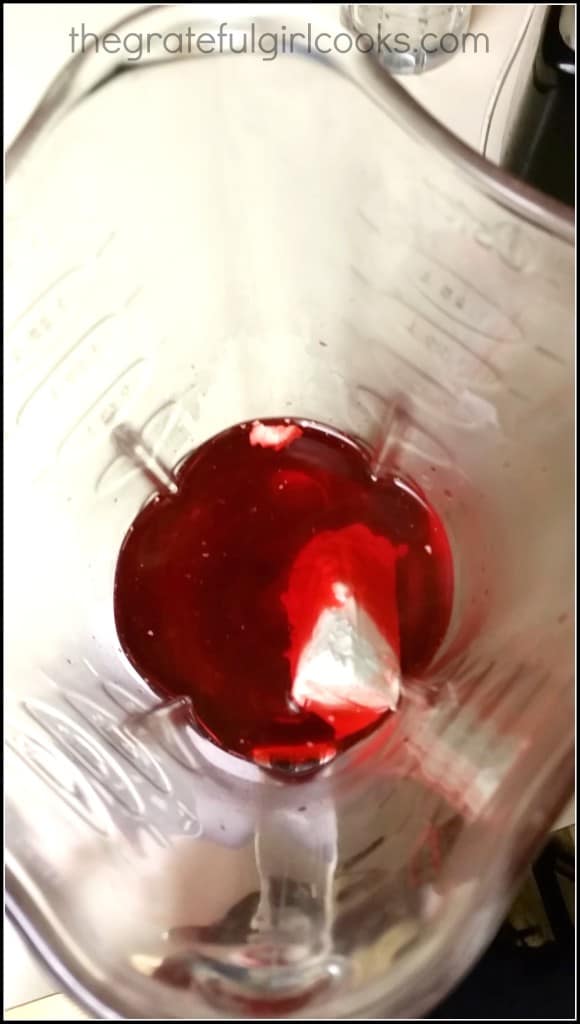 Once blended, the jello will look like this…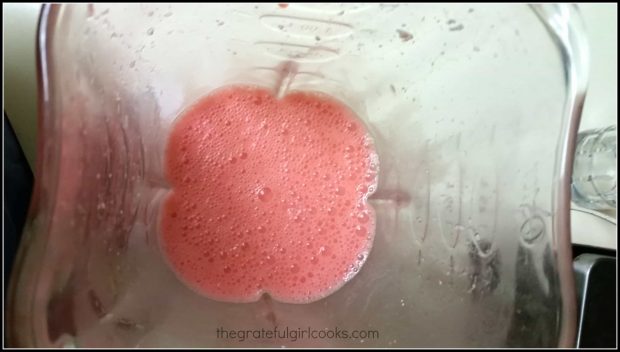 Pour this mixture into large serving dish (13×9 works well). Add 1 can of 7-Up, and mix in.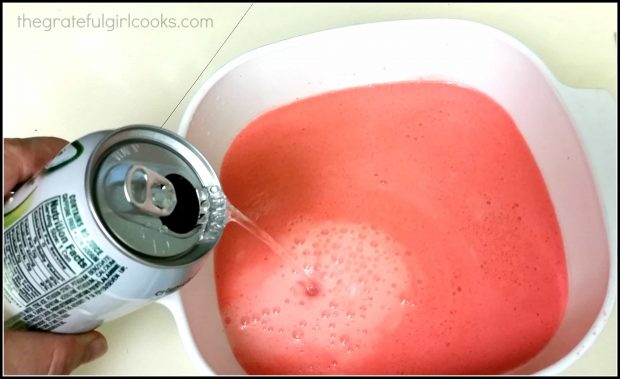 After mixing the 7-Up in, the mixture will be foamy and will look like this…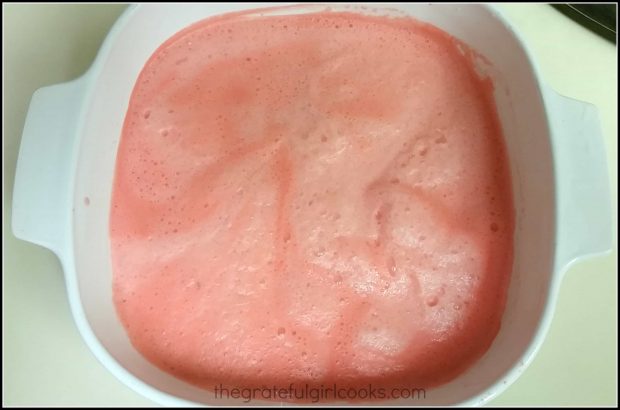 Cover the jello with plastic wrap and put into refrigerator. When the jello has thickened slightly (after about 45 minutes or so…), add the crushed pineapple and chopped pecans (or walnuts). Stir until combined, re-cover with plastic wrap and let refrigerate until completely set (several hours is best!).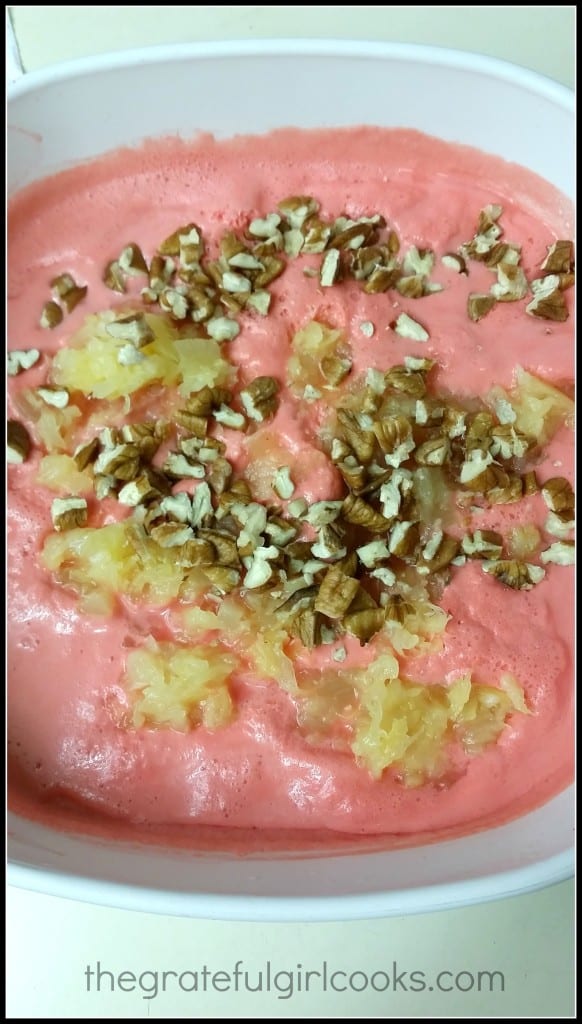 Once firm and fully set, serve the jello salad, by cutting it into serving-sized pieces. Remove pieces with a spatula… and enjoy!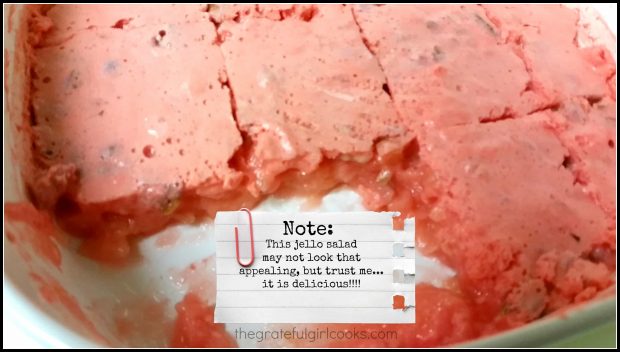 This salad has been served alongside lots of holiday meals, especially at Thanksgiving time! It may not be the "prettiest" jello salad you've ever laid eyes on, but it sure is delicious!  Hope you will give it a try!
This is also fantastic as a LIME PINEAPPLE JELLO SALAD (substitute lime jello for strawberry) YUM! Here is a photo of that salad (a half recipe!)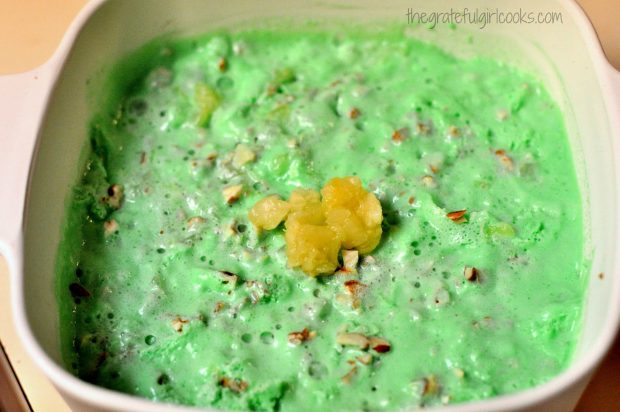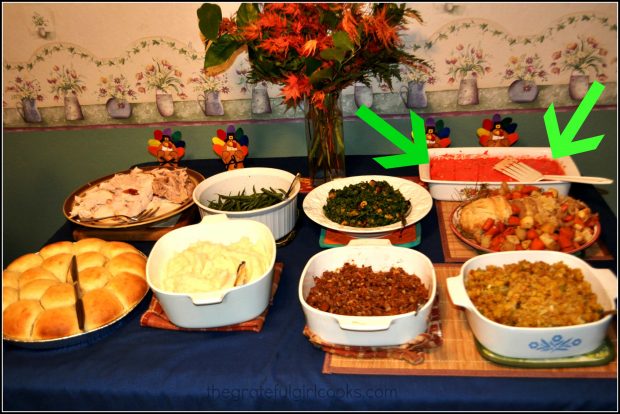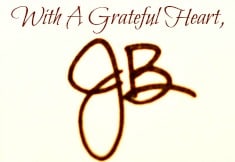 Original recipe source: unknown (been making this for over 30 years…)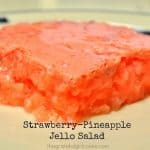 Strawberry-Pineapple Jello Salad
A delicious & easy to prepare, Strawberry-Pineapple Jello Salad, enhanced with pecans, cream cheese and a secret ingredient, 7-Up!
Category:
Salad, Salad/Side Dish
Calories Per Serving
:
69
kcal
Ingredients
1

large box Strawberry Jello

(can also substitute Lime)

1- 3

ounce

package cream cheese

1

can crushed pineapple

(approx.10-12 oz can), drained, BUT RESERVE JUICE!)

1/2

cup

chopped pecans

(or walnuts)

1

can 7-Up
Instructions
Dissolve jello in 2 cups boiling water **(use reserved pineapple juice as part of the 2 cups liquid).

Put jello in blender with cream cheese. Blend until completely combined.

Pour jello mixture into serving dish. Add can of 7-Up. Stir until combined. Mixture will be foamy. Cover dish with plastic wrap, then refrigerate until slightly thickened (about 45 minutes or so).

When jello is slightly thickened, stir in the crushed pineapple and chopped nuts. Stir to combine and distribute throughout jello. Cover with plastic wrap and refrigerate until completely set and firm (several hours).

When ready to serve, slice into serving pieces with a knife, then use a spatula to remove portions. Enjoy!
Recipe Notes
This salad does not take very long to prepare at all. Most of the prep time is INACTIVE time... "hurry up and wait for jello to firm up" kind of time!
Try this with lime jello... it's fantastic, also!
Nutrition Facts
Strawberry-Pineapple Jello Salad
Amount Per Serving (1 serving)
Calories 69
Calories from Fat 36
% Daily Value*
Total Fat 4g 6%
Cholesterol 7mg 2%
Sodium 25mg 1%
Potassium 50mg 1%
Total Carbohydrates 6g 2%
* Percent Daily Values are based on a 2000 calorie diet.
Save
Save
Save