There are a lot of fantastic Summer veggies coming into season right now. This Summer Vegetable Tian is a GREAT way to simply & creatively serve fresh veggies to those you love!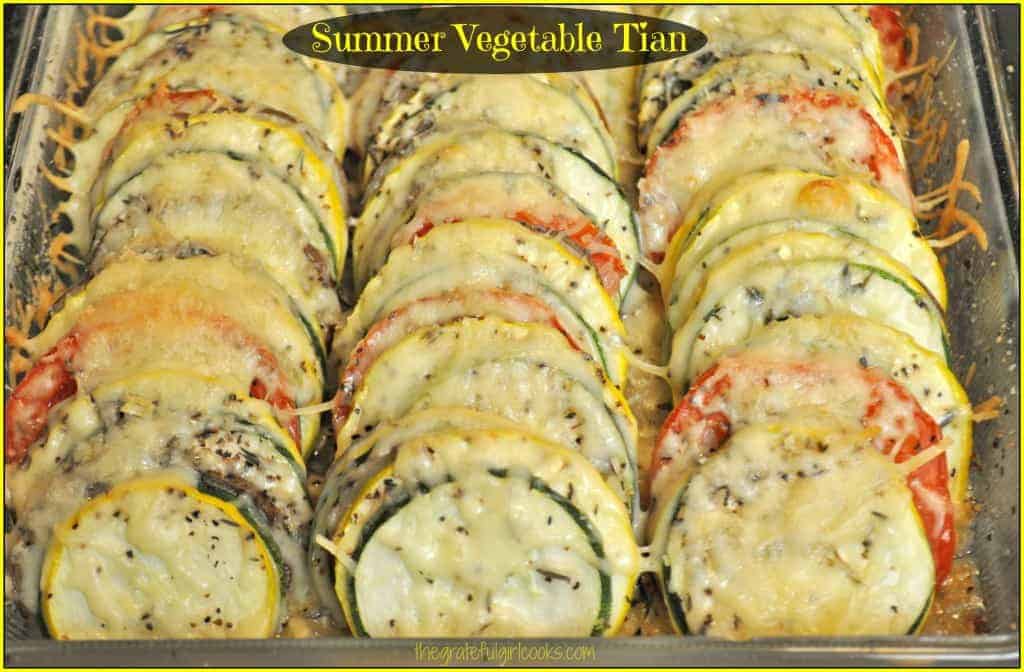 The recipe serves 6, and is very inexpensive to make (especially if you have a backyard garden like me, and are bursting with harvested zucchini, onions, yellow squash and tomatoes about this time of year)!  If you have ONE onion, ONE zucchini, ONE yellow squash, ONE potato, and ONE tomato, then you have almost everything you will need to make this great side dish!
Here's how you make this beautiful, delicious dish:  Start by sautéing the diced onions and minced garlic in olive oil for a few minutes. Note: I added garlic during the last minute of cooking, so it wouldn't burn or become bitter.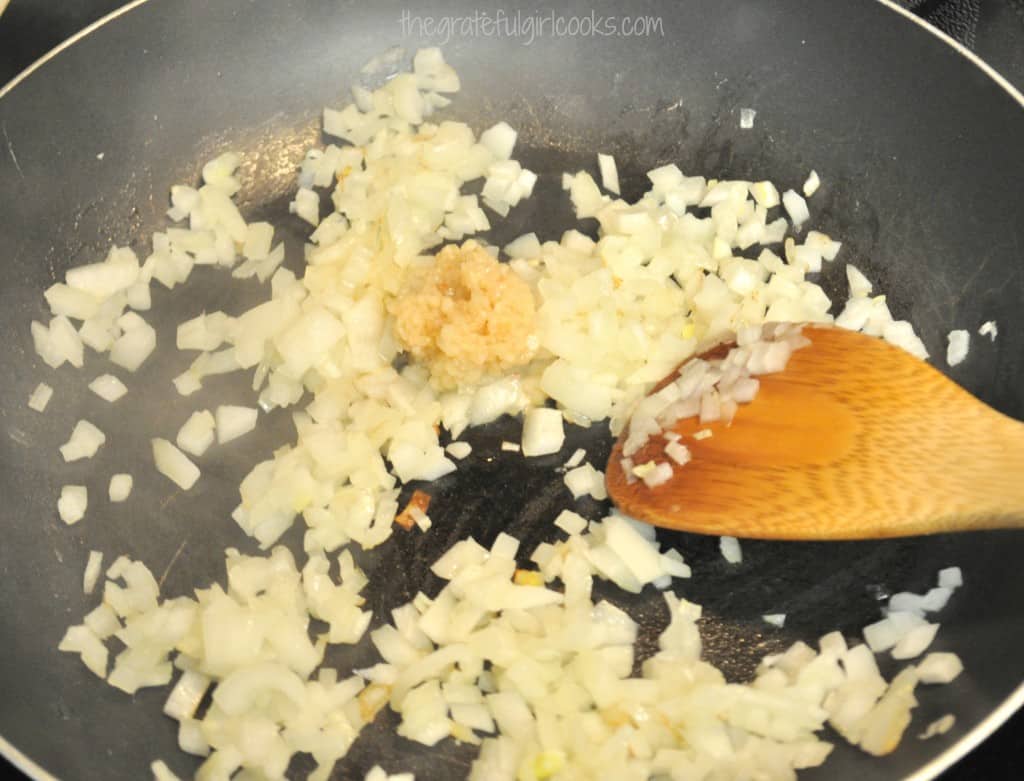 Spread softened butter on the bottom and sides of a baking dish (again… playing with your food).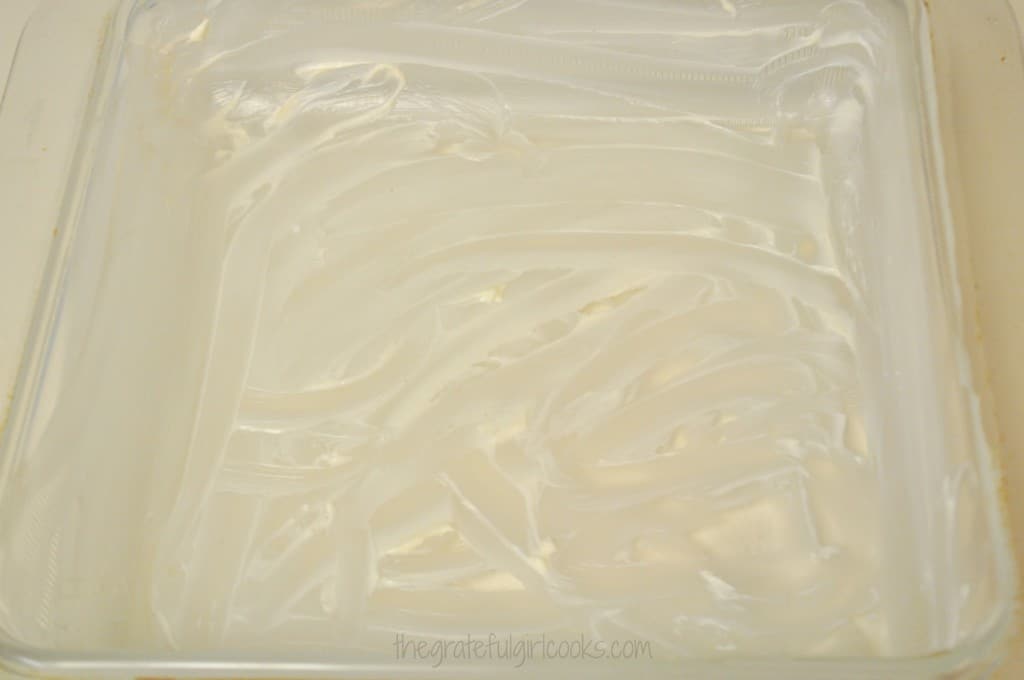 Spread the cooked onions and garlic on the bottom of the dish.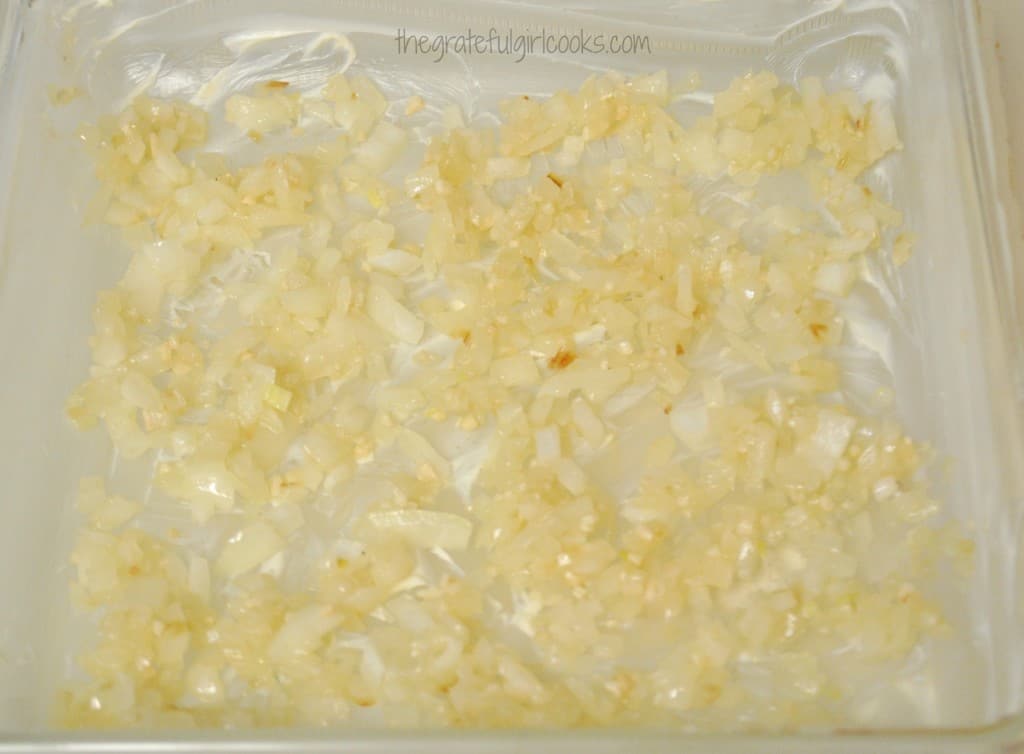 Alternating veggies, stack the sliced vegetables in the dish vertically until dish is filled. (You will notice there won't be as many tomato slices as everything else- no worries, just add them in.  Have fun playing with your food!  Season the veggies generously with salt and pepper, then add dried thyme.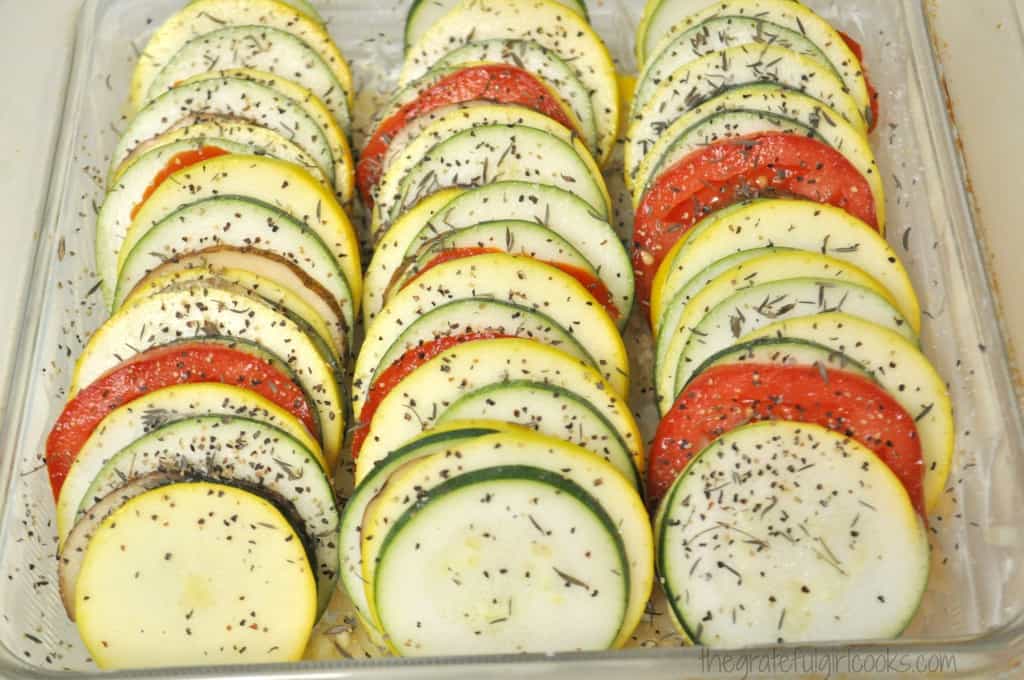 Cover the baking dish with aluminum foil, and place the pan in a preheated 400 degree oven. Bake veggies for 30 minutes, then take the foil off the dish, cover the top of the veggies with the shredded Parmesan cheese, then continue baking for another 15-20 minutes. This is what they looked like when I removed the foil. (oops-forgot to take a picture after adding shredded cheese to the top after this!)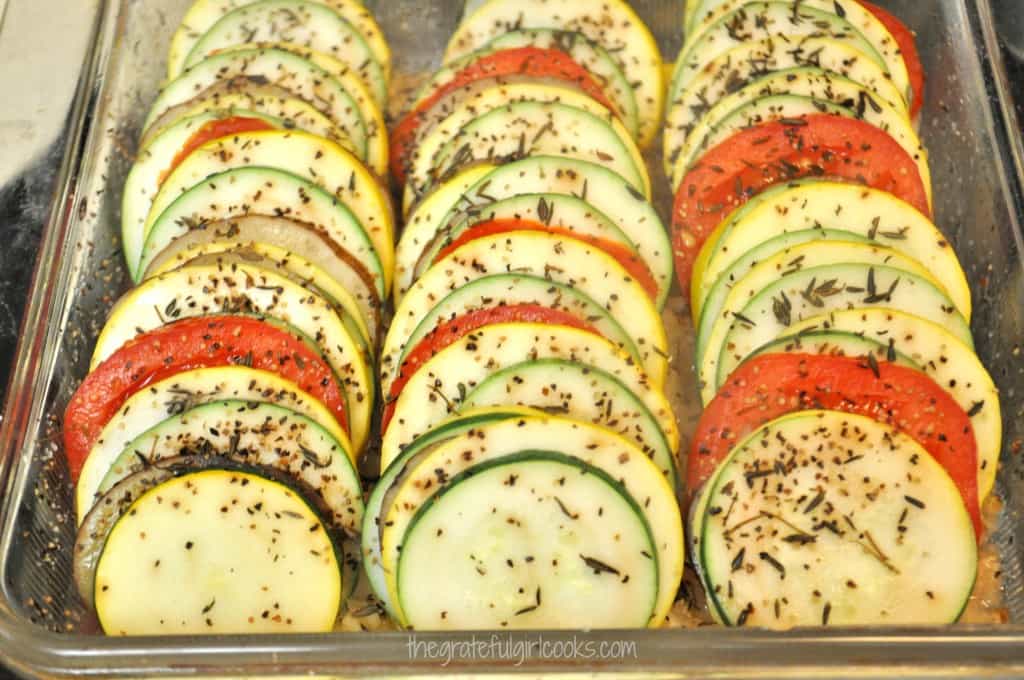 When done, the Parmesan cheese will be melted and light brown in color, and the veggies will be cooked through.  Remove baking dish from oven, and serve while hot!  I found it easiest to remove a "serving sized section" of veggies using a spatula to keep them together in a compact, colorful line.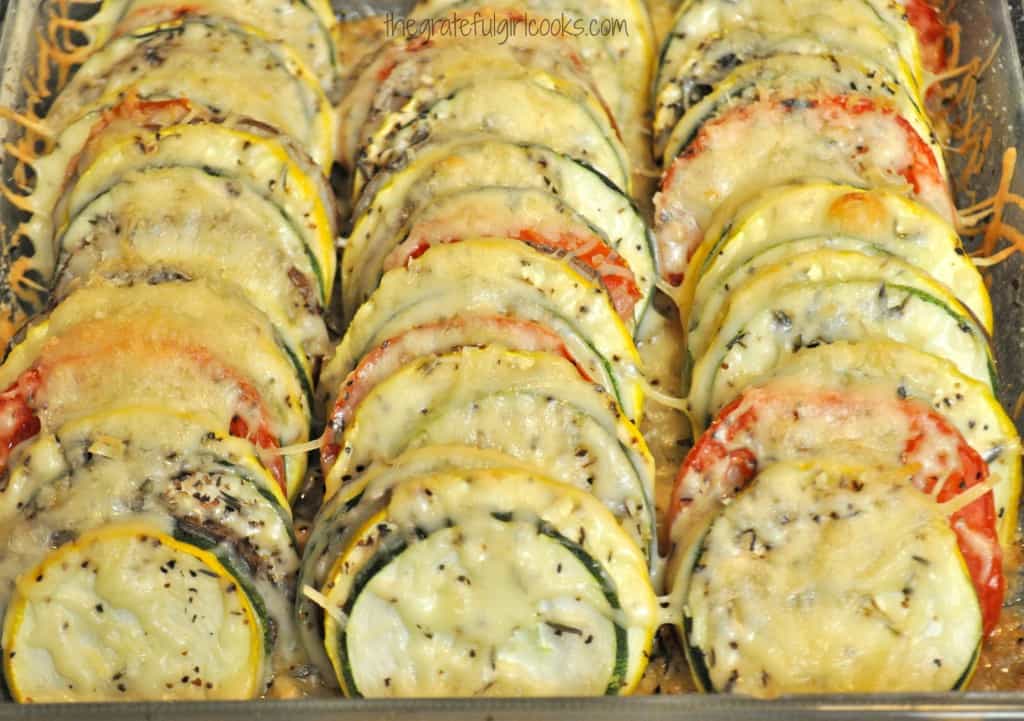 On the plate, and ready to eat! I served this vegetable side dish with Baked Dover Sole Rollatini, but it would be a great side dish for a variety of main courses!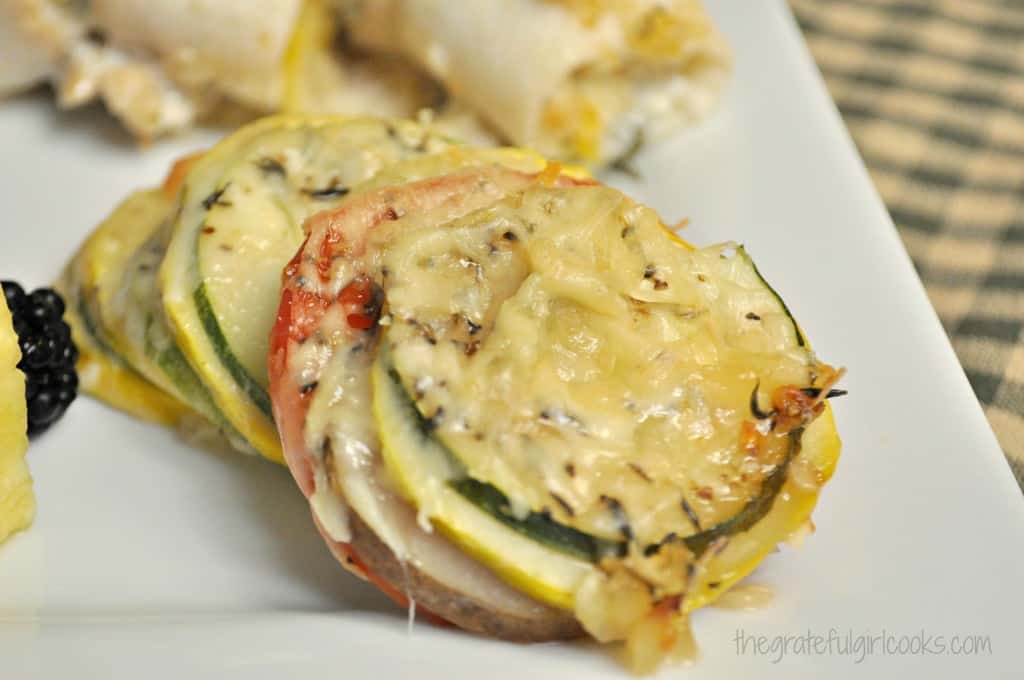 I don't think you can EVER go wrong with fresh vegetables on the table! The alternating colors displayed so beautifully made it a very appetizing looking dish. The vegetables tasted wonderful, too, so I will definitely be making this again! Have a blessed day!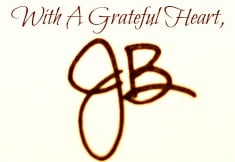 Recipe Source:  http://www.budgetbytes.com/2011/08/summer-vegetable-tian/

Save