If you are looking for a delicious appetizer for your next party (or just want a unique snack), you should give these Tex-Mex Party Nuts a try! Slightly sweet, slightly spicy and totally addicting, they will be a big hit… AND they are totally EASY to prepare!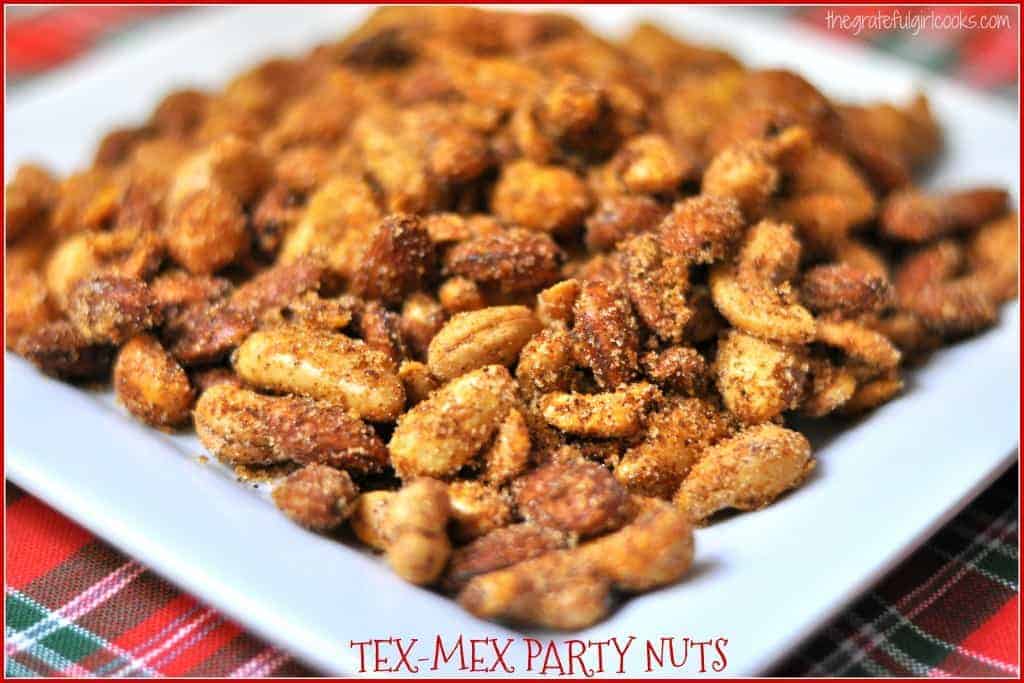 I found the recipe in a cookbook a friend of mine gave me several years ago for Christmas, and was anxious to try it. I waited until my husband bought an "industrial strength size" jar of mixed nuts at Costco, then smuggled enough out of the jar to make this recipe. Wow… am I glad I did! These roasted mixed nuts are amazing, and the best part is… they are easy to make with a few simple household spices, and only take a few minutes to make! Here's how:
Measure the mixed nuts into a large bowl. Add melted butter, and stir until the nuts are coated.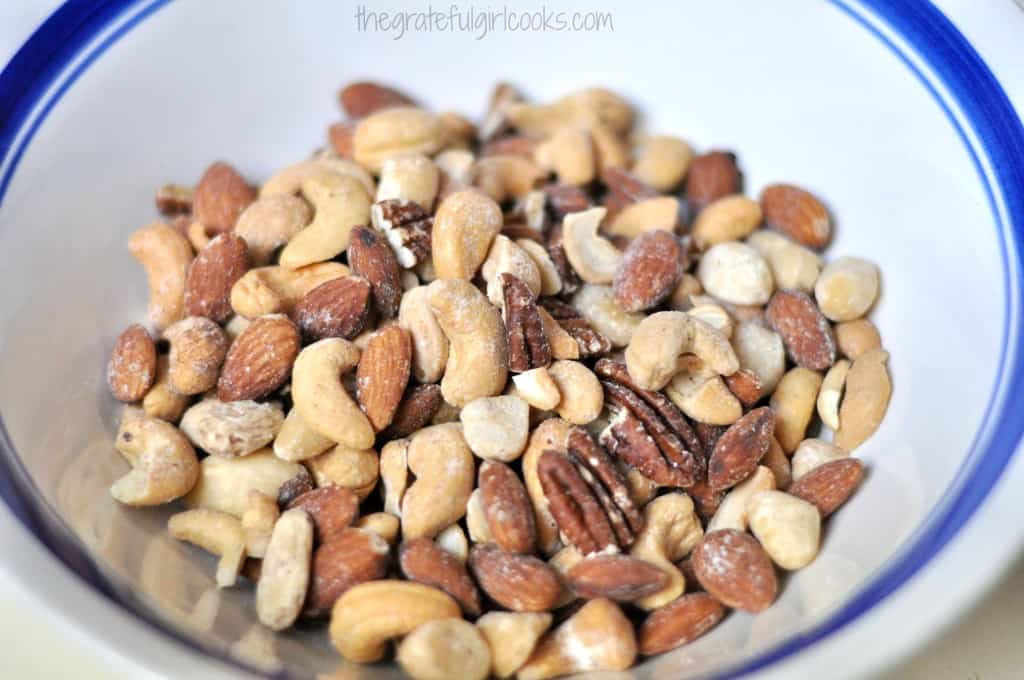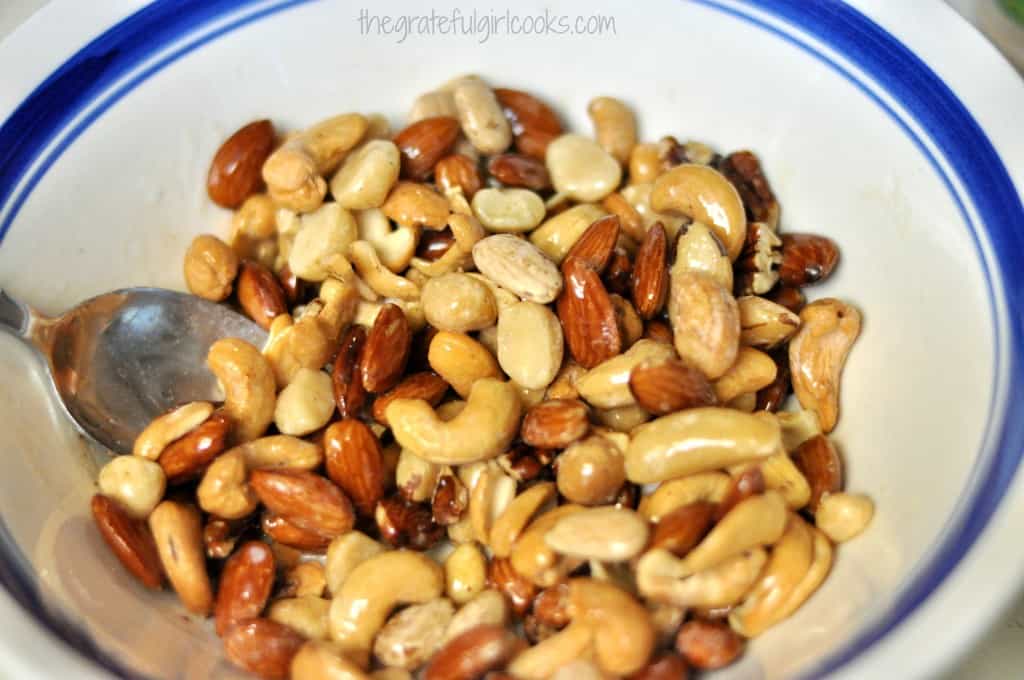 In a separate small bowl, mix together the spices EXCEPT for the granulated sugar (save that for later!). Sprinkle the spice mix over the mixed nuts, and stir to fully coat.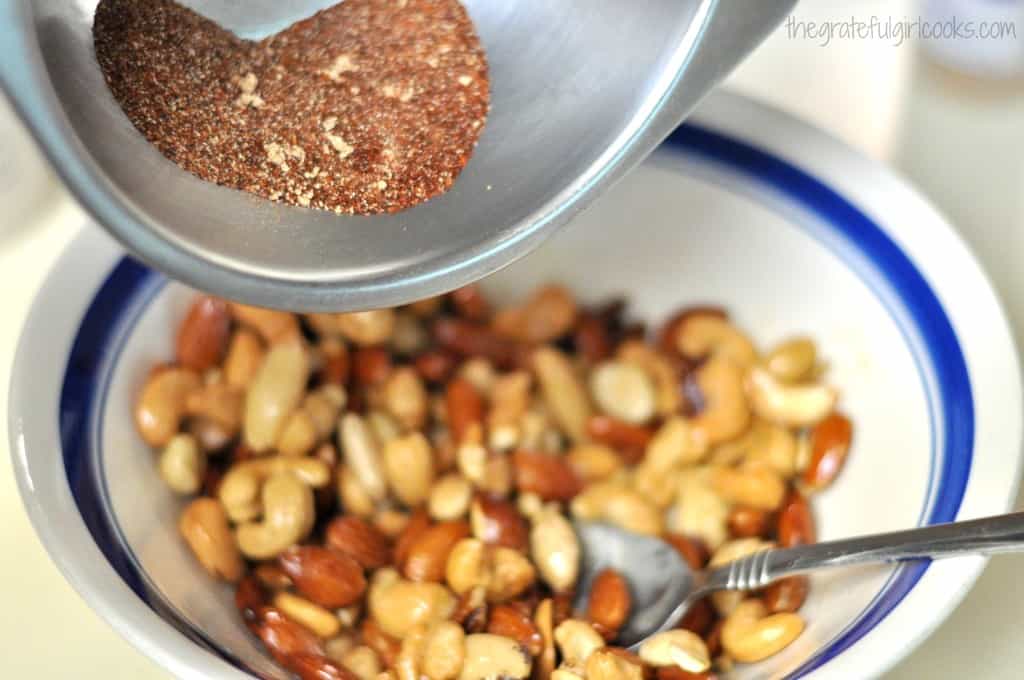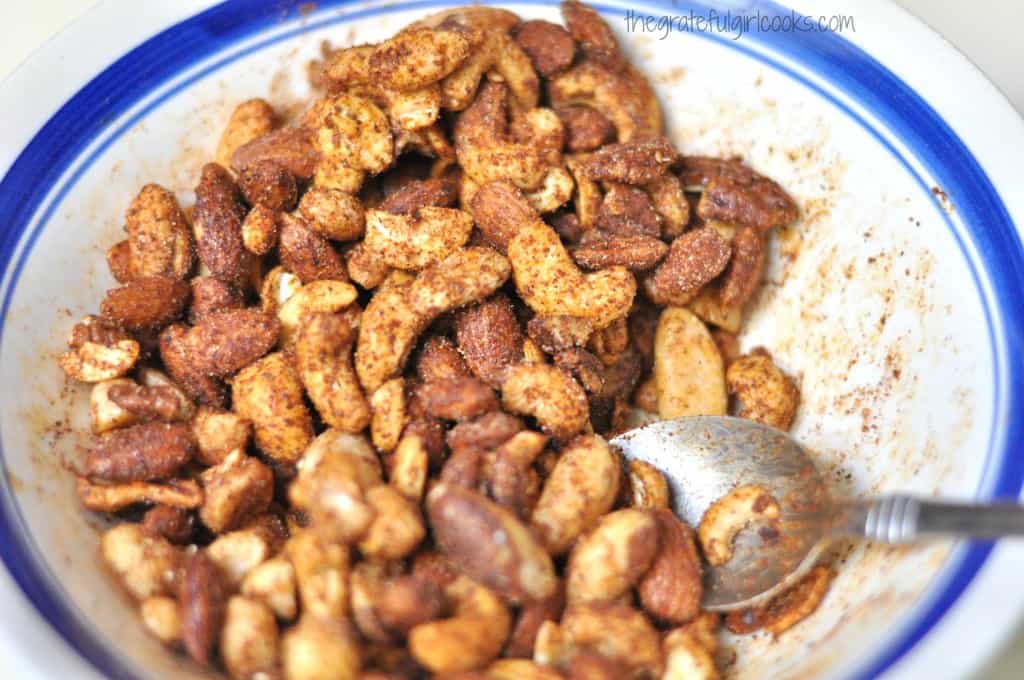 Spread the spiced nuts onto a 15 x10 x 1 inch baking pan. Spread them out in a single layer. Bake the nuts, uncovered, in a 300 degree oven for 10 minutes. When done, immediately pour the hot spiced nuts into a medium bowl.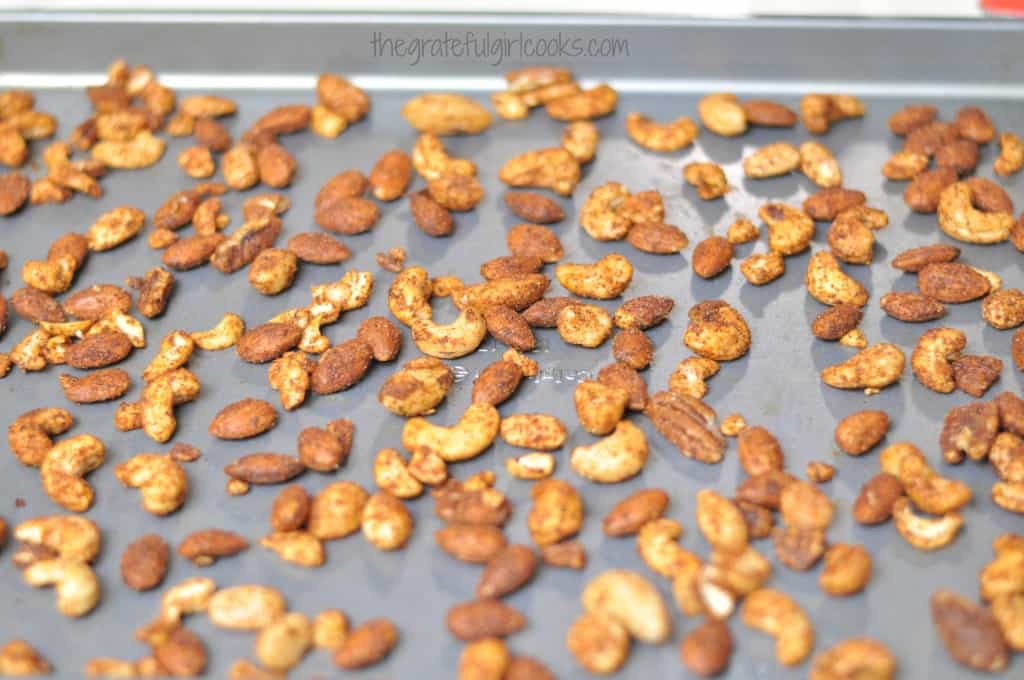 Sprinkle the nuts with granulated sugar while they are still HOT from the oven. Stir to fully coat.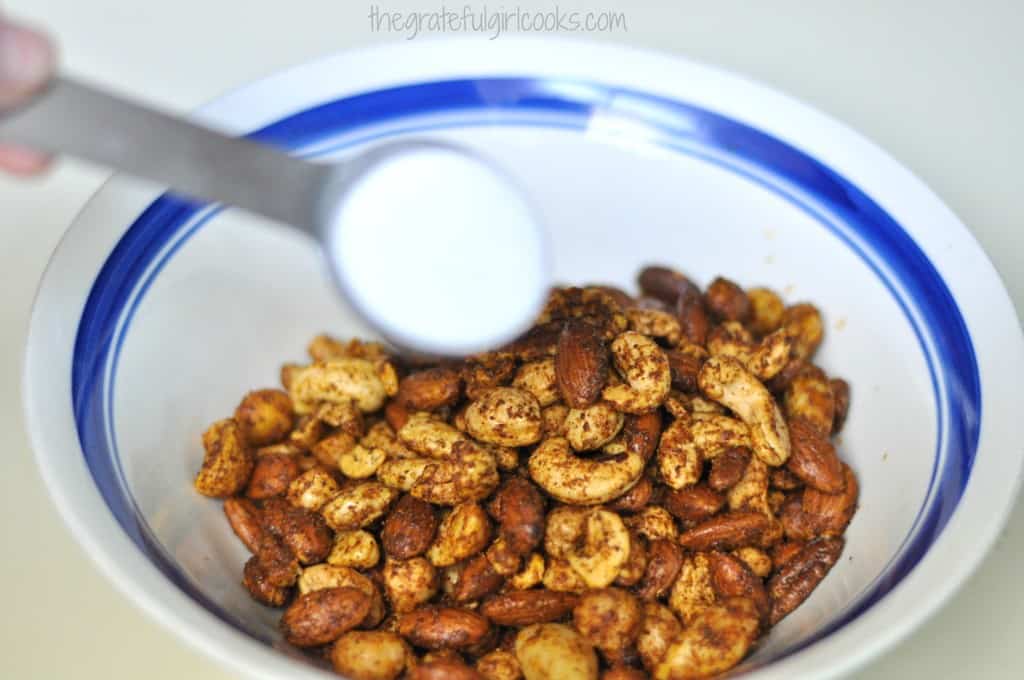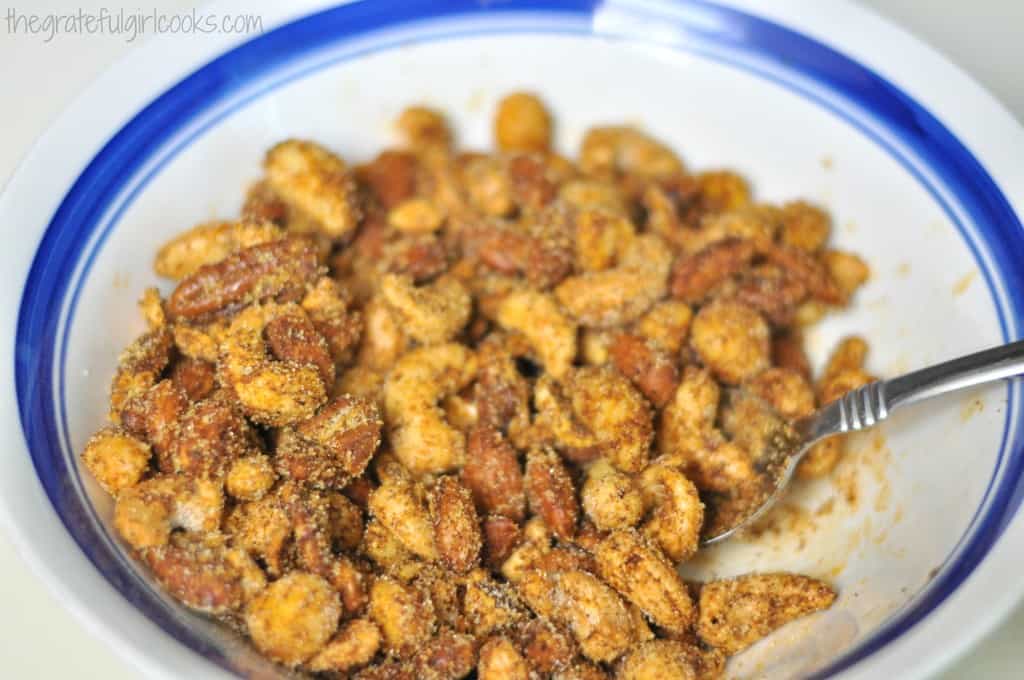 Let the nuts cool completely, then serve on a pretty plate or in a serving bowl.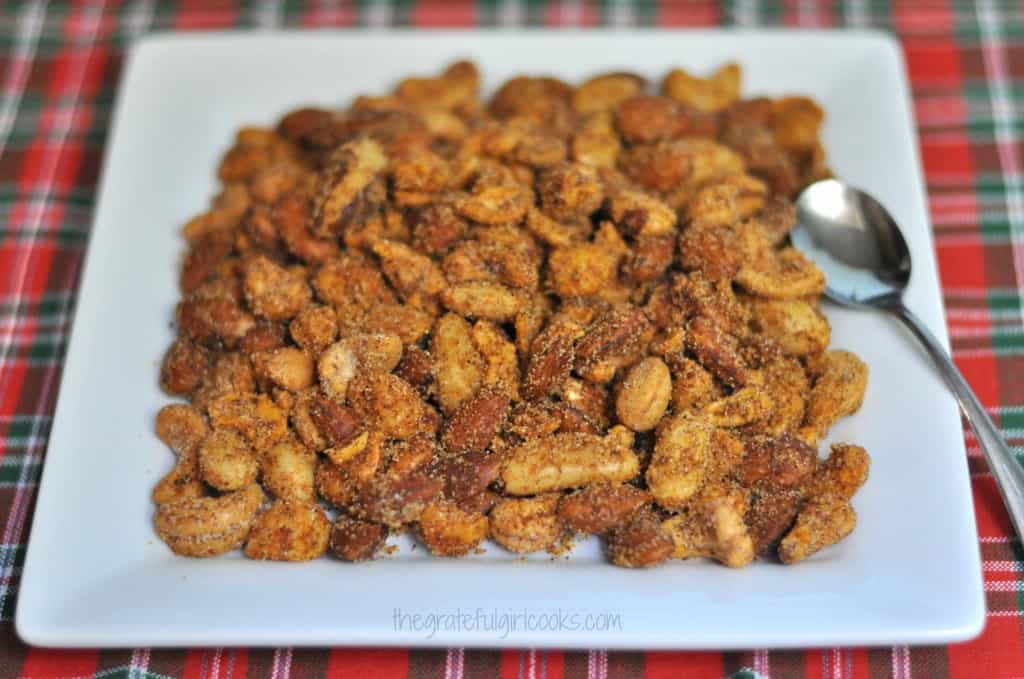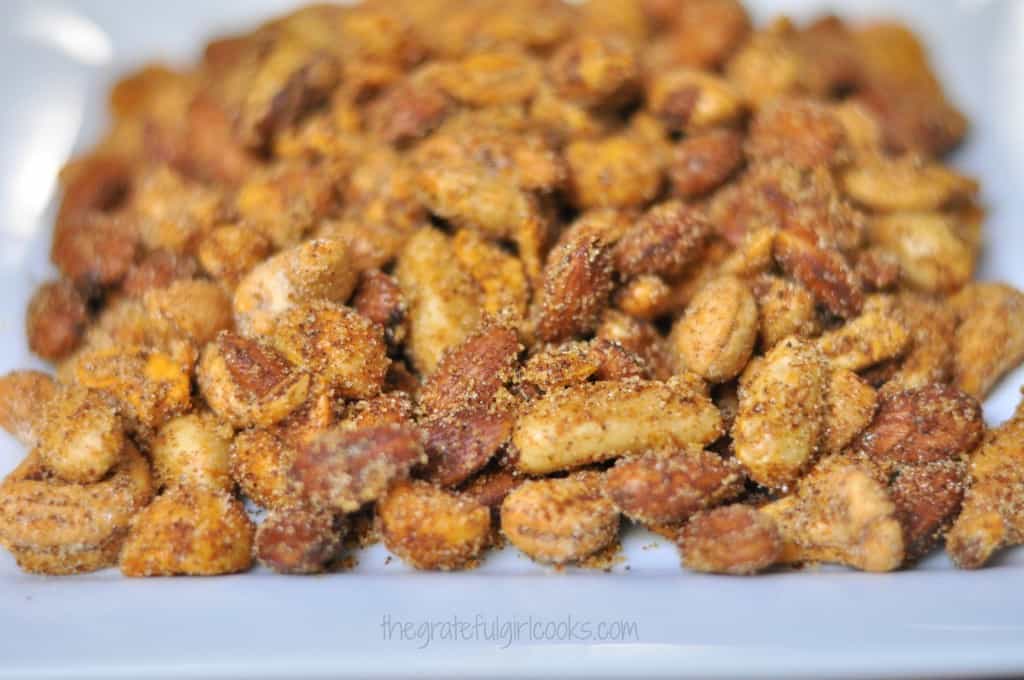 The Tex-Mex Party Nuts also make a lovely gift during the holidays. Simply place the nuts into a canning jar, then decorate, and enjoy giving them as a gift to a friend!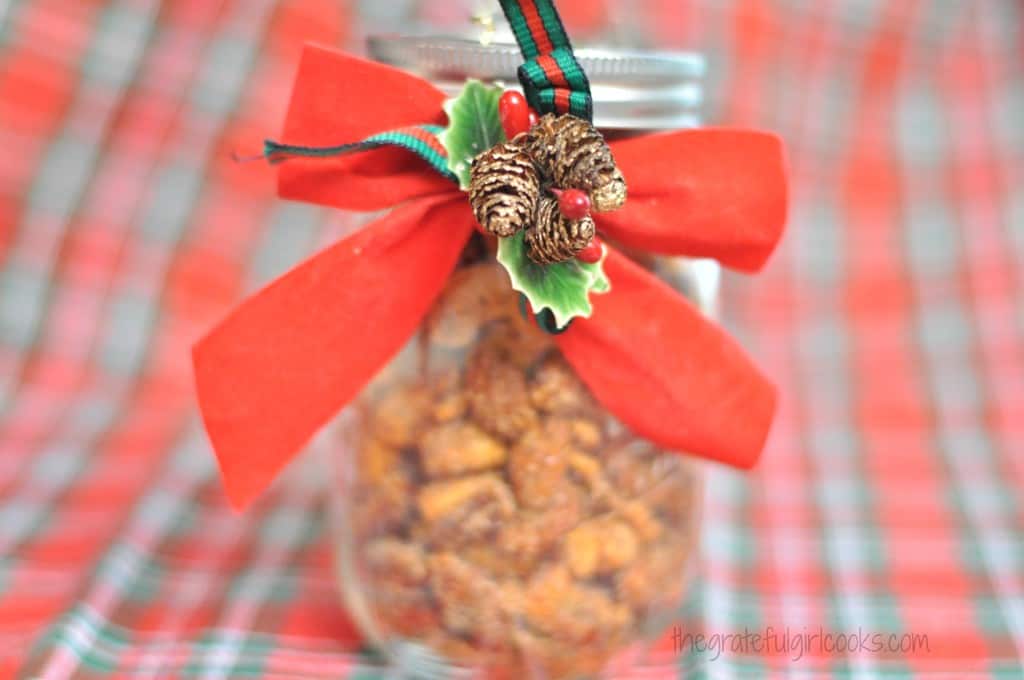 The first time I made them I was afraid (before trying them) that they might be TOO spicy, but was pleasantly surprised to find out they absolutely were NOT!  Perfect combo of slightly sweet/slightly spicy ingredients! The nuts will keep for up to 3 weeks, if you store them in an airtight covered container at room temperature.  The recipe is EASILY doubled… or tripled.  Sure hope you will give them a try… they are quite tasty!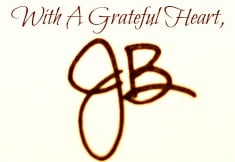 Recipe Adapted From: The cookbook titled : "Betty Crocker Christmas Cookbook", Page 272, Wiley Publishing, Inc., Copyright 2010, General Mills.

Save
Save
Save
Save
Save
Save
Save
Save
Save
Save
Save