If you or someone in your family had a great day fishing and you're looking for a new recipe to cook all that fish, why not try this recipe for Trout In Lemon Garlic Butter Sauce?!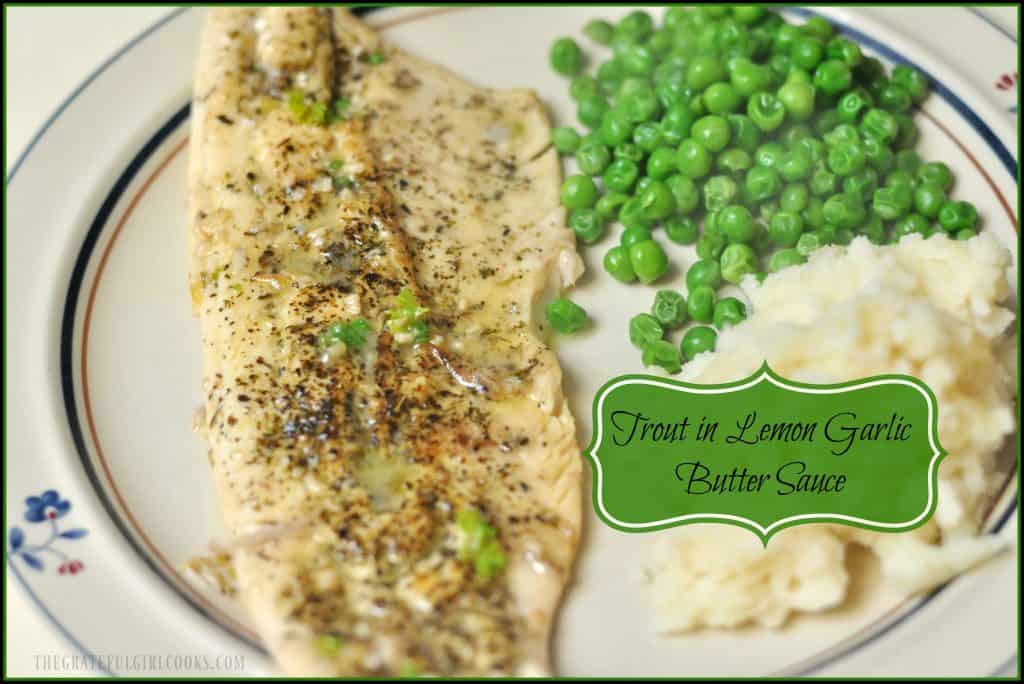 There are so many ways to cook trout. I decided to try this recipe I found on Pinterest, after my hubby bought trout at Costco. Ha Ha!  No fishing for him, except to fish through the seafood section, looking for fresh trout.  Once home, he had to fillet the fish, debone them and chop their little heads off for me— ugh. There are just some things I will NOT do.  You will need boneless trout fillets (with the skin on one side) for this recipe.
The method for preparing this recipe is simple. Here's how to make the trout:
With the skin side down, lightly season the trout with salt and Italian seasoning (only on one side).  Heat olive oil on medium heat in a LARGE skillet until hot, but not smoking.  Add the trout fillets, skin side UP to the hot oil.  Cook fish for 4-5 minutes on medium, then carefully flip the fillets over to skin side DOWN. You might need to add a little bit more oil before turning them over (you don't want them to stick to skillet).  Cook an additional 3-4 minutes.
Once fish is cooked, remove your skillet from the heat source, cover the skillet with a lid, and let trout rest for 5-10 minutes (leaving cover on).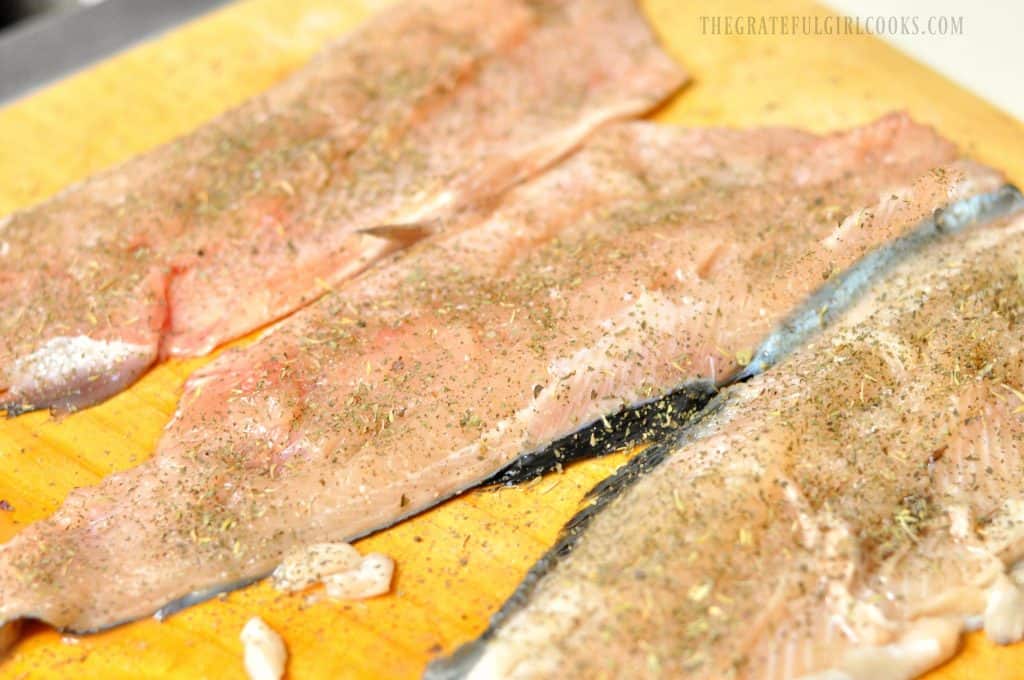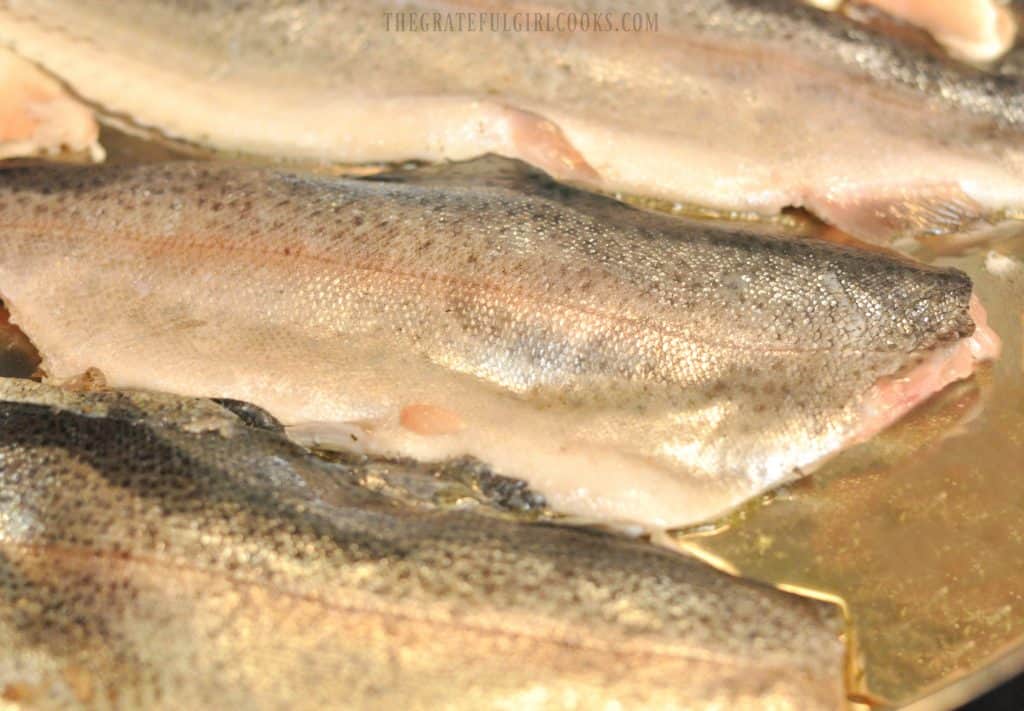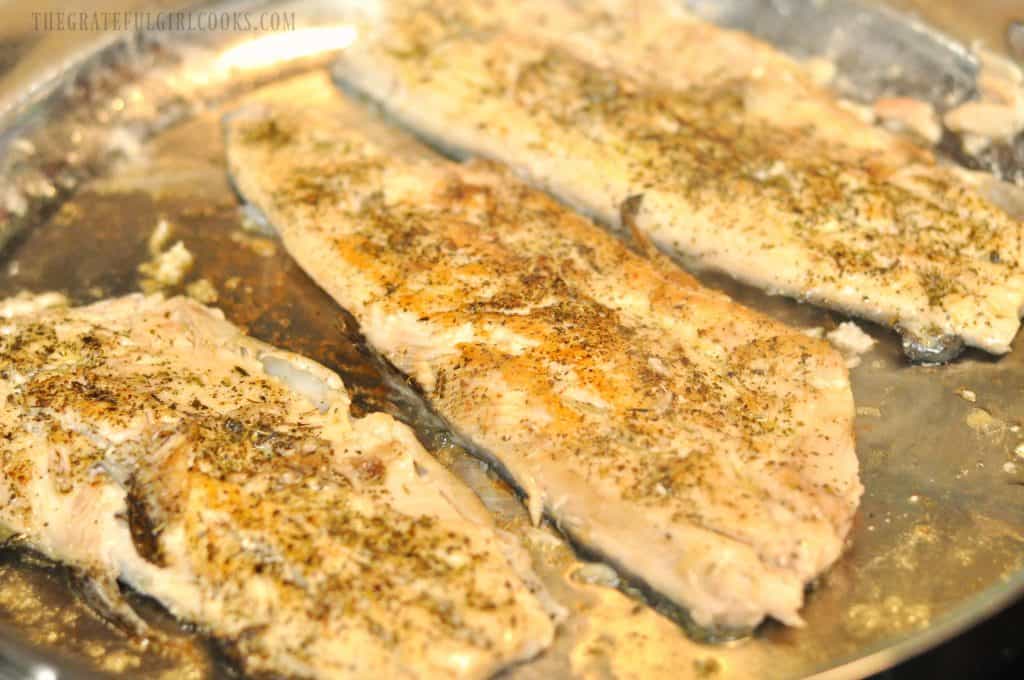 Once the fish is done resting, carefully lift up each piece of fish and remove the skin from the bottom of the fish. It should peel off nicely.  Discard skin, and carefully place fillets on a piece of foil and keep warm.  Do not clean out the skillet (you want all the little tidbits and oils left in there!)
To the oils left in the skillet, add minced garlic, fresh lemon juice and white wine. Cook this for 1 minute on medium-low heat, stirring occasionally. Turn off heat. Add butter and chopped fresh parsley. Stir to combine, and continue cooking on low until butter has melted.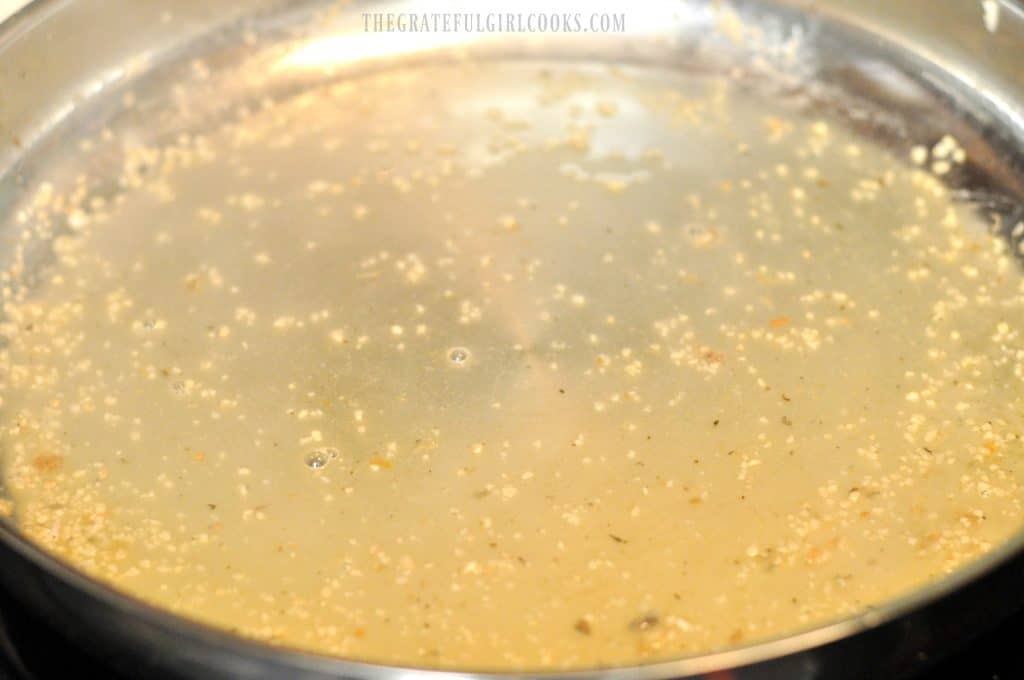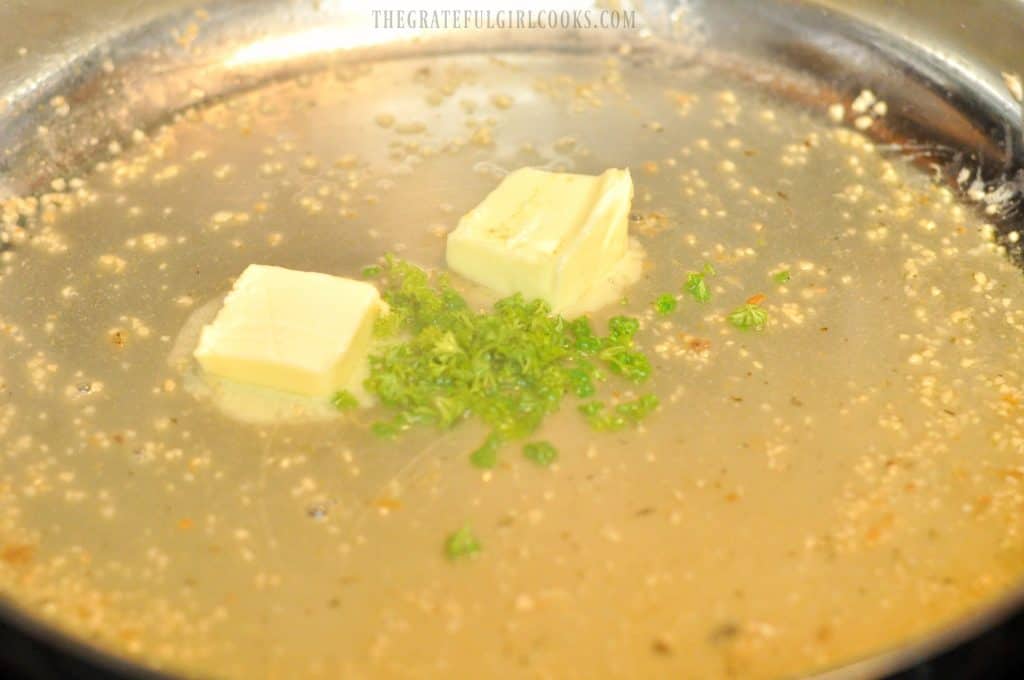 Once the butter has melted and the sauce is creamy, gently add the trout fillets back into skillet.  Spoon sauce over the top of the fish.   If necessary, reheat in skillet, until fish reaches serving temp (on low).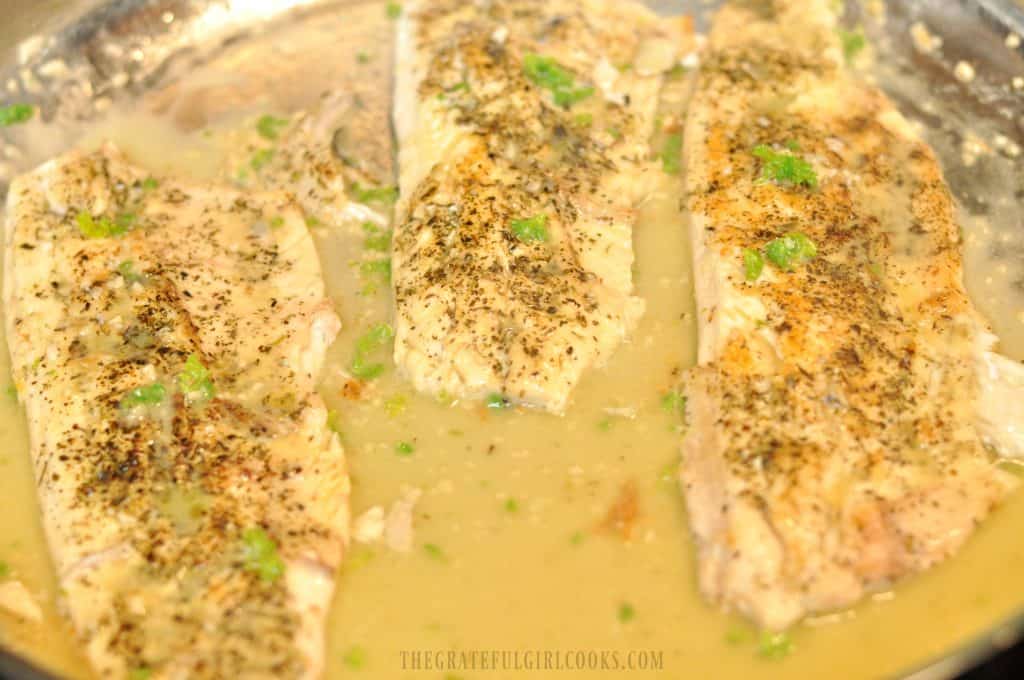 Place trout onto individual serving plates.  Spoon a bit more sauce over fish, sprinkle with remaining chopped parsley for garnish… and serve!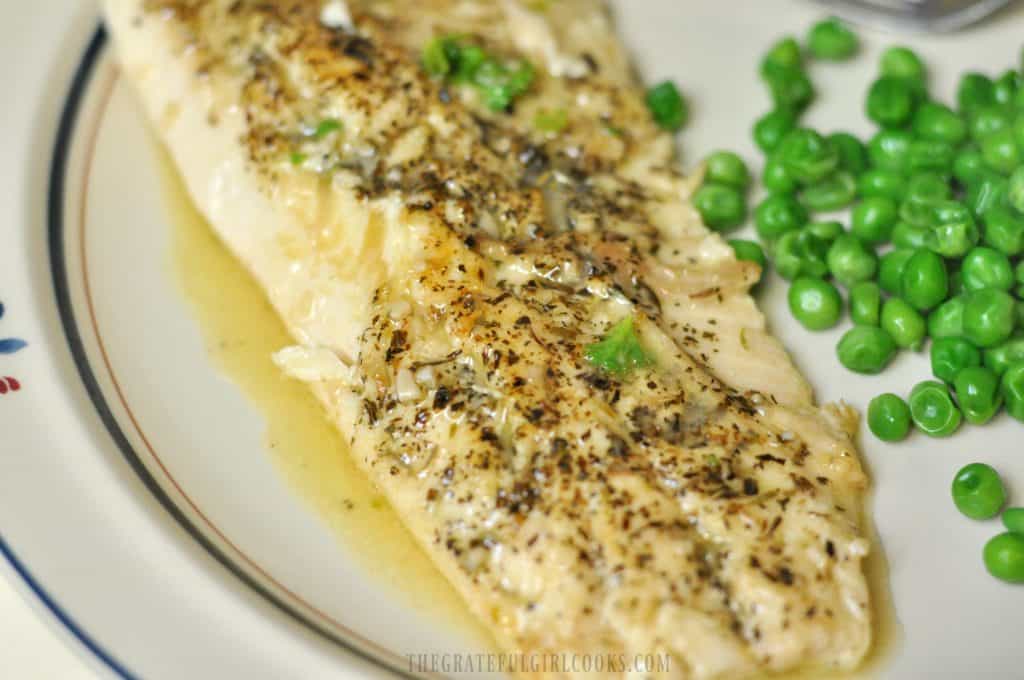 That's it!  So now, whether you are fishing some of the great lakes we have in the United States OR fishing through the seafood counter at your local grocery store, you have a new way to prepare trout!  Have a great day!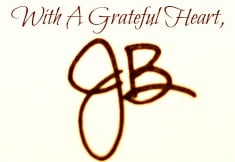 Recipe Source: http://juliasalbum.com/2015/10/trout-with-garlic-lemon-butter-herb-sauce/

Save
Save
Save
Save
Save
Save
Save
Save
Save
Save