What a mouthful…Chocolate Dream Cups with Raspberry Mousse. Bet ya can't say that ten times in a row…while stuffing these delicious bite-sized treats into your mouth!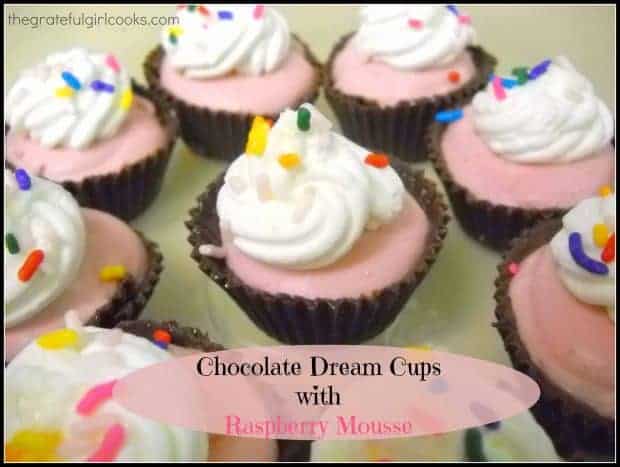 This is one of the desserts I brought to our family's Easter brunch this year, along with Spring Flower Sugar Cookies, Lemon Curd Filled Won Ton Cups, and Chocolate Chip Cheesecake-Swirl Brownie Bites (as seen in photo below). The way I figure it is, if you can just EAT the container that holds the raspberry mousse, the less dishes there will be to clean up. That works for me just fine! These cute little treats, all contained in a chocolate shell (yum) are the perfect "little yummy bites" that are always fun to take to a party or a potluck where you're the lucky person who gets to bring dessert.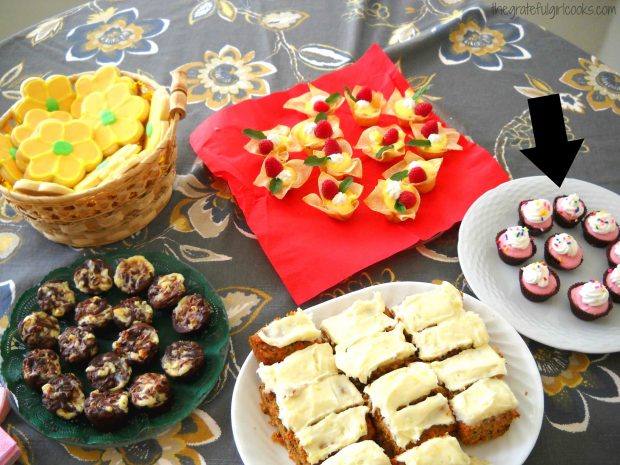 The prep work on these is where you will spend some time…getting those chocolate shells thickened enough to hold the mousse at times can seem daunting, but fear not… it CAN be done, and the results are worth it!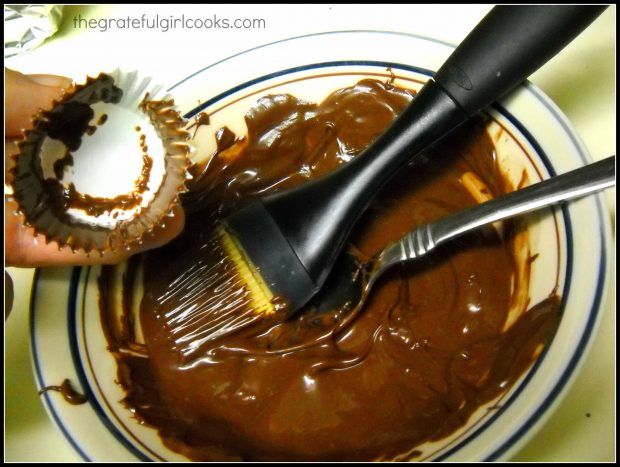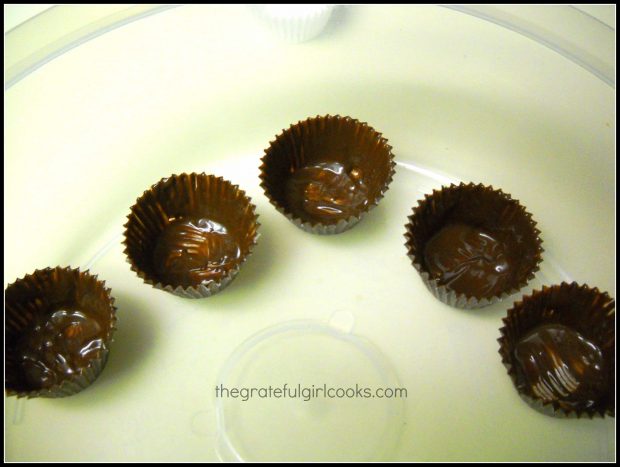 Here's a picture (above) of the "shells" coated with chocolate after the first coating. You will need to do 2-3 coats of chocolate to ensure the chocolate shell will be thick enough to hold the mousse without breaking!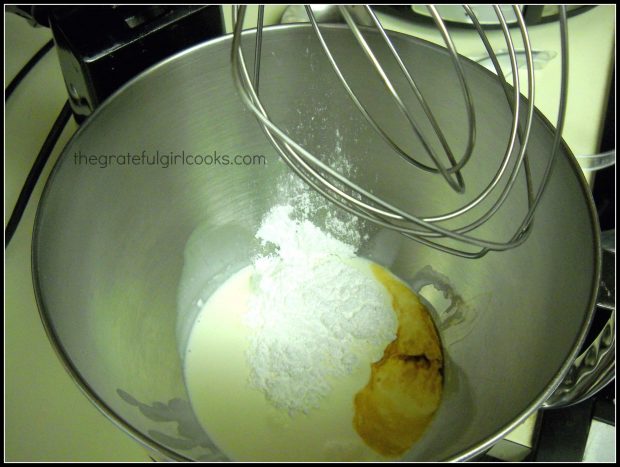 Making the raspberry mousse is really easy…trust me!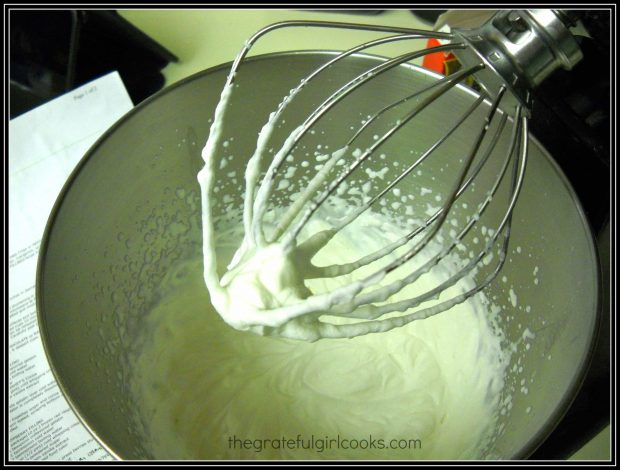 It looks so pretty when you add the raspberry puree into the mousse filling!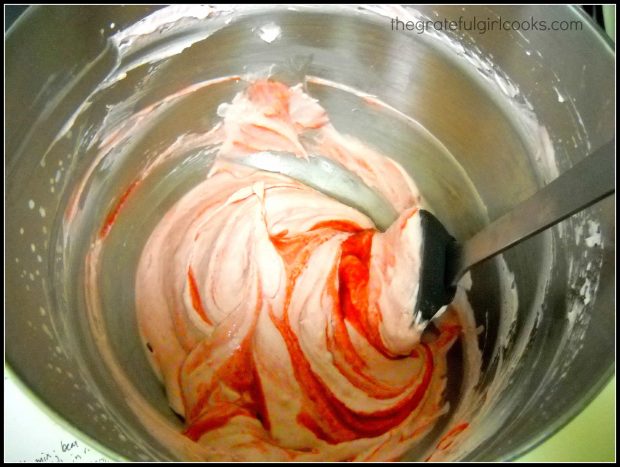 Now it's time to fill these little darlings! See how tiny, but CUTE they are (especially when compared to my ginormous, not so pretty fingers)!!!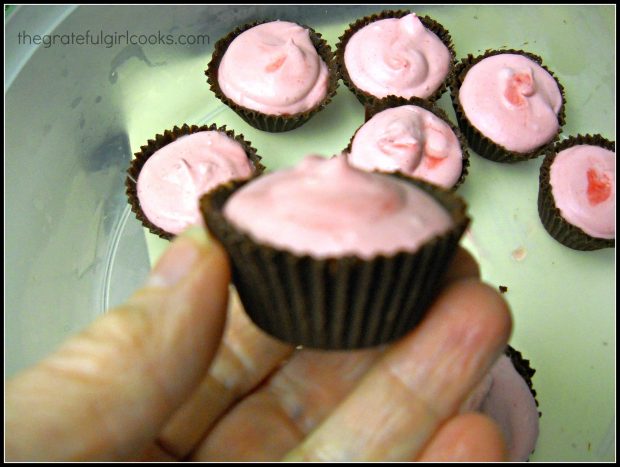 Refrigerate the cups in a covered container until the mousse has set up (at least 2 hours or even overnight), then carefully (and I mean carefully!) remove the mini-cupcake papers. Now make them look cute with a small amount of whipped cream and some decorative sprinkles!  Voila!  You did it!  Serve and enjoy!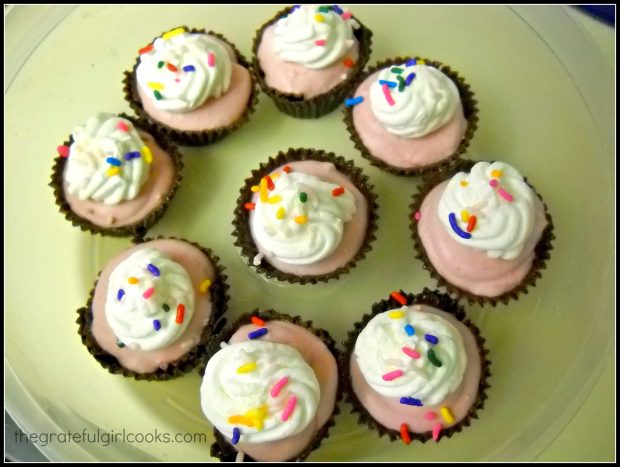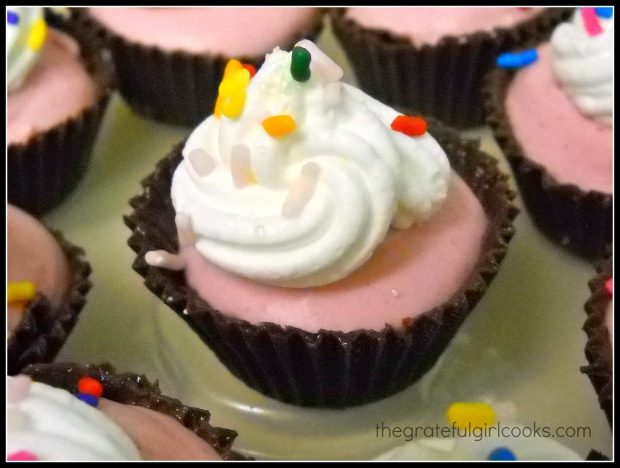 I sure hope you enjoy these… I know my family sure did!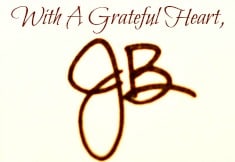 Recipe Source: https://www.hersheys.com/recipes/recipe-details.aspx?id=8026&name=Chocolate-Dream-Cups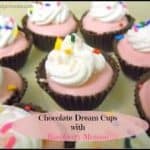 Chocolate Dream Cups with Raspberry Mousse
Raspberry mousse filling a miniature chocolate "shell". Yum!. A perfect little bite dessert!
Calories Per Serving
:
113
kcal
Ingredients
For the chocolate shells:
1

cup

semi-sweet chocolate chips

1

teaspoon

vegetable shortening
For the raspberry mousse:
1

pkg.

(10 oz) frozen red raspberries, thawed

1

teaspoon

unflavored gelatin

1

Tablespoon

cold water

2

Tablespoons

boiling water

1

cup

(1/2 pint) cold whipping cream

1/4

cup

confectioner's sugar

(powdered sugar)

1/2

teaspoon

vanilla extract

3-4

drops red food color

18

miniature paper baking cups

whipped cream and decorative sprinkles

(for garnish, if desired)
Instructions
To make the chocolate "shells": Put the chocolate chips and the shortening in a small (microwave safe) bowl. Microwave on medium (50%) for 1 minute. Stir. If the chips are not completely melted, place back in the microwave and cook for 15 additional seconds (on medium) at a time, stirring after each 15 second interval, until chocolate chips are melted and well incorporated into a smooth mixture.

Using a soft bristled pastry brush, carefully coat the bottom and the pleated surfaces with the melted chocolate. Try to apply chocolate thickly and evenly (yes this is a bit messy!). Refrigerate chocolate cups for 10 minutes, then re-apply another coat of chocolate to the shells, making sure to cover any thin spots! (you can reheat the chocolate if needed (medium heat for a few seconds). If necessary, repeat a third coating. Cover and refrigerate the chocolate cups (in their paper wrappers) for at least 2 hours or overnight, until ready to fill..

To make the mousse: Drain raspberries; press the berries through a sieve to remove the seeds. Discard the seeds and keep the puree.

Beat the whipping cream, sugar, and vanilla in medium bowl until soft peaks form.

Sprinkle the unflavored gelatin over the Tablespoon of cold water in a small bowl. Let this mixture soften for about a minute. Now add the 2 Tablespoons of boiling water and stir until the gelatin is completely dissolved. The gelatin will be clear. Let this gelatin mixture cool just a bit.

In a separate medium bowl, beat the whipping cream, sugar and vanilla until soft peaks form.

Pour the slightly cooled gelatin mixture into the whipped cream mixture; continue beating until soft peaks become stiff.

Slowly fold the raspberry puree and the red food color into the whipped cream mixture. Refrigerate the mousse for half an hour, then carefully fill the cold chocolate cups.

Refrigerate the filled chocolate cups until set. Carefully remove the paper wrappers. Garnish as desired.
Recipe Notes
**The Prep time includes several hours of refrigeration time- FYI)
Keep leftovers refrigerated!
Nutrition Facts
Chocolate Dream Cups with Raspberry Mousse
Amount Per Serving (1 piece)
Calories 113
Calories from Fat 72
% Daily Value*
Total Fat 8g 12%
Cholesterol 18mg 6%
Sodium 6mg 0%
Potassium 66mg 2%
Total Carbohydrates 7g 2%
Protein 1g 2%
* Percent Daily Values are based on a 2000 calorie diet.
Save
Save