Cheesecake is my favorite dessert. Period. This recipe for Chocolate Fudge Truffle Cheesecake is one of my favorites!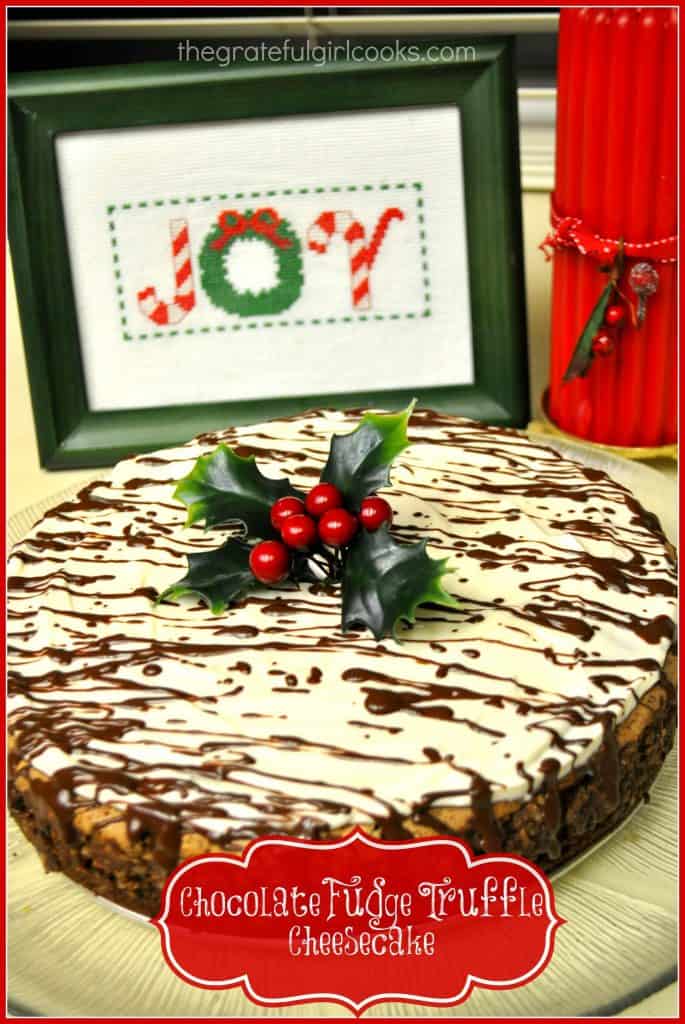 Years ago, I was trying to come up with a chocolate cheesecake. I read through several recipes (none of which I remember 20+ years later), and combined elements from 3 of them to create this recipe. I've made this chocolate-y, creamy cheesecake with a chocolate graham cracker crust for so many special occasions over the past 2 decades, I can't even count them.
I made this cheesecake again for some friends who came over for dessert about a week ago, and decided it was time to put the old Chocolate Fudge Truffle recipe on my blog. So here ya go… sure hope you enjoy it! I know we do!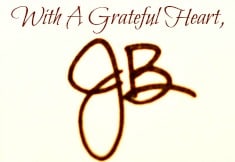 Chocolate Fudge Truffle Cheesecake
This Chocolate Fudge Truffle Cheesecake is a sure bet for entertaining guests... so delicious!
As Prepared By:
JB at The Grateful Girl Cooks!
Ingredients
For The Crust:
1 sleeve graham crackers, crushed into fine crumbs
⅓ cup cocoa
⅓ cup granulated sugar
⅓ cup butter, melted
For The Cheesecake Filling:
3 - 8 oz. pkgs. cream cheese, softened, at room temperature (important!)
⅔ cup granulated sugar
3 large eggs
12 oz. semi-sweet chocolate chips, melted, then cooled slightly
2 Tablespoons butter, melted, then cooled slightly
1 teaspoon vanilla extract
For Cheesecake Topping:
1 cup sour cream
1½ teaspoons vanilla extract
1½ teaspoons granulated sugar
For Chocolate Drizzle:
½ cup semi-sweet chocolate chips
1 Tablespoon vegetable shortening
Directions
Preheat oven to 325 degrees.
Make the crust: Mix together the graham cracker crumbs, cocoa, sugar and melted butter in a small bowl, until well combined. Press this mixture into the bottom and 1 inch up the sides of a 9" springform pan. Press tightly into pan to form solid crust. Set aside.
Make the cheesecake filling: Mix all cheesecake filling ingredients together. Beat with electric mixer until mixture is smooth and well combined. (Make sure cream cheese is room temp before making filling... this will help ensure no lumps...) Pour cheesecake mixture over the crust. Spread to level out the mixture. Bake the cheesecake for 55-65 minutes in 325 degree oven, until center is set on the cheesecake. IMPORTANT: Place a cake pan filled half way up with water, on the oven shelf below the cheesecake while it cooks!
When cheesecake is done, remove to a wire rack. Let the cheesecake cool for about 10 minutes, then carefully release the sides from the springform pan. Let cheesecake completely cool to room temperature.
While cheesecake is cooling, make the Cheesecake Topping: Mix the topping ingredients together in a small bowl (you can use a spoon for this... doesn't have to be beaten). Once cheesecake has completely cooled, evenly spread the topping over the top surface.
Make the chocolate drizzle: Melt the chocolate chips and shortening in microwave on high for 30 seconds. Stir. Heat again for 30 seconds. Stir until completely smooth. Do not overcook or burn the chocolate. Let the smooth chocolate cool just a bit, then decoratively drizzle the chocolate over the Cheesecake topping.
Refrigerate (uncovered) cheesecake for at least 8 hours or overnight. Slice and serve. Enjoy!.
Save
Save