Pork Medallions in Mushroom Marsala Sauce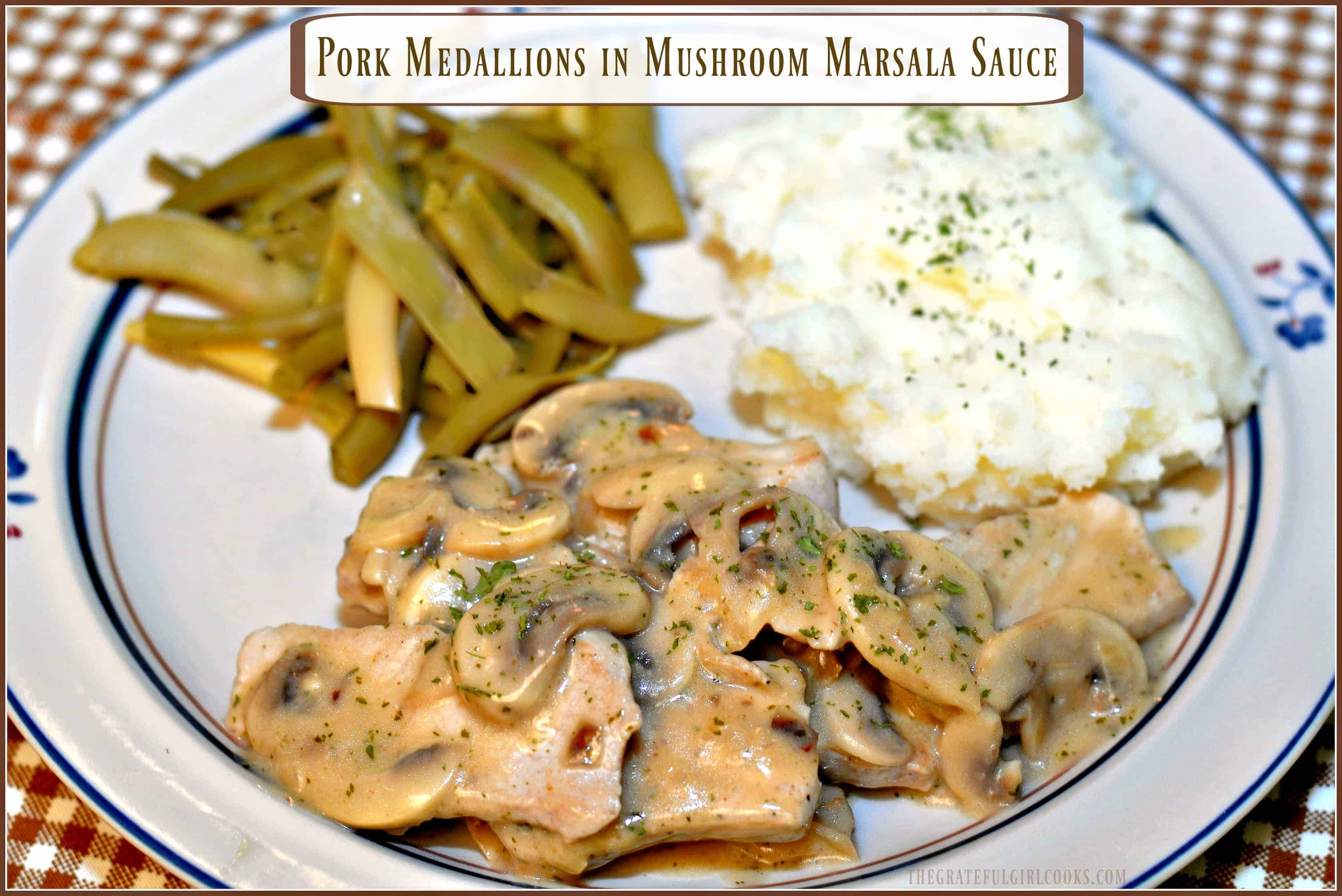 As Prepared By:
JB at The Grateful Girl Cooks!
2 pound pork tenderloins (2 small tenderloins)
Salt and pepper
3 Tablespoons extra-virgin olive oil
3 Tablespoons butter
2 medium shallots, finely diced (can substitute red onion)
12 ounces button mushrooms (or cremini)
1 Tablespoon all purpose flour
½ cup dry Marsala wine
1 cup chicken broth
3 Tablespoons heavy whipping cream
1½ Tablespoons dried parsley (or ¼ cup fresh chopped flat leaf parsley)
Trim excess fat (and silverskin) from pork. Slice into 2 inch thick medallions. Lightly season the pork with salt and pepper.
In a large skillet, heat the olive oil and 1 Tablespoon of the butter using medium-high heat. Once you see the butter getting foamy (and the skillet is really hot), add the slices of pork in a single layer (cook it in two batches, if you need to). Sear the pork until lightly browned (2-3 minutes). Turn the pork over; continue to cook the other side for another 2-3 minutes until golden brown. Remove pork from skillet to a plate. Set aside. Do not clean out skillet.
Melt the rest of the butter (2 T.) in the same skillet you cooked pork in. Add chopped shallots; season with a touch of salt and pepper. Cook for 30 seconds, stirring and scraping browned bits off bottom of skillet with a wooden spoon. Add sliced mushrooms; cook until golden in color and mushroom liquid is evaporated. This will take approximately 2-3 minutes.
Sprinkle mushrooms with flour, then pour in the Marsala wine. Stir to combine. Cook until the Marsala wine has almost completely evaporated. Add the chicken broth, stir and cook until the amount of liquid in skillet is reduced in half (this will take about 3-4 minutes). Stir the whipping cream and parsley into the pan. Add the pork (and any extra juices on plate) back into the skillet. Stir to combine and coat pork with sauce. Cook on medium-low for an additional 2-4 minutes, until pork is hot. Try not to let the sauce boil.
Taste test the sauce. Season with additional salt and pepper, if desired. Serve... and enjoy!
Recipe by
The Grateful Girl Cooks!
at https://www.thegratefulgirlcooks.com/pork-medallions-in-mushroom-marsala-sauce/