Easy Cheesy Garlic Crescent Rolls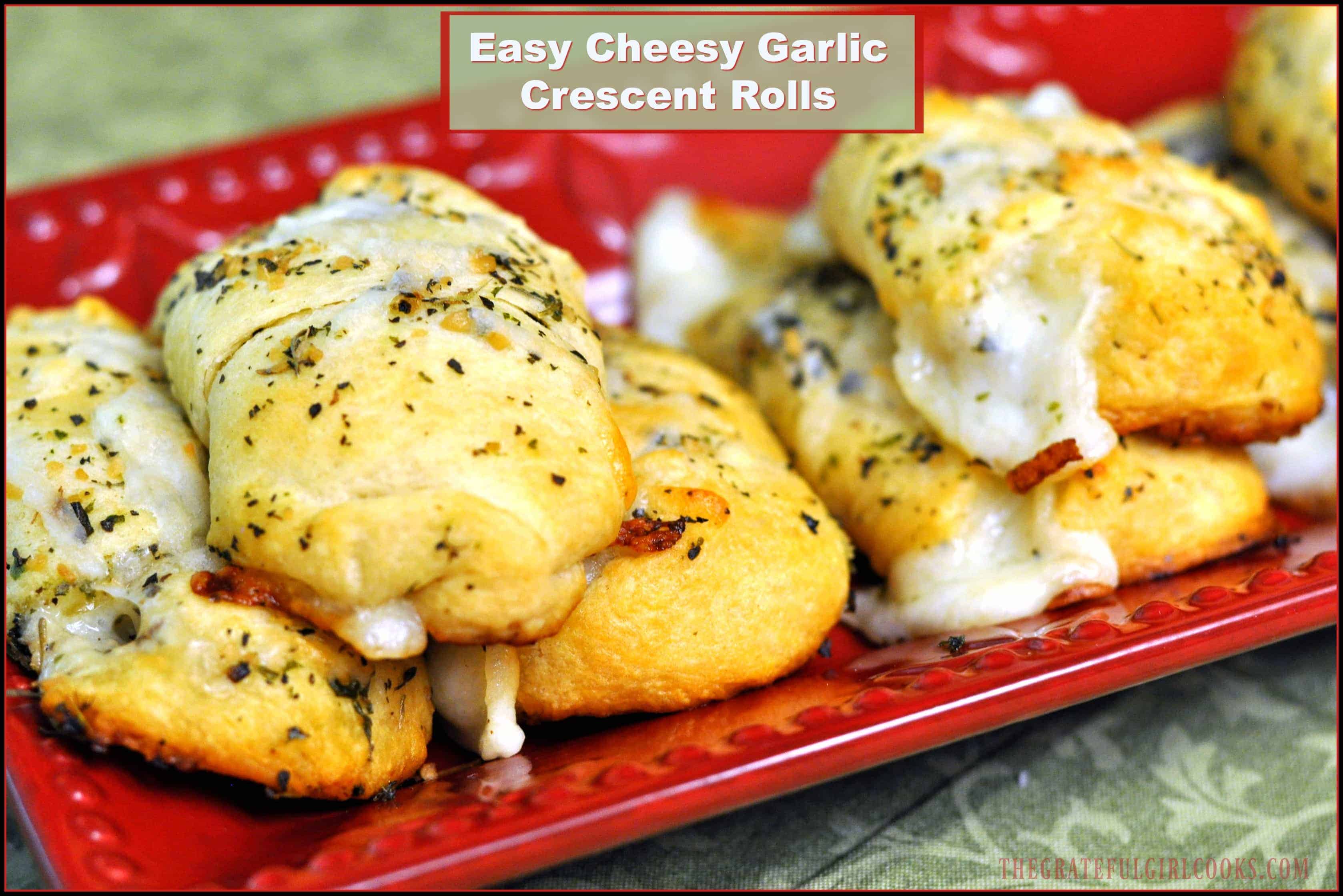 As Prepared By:
JB at The Grateful Girl Cooks!
1 (8 ounce) can refrigerated crescent rolls
1 cup freshly grated mozzarella cheese OR 4 pieces string cheese (cut in half to make 2 short pieces)
3 Tablespoons butter, melted
3 cloves garlic, minced
½ teaspoon Italian seasoning
½ teaspoon dried parsley
¼ teaspoon dried basil
Before beginning, be sure to preheat your oven to 375 degrees F. Line a cookie sheet with parchment paper, then set aside.
Mix the melted butter, Italian seasoning, garlic, dried parsley and dried basil together, in a small bowl.
Unwrap the crescent rolls. Separate dough into triangles. Using a pastry brush, brush the dough with the butter and seasoning mixture (but reserve a bit of the mixture to use later). Place some of the grated mozzarella at the wide end of the dough (or place the string cheese half at the wide end). Carefully roll up the dough, and try to tuck the edges of dough in, to seal. Place dough onto parchment paper, with about 2 inches in between each one.
Brush the tops of the dough with the remaining butter/seasoning mixture. Bake rolls at 375 degrees for 10-12 minutes, until rolls are golden brown. Remove from oven. If any cheese has leaked out, simply push it back onto roll with a spatula while cheese is still warm! Serve, and enjoy!
Recipe by
The Grateful Girl Cooks!
at https://www.thegratefulgirlcooks.com/easy-cheesy-garlic-crescent-rolls/