Toasted Orzo with Lemon and Chives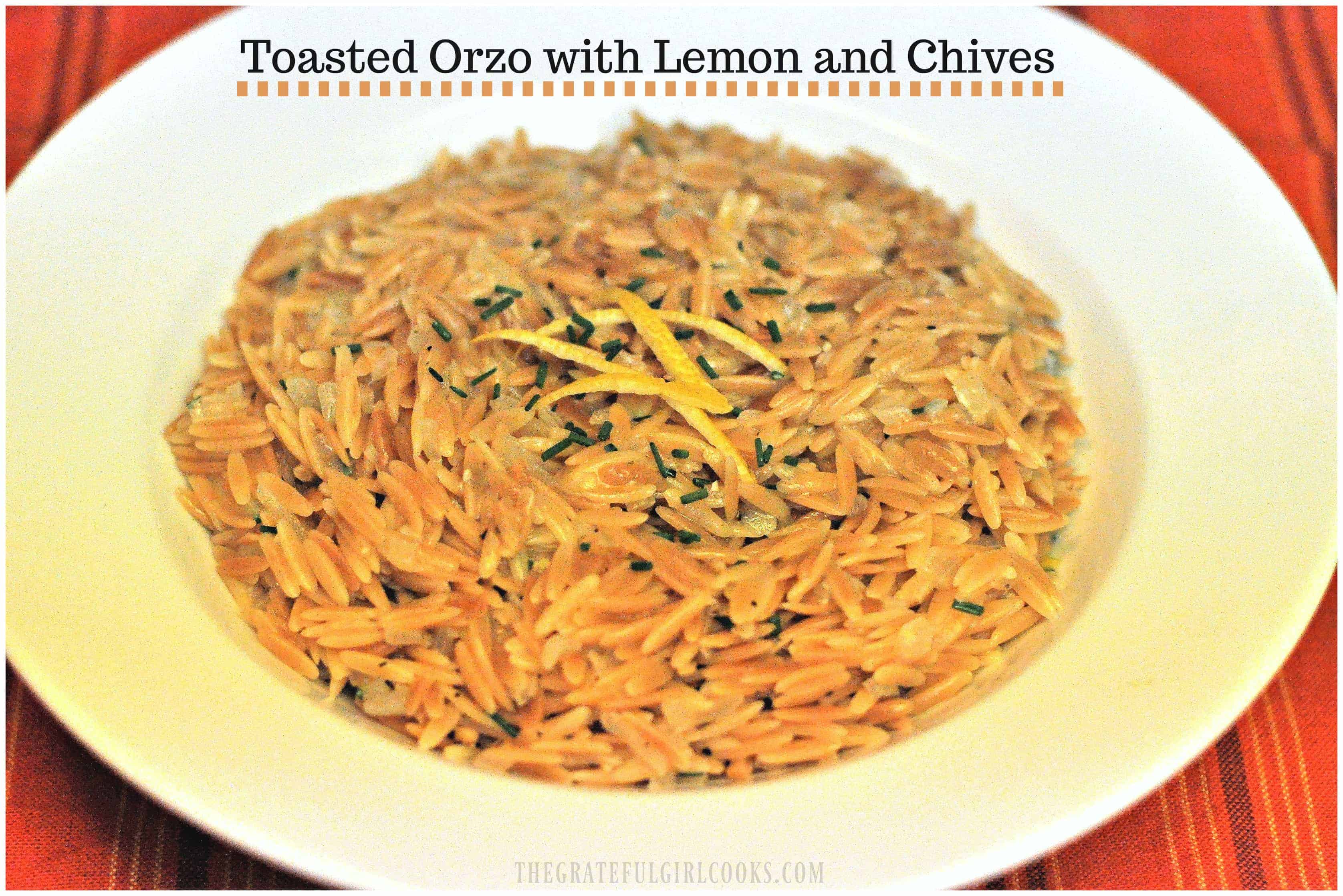 As Prepared By:
JB at The Grateful Girl Cooks!
⅔ cup orzo (dry)
1 Tablespoon butter
1 brown onion (small), finely chopped
1 garlic clove, minced
2 cups chicken broth
½ cup water
2 Tablespoons dry white wine
1½ Tablespoons minced fresh chives
½ teaspoon lemon zest
1 teaspoon fresh squeezed lemon juice
Salt and Black pepper, to taste
Place orzo in a 10 inch "dry" skillet. Turn heat to medium-high, and cook/toast, stirring orzo occasionally, until pasta turns golden brown. This takes about 5-7 minutes. Keep an eye on the orzo, especially near end of the cooking time, because it can go from really light brown to burnt very quickly. Once orzo has been toasted, remove it from skillet; place in a bowl and set aside.
Melt butter in skillet using medium-high heat. Add chopped onion; stir occasionally and cook for about 5 minutes until onion is translucent and has softened considerably. Add minced garlic; stir and cook an additional 30 seconds, being careful not to let the garlic burn.
Pour the toasted orzo back into the skillet, along with the chicken broth, wine, and water. Bring this mixture to a low simmering boil, then turn heat down to medium-low. Continue to cook the mixture on medium-low, for about 15 minutes, giving it a good stir every 5 minutes. When done, the liquid should have been absorbed, and the orzo should be nice and tender.
Add lemon zest, lemon juice, and chopped chives to orzo. Stir until combined. Cook for about one more minute, to ensure orzo is heated through. Season orzo with salt and pepper, to taste.
Garnish with additional chopped chives and thin lemon peel slices, if desired. Serve, and enjoy!
Recipe by
The Grateful Girl Cooks!
at https://www.thegratefulgirlcooks.com/toasted-orzo-with-lemon-and-chives/