Garlic Parmesan Pasta and Shrimp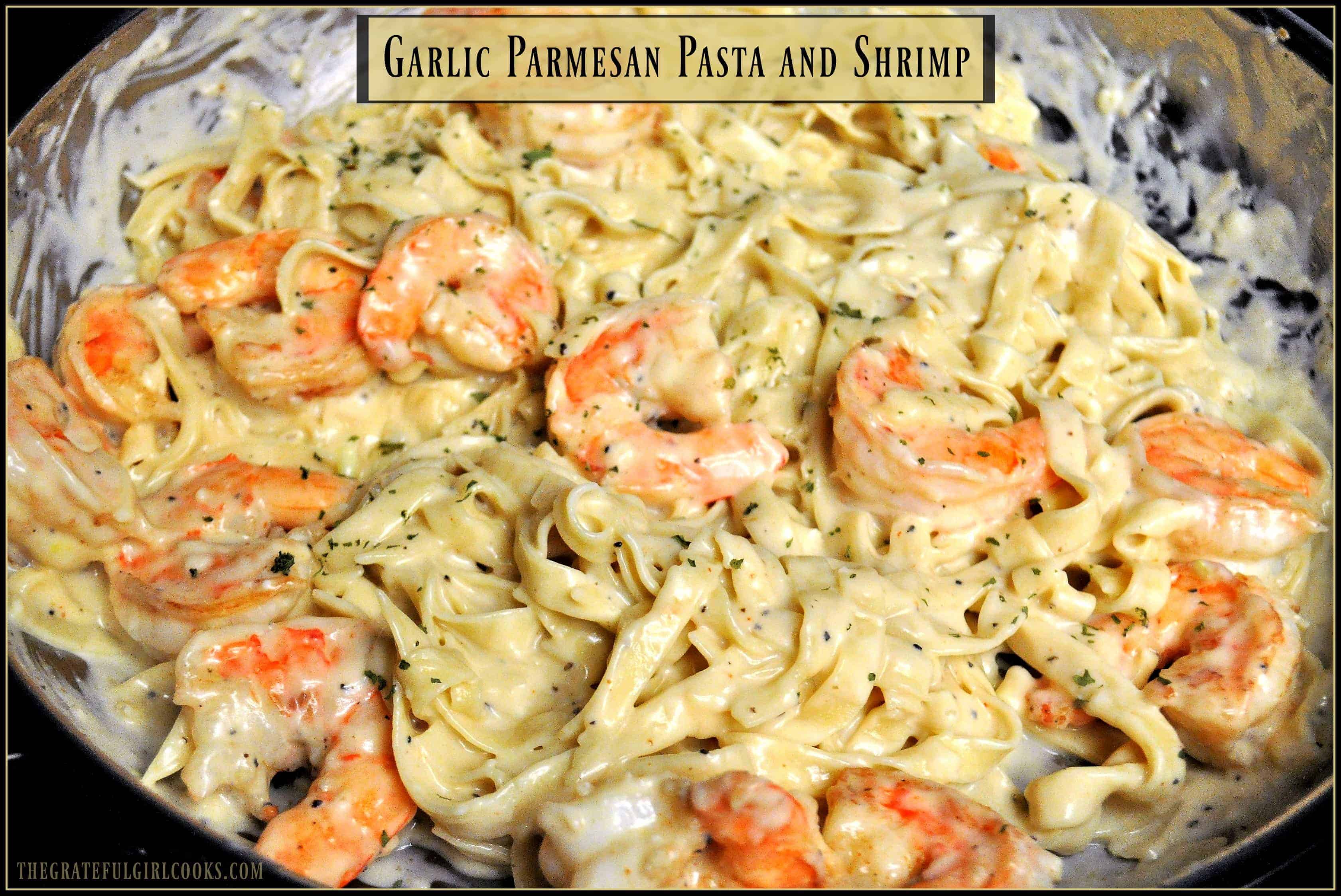 As Prepared By:
JB at The Grateful Girl Cooks!
1 Tablespoon olive oil
1 pound large shrimp, peeled, de-veined (lightly seasoned with salt/pepper)
1 Tablespoon olive oil
4 cloves garlic, minced
2 Tablespoons butter
1 cup milk (or more, if needed to thin out sauce later)
2 cups chicken broth
Salt/Pepper, to taste
8 ounces uncooked fettucine pasta
¼ cup fresh grated Parmesan cheese
Chopped fresh or dried parsley flakes (approx. 1 T. for garnish, if desired)
Heat 1 Tablespoon olive oil in large skillet on medium heat. When oil is hot, add shrimp. Cook on both sides until done (approx 4-5 minutes total time). Transfer shrimp from skillet when done. Cover/keep warm.
To make pasta sauce, heat olive oil on medium-high in a large skillet. Add minced garlic to hot oil; cook for about a minute, stirring often to prevent burning. Add butter, chicken broth and milk; whisk together while butter melts. Season sauce with salt and pepper, to taste.
Stir in the UNCOOKED noodles and simmer (on medium-low heat) until the pasta has completely cooked through (this will take about 15-18 minutes for commercially prepared pasta). Stir mixture occasionally while it cooks!
Once pasta is cooked through, add fresh grated Parmesan cheese. Stir well, to combine. If you find the sauce has thickened too much, simply add a touch more milk until it's the thickness you desire. Add the cooked shrimp to the skillet, stir to combine, and cook only until shrimp are heated through. Garnish hot pasta with a sprinkle of fresh or dried parsley before serving, and serve hot!
Recipe by
The Grateful Girl Cooks!
at https://www.thegratefulgirlcooks.com/garlic-parmesan-pasta-and-shrimp/