Pork Tenderloin with Cranberry-Raspberry Sauce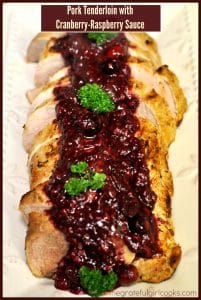 As Prepared By:
JB at The Grateful Girl Cooks!
2 to 2½ pound pork tenderloin
4 garlic cloves, minced
2 Tablespoons dijon mustard
½ cup olive oil
3 lemons, juiced and zested
2 rosemary sprigs, or 1 Tablespoon dried rosemary
¼ teaspoon each, salt and pepper
4 Tablespoons olive oil (for searing the tenderloin)
2 Tablespoons butter
1 medium sized shallot, finely chopped
1 cup red wine
¼ cup orange juice
The zest of 1 orange
2 Tablespoons granulated sugar
12 ounces raspberries, fresh or frozen
1 cup of cranberries, fresh or frozen
In a medium sized bowl, whisk together the lemon juice, lemon zest, minced garlic, and the Dijon mustard. Add ½ cup olive oil to this mixture, while whisking to fully incorporate. Add ¼ teaspoon salt, ¼ teaspoon pepper, and rosemary. Mix well.
Place the pork and the marinade in a large resealable plastic bag or container. Squeeze the air out and seal the bag or container. Marinate the pork in the refrigerator for at least 3-4 hours or overnight. Turn bag occasionally to make sure the pork is covered with the marinade. If using a flat container, occasionally spoon marinade over the pork.
When pork has finished marinading, preheat the oven to 425 F.
In a oven-proof saute pan, heat 4 tablespoons of olive oil over medium-high heat. Remove the tenderloin from the marinade. When oil is very hot, add the tenderloin to the hot oil. Sprinkle additional salt and pepper on the tenderloin. Do not move the pork for a few minutes in order to ensure a good sear! Sear both sides of the pork until golden brown. Place the pan in the oven and roast the pork for 30-40 minutes (adjust to less time if using smaller tenderloin) or until the meat registers 165 F. Take pork out of the oven, cover it with aluminum foil. Let the covered pork rest for 10 minutes before slicing (this helps to keep the juice in the meat, not all over the platter).
In a large non-stick skillet, melt the butter. Add the chopped shallots. Cook shallots for about 3-4 minutes, until softened. Add the orange juice, orange zest, red wine, and sugar to the pan. Mix well; continue cooking on low heat until sugar dissolves.Add the cranberries and raspberries to the pan. Cook over medium heat until sauce reduces and thickens (about 20 minutes). Stir sauce occasionally.
When roast is done and has "rested", slice into serving portions, place meat on serving platter, and spoon the warm sauce over the top of the pork slices.
Enjoy!
Note that the lengthy prep time is not "Active" prep time. The length is to allow the pork marinating time.

Also remember to adjust down the cooking time if you are using a smaller pork tenderloin. Smaller tenderloins will cook in 20-25 minutes. Just gauge by the internal temperature of the pork.
Recipe by
The Grateful Girl Cooks!
at https://www.thegratefulgirlcooks.com/pork-tenderloin-with-cranberry-raspberry-sauce/