BBQ Shredded Pork Hoagies with Spicy Slaw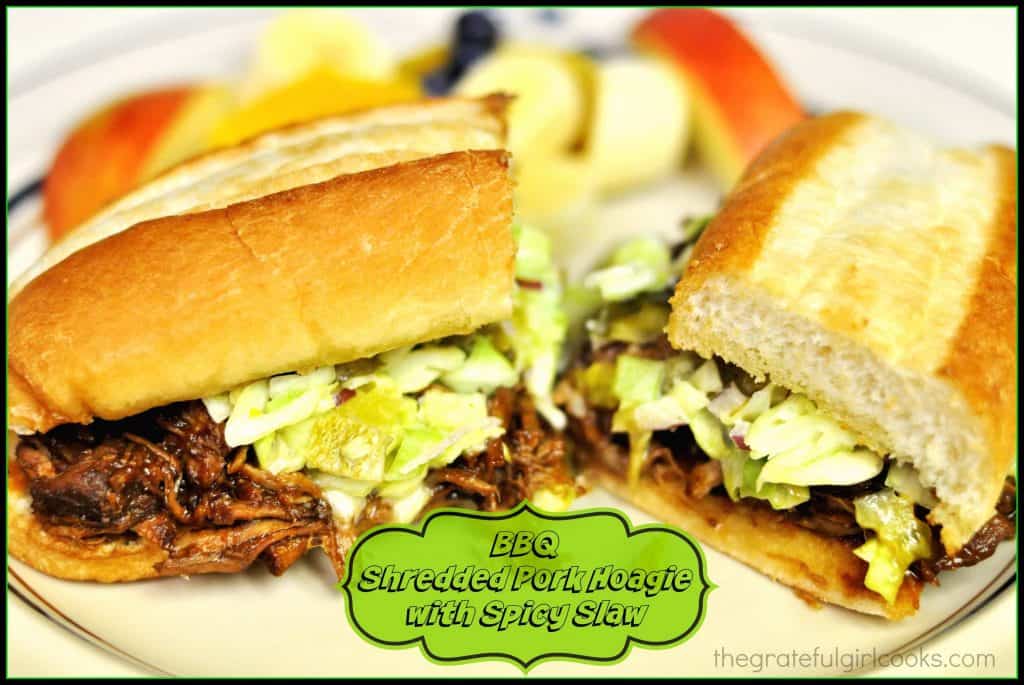 As Prepared By:
JB at The Grateful Girl Cooks!
Shredded pork (quantity-as much or as little as you wish)
BBQ sauce (enough to fully saturate the amount of shredded pork you will use)
Hoagie rolls (one per sandwich)
Butter (to spread on rolls before grilling)
1 garlic clove, finely chopped
½ small red onion, thinly sliced, chopped
1 jalapeno, finely chopped
4 C. thinly sliced green cabbage
½ cup Bread and Butter pickle slices, plus ¼ cup pickle juice from jar
Cook pork or leftover pork in slow cooker for several hours until completely tender. Using two forks, shred the pork. Put back into slow cooker and add sufficient BBQ sauce to completely coat meat. Heat thoroughly (can also heat the shredded BBQ pork in microwave, if desired).
Make spicy slaw while pork is heating: Mix all slaw ingredients in a small bowl; toss to combine, then cover and refrigerate until ready to build the sandwiches.
Spread each half of the hoagie rolls with butter. Grill until they are golden brown.
Place grilled roll on serving dish. Spread hot BBQ shredded pork on top of one half of the roll. Spoon some cold spicy slaw evenly over the pork. Place top bun on the hoagie, and serve!
Enjoy!
Cook time varies. Cooking time shown is based on having pre-cooked pork available when you start this recipe. Once you have the precooked, shredded pork coated with BBQ sauce and hot, you can have the sandwiches finished in about 10 minutes.
My other advice is to try and make the spicy slaw several hours before serving. The flavors really develop well, the longer it is refrigerated!
Recipe by
The Grateful Girl Cooks!
at https://www.thegratefulgirlcooks.com/bbq-pork-hoagies-with-spicy-slaw/