Chili Mac With Summer Squash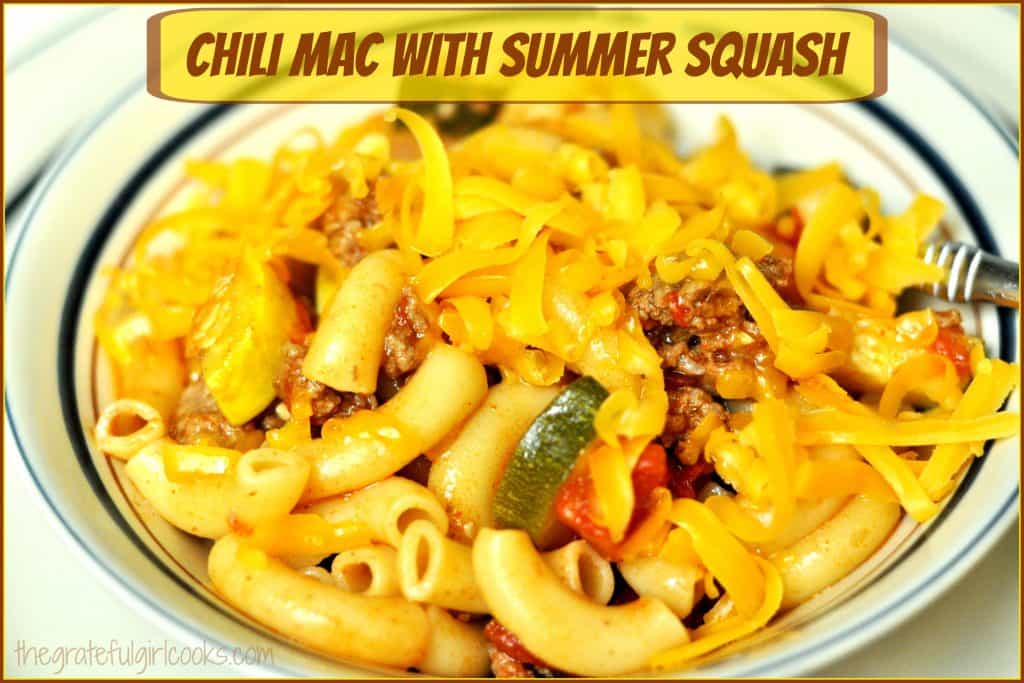 As Prepared By:
JB at The Grateful Girl Cooks!
1 pound hamburger meat
⅓ cup chopped onion
½ small jalapeno pepper, (de-stemmed and seeded), chopped finely
1½ teaspoons minced garlic
1 teaspoon salt
¼ teaspoon black pepper
1 envelope taco seasoning or 3 Tablespoons homemade taco seasoning
1 can diced tomatoes (14.5 ounces)
½ cup water
1 green zucchini, sliced, then cut into quarters
1 yellow squash, sliced, then cut into quarters
2 cups elbow macaroni (cooked per package directions)
1 cup grated cheddar cheese
Additional salt (to taste)
Before cooking the hamburger meat, bring a large saucepan full of water to a boil (to cook the macaroni in)
In large skillet, brown the hamburger meat, chopped onion and jalapeno. Right before meat is fully cooked, add the minced garlic. Drain grease off meat when fully cooked. Return skillet to stove.
Add tomatoes, taco seasoning, water, salt and pepper, zucchini, and yellow squash. Stir to combine. Cover skillet, then continue to cook on medium-low for approximately 9 minutes. Do not let squash get smooshy!
While meat mixture is cooking, prepare macaroni noodles in a large saucepan, according to package directions. When done, drain macaroni, then return noodles to large saucepan.
Add in the hot meat/squash mixture. Stir to combine. Heat quickly (uncovered) on medium-high for a minute or two, stirring constantly, to heat dish thoroughly. Taste test. If it needs more salt, add it now.
Spoon mixture into individual serving bowls. Top with grated cheddar cheese, and serve hot!
Recipe by
The Grateful Girl Cooks!
at https://www.thegratefulgirlcooks.com/chili-mac-with-summer-squash/