Easy Spaghetti Sauce With Italian Sausage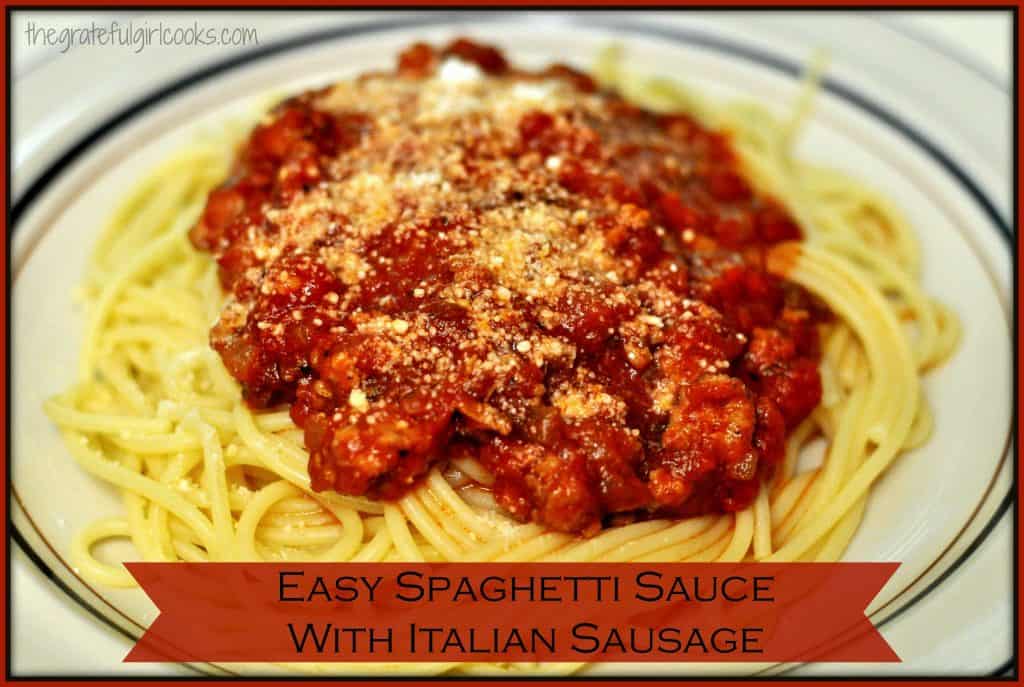 As Prepared By:
JB at The Grateful Girl Cooks!
3 Italian sausage links (mild or hot), casings removed.
¾ cup chopped brown onion
⅓ cup chopped green pepper
1 can (6 oz.) tomato paste
1 large can (28 oz.) diced tomatoes
1 cup water (or substitute ½ cup water and ½ cup red wine, if desired)
1½ teaspoons oregano (dried)
1 teaspoon Italian seasoning
½ teaspoon basil (dried)
1¼ teaspoons garlic powder
1 teaspoon salt
¼ teaspoon black pepper
¼ teaspoon red pepper flakes (dried)
1½ cups sliced mushrooms
Grated Parmesan cheese, for garnish (if desired)
Remove casing from sausage links by cutting with a knife down the length of the link, and removing the sausage. Discard the casing. Crumble the sausage into a large skillet.
Sauté the sausage and chopped onion on medium heat. Add the green pepper; cook until sausage is fully cooked. Drain the grease out of the pan (discard), and return skillet to stovetop.
Add tomato paste, can of diced tomatoes (including juice), and water to skillet.
Add oregano, Italian seasoning, basil, garlic powder, salt, pepper and red pepper flakes.
Add sliced mushrooms. Stir all ingredients well, to combine.
Bring sauce to a boil, then reduce heat to low and continue to cook for about 30 minutes. The sauce will reduce down a bit, and the flavors will permeate the sauce. Taste test the sauce and add additional salt or spices as desired.
While sauce is cooking, prepare the pasta according to package directions. Drain pasta, then serve with sauce ladled over the top.
Garnish with Parmesan cheese, if desired, and serve HOT!
Recipe by
The Grateful Girl Cooks!
at https://www.thegratefulgirlcooks.com/easy-spaghetti-sauce-with-italian-sausage/