Triple Chocolate Zucchini Muffins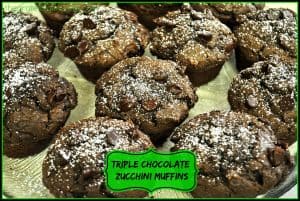 As Prepared By:
JB at The Grateful Girl Cooks!
4 eggs
2 cups granulated sugar
1 cup canola oil (I used vegetable)
3½ cups all-purpose flour
1½ teaspoons baking soda
1 teaspoon baking powder
1 teaspoons salt
¾ cup cocoa powder
2½ cups grated zucchini (well drained/pressed to reduce water content)
½ cup semi-sweet chocolate chips
2 oz. dark chocolate, chopped
Cooking spray
2 Tablespoons confectioners sugar (powdered), to sift on top of baked muffins
Preheat the oven to 350 degrees.
In a large mixing bowl, place the eggs, sugar and oil. Whisk these together until smooth.
Add the flour, baking soda, baking powder, salt and cocoa powder to the egg mixture; mix these ingredients very well.
Add in the drained/pressed grated zucchini, along with the chocolate chips and the dark chocolate pieces. Stir well by hand until ingredients are completely blended.
Take the cooking spray and spray your standard sized muffin tins (liners are optional...I didn't use them).
Fill the muffin pans about ¾ of the way to the top with the batter. There is enough batter to yield approx. 30 muffins.
I sprinkled a few extra chocolate chips on top before baking. (this is optional)
Bake the muffins at 350 degrees for 15-20 minutes or until the top springs back when touched. Remove muffins from oven and cool. Dust with sifted powdered sugar for a nice presentation.
That's a LOT of muffins! You can freeze extra muffins for another day, or easily cut the recipe in half and make 15 muffins.
Recipe by
The Grateful Girl Cooks!
at https://www.thegratefulgirlcooks.com/triple-chocolate-zucchini-muffins/