Pork Enchiladas With Cilantro Lime Sauce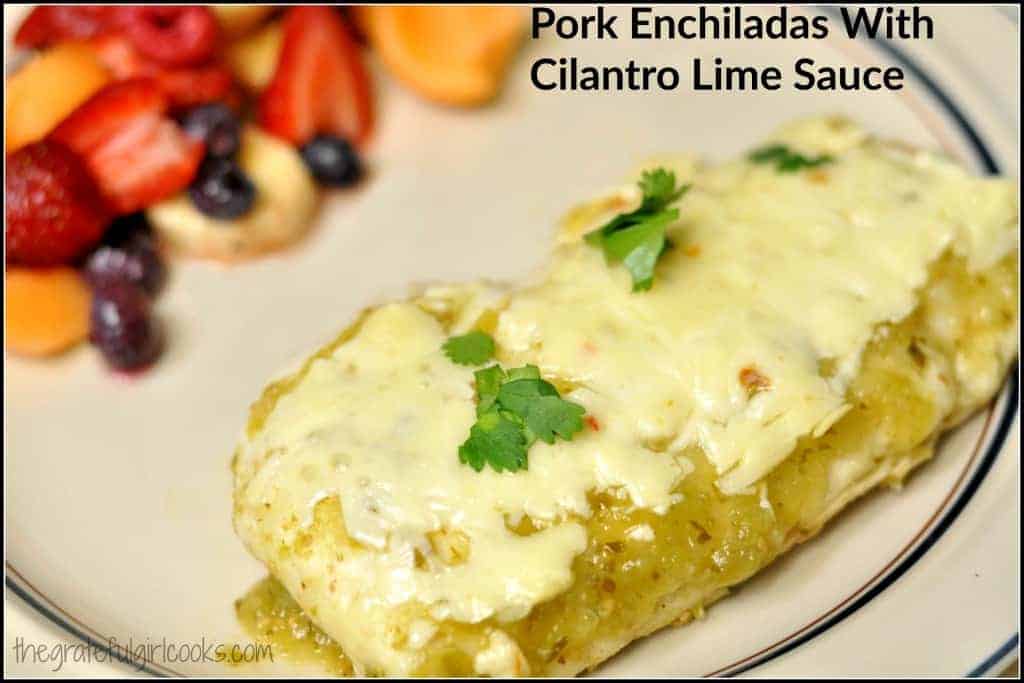 As Prepared By:
JB at The Grateful Girl Cooks!
6 cups tomatillos, husks removed and quartered
½ cup brown onion, chopped
3 cloves garlic (sliced thinly, or use equivalent amount of minced garlic)
2 medium jalapenos, finely chopped
3 Tablespoons cilantro, chopped
½ teaspoon cumin
1½ teaspoons salt
1½ cups water
olive oil
¼ cup fresh lime juice
2 cups pre-cooked, shredded pork (may substitute chicken)
1 cup cooked rice (I used wild rice, but any kind is okay)
½ cup brown onion, chopped
½ cup chopped bell peppers (I used mix of red, orange, and green)
1 teaspoon minced garlic
2 Tablespoons sour cream
2 Tablespoons water
½ teaspoon cumin
½ teaspoon chili powder
¼ teaspoon salt
4 medium sized (8 inches) flour tortillas
2 cups pepper jack cheese
½ cup sour cream (for garnish)
chopped cilantro (for garnish)
To make the lime-cilantro enchilada sauce:
Remove husks from tomatillos; rinse, then cut into quarters. Place into large stockpot, along with garlic /jalapenos; drizzle with olive oil. Cook veggies on medium high heat for 4-5 minutes.
Add water, cilantro, cumin, and salt to pan. Cover pan; simmer on low for 10 minutes, until tomatillos have softened. Once softened, use a blender, food processor, or immersion blender to process sauce until smooth. Stir in ¼ cup of fresh lime juice;stir to combine. Set sauce aside.
Combine shredded pork, and cooked rice in a large skillet. Add ½ cup of the enchilada sauce. Stir to combine.
In separate skillet, saute onions and bell peppers for 3-4 minutes, until soft. Add minced garlic and cook an additional minute. Add the cooked vegetables to the pork/rice mixture, and heat through (1-2 minutes). Remove skillet from heat.
Add 2 Tablespoons sour cream, water, cumin, chili powder, and salt to the pork/rice mixture. Stir well to combine.
Spoon some of the remaining enchilada sauce over the bottom of a baking dish.
Spoon equal amounts of filling onto the flour tortillas. Add a generous sprinkling of pepper jack cheese to the top of the pork/rice mixture, making sure to save some to top the enchiladas with. Roll the enchiladas up, burrito style, then place, seam-side down on top of the sauce in baking dish.
Cover the enchiladas with additional sauce to ensure tortillas are fully covered.
Sprinkle remaining pepper jack cheese all over the top of the enchiladas.
Bake at 350 degrees (dish covered with aluminum foil) for 20 minutes. Remove foil, and continue cooking for 5 more minutes, or until sauce and cheese is bubbly.
Remove dish from oven. Let sit for a minute to let the cheese firm up. Serve enchiladas onto individual serving plates. If desired, garnish with a dollop of sour cream, and additional chopped cilantro. Enjoy!
If using my recipe for lime cilantro sauce, you will have extra sauce left over. It is easily freezable (freezer bags), if you wish to do so.
Recipe by
The Grateful Girl Cooks!
at https://www.thegratefulgirlcooks.com/pork-enchiladas-with-cilantro-lime-sauce/