Seared Pork Chops in a Lemon, Wine & Herb Sauce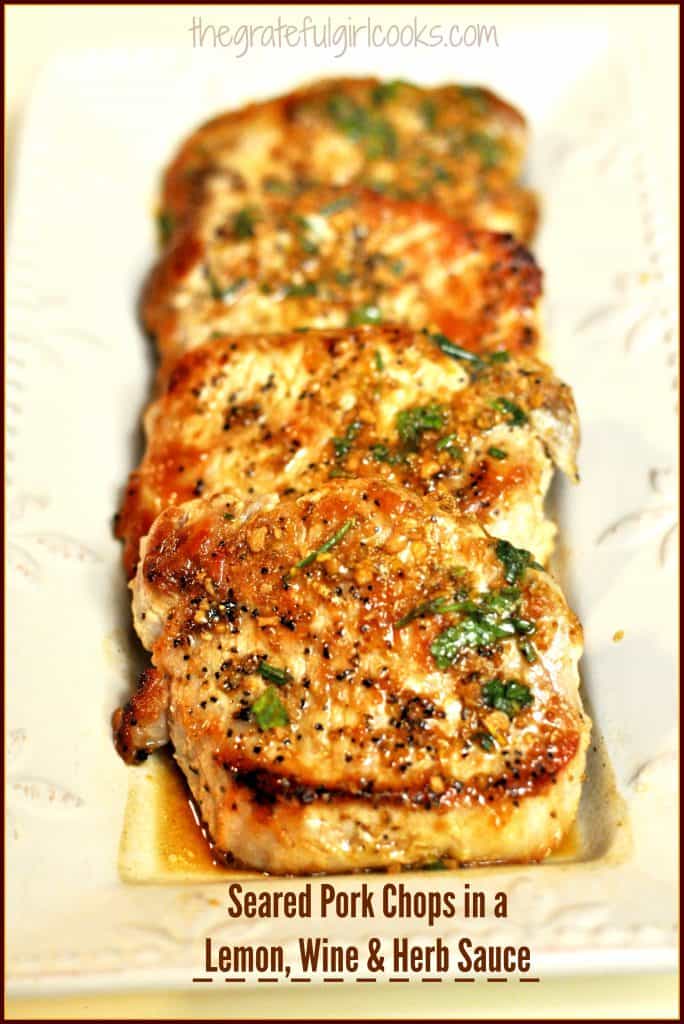 As Prepared By:
JB at The Grateful Girl Cooks!
4 boneless pork chops (about 1 inch thick)
salt & pepper
2 Tablespoons olive oil (divided)
2 cloves garlic, minced
⅓ cup white wine
½ cup chicken broth
zest from 1 lemon
1 Tablespoon fresh lemon juice
1 Tablespoon fresh parsley, chopped (must use fresh, for flavor!)
1 teaspoon fresh rosemary, chopped (must use fresh, for flavor!)
Lightly season the pork chops with salt and black pepper.
Heat 1 Tablespoon of the olive oil in a large skillet on medium-high. When skillet is very hot, add the pork chops, seasoned side down. Do not disturb or move the chops for 4-5 minutes. After 4-5 minutes and bottom of chops are browned, flip the chops over and cook the other side for 4-5 minutes (until brown and cooked through). Remove pork chops to a platter. Cover them with aluminum foil to keep warm. (I place the covered plate in a preheated 200 degree oven to keep warm while I finished the sauce.
Do NOT wipe or clean out the skillet. Add 1 Tablespoon of olive oil to skillet and turn pan to medium. When hot, add the minced garlic, and stir constantly (to prevent burning) for 30 seconds. Add the white wine and the chicken broth to the skillet. Turn the heat to HIGH, and continue to cook for 5-6 minutes, scraping up all the brown bits that were stick to the bottom of the pan as you go, until the amount of liquid in the skillet has reduced by at least 50 percent. Remove pan from heat.
Add lemon juice, lemon zest, chopped rosemary and parsley, along with a bit more salt and pepper to sauce. Stir well, to combine.
Place pork chops onto serving platter. Spoon sauce all over the top of each pork chop.
Serve, and enjoy!
Recipe by
The Grateful Girl Cooks!
at https://www.thegratefulgirlcooks.com/seared-pork-chops-in-a-lemon-wine-herb-sauce/