Cheesy Ham, Spinach & Macaroni Bake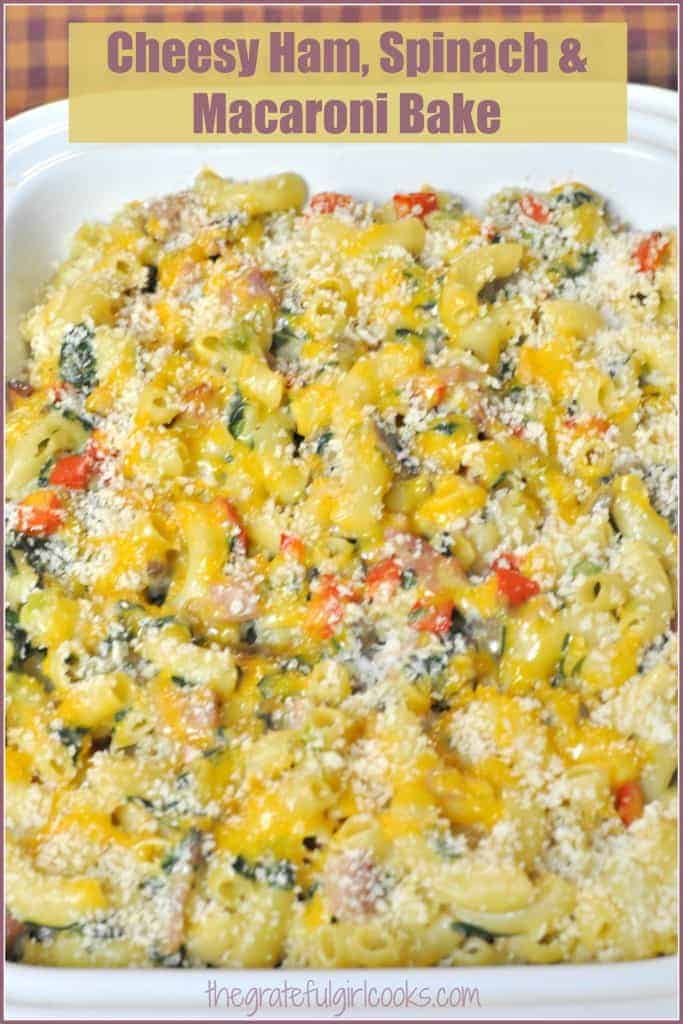 As Prepared By:
JB at The Grateful Girl Cooks!
2 Tablespoons butter
1 cup ham (cubed in bite sized pieces)
¼ red bell pepper, chopped
2 green onions, sliced
2 cups fresh spinach, chopped
8-10 mushrooms, chopped
1 heaping teaspoon minced garlic
2 cups elbow macaroni noodles, cooked and drained
2 Tablespoons butter
2 heaping Tablespoons flour
1½ cups milk
1 cup grated cheddar cheese
⅓ cups Panko crumbs (or bread crumbs) for garnish
Additional grated cheddar cheese (for garnish)
Melt 2 Tablespoons butter in large skillet. Add diced ham, red bell pepper, green onions, spinach and mushrooms. Cook for 4-5 minutes or until mixture (spinach) is dramatically reduced. Add minced garlic and cook for an additional minute (but do not burn garlic). Set skillet aside.
While cooking ham and veggies, also cook elbow macaroni according to package instructions; drain, rinse, and set aside.
In a separate large skillet, melt 2 Tablespoons butter. Add flour; stir to combine. Cook this mixture on low for 1-2 minutes (this helps the pasty taste of the flour to cook out). Add milk. Whisk to combine, and cook for 3-4 minutes on medium low, stirring constantly, until mixture thickens, and is heated through. Add 1 cup grated cheddar cheese; stir until cheese has melted into sauce.
Add the ham and veggie mixture to the sauce, then add the macaroni noodles. Stir well, to fully combine ingredients.
Place mixture into a greased or buttered casserole dish. Cover dish with aluminum foil.
Bake at 350 degrees for 25 minutes. Remove foil and continue cooking for 10-15 additional minutes or until heated through and slightly bubbly.
Remove from oven; let sit for a minute or two to solidify a bit, then cut and serve. Enjoy!
Recipe by
The Grateful Girl Cooks!
at https://www.thegratefulgirlcooks.com/cheesy-ham-spinach-macaroni-bake/