Marinated Grilled Pork Chops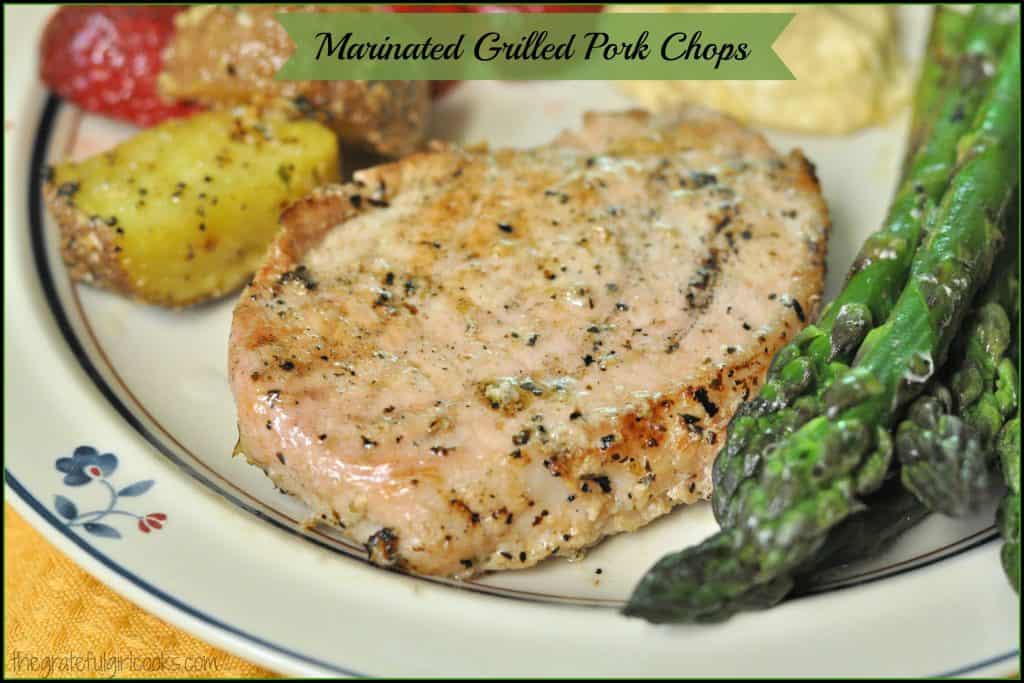 As Prepared By:
JB at The Grateful Girl Cooks!
½ lemon, juiced
4 Tablespoons olive oil
2 Tablespoons water
½ teaspoon garlic powder
¼ teaspoon dried basil
¼ teaspoon dried oregano
Salt and pepper, to taste
4-6 boneless pork chops (about 1 " thick)
Mix marinade ingredients in a small bowl until fully blended.
Place pork chops in a large sealable freezer bag (or a large container with lid). Pour marinade over the chops. Squish bag around to fully cover the chops, then marinade in refrigerator for at least 2-3 hours.
Remove bag with pork chops from fridge about 30 minutes prior to grilling.
Preheat grill on medium-high heat.
Remove chops from bag (discard marinade) and place on pre-heated grill. Grill pork chops for 5-7 minutes per side, or until the pork reaches an internal temperature of 145 degrees. Do not overcook the chops or they will be DRY.
When chops are done, remove them from heat, and let them sit for 5-6 minutes, to allow the juices time to redistribute inside the meat.
Serve, and enjoy!
Please note that prep time does not include the minimum of 2-3 hours marinating time.
Recipe by
The Grateful Girl Cooks!
at https://www.thegratefulgirlcooks.com/marinated-grilled-pork-chops/