Italian Sausage & Potato Casserole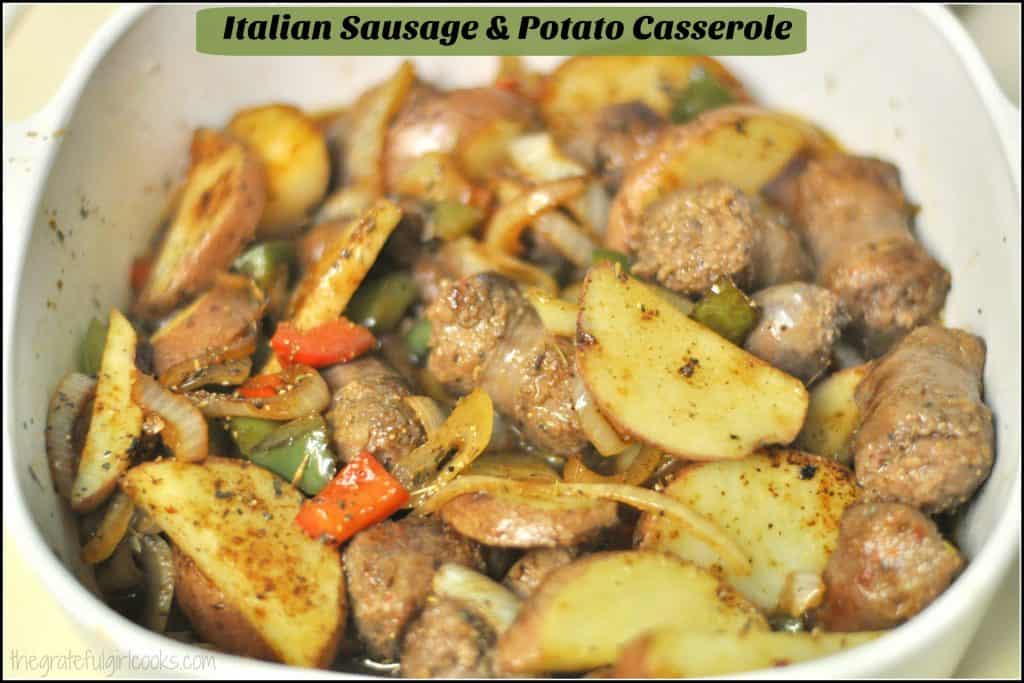 As Prepared By:
JB at The Grateful Girl Cooks!
2 teaspoons olive oil
1 pound Italian sausage (sweet OR hot), cut into 2 inch pieces
2 Tablespoons olive oil
4 medium red potatoes, unpeeled (cut in half lengthwise, then into ½ inch slices (half moons)
1 green bell pepper, seeded, then roughly chopped
1 red bell pepper, seeded, then roughly chopped
1 large brown onion, sliced thin
½ cup chicken stock
1 teaspoon Italian seasoning
1 teaspoon salt
½ teaspoon black pepper
Preheat oven to 400 degrees F. Spray a 9x13 baking dish with non-stick spray.
Heat 2 Teaspoons olive oil on medium heat in a LARGE skillet. Add Italian sausage chunks; cook, stirring occasionally until sausages are cooked through and no longer pink (about 6-8 minutes). Remove sausage to a paper towel to absorb grease, then place in 9x13 baking dish. Drain grease from skillet (but do not wash-just wipe it down with a paper towel before cooking potatoes).
Add 2 Tablespoons olive oil back into skillet. Turn heat to medium. Add potato slices. Cook potatoes until light golden brown (they will be "almost tender"). You will need to turn the potatoes occasionally as they cook to make sure both sides cook well. When done, remove the potatoes from skillet and place them on top of the sausage in the baking dish.
In same skillet, cook the red and green peppers, and sliced onion until they soften up and lightly brown (about 3-5 minutes). When done, remove vegetables and place them on top of potatoes in baking dish.
Pour the chicken stock over the sausage/potato/vegetables in baking dish, then sprinkle with Italian seasoning, salt and black pepper. Stir to combine ingredients. Cover baking dish with aluminum foil.
Bake at 400 degrees for 25 minutes. Remove from oven, uncover, and dish it up while hot!
Because I was only cooking for two, I cut the recipe in half. I DID, however, leave the amount of chicken stock exactly the amount as written (1/2 cup). For all other ingredients I cut the quantity in half, and casserole was cooked in a smaller baking dish.
Recipe by
The Grateful Girl Cooks!
at https://www.thegratefulgirlcooks.com/italian-sausage-potato-casserole/