Crispy Homemade French Fries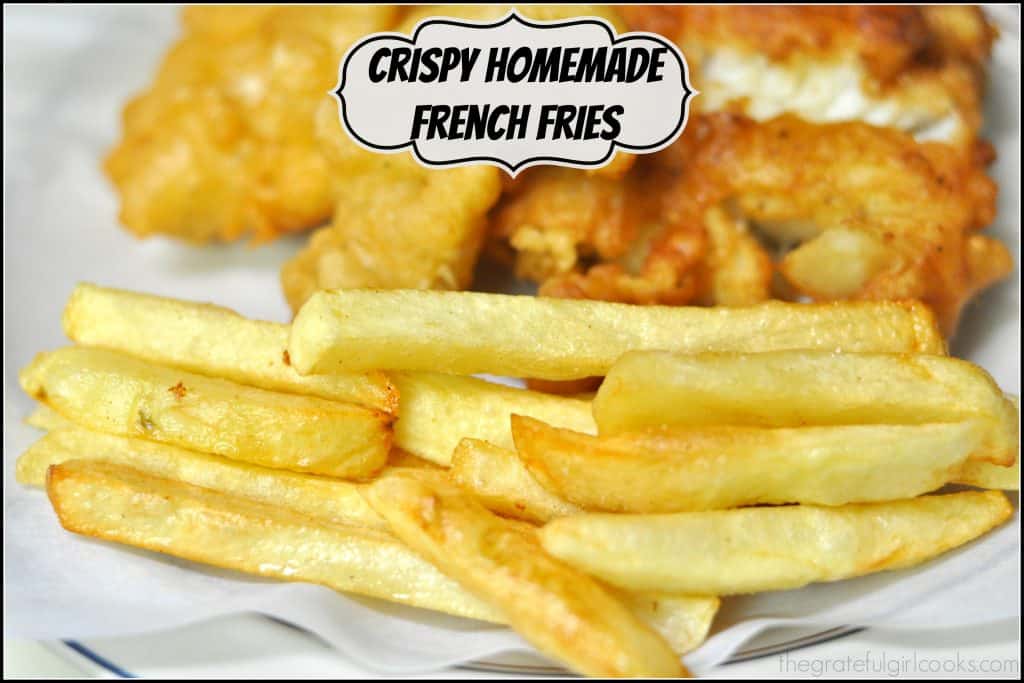 As Prepared By:
JB at The Grateful Girl Cooks!
3-4 small to medium russet potatoes
Vegetable oil (enough for 2 inches depth in skillet)
Salt (or seasoning salt), to taste
Peel, rinse, then cut potatoes, by slicing potatoes lengthwise into 1 inch slices, then cutting each slice into finger thickness sized strips. Dry the potatoes as much as you can by patting them dry with paper towels. The drier the potato strips, the less oil splatters you should have.
Heat oil (enough to cover skillet with 2 inches of oil) in large skillet or stock pot until it reaches 350 degrees. Use a thermometer (meat or candy) to gauge temperature. I used my electric skillet, which has a temperature gauge on it. Carefully place cut, dried potatoes into hot oil. Let them cook for about 8 minutes, turning to cook on both sides. Remove potatoes from hot oil (I used a slotted spatula to help remove them). Place hot potatoes onto a baking pan or a wire rack with paper towels underneath, to drain the oil off of them).
Let them rest for just a minute while you reheat oil temperature back to 350 degrees.
Carefully add the chips for a second "fry". Cook for 3-4 additional minutes, until crispy and hot! Carefully remove fries from hot oil with a slotted spatula or spoon and drain on paper towels.
Season to taste with salt (or seasoning salt). Serve hot, and enjoy!
Recipe by
The Grateful Girl Cooks!
at https://www.thegratefulgirlcooks.com/crispy-homemade-french-fries/